Marcella Sanchez
Real Estate Consultant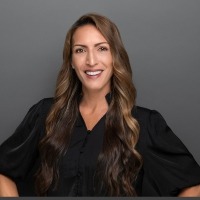 Born and raised in South Florida as a first-generation American, Marcella is a local! She provides extensive local expertise to her clients who are newer to the area. Her background in the Yachting and airline industry while traveling around the world gave her the opportunity to experience different lifestyles and really appreciate what people's housing needs are. She graduated locally from grade school to Broward College with a bachelor's in BA and Sheridan Technical as a Licensed Cosmetologist. 
Fluent in Spanish as her second language, she can effortlessly connect with clients, embracing cultural diversity and understanding their unique needs. It was the moment she and her partner were going to buy their first home in Boca Raton, their experience was awful, she believed no one should feel this way and decided to pursue a career as a licensed real estate agent. She is truly dedicated to providing a first-class experience for her clients and making sure their real estate dreams come true. 
When Marcella is not selling a home, you can find her soaking up the South Florida Sunshine at the beach! Surfing, paddle-boarding, anchoring out at the Boca Lake, deep sea fishing, taking the boat to Bimini, and exploring the beautiful parks with her son are just some of her favorites that our beautiful paradise has to offer!