Oscar Berrio
Real Estate Consultant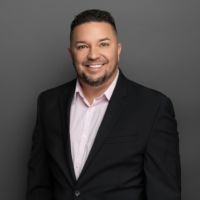 As a travel guru, Oscar Berrio has always enjoyed learning about new cultures and discovering new places in his community. Born in Miami, he spent a few years living in Colombia and then came back to the Sunshine State to establish his strong career and passion for business. With a bachelor's degree in Business Administration, he worked for some well-recognized companies in the US, like Kraft Heinz, The Ritz Carlton, and The Breakers Hotel.

Oscar's passion for real estate comes from being able to help families achieve their dreams of purchasing their homes or investments. After realizing how he could impact his community by being the trustworthy real estate point of reference, he joined the venture. With strengths in communication, discipline, dedication, and problem-solving, Oscar's goal is to be the best he can be in the real estate industry and keep growing to obtain his goals. 
Motivated greatly by his wife and 2 kids, he says they are his biggest source of inspiration and strongest supporters. Oscar has gained a couple of certificates in the past years like employee of the month for 3 months in a row and is also licensed as an insurance adjuster. He is also said to have some strong soccer skills, making it a big hobby!