Design Your Oasis: Design Tips & Landscaping Ideas For Backyard Pools
Posted by Laurie Reader on Friday, April 1, 2022 at 10:01 AM
By Laurie Reader / April 1, 2022
Comment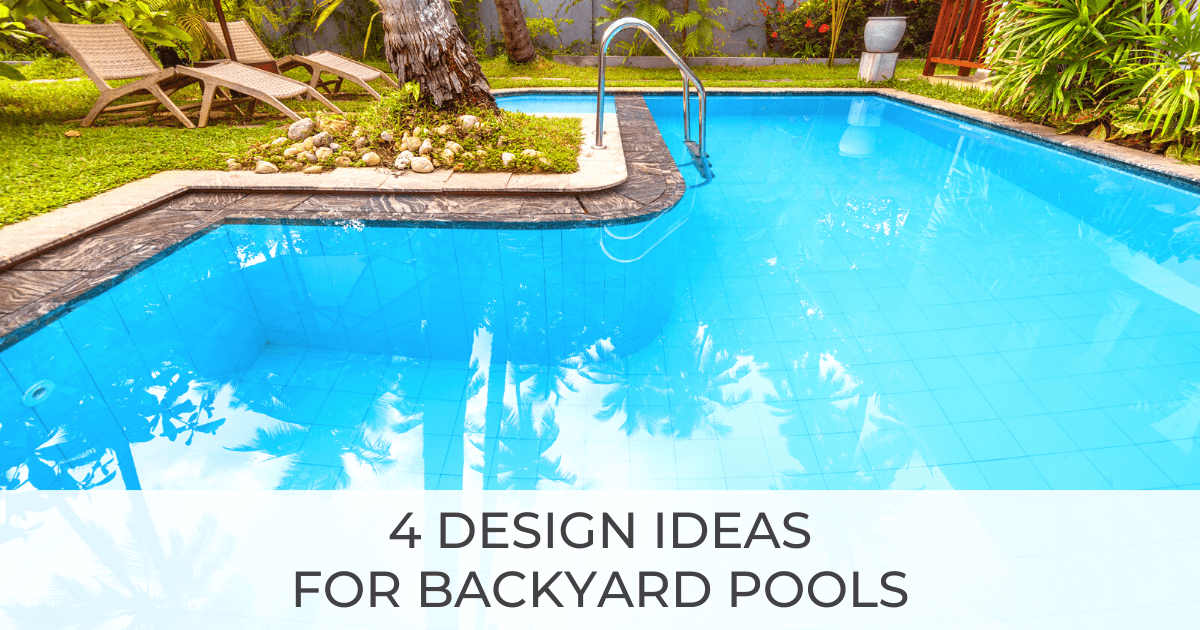 Backyard pools add value to a home and create a unique outdoor space. Additionally, adding a pool could mean inviting guests over more often or long evenings under the stars. No matter how homeowners use their pools, those thinking about buying a home with a pool need to consider pool design.
Some buyers purchase a home with a pool, while others buy a large enough space to accommodate any style they like, whether an in-ground pool or above-ground pool. In either case, read on to consider a few design ideas to make your pool the best space possible.
Add Dramatic Features
Pool design becomes enjoyable when a homeowner adds features, and there are many options to consider. A large grotto, for example, can create a waterfall into the pool. Tucked behind the waterfall is a spa or separate pool area. Surround the area with stone and rocks, whether made from cement mixtures like gunite or natural stone. Dramatic colors, themes, and styles make these pools more enjoyable.
Numerous details are available, such as having an area with a fire feature, which is the perfect way to extend the pool season. Additionally, adding a pool heater is a more practical way to do the same thing, allowing owners to enjoy the pool well into the colder months.
For dramatic features, things like waterfalls, diving boards, and built-in slides are all options. There is also the opportunity to create a freeform shape with various water levels to enjoy. Or, consider an infinity-edge pool that allows users to take in the sunrise and sunset each day without any hard lines of a pool edge. For others, the perfect pool is an Olympic-style lap pool, especially for those who enjoy the sport of swimming and not just the fun it brings.
Dress Up an Above-Ground Pool With a Deck
There are plenty of ways to add luxurious elements for those choosing an above-ground pool. Perhaps one of the best ways is to install a deck around the exterior, creating new ways to have fun. Decks like this can be as large as desired, sometimes enclosing the entire pool.
When choosing to add a deck, consider materials carefully. Composite decking tends to last much longer and requires less maintenance than a traditional wooden deck. Additionally, consider add-on features, like built-in benches and storage areas. It may also be possible to add lighting to the exterior to allow pool fun well into the night.
Some owners may also consider adding other features to the deck area, like installing a hot tub or spa. Additionally, owners can create a deck that incorporates an outdoor dining area or outdoor kitchen. This allows homeowners to transform their backyard into an extension of their home while adding vibrance and function. Decks can also incorporate pergolas or covered areas, allowing owners to spend time outdoors when the weather isn't the best.
It may be possible for homeowners to design a deck themselves with ample design templates. However, homeowners should consider hiring a professional to create the right space and features while adding value to their home.
Have Fun with Custom Lighting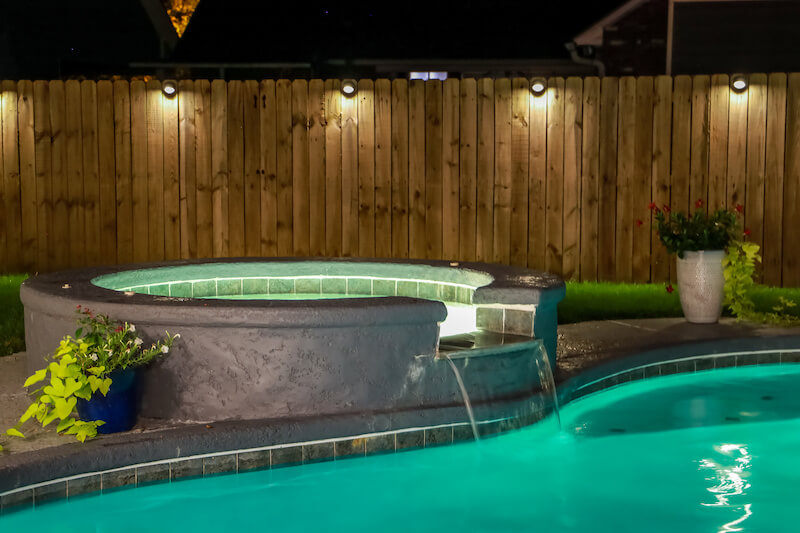 Consider outdoor lighting as a significant layout component when buying a home with a pool or adding one in later. Lighting does a few things for the outdoor area. It helps to ensure ample safety when using a pool in the evening, and it can also set the mood for a fun night or a getaway right in the backyard.
The pool may incorporate lights into the design, allowing for illumination (often in numerous colors) from within the pool. Another option is to add lights outside and around the pool. The simplest of options is to use solar-powered lights, as these don't require extensive wiring.
Consider adding a fireplace or columns around the pool that incorporate fire or torches for a dramatic feel. While a bit more over the top, this can create an incredible experience for those enjoying the pool well into the night.
For those buying a home with an existing pool, consider the importance of lighting. Updated, modern lighting can add significant value, and it doesn't have to be an expensive investment. The key is to consider the placement of lighting, such as in the water itself, around the entire area, overhead lights, or other configurations ideal for the space.
Consider the Pool's Shape
Pools are versatile. When installing one, it's possible to create a unique shape that fits the pool's function and features or choose a pre-formed model. Many fiberglass pools come in simple, squared shapes, suitable for adding a more modern design.
Gunite and natural stone pools allow for a freeform design. That may include rounded edges, lots of levels for varied depth, and special features like waterfalls.
When choosing to add a pool, work with a company that offers 3D design software to create a customized design ideal for the home and those likely to use it.
Pools Make an Outstanding Addition to a Home
Whether buying a luxury home or a waterfront home, the addition of a pool can be an exceptional benefit to many households. It also creates an opportunity to add value to the property as long as it is well maintained and updated over time. It's possible to buy a home with a pool already in place, but for some, the fun comes from designing their own.