6 Best Beaches in Fort Lauderdale: Surf, Sand & Sun Await
Posted by Laurie Reader on Monday, April 18, 2022 at 3:51 PM
By Laurie Reader / April 18, 2022
Comment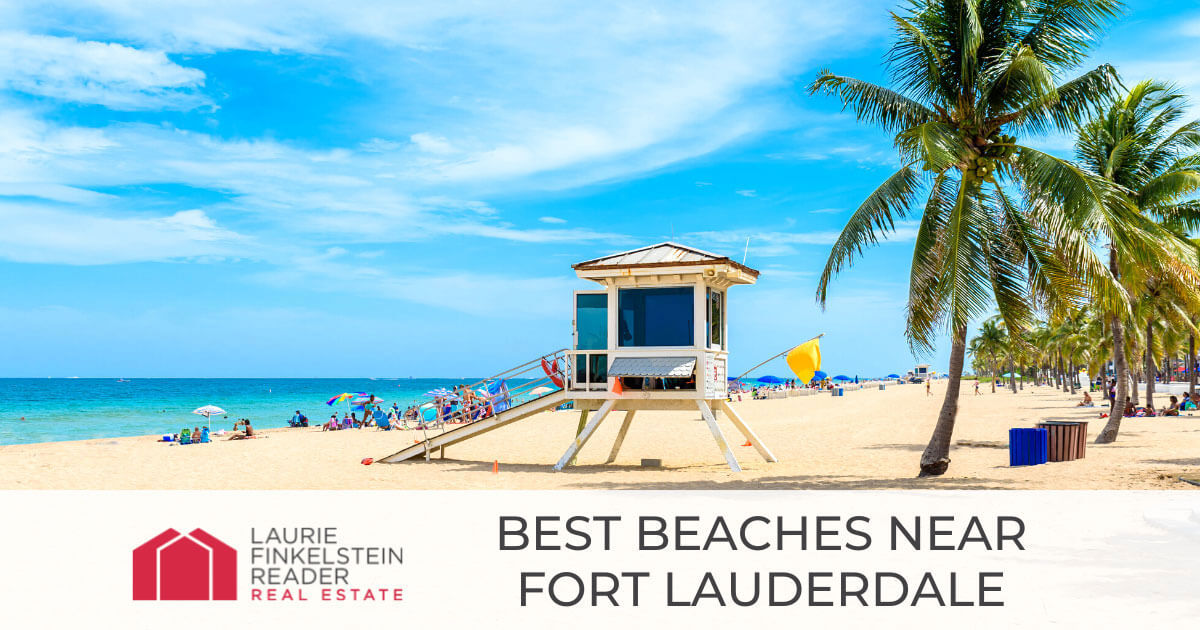 The city of Fort Lauderdale is a year-round haven for locals routinely frequented by travelers seeking sun and fun. With dozens of condos and waterfront homes for sale or rent, there is no shortage of prime real estate and fantastic sandy beaches.
Whether one is ready to take a tour on a charter boat to land trophy fish or wants to learn a new skill such as scuba diving or surfing, there are many things to do in Fort Lauderdale! While all the beaches here are stunning, read on to discover the six best beaches near Fort Lauderdale worth visiting.
Deerfield Beach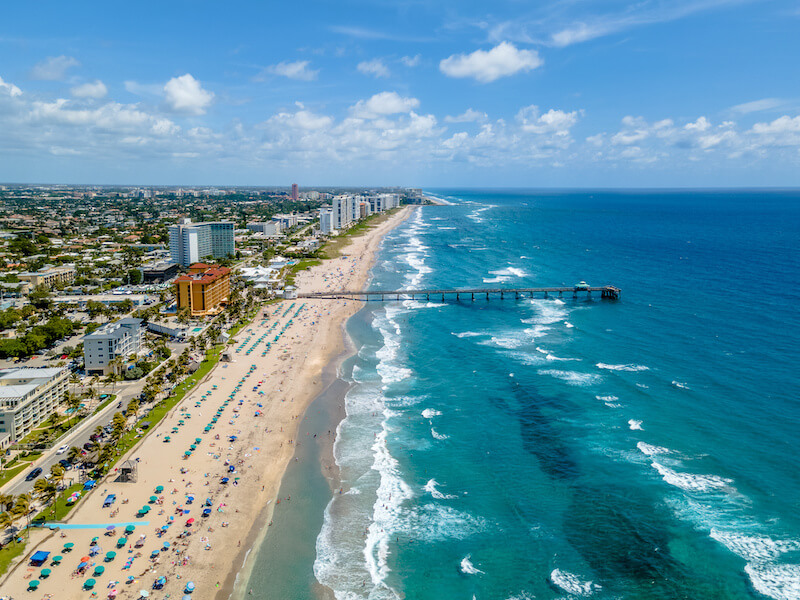 Head to Deerfield Beach to enjoy swimming, building sandcastles, surfing, or hunting for seashells. Visitors can easily find oceanfront restaurants to savor, places to stay near the best things to do, and memorable annual events they will want to return to enjoy year after year.
The hub of this amazing beach is the International Fishing Pier, stretching across the ocean nearly 1,000 feet from the coastline. Popular for fishing, one can land catches such as:
Mackerel
Pompano
Bluefish
Snapper
Croaker
Barracuda
One can visit Island Water Sports—a local outfitter—to get all the gear they need for fun in the surf and sun. The company offers lessons and rentals for surfers, paddleboarders, skimboarding, and more.
Deerfield Beach is also home to Quiet Waters Park, a park with campgrounds, a skate park, and the longest "cable ski" course in the nation with a 2,700-foot oval course. Next to the pier is an urban wilderness area accessible only by boat but is a great place to picnic, hike, and see natural wildlife.
Hillsboro Beach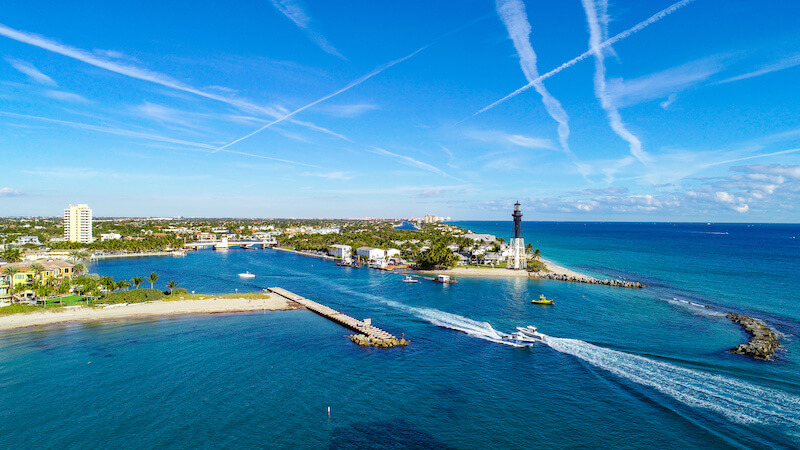 Hillsboro Beach is the best place along the coast to spot nests of sea turtles, including loggerhead, green sea turtles, and leatherbacks. While this beach community is only 900 feet wide, it boasts stunning views of the Intracoastal Waterway. Hillsboro Beach also offers the best views of a 1907-era lighthouse, the most powerful on the east coast!
This small beach is relatively quiet and mainly dedicated to preserving the nesting turtles and hatchlings, so beachgoers will likely see a few of these fantastic creatures during their visit.
Hillsboro is a beautiful beach for those seeking a quiet day or a place to commune with nature free of the typical crowds that frequent larger Fort Lauderdale beaches.
Pompano Beach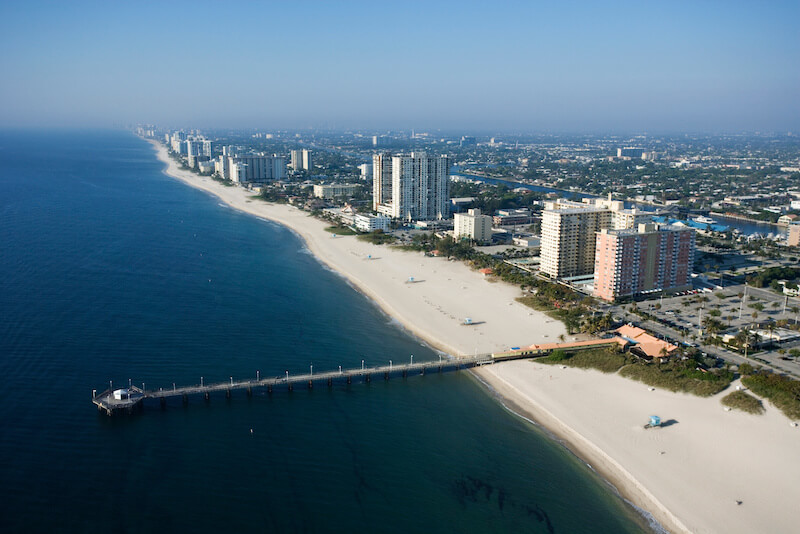 Pompano Beach features some of the clearest and warmest waters of all the beaches near Fort Lauderdale. The warmer waters allow for an abundance of the prized tropical pompano game this shoreline gets its name.
Pompano Beach is a prime spot for water sports, charter fishing tours, and land and water excursions. The snorkeling and scuba diving here are unbeatable.
Pompano is widely popular and is often filled with groups taking advantage of the playgrounds and sand volleyball. Kayakers, surfers, and snorkelers come to peek at the natural coral reefs. The 24-hour pier at Pompano Beach allows visitors to enjoy the unparalleled beauty of the moonlit ocean and the glorious sunrises reflecting off the water.
Also known as the wreck capital of Florida, scuba divers head to Shipwreck Park on the coast, where lessons, equipment, and tours are available. This is a top beach for launching fishing charters, and no license is required. Those ready to battle sailfish will treasure a trip guided by the Hillsboro Inlet Fishing Center.
Fort Lauderdale Beach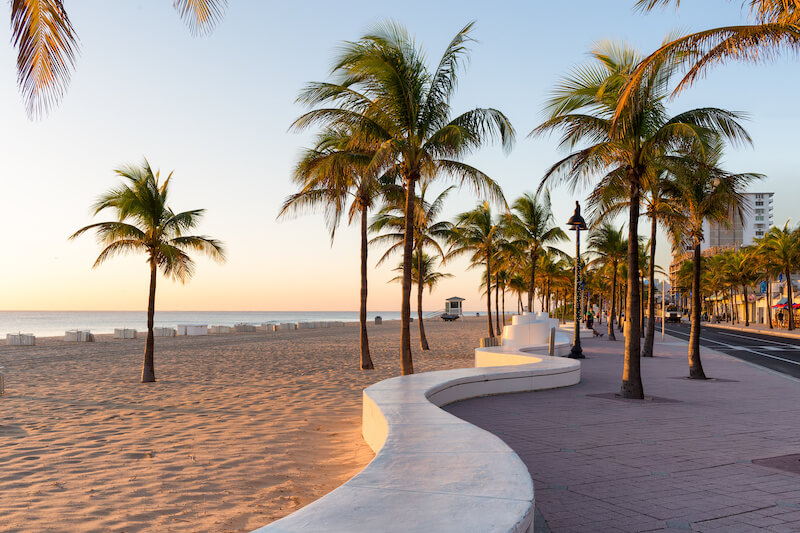 Fort Lauderdale Beach is one of the most favored and largest beaches in Fort Lauderdale. The beach is lined with some of the most luxurious oceanfront condos in the nation. Surrounded by upscale shops, hotels, and restaurants, plenty of revelers enjoy the sun and surf here. A wide array of activities is available for beachgoers, ranging from jet skiing and parasailing to snorkeling and fishing.
Stroll the famous Fort Lauderdale Beachfront Promenade and take advantage of the incredible photo ops while finding a spot to chill out for the day. Rentals abound along the coast, so bikes, boats, strollers, and water gear can be easily obtained. There are numerous tour operations that have trips suitable for all ages.
Hollywood Beach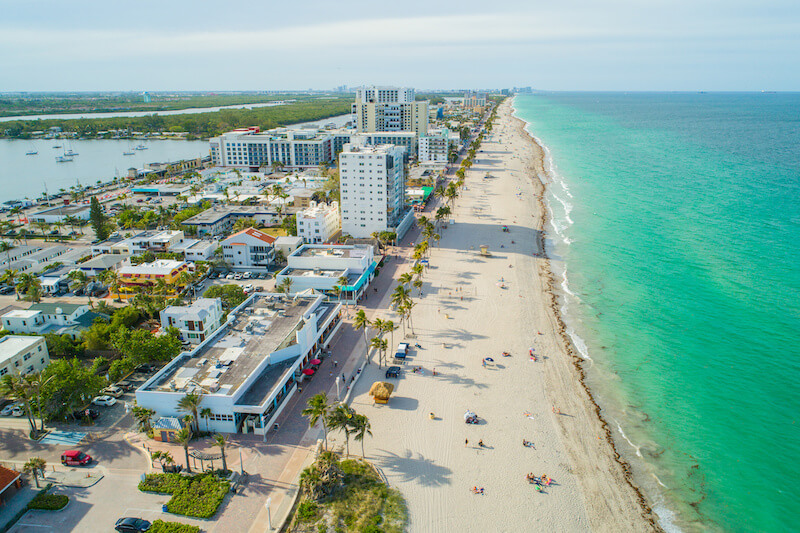 Hollywood Beach is a mixture of funky and retro Florida architecture. Those who visit this beach tend to fit right in with the eccentric flavor of this sandy beach. However, it is also the favorite beach of the choosiest travelers, as private hotels line the famous 1920s-era Boardwalk. This zone is a popular attraction that runs over two miles along the coast and is named one of America's top 10 nostalgic boardwalks by USA Today.
Rent a pontoon boat or book an exciting deep-sea fishing excursion with an experienced guide. Licenses are included with each charter, along with gear. Check out Fun Rental Boats to get on board with a rented paddleboard, kayak, or surfboard.
On the shoreline, patrons can soak in the views and traverse several natural areas or take on a challenge with a game of beach volleyball. There are also weekly yoga classes, and seasonal festivals and concerts are often hosted here. Dogs are welcome at Hollywood Beach, as this was the site of the movie "Marley and Me," so dogs are a natural fit.
Dania Beach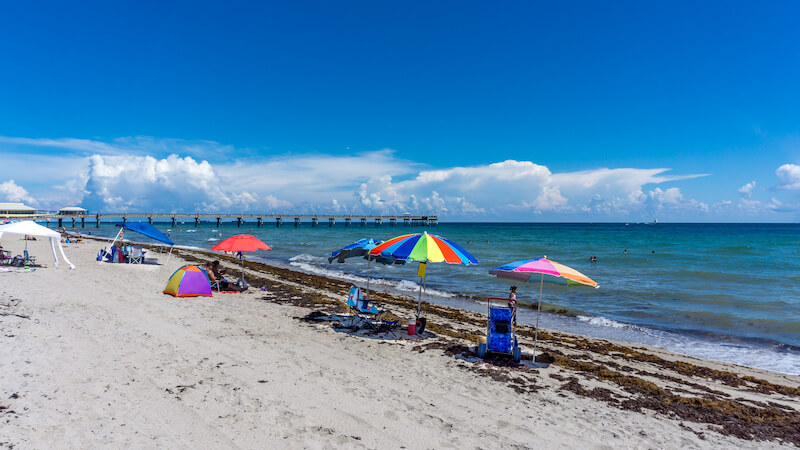 Home to some of the state's most gorgeous and secluded sandy shorelines, Dania Beach is a small community embraced statewide as a treasure. Sprinkled with lush palms and surrounded by dunes and the sparkling Atlantic, this is one of the least crowded beaches near Fort Lauderdale.
Stroll the golden seashore near the oceanfront playgrounds. The lighted Dania Beach Fishing Pier is ideal for anglers and is open from dawn to midnight daily. There are tiki huts in front of the water, and they are first-come, first-serve, and free to use. Just north of the pier is Dr. Von D. Mizell-Eula Johnson State Park, where there are picnic and swimming areas, and kayak launching is a breeze.
Dania Beach has an abundance of parking and amenities, making it a top choice in Fort Lauderdale.
Love Sand, Sun, and Fun? Fort Lauderdale Beaches Are the Best
With so many sunny days and moderate temperatures, travelers and locals visit Fort Lauderdale's beaches year-round. Check out these top beaches around the community to find your ideal spot.