4 Best Luxury Condos in Fort Lauderdale: Live in Oceanfront Condos or On Los Olas
Posted by Laurie Reader on Thursday, October 13, 2022 at 10:04 AM
By Laurie Reader / October 13, 2022
Comment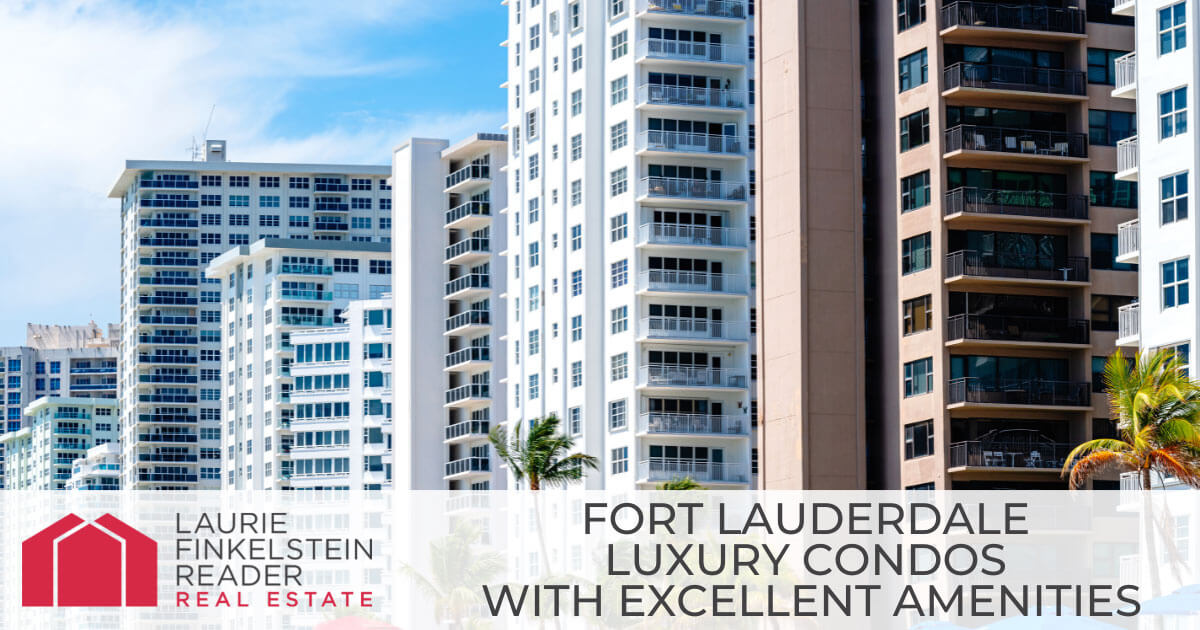 The feeling of white sand on bare feet is just a short walk away from many luxury condo communities in Fort Lauderdale, Florida—and this is only where the amenities begin! The city's sub-tropical year-round climate and views of crystal-blue waters in the Atlantic Ocean make condos for sale in Fort Lauderdale some of the most coveted real estate in all of Florida. The following four Fort Lauderdale condo communities truly dazzle their residents with excellent amenities.
Paramount Fort Lauderdale
While square footage is sometimes at a premium in condominium units, that's not the case in many of Fort Lauderdale's condos. How does a five-bedroom, 6,000-square-foot condo sound? That's the size of the larger units at Paramount Fort Lauderdale. Even the two-bedroom units top out at nearly 2,000 square feet, which is about twice the size of condos in comparable-sized cities.
Located at 701 N. Fort Lauderdale Beach Boulevard, Paramount's condos are just a few steps from the ocean at Fort Lauderdale Beach. Every condo has a private elevator entrance and a private balcony at a minimum of 545 square feet. Twenty-four-hour valet services are on duty to park residents' cars for them when they arrive home.
Paramount Fort Lauderdale has a playground and an indoor kid's room. Residents can take advantage of a luxurious pool outside the units, have a drink at the poolside bar, or enjoy beachside drinks service. The building also has a fitness center and a massage and steam room. During summer, Paramount has outdoor kitchens with barbecues.
L'Hermitage
L'Hermitage and L'Hermitage Reserve are twin condo towers on the beach in north Fort Lauderdale, on 10 acres of private land. These beachfront condos range from 2,300 to around 4,300 square feet and have a 2.5-acre pool deck with two heated outdoor pools.
Residents enjoying the outdoor amenities at L'Hermitage condos can stop by the Poolside Cafe for a bite to eat. In addition to the pools, there are two private Whirlpool spas and a toddler pool. Two lighted soft tennis courts are available for playing well into the evening.
Additional amenities at L'Hermitage include a new fitness center open 24 hours daily, with men's and women's saunas, locker rooms, and showers. Residents can reserve The Ocean Room for private parties, and it has a bar and a private kitchen for catered meals. The Sports Lounge has Wi-Fi and billiards, and a Card Room allows residents to enjoy a few hands at their favorite games. L'Hermitage has uniformed security guards on duty 24 hours a day, gated entry, motion detectors, and security cameras covering the entire compound.
Las Olas Grand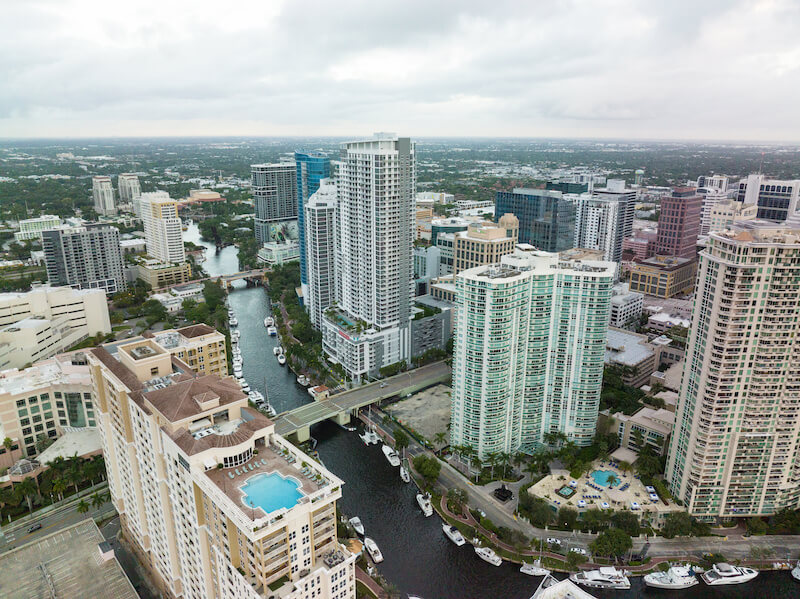 The water views are also incredible from Las Olas Grand, which is further inland from the beach, but right next to the New River. At 39 stories tall, most Las Olas Grand condos have views of the Atlantic Ocean. Residents can step out their front door and onto a paddleboat tour of the New River whenever they want.
The spacious one-, two- and three-bedroom condos range from 1,250 square feet to more than 3,700 square feet. Each unit has a private balcony, there are more than 200 units, and a 24-hour security team protects the building. Art galleries, shopping, fine dining, and more fun things to do in Fort Lauderdale are all situated within a block of the main building. Plus, it's just a short and convenient drive to the beach, the airport, and several country clubs.
Residents can access a private sauna, spa, heated pool, and fitness center. The building also has a library, a media room, and a game room for residents only. Did we mention that every master bathroom has a Jacuzzi tub?
Harbourage Place Condominium
With 44 units, Harbourage Place is one of the smaller luxury buildings in Fort Lauderdale. However, it offers some of the largest units of all condos in the area. Even the smaller units are 3,300 square feet. The largest condos in the building top out at more than 8,000 square feet, and all units have at least three bedrooms.
Some Harbourage Place condos have deeded docks available in the Intracoastal. The units have great views of the Atlantic Ocean, the Intracoastal, or the city itself. Spacious wrap-around balconies ensure views in multiple directions for every condo. Residents can walk to Fort Lauderdale Beach in about five minutes from the building's front doors.
Amenities at Harbourage Place include semi-private elevators, a heated pool, and a spa. Pets are allowed, and the building has a 24/7 security staff. The building has a waterfront Social Room for get-togethers and a fitness center. All of the units have gourmet kitchens fitted with luxury appliances.
Luxury Condo Living Provides Exceptional Fort Lauderdale Views
These condo communities in Fort Lauderdale allow residents to enjoy some of the finest luxury living opportunities in Florida. Oceanfront luxury condos already have an advantage over the competition regarding prized real estate. The amenities these communities offer residents only serve to sweeten the deal even further!