Fort Lauderdale Suburbs Guide: Discover 8 Amazing Towns Near Ft Lauderdale
Posted by Laurie Reader on Friday, January 7, 2022 at 11:32 AM
By Laurie Reader / January 7, 2022
Comment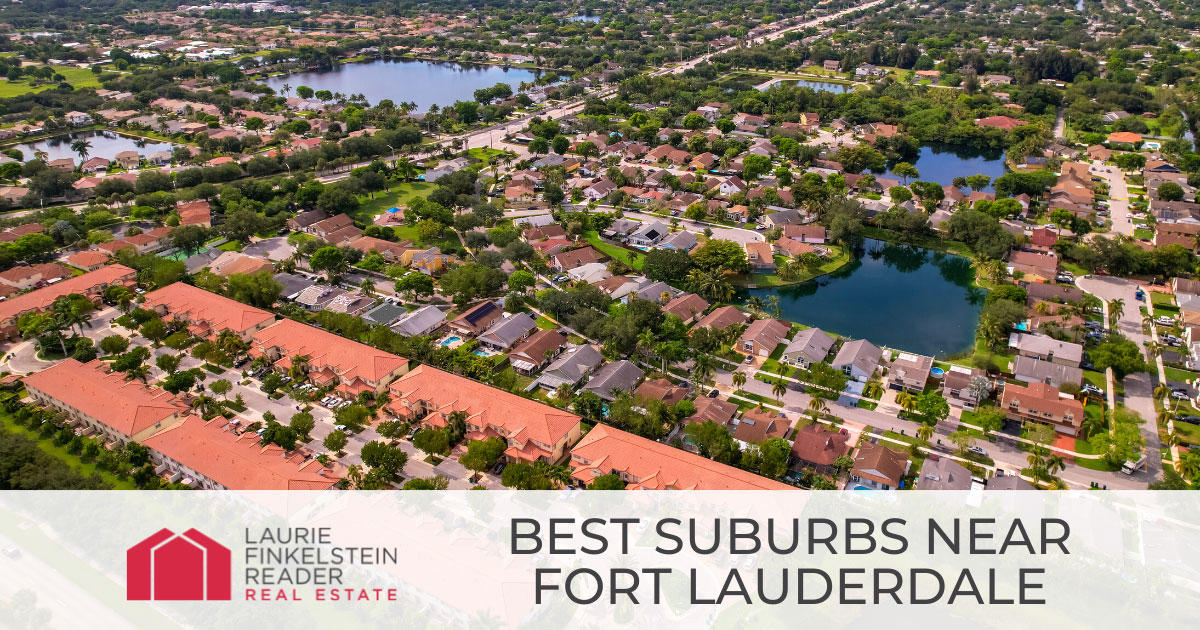 Fort Lauderdale is one of Florida's biggest and most popular cities. This thriving metro area north of Miami offers access to the beach, the Everglades, and all of the entertainment and attractions of southeast Florida just a short trip away. But making sense of the many neighborhoods, towns, communities, and other popular subdivisions in Fort Lauderdale can feel like a lot to handle for potential new residents. Those looking for a home near Fort Lauderdale should keep reading to discover eight of the most popular Fort Lauderdale suburbs.
Weston
Weston Amenities
A huge number of waterfront homes
Numerous parks
50 miles of bike lanes
Easy access to multiple local highways
Bonaventure Resort, Spa, and Golf Club
Nestled up against the Everglades, Weston is a master-planned community that's among the most popular Fort Lauderdale suburbs for those who desire a little more distance from the hustle and bustle of the city. Still, Weston residents are less than 25 miles from downtown and the beaches, an easy trip thanks to the community's location along Interstates 75 and 595. Meanwhile, US Highway 27, which forms the suburb's western boundary, provides easy access south to Miami or north to Lake Okeechobee. Within the community, residents can take care of shopping and enjoy an evening out at Weston Town Center, a shopping area filled with boutiques, restaurants, and other local and chain businesses. Weston also offers the advantage of many smaller parks dispersed throughout the area, ensuring all residents have convenient access to green space.
Weston homes range from modest condos in large buildings to spacious custom single-family homes. Weston condos generally start in the low $200,000s and typically include two bedrooms, two bathrooms. Single-family detached homes usually start over $500,000, with most between $600,000 and $800,000. However, it's not uncommon to see Weston luxury homes sell for more than a million dollars, up to more than $3 million.
Southwest Ranches
Southwest Ranches Amenities
Almost entirely residential
Convenient location near highways
Community parks and green space
Equestrian amenities
As the name suggests, Southwest Ranches is notable among Fort Lauderdale suburbs as one of the most rural, with space for farms and grazing animals amid residential areas. This isn't an accident. The community itself was officially established to prevent encroaching development and preserve the local semi-rural way of life. There aren't any streetlights or sidewalks here (by law), and there are more horse farms than shopping centers—but residents like it that way! In fact, the town even features its own equestrian park, Sunshine Ranches Equestrian Park. Still, this peaceful oasis is within easy driving distance of downtown Fort Lauderdale, the beaches, the Everglades, and all of the diverse surrounding communities. These surrounding areas also provide residents with access to all the daily conveniences they rely on. It's hard to find this combination of space, lifestyle, and location in many other Florida suburbs.
Homes in Southwest Ranches primarily consist of single-family detached homes on one-acre or larger lots. Homes can be found starting around the $500,000s and stretch up through the high six figures into the million-dollar range. However, due to the unusual shape of Southwest Ranches, housing can be found around the edges of the official community for somewhat lower prices, including condos.
Cooper City
Cooper City Amenities
Widespread water features and green space
Several nearby public and private schools
Brian Piccolo Sports Park and Velodrome
Cooper City bills itself as "Someplace Special," and many homeowners who agree have made it one of the more popular Fort Lauderdale suburbs. Bounded by Griffin Road, N University Drive, Sheridan Street, and S Flamingo Road, the community sets most commercial spaces around the edges, leaving interior areas free for homes, schools, and green space. In addition, Cooper City is home to numerous restaurants offering a variety of styles of cuisines, helpfully spread throughout the community to allow easy access for all. These include the local favorite Uncle Al's, which has provided casual eats for decades, and French restaurant Vienna Cafe and Bistro. The latter is located in the Countryside Shops, one of several smaller shopping plazas which provide locations for convenient daily groceries and errands.
Housing in Cooper City is made up of a mix of single-family detached homes, condos, and townhouse-style units. On the low end, properties can often be found in the high $200,000s for condo units or smaller, older houses. However, larger, updated homes with as many as five bedrooms and nearly 4,000 square feet can sell for between the high six figures and $2 million.
Parkland
Parkland Amenities
More residential "park-like" community
Easy access to other northern Fort Lauderdale suburbs
Numerous parks and community green spaces
Doris Davis Forman Wilderness Preserve
One of the most northerly Fort Lauderdale suburbs, Parkland has traditionally lived up to its name, offering a "park-like" atmosphere on the edge of the Everglades. For the first few decades after the community's founding, there weren't any stoplights or even stores in the area. It retains this character now, with homes built around canals, green space, and other natural and manufactured landscapes. However, development has accelerated since the construction of several large housing developments in the 1990s and 2000s. Now, residents can enjoy their quieter home community with dining and shopping options along nearby State Route 7 and the Sawgrass Expressway. Meanwhile, Fort Lauderdale is only a 25-mile drive away, and other popular communities like the city of Boca Raton and the Pompano Beach community are even closer, putting a huge swath of the region at the fingertips of homeowners.
Parkland homes consist almost entirely of single-family detached houses. They range from two-bedrooms with around 1,400 square feet of living space up to five- or six-bedroom homes with more than 8,000 square feet. Correspondingly, there's a significant price range for homes in Parkland, typically from the mid-$300,000s to more than $2 million for luxury homes.
Davie
Davie Amenities
Historic district with Western architecture
Varied homes for all budgets
Several colleges and technical institutes
Multiple large parks
Davie is one of the closer-in Fort Lauderdale suburbs, occupying a stretch between Interstate 595 and Griffin Road out to Interstate 75. It's also one of the most populous suburbs in the area, with more than 110,000 residents. As strange as it may sound to some, Davie was once considered frontier territory, far from the coast. This historical heritage can be seen in the Western-themed buildings and designs throughout the area. Residents can take advantage of several community parks, including the botanical garden and wildlife sanctuary known as Flamingo Gardens. While there are relatively few restaurants or commercial areas in Davie, there are plenty of shopping and dining options just over the border in nearby Weston, Cooper City, and Plantation.
One of Davie's advantages is its wide variety of housing available for homebuyers of all budgets. Mobile and prefabricated homes can be found for less than $100,000, while large luxury properties can easily sell for $1.5 to $4 million. In between, buyers will find various condos, townhomes, and single-family detached homes in Davie listing from around $200,000 up to the high six figures.
Pembroke Pines
Pembroke Pines Amenities
Convenient location for trips to Miami or points south
Diverse housing supply
Multiple golf communities
Memorial Hospital Pembroke and other medical facilities
Pembroke Pines is a long, narrow community that stretches from the Everglades to the Florida Turnpike between Pembroke Road and Sheridan Street. It's the most southerly of the top Fort Lauderdale suburbs, making it an excellent choice for those looking for easy travel to the Hollywood community, the city of Miami, or other points south. In some ways, it pushes the definition of a suburb; with more than 170,000 residents, it's nearly among the top ten most populous cities in Florida. Still, it retains a small-town feel in many ways, with nearly 30 parks, extensive lakes and water features, and commercial space clustered around the central Pines Boulevard, particularly The Shops at Pembroke Gardens.
The large size of Pembroke Pines, both in geographic area and population, means a wide diversity of housing styles and prices. Condo buildings, townhouse communities, and single-family home neighborhoods all make up various parts of the town. Condos can typically be found for less than $200,000, including some less than half that price. Most townhomes and single-family detached Pembroke Pines homes sell from the $300,000s to the $600,000s, while rarer luxury homes sell for the high six figures to around a million dollars.
Plantation
Plantation Amenities
Close to Fort Lauderdale
Multiple dispersed business districts
Public/private Plantation Golf Course and Club
As one of the closest suburbs to Fort Lauderdale proper, one of Plantation's biggest advantages is immediately apparent—its location. Set along Interstate 595 just to the west of Fort Lauderdale's border, the area draws its name from a former rice plantation on the site. Today, the town is home to more than 90,000 residents, a variety of large employers, and extensive local amenities. Businesses are spread between three separate districts, known as Plantation Gateway, Plantation Midtown, and Plantation Technology Park. In addition, parks, green spaces, and golf courses make up a noteworthy portion of Plantation. Museum-lovers can also learn the area's history at the Plantation Historical Museum or enjoy a fun, family-friendly day at the Young At Art Museum. In addition to an easy drive to Fort Lauderdale, Plantation provides easy access both across the state with Interstate 75 and up and down the east coast with nearby Interstate 95.
Another advantage of Plantation is relatively low housing prices compared to neighboring Fort Lauderdale suburbs. The majority of properties, including condos, townhouses, and single-family homes, sell from around $100,000 to around $400,000. However, there are still significant numbers of larger and newer homes in Plantation for sale in the high six figures, and some can sell for a million dollars or more.
Coral Springs
Coral Springs Amenities
Building codes to maintain the town's look and character
Aquatic Center
Tennis Center
Dozens of green spaces and city parks
Coral Square shopping center
Broward Health Coral Springs hospital
Coral Springs is a master-planned community located northwest of Fort Lauderdale. The careful planning that went into creating Coral Springs is still evident today, thanks to building codes designed to preserve the aesthetics and scale of the town. The area includes more than 50 parks, including an aquatic center, tennis center, dog parks, sports fields, and much more. Coral Springs also helps promote the local art scene by sponsoring public art for its Art Walk space and operating the Coral Springs Museum of Art. Residents also enjoy convenient access to everyday shopping and other businesses along the larger roads lining the community's subdivisions.
Though Coral Springs was founded in the 1960s, the final buildable residential lots in the community were only filled in the early 2000s. Homes in Coral Springs consist of a mix of condos, townhomes, and single-family detached houses. Smaller condo units generally sell in the $100,000–$300,000 range, with single-family homes typically starting at the higher end of that spectrum and stretching into the high six figures. On the high end, prices usually top out in the million-dollar range for 5–7 bedroom homes with as much as 7,000 square feet of living space.
Suburban Living For All Tastes And Budgets Is Easy Around Fort Lauderdale
From north to south, from the edge of the Everglades to just minutes from the ocean, the Fort Lauderdale area offers an incredibly diverse group of suburbs. Each offers its own unique benefits and characteristics to appeal to just about any homeowner. No matter what style of home or community they're looking for, future residents moving to Fort Lauderdale can count on these eight communities as excellent spots to set down roots in the Sunshine State.