Best Fort Lauderdale Neighborhoods: Watefront Homes in Southeast Florida
Posted by Laurie Reader on Monday, January 3, 2022 at 1:36 PM
By Laurie Reader / January 3, 2022
Comment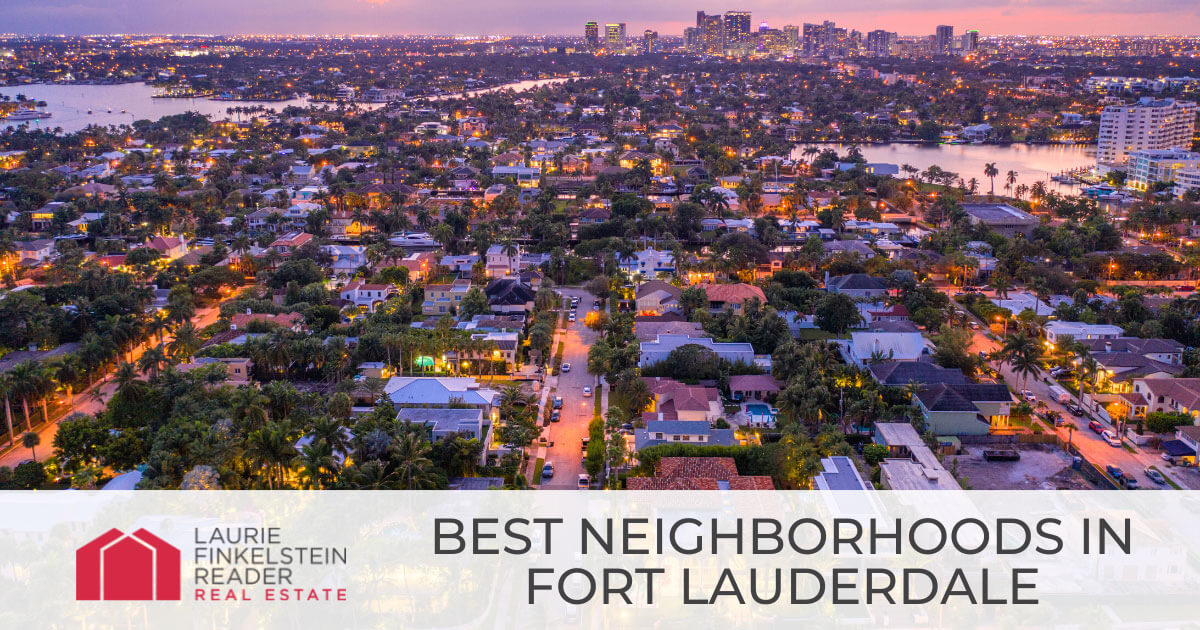 Fort Lauderdale in the Miami metro area has long been tipped as the Venice of America, mainly due to its network of neat canals, winding rivers, and the Intracoastal Waterway that stretches 3,000 miles from Boston, Massachusetts to the southern tip of Florida.
Residents of this oceanside city enjoy proximity to white-sand beaches and the convenience of wide and deep canals that are perfect for docking boats and yachts. With an average year-round temperature of 75 degrees Fahrenheit, Fort Lauderdale real estate is popular among those who wish to live every day like a vacation.
Thinking about moving to this great city? Keep reading to learn all about the best neighborhoods in Fort Lauderdale.
Coral Ridge
Coral Ridge Amenities
Walking distance to George English Park and Bayview Park
Close to beaches and water activities, including snorkeling and jet-skiing
Minutes away from golf courses, playgrounds, and tennis courts
Plenty of shopping and fine dining opportunities
Coral Ridge is sandwiched between the Intracoastal Waterway and the Middle River, with East Oakland Park Boulevard marking its northern border and East Sunrise Boulevard marking its southern one.
Founded in 1949, Coral Ridge is one of the best areas to live in Fort Lauderdale. It has a population of 5,000 residents scattered across several islets combed out of the western banks of the Intracoastal Waterway.
The Coral Ridge homes for sale are a gateway to Fort Lauderdale's idyllic white-sand beaches, ocean-view restaurants, and cultural attractions in the downtown area. Dining options right on the beach include Sandbar Grill and Ocean 2000. Water activities like snorkeling, jet-skiing, and flyboarding are always nearby at Fort Lauderdale Beach.
A variety of home styles are represented throughout Coral Ridge, including stylish townhomes, rustic beach bungalows, and contemporary waterfront estates. Meanwhile, soaring condos offer sweeping water views of the Atlantic Ocean.
Victoria Park
Victoria Park Amenities
A hallmark of Florida cracker architecture reimagined for today's homeowner
Close to the artsy Gateway Shopping Center
Playgrounds, courts, sports fields, and hiking trails at nearby Holiday Park
Easy access to I-95 highway connecting eastern seaboard states
Victoria Park is fronted by a network of waterways, with Sunrise Boulevard to the north and the lively Las Olas Boulevard to the south. Developed in the 1930s, Victoria Park is one of the oldest neighborhoods in Fort Lauderdale. To this day, it remains a hallmark of Florida cracker architecture, a style characterized by single-story houses with steep metal roofs, raised floors, and covered porches.
Victoria Park homes for sale embody Old Florida nostalgia, but it's not without a suite of modern conveniences to suit the active city dweller's needs. For starters, there's the Gateway Shopping Center with its vintage marquee display off the southeastern junction of Sunrise Boulevard and Route 1. Here, boutique stores and restaurants cater to residents and visitors who enjoy high-end shopping and dining options.
For nature enthusiasts, Holiday Park on Harold Martin Drive offers over 90 acres of green space. Outdoor amenities include tennis and racquetball courts, soccer and football fields, jogging paths and hiking trails, and the War Memorial Auditorium, once a famous stomping ground for professional wrestling events.
Victoria Park lies just three miles east of I-95, the longest north-south interstate in the United States that connects major cities along the eastern seaboard, such as Atlanta, Washington D.C., and New York City.
Rio Vista
Rio Vista Amenities
1920s architecture adds character to this picturesque community
A slower pace of life, yet easy access to the action of downtown
Some of the best seafood restaurants in Fort Lauderdale
Close to Lauderdale Yacht Club and Port Everglades
If you're looking for one of the best locations in Fort Lauderdale, look no further: Rio Vista real estate is one of your top choices.
Located south of Fort Lauderdale's bustling downtown area, Rio Vista is a historic neighborhood with tree-lined streets and eye-grabbing 1920s architecture. It's home to mainstays like the Lauderdale Yacht Club and Port Everglades.
For residents who crave a slower pace of life most of the time, but don't want to miss out on the action of Downtown Fort Lauderdale now and then, Rio Vista is the place to be. Here, water views and ocean breezes are constant reminders that life in Rio Vista is to be enjoyed at a slower pace compared to other neighborhoods in Fort Lauderdale.
Although Rio Vista exudes calm and tranquility, this picture-postcard neighborhood isn't a yawn fest. On the contrary, Rio Vista residents benefit from the best of both worlds, with energetic bars and restaurants overlooking the serene waters of the New River to the north and the Tarpon River to the south.
In addition to lively bars and cafes, Rio Vista is home to some of the best seafood restaurants in town, like Southport Raw and Boatyard. Other local highlights include Phat Boy Sushi, Primadonna Ristorante, and Goji Juicery and Kitchen.
Harbor Beach
Harbor Beach Amenities
A top choice for residents looking for extra privacy
Popular among yachting enthusiasts looking for the catch of the day
Upscale dining opportunities and luxury amenities within reach
Plenty of waterfront seafood and steakhouses to enjoy
Harbor Beach is a private gated community of luxury homes in Fort Lauderdale. It's considered one of the most desirable neighborhoods in all of Florida.
Bordered by Port Everglades to the south and the Atlantic Ocean to the east, the Harbor Beach homes for sale are popular among yachting enthusiasts who appreciate deepwater homesites to dock their boats and proximity to oceanside amenities, such as boat ramps and beach parks for fishing trips.
The Club at Harbor Beach is a popular venue in the community. It includes a spa, tennis courts, a private beach, and other luxurious amenities all in one place. Not too far from The Club is 3030 Ocean Restaurant & Bar. This dining establishment offers an upscale seafood menu and ocean views. After dinner, soothing waves from Lake Sylvia often lap the islets of Harbor Beach, making the walk home a worthwhile experience.
For those looking for more than just a little sand between their toes, the exclusive community of Harbor Beach has an array of waterfront properties to suit any lifestyle.
Las Olas By The Sea
Las Olas By The Sea Amenities
A dream for surfers who enjoy proximity to water
Public transportation along Fort Lauderdale Beach Boulevard
Excellent dining options right on the beach
Flanked by deep blue water and lush greenery
Nestled between the Atlantic Ocean and the verdant Hugh Taylor Birch State Park is Las Olas By The Sea. Homes in this waterfront community can't get any closer to the beach!
This oceanside neighborhood is one of the best places to live in Fort Lauderdale, especially for those who want a daily dose of beach life. Viking Surf Camp and Hangloose Surf School are located on Fort Lauderdale Beach Boulevard, steps away from waterfront homes in Las Olas By The Sea. Along the vibrant boulevard are several bus stops serviced by Broward County Transit, with Bus Route 11 stopping at NE 14 Court, NE 16 Court, and NE 18th Street.
Besides captivating views of the ocean, Las Olas By The Sea homes for sale offer an array of excellent dining options, including Casa Del Mare Ristorante, Steelpan Kitchen & Bar, and Kousine Fort Lauderdale. Residents can enjoy tasty dishes while watching waves break along the shoreline of Fort Lauderdale beach.
Homes in Las Olas By The Sea are an eclectic mix of styles. Some two-story houses feature sloping terracotta roofs, whereas others are contemporary builds of concrete and glass. Homes are on the large side and a few come with backyard lagoons for an added bonus.
Bay Colony
Bay Colony Amenities
Surrounded by water and stunning views
8-minute drive to the Coral Ridge Country Club golf course
6-minute drive to the Pompano Beach Golf Course
Wide tunnel allows passage for larger yachts
Bay Colony is a gated community located east of Route 1 and west of the Intracoastal Waterway. The canals surrounding it are deep and wide and offer ideal conditions for boat dockage. Residents are minutes away from fine dining, shopping malls, golf courses, and more, whether driving or cruising by water.
Bay Colony real estate is some of the most desirable in Fort Lauderdale, thanks to its privacy and tranquility for boat owners who wish to cruise the Intracoastal Waterway and venture out into the open sea. The neighborhood consists of over 100 waterfront homes with round-the-clock security and underground utilities. There are some amenities that make Bay Colony one of the best places to live in Fort Lauderdale, such as golf courses and fine dining restaurants.
The Promenade at Bay Colony offers upscale shopping and dining options with anchor tenants like Bonefish Grill and Einstein Bagels.
Tarpon River
Tarpon River Amenities
Centrally located with easy access to I-95
Near the hustle and bustle of downtown Fort Lauderdale
Steps from neighborhood hotspot, Lewis Landing Park
Provides a rich habitat for marine wildlife
Tarpon River is a suburban neighborhood centrally located in Fort Lauderdale. The river after which the neighborhood was named is a narrow body of water that runs along its southern border, flowing west where the Tarpon River meets the New River at Tarpon Bend.
Only minutes away from Downtown Fort Lauderdale, Tarpon River is the perfect balance between urban and suburban living. While being free from urban congestion, the neighborhood has all of the modern conveniences and amenities that one would expect from a suburb directly across Fort Lauderdale's busy downtown area, making it ideal for people driving in Fort Lauderdale.
The neighborhood of Tarpon River is home to several green spaces, including Florence C. Hardy Park, which offers a large playground, tennis courts, and athletic fields for residents to enjoy. Another noteworthy hot spot is Lewis Landing Park, with its meandering trails and pink sunsets.
Local favorites include Tarpon River Brewing, Hardy Park Bistro, Publix Supermarket, and an old-timey comfort food establishment called the DownTowner.
Tarpon River real estate is a blend of waterfront residences, condominium communities, and single-family homes with an array of architectural styles. Most properties were built in the 1950s, inspired by mid-century modern design and Mediterranean architecture.
Colee Hammock
Colee Hammock Amenities
A walker's paradise near vibrant Las Olas Boulevard
Excellent dining opportunities at local staples
Options for gondola rides and dinner cruises
Easy access to Fort Lauderdale International Airport
Colee Hammock is steeped in a rich history dating back to 1916. This waterfront neighborhood is one of the smallest on this list, encompassing less than a quarter square mile and roughly 1,000 residents within its boundaries.
With soft, sandy beaches at a short walking distance and a vibrant night scene along Las Olas Boulevard, Colee Hammock is a walker's paradise. Residents can ditch their cars and stroll down Las Olas for some excellent dining options, with local staples like Casa Sensei, Bombay Darbar, and Luigi's Tuscan Grill offering a tasty sample of world fare. Alternatively, residents can head to Riverfront Gondola Tours on Las Olas & E 12th Street for an enchanting dinner cruise at sunset.
The Historic Stranahan House Museum, lauded as Fort Lauderdale's oldest surviving home, can be easily reached by foot or watercraft, and Riverwalk Park on the banks of the New River boasts an exciting mix of museums and art galleries.
Make Yourself at Home in Fort Lauderdale's Best Neighborhoods
The best neighborhoods in Fort Lauderdale are steeped in history, rich with local amenities, and located at a stone's throw from white-sand beaches. They offer exciting shopping and dining opportunities that can be easily reached by foot, car, or boat, and warm weather that can be enjoyed year-round. Whether you're looking for Fort Lauderdale high-rise condos or a mansion on the water, the best neighborhoods in Fort Lauderdale have something for everyone.