7 Best Neighborhoods in Plantation: Where to Live in Plantation
Posted by Laurie Reader on Tuesday, November 29, 2022 at 11:27:57 AM
By Laurie Reader / November 29, 2022
Comment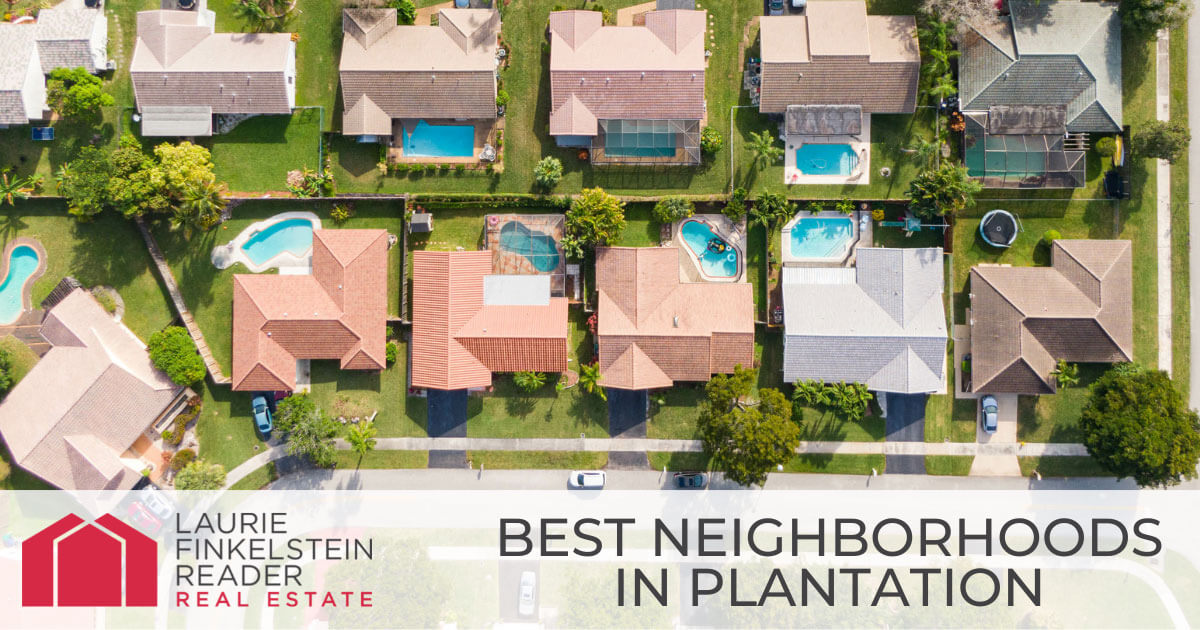 Looking for the perfect place to live in the city of Plantation? Your search ends here. Plantation's best neighborhoods are well-known for their proximity to local schools, desirable amenities, and beautiful homes for sale. Exceptional property values, pristine golf clubs, and other recreational opportunities are also big draws for those moving to Plantation. Additionally, the town's central location in the greater Miami metro area makes it a popular choice among commuters traveling in all directions, with Interstate 595 serving as a critical east-west roadway along Plantation's southern border. Explore seven of the best neighborhoods in town and find out why this area in Broward County is so desirable.
Hawk's Landing
A luxury gated community of stylish custom homes, Hawk's Landing is located just west of Jacaranda Golf Club between Nob Hill Road and Hiatus Road and south of Broward Boulevard. Homebuyers will find approximately 550 estate-style homes ranging from 3,000 to 9,000 square feet in size, many of which were built in the 2000s and 2010s. The on-site homeowner's association fosters community involvement, and amenities include a 24-hour security guard, roving security patrol, and access to a state-of-the-art, Mediterranean-style clubhouse. Hawk's Landing homes for sale range from $700,000 to $2 million.
Residents are a short drive away from Sawgrass Mills, a sizeable luxury-brand outlet mall with over 350 stores, including Burberry, Gucci, Lululemon, and more. The New River Greenway spans the community's width along its southern boundary for outdoor recreation, providing a scenic pathway for jogging, walking, and biking. Dining destinations on Broward Boulevard include Ella's Cafe, Vivace Gourmet Pizza & Pasta, and J. Alexander's Holdings, where locals can enjoy wood-fired American fare.
Hawk's Landing Amenities
Tropical Elementary is the primary public school serving Hawk's Landing, while the American Heritage School is a nearby private institution.
Events held regularly within Hawk's Landing include community potlucks, outdoor movie nights, pool parties, happy hours, and more.
Broward Boulevard runs from east to west along the neighborhood's northern edge and has an abundance of strip malls and casual eateries.
Hawk's Landing is located off I-595, making it a convenient commute to many of South Florida's key cities and attractions.
Plantation Acres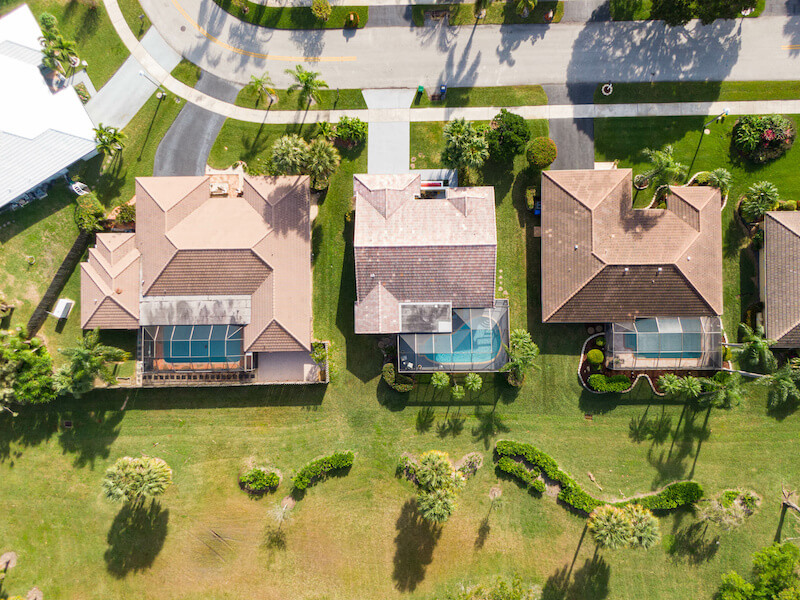 Home to sprawling equestrian estates, Plantation Acres is a laid-back neighborhood located east of Flamingo Road and west of Hiatus Road in northwestern Plantation. Homebuyers will find a mix of single-family homes ranging from 2,000 to 5,000 square feet in size. Plantation Acres real estate prices range from $400,000 to upwards of $2 million.
The city's Plantation Acres North Park is central to the community, featuring playgrounds and shaded areas for picnics. The nearby Plantation Equestrian Center is set within Volunteer Park's 85 acres of lush green space. The center offers a range of horseback riding lessons, trails, and facilities for special events, while Volunteer Park has basketball courts, picnic pavilions, and walking trails for outdoor enthusiasts.
Shopping and dining options are plentiful when living in Plantation Acres, as many commercial strips surround the neighborhood, including those along Sunrise Boulevard, Flamingo Road, and Oakland Park Boulevard. Popular destinations include the Shoppes at Sawgrass, Welleby Plaza, and Plantation Crossing.
Plantation Acres Amenities
The Plantation Acres Homeowner's Association provides a neighborhood watch, community programs, and other services for residents.
Central Park Elementary, which serves Plantation Acres, is a public school in the Broward County School District.
Sunrise and Oakland Park boulevards are teeming with popular bars and restaurants, like Cheers, The Inn Field, All That Jazz, and Quarterdeck.
Plantation Acres is conveniently located near I-75, providing easy access to Fort Lauderdale, Miami, and beyond.
Plantation Isles
Boat owners and fishing enthusiasts love the Plantation Isles neighborhood! That's because the deep waters of the New River Canal feed into this neighborhood of islets, providing some of the best waterfront homes for sale in Plantation. Happy Tails Dog Park is located directly across the waterway, with visitors raving about its large dog run, well-maintained grass, and other pet-friendly amenities.
Single-family properties dominate the neighborhood's housing stock, but two-story townhomes may also be listed on the market. Many feature waterfront views, ample garage space, swimming pools, and private docks. Home prices range from $600,000 to $1.3 million, and HOA fees may not apply in most cases.
Plantation Isles Amenities
Seminole Park is a popular gathering place for locals, featuring a playground, volleyball courts, and a picnic pavilion.
Tropical Elementary School, Seminole Middle School, and South Plantation High School are Plantation schools in the area.
Residents are a seven-minute drive from an extensive shopping and entertainment district that includes an adventure park for kids.
Nightlife options in Plantation Isles include bars and restaurants like Smokey Bones, Tijuana Flats, and Duffy's Sports Grill.
Plantation Park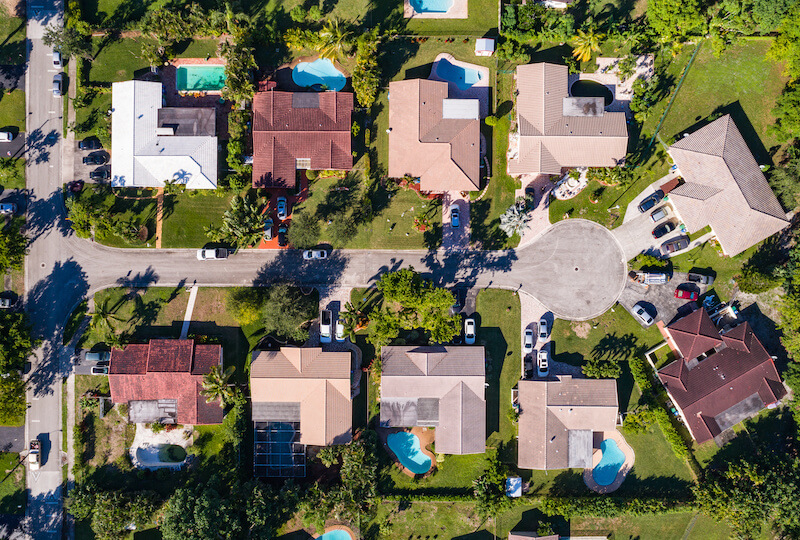 Plantation Park is a residential community situated west of Florida's Turnpike, east of Holloway Canal, and south of Broward Boulevard. Most of the houses in this area date back to the 1950s when Plantation Park was first developed. However, recent renovations have kept these homes in top condition. Buyers will find a mix of one-story, single-family houses featuring Ranch and Craftsman architectural styles and two-story Mediterranean Revival homes. The cost of homes for sale in Plantation Park can range from $500,000 to $1.5 million.
Plantation Heritage Park is the neighborhood's main green space, offering miles of walking trails, a disc golf facility, and an artificial lake. The park is between two famous golf courses in the area: Fort Lauderdale Country Club and the smaller Plantation Preserve Golf Club. The latter offers one 18-hole championship course, while the former has two, along with a clubhouse and pro shop. West of the smaller golf club is Broward Mall, where residents have quick access to well-known retailers, casual restaurants, and a movie theater.
Plantation Park Amenities
Fig Tree Park is a popular green space with a fishing pond, playground, basketball court, and baseball field.
Florida's Turnpike and I-595 are key north-south and east-west arteries (respectively) that are minutes away from the neighborhood.
Plantation Diner, Brio Italian Grille, and Padrino's Cuban Restaurant are popular dining options near the intersection of Broward Boulevard and University Drive.
Plantation Towne Square is a five-minute drive from the neighborhood, which includes a Publix supermarket and various specialty stores.
Jacaranda Lakes
Winding roads, cul de sacs, and a patchwork of lakes and canals create a tranquil feel in Jacaranda Lakes. Because the neighborhood is surrounded by water, most homes enjoy a waterfront view, with Pine Island Road providing access along the community's eastern periphery and Sunrise Boulevard marking its northern boundary.
A newer enclave in West Plantation, the area was developed in the 1980s and 1990s. Single-family homes dominate the Jacaranda Lakes real estate market, offering features like screened patios, swimming pools, and updated kitchens. The average HOA fee is $500 per year, and home prices range from $500,000 to $800,000 for houses measuring 1,500 to 3,000 square feet, making Jacaranda Lakes one of the most affordable neighborhoods in Plantation.
Notable parks in the area include Plantation Central Park and Sunset Park, both of which offer a variety of recreational activities. There's also a large selection of restaurants and grocery stores nearby, including Walmart Neighborhood Market, Publix Super Market, and various casual restaurants along Sunrise Boulevard.
Jacaranda Lakes Amenities
Jacaranda Lakes Park is the neighborhood's centerpiece, featuring a playground, athletic courts, and walking trails.
The Jacaranda Lakes HOA takes care of landscaping and common-area upkeep, so homeowners can enjoy low-maintenance living.
Jacaranda Plaza is a busy strip mall that offers a popular bagel shop, cafe, and fitness center within minutes of the community.
The area is served by Broward County Schools, with Central Park Elementary and Plantation Middle School nearby.
Jacaranda Country Club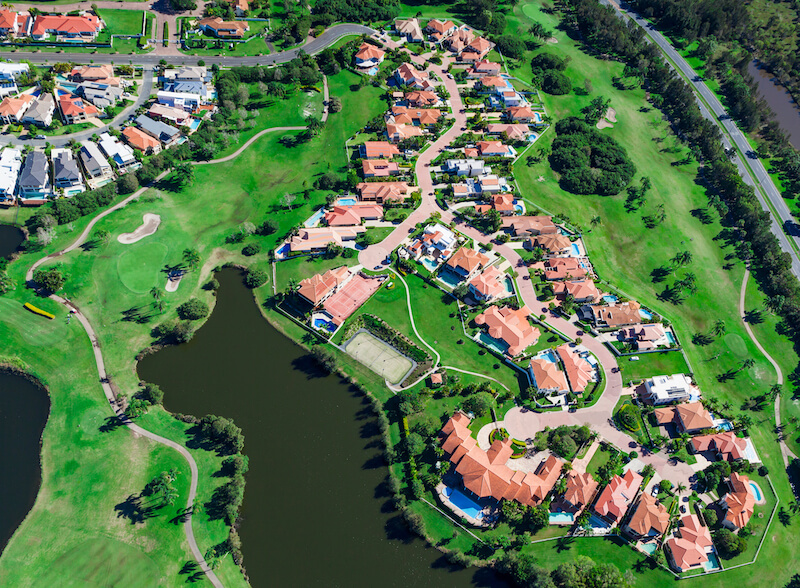 Located in the heart of Plantation, Jacaranda Country Club is a luxury community nestled between Pine Island Road and Nob Hill Road, just north of I-595 and south of Broward Boulevard. The community centers around the Jacaranda Golf Club, which offers two of the best golf courses near Fort Lauderdale. Homeowners enjoy access to the country club's amenities, including two restaurants and a pro shop. Many homes face the neighborhood's signature water hazard, giving residents a peaceful view of the shimmering lake.
The country club is home to various beautifully designed properties, from Mediterranean-style villas to contemporary Ranch-style residences. Many Jacaranda Country Club homes for sale feature swimming pools, 2-car garages, and open floor plans that exceed 3,000 square feet. As a result, home prices are among the highest in Plantation, ranging from $600,000 to more than $1.5 million.
Plenty of local amenities are within easy reach of Jacaranda Country Club. These include an interactive art space for kids called Young at Art and a boutique movie theater with exceptional sound and reclining seats at half the price of an AMC ticket. The Broward Mall and various restaurants are also within minutes of the community.
Jacaranda Country Club Amenities
Residents have quick access to 26 lighted Har-Tru tennis courts, two Olympic-size swimming pools, eight baseball diamonds, and more at Plantation Central Park.
Bokamper's Sports Bar & Grill, Ovlo Eats, and Izgara Middle Eastern Cuisine are popular dining spots near Jacaranda Country Club.
The Fountains shopping center is five minutes away and features stores like Pet Bar, Blueprint Cookies, and The Skinny Dip.
Other businesses in the neighborhood include 24-Hour Fitness, Publix, Kohl's, and Target.
Fountain Spring
Fountain Spring is a peaceful community located in northwest Plantation, west of Nob Hill Road, east of Hiatus Road, and south of Sunrise Boulevard. Comprised of single-family homes built in the 1990s, Fountain Spring offers ample living space at relatively affordable prices, with home values ranging from $400,000 to $800,000. Many Fountain Spring homes for sale boast terracotta roofing and two-story layouts. Interiors are generously sized, airy, and open, while exteriors feature lush landscaping and screened patios. HOA fees range from $250 to $575 and are paid quarterly.
Community amenities include an aquatic center, where several heated swimming pools and a spa are located, basketball courts, tennis courts, a large playground, and a clubhouse. Deicke Park is another big draw, with sand volleyball courts, walking trails, and picnic areas. Nearby shopping includes a pet market, a Winn Dixie grocery store, and several stores at Plantation Promenade Mall.
Fountain Spring Amenities
Popular restaurants in the vicinity include Bonefish Grill, Ceviche Point, and La Bamba Mexican Restaurant.
Plantation Promenade has Publix, Panera Bread, Orangetheory Fitness, and other big-chain businesses.
Additional shopping centers are located within a five-minute drive, including Sawgrass Mills and Broward Mall.
Other neighborhood highlights include Doris Italian Market & Bakery and Einstein Bros. Bagels.
Make Yourself at Home in Plantation's Best Neighborhoods
The seven neighborhoods on this list strike the perfect balance between big-city amenities and suburban tranquility. Homebuyers can find almost everything they need within the confines of Plantation, from lavish country clubs and golf courses to lush parks and shopping meccas. Of course, warm year-round weather, reasonable cost of living, and proximity to some of the best beaches in South Florida add to the allure. With so much to offer, Plantation is a great place to live and call home.