Top 8 West Palm Beach Neighborhoods: Best Places to Live in West Palm Beach
Posted by Laurie Reader on Thursday, December 8, 2022 at 9:38:41 AM
By Laurie Reader / December 8, 2022
Comment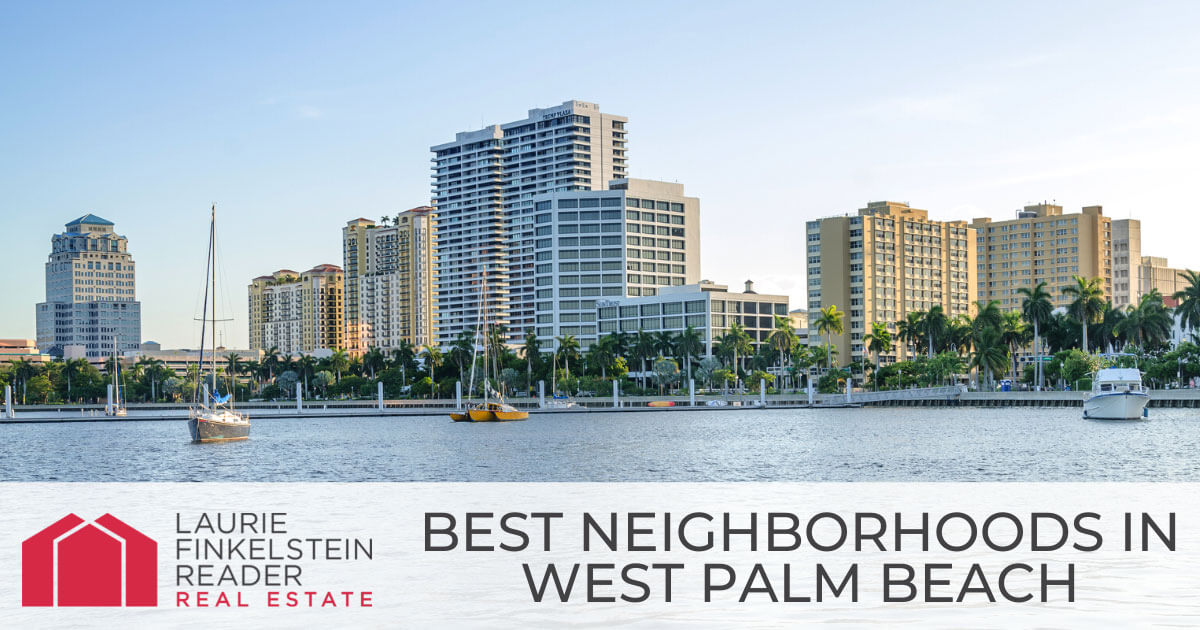 Located along the Atlantic Coast in South Florida, moving to West Palm Beach means access to world-class venues, a thriving arts scene, and beautiful beaches. The city boasts 13 historic districts, each of which offers a unique lifestyle. When it comes to finding the best homes for sale in West Palm Beach, several neighborhoods stand out for their resort-style features, convenient local amenities, and captivating architecture. Wondering where you should live? Here are the eight best neighborhoods in West Palm Beach.
Flamingo Park
Flamingo Park sits on the highest coastal ridge between West Palm Beach's downtown area and the city of Miami. As a result, many homes for sale in Flamingo Park offer both city and ocean views. Homebuyers are drawn to the area hoping to snag an architectural jewel like an American Foursquare, Colonial Revival, or Spanish Mission home. These property types date back to the 1920s, though many have been renovated to include gourmet kitchens, energy-efficient windows, and luxury bathrooms.
Due to their historical significance, the nearly 500 structures that have earned the subdivision a spot on the National Register of Historic Places come with a certain level of luxury. Average real estate prices range from $1 million to $4 million.
Flamingo Park's Neighborhood Association distributes a bi-monthly newsletter to inform residents of new businesses, local events, city improvements, and more. Residents are within walking distance of a vibrant commercial district, where the community's namesake park provides a green space for outdoor activities. The district is also home to several shops, restaurants, and a brewing company.
Flamingo Park Amenities
Popular dining spots in Flamingo Park include Table 26, Grato, and HIVE Bakery & Cafe.
Municipal Beach, Palm Beach, and Worth Avenue Clock Tower are all within a short drive.
Dixie Highway, Parker Avenue, and Belvedere Road are the main roadways serving Flamingo Park.
The area's commercial district teems with local boutiques specializing in ceramics, flowers, and fashion.
Banyan Cay Resort
Banyan Cay is situated west of Lake Mangonia and east of I-95 in northern West Palm Beach. A golfer's paradise, it's home to the Jack Nicklaus-designed Banyan Cay Resort & Golf Club, operated by Hyatt. The club offers an 18-hole championship course, clubhouse, and restaurant.
The Residences at Banyan Cay make up the area's main subdivision. Here, new construction properties boast high-end features, such as top-of-the-line appliances, sparkling pools, and two-car garages. The subdivision also offers easy access to the golf club and its amenities, which include a state-of-the-art fitness center, spa, event space, and resort-style swimming pools. Banyan Cay Resort real estate prices range from $1 million to $2 million. This gorgeous community invites residents to enjoy top-tier living amid the favorable cost of living in West Palm Beach.
For shopping and dining, Banyan Cay residents have quick access to Tanger Outlets, a large shopping mall located south of the resort. The mall has a variety of stores and restaurants for visitors to take in, including national chains like Nike, Ann Taylor, and Tumi.
Banyan Cay Resort Amenities
Restaurants in the area include B.J.'s Brewhouse, Buenisimo Café, and First Watch.
Lake Mangonia Park offers a boat ramp for fishing enthusiasts and benches facing the water.
I-95 is a major highway connecting Banyan Cay to the rest of West Palm Beach and other South Florida cities.
Public schools serving the subdivision include Roosevelt Elementary and Roosevelt Middle School.
Grandview Heights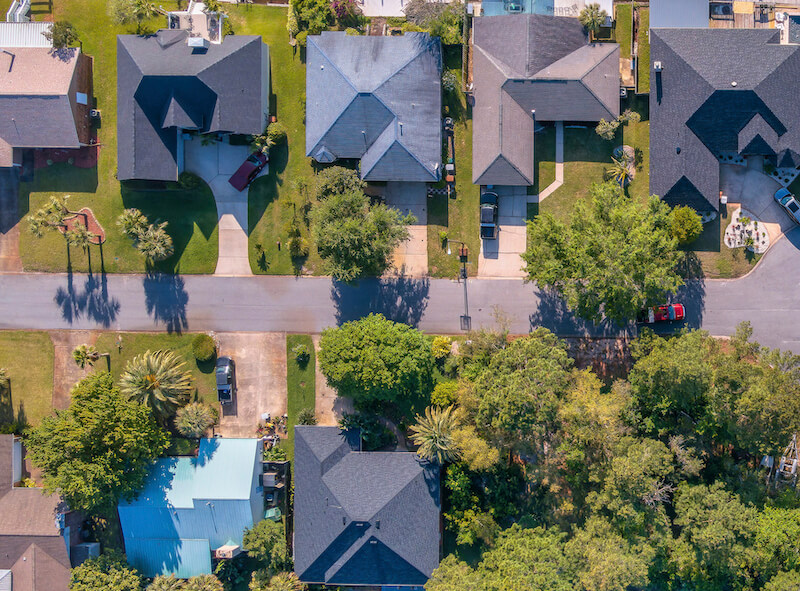 Grandview Heights is located north of Flamingo Park, south of Okeechobee Boulevard, and west of Dixie Highway in West Palm Beach. One of 13 historic districts in the city, the neighborhood is known for its beautiful Spanish Bungalow, Craftsman, and Mediterranean Revival homes, among other architectural styles dating back to the 1920s. Many of these homes have been remodeled since then yet still maintain their original charm. Homes for sale in Grandview Heights typically cost between $700,000 and $1.5 million, with larger homes in the area costing upwards of $2 million.
The neighborhood's convenient location near downtown provides an easier experience driving and commuting in West Palm Beach. Residents have easy access to the world-class Norton Museum of Art, which houses more than 8,200 permanent works spanning 5,000 years. The Palm Beach County Convention Center is also located nearby, with events and exhibitions taking place year-round. South of the convention center, Howard Park is a popular gathering place for sports, recreation, and live music events. Other highlights in the area include an indoor soccer complex, a brewery, and an industrial-style restaurant known as Grandview Public Market.
Grandview Heights Amenities
Howard Park spreads across 14 acres and features a tennis center, a dog park, and miles of walking trails.
Residents of Grandview Heights are close to art studios, a fresh farm market, and beaches.
Steam Horse Brewing and Steel Tie Spirits are local favorites for craft beer and cocktails.
Grandview Heights is situated near major roadways like I-95 and U.S. Route 1, making it easy to get around.
CityPlace
Formerly known as Rosemary Square, CityPlace is located in the heart of Downtown West Palm Beach, north of Okeechobee Boulevard and west of Quadrille Boulevard. The area is best known for its vibrant entertainment and nightlife scene, with dozens of restaurants, bars, nightclubs, and the Kravis Center for the Performing Arts, all within walking distance. The arts center includes four performance venues and offers a writer's academy, plus other programs and workshops for emerging artists.
Luxury mid-rise condos dominate the CityPlace real estate market, although some townhome communities are scattered throughout the neighborhood, too. Residents enjoy resort-style amenities such as fitness centers, swimming pools, and on-site concierge services. Homeowner's Association (HOA) fees vary widely depending on the community and luxury level, with some costing as little as $250 per month while others cost upwards of $1,000. Home prices range from $300,000 for a one-bedroom, one-bath condo to $850,000 for a three-bedroom, three-bath unit.
CityPlace is home to dozens of restaurants and bars, all of which add to the area's vibrancy and walkability. Some of the most popular venues include Copper Blues Rock Pub, featuring live music; City Cellar, serving American fare; and Il Belaggio, an upscale Italian restaurant. The neighborhood also has a 20-screen movie theater, multiple fitness studios, and a Publix Supermarket.
CityPlace Amenities
CityPlace hosts several festivals and events throughout the year, notably SunFest and Clematis by Night.
The Palm Beach Comedy Club offers improv shows, stand-up comedy, and other events.
The Square shopping mall was modeled after an Italian town square and houses several luxury brands.
Molly's Trolleys shuttles residents throughout CityPlace and Downtown West Palm Beach free of charge.
El Cid
El Cid was first developed in the late 1800s and soon became home to South Florida's first pineapple operation. This was short-lived, however, and later replaced by Henry Flagler's railroad. The Flagler name lives on in the community, with Flagler Drive marking El Cid's eastern border along the Intracoastal Waterway. The famous waterway, which runs along the Atlantic Seaboard, stretches 3,000 miles from Massachusetts to the southern tip of Florida. Of those 3,000 miles, a navigable 125 run through El Cid, making it one of the best spots in South Florida for boaters and water lovers.
As one of the oldest neighborhoods in West Palm Beach, El Cid has a rich history and plenty of charm. Many of the single-family homes in the community were built in the 1920s and 1930s, though new construction properties are also becoming more prevalent. Homes for sale in El Cid include an impressive selection of custom-designed estates with prices that range from $700,000 for a historic cottage to $5 million for a four-bedroom, four-bath estate, with some homes going for $10 million or more.
Residents of El Cid appreciate its waterfront location, the on-site Ann Norton Sculpture Gardens, and the selection of restaurants, shops, and bars along Dixie Highway. Popular food spots include Pig Beach BBQ, Kitchen, and 3Natives Health Food. Residents also have access to nearby museums, golf courses, and parks.
El Cid Amenities
Flagler Drive's waterside promenade is excellent for walking, jogging, and biking.
Golfing venues on either side of the Intracoastal Waterway include Everglades Golf Club and ProZone.
El Cid has a strip mall northwest of the neighborhood, with service shops and a few restaurants.
Palm Beach International Airport is less than 10 minutes away by car, traveling west on Belvedere Road.
Old Northwood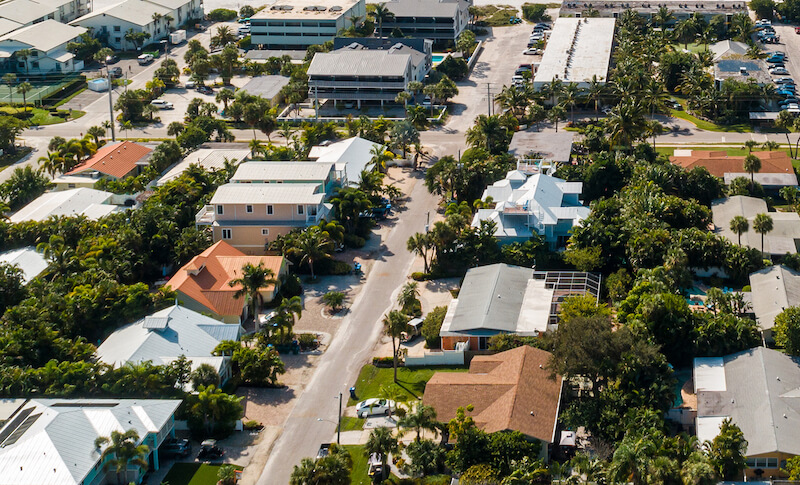 The first neighborhood designated as a historic district in 1991, Old Northwood is a throwback to the 1920s, with its classic Frame Vernacular and Mission-style homes. The community is north of 25th Street, east of Broadway, and west of Flagler Drive in northern West Palm Beach. Like El Cid, Old Northwood is a waterfront community, with the Intracoastal Waterway running along its eastern edge. It features over 300 historic structures that sit along shady, tree-lined streets and contribute to the area's old-Florida charm. Most of the single-family houses in the neighborhood have been well-preserved over the years, and a few may be listed on the market for sale.
Old Northwood real estate prices typically range from $1 million to $4 million for homes that have been renovated to include the latest high-end finishes, such as gourmet kitchens with stonework and heated swimming pools. However, smaller Bungalow-style homes may also be listed between $600,000 and $900,000.
Old Northwood's Neighborhood Association offers an online portal for residents to register and obtain information about the community and organize block parties and social gatherings. Residents can access a clubhouse at 3510 Spruce Avenue, two parks, and a marina. The neighborhood is also home to some of the best local restaurants in West Palm Beach, all of which can be found in Northwood Village District. Storefronts in this area are colorful, inviting, and unique. The district offers vintage clothing boutiques, art galleries, and other trendy retail shops.
Old Northwood Amenities
Malakor Thai, Mestizo, and This Is It Cafe are popular eateries in Northwood Village District.
Post Modern, Life in Palm Beach, and Circa Who are some of the independent shops that call Old Northwood home.
Nearby Curry Park has tennis courts, boat launches, a playground, and a maritime museum.
Broadway runs north to south along the neighborhood's western edge, connecting Downtown West Palm Beach.
Southend
Sometimes called "SoSo," meaning South of Southern Boulevard, the neighborhood of Southend claims a nearly eight-mile stretch along the Intracoastal, with most homes on Flagler Drive facing the waterway. Properties in Southend date back to the 1950s, but many have been renovated to include open floor plans, gourmet kitchens with stainless steel appliances, and other modern features. Luxury new construction homes may also be available, ranging in price from $10 million to upwards of $20 million. Additionally, vacant lots under one acre in size may be listed for sale, and many homeowners own dock space along the Intracoastal.
Residents of Southend enjoy a laid-back yet active lifestyle, with Flagler Drive serving as a popular spot for walking and jogging. The neighborhood has its own waterfront park, Summa Beach Park, which features a dock and a stretch of white sand. West of Summa Beach, South Olive Park offers playgrounds, sports fields, a picnic pavilion, and a splash pad. A vibrant shopping and dining strip can be found along Dixie Highway just west of the park. Havana Restaurant, Dixie Grill & Brewery, and Howley's are just a few of the local favorites.
Southend Amenities
The Shoppes at Palm Coast Plaza is minutes away from Southend and has a gym, supermarket, and other retail stores.
Public schools serving Southend include South Olive Elementary and Conninston Middle School.
South Olive Avenue runs along the neighborhood's western edge and connects to Downtown West Palm Beach.
The area is home to the Cox Science Center & Aquarium, with a planetarium and dinosaur exhibits.
RiverWalk
Completed in 2001, RiverWalk is a luxury master-planned subdivision of winding islets and quiet cul-de-sacs. It's located roughly one mile west of Florida's Turnpike near the Okeechobee Boulevard junction. A waterfront gated community, nearly all 1,347 homes in RiverWalk enjoy a lakefront view. Many interiors boast luxurious finishes, including spacious kitchens with granite countertops and hardwood floors. Additional features, such as screened-in patios, two-car garages, and swimming pools, are also standard. Sale prices range from $500,000 to $1 million.
Residents of RiverWalk have access to a suite of resort-style amenities at the neighborhood's Town Center. These include three heated pools, eight lighted Har-Tru tennis courts, multiple walking and cycling paths, a fitness center, a hair studio, and a cafe. Furthermore, the community's active HOA hosts regular social events and publishes a monthly newsletter, keeping residents informed of the latest neighborhood news. Outside the gates are abundant shopping, dining, and entertainment options, including Emerald Dunes Country Club, Lake Point Shopping Center, and Grassy Waters Preserve.
RiverWalk Amenities
Popular restaurants in the area include Duffy's Sports Grill, Pete's Place, and Eatalia.
Grassy Waters Preserve has hiking and biking trails, paddling, and fishing spots.
Grassy Waters Elementary School, Jeaga Middle School, and Palm Beach Lakes High School serve RiverWalk.
The area is home to several big-box stores such as Target, Kohl's, and a Walmart Supercenter.
Make Yourself at Home in West Palm Beach's Best Neighborhoods
With its waterfront properties, resort-style amenities, strong job market and economy, and easy access to shopping and entertainment, West Palm Beach has plenty of neighborhoods worth considering for anyone looking to live in the area.
Flamingo Park, Grandview Heights, El Cid, and Old Northwood are perfect for those seeking a historical urban vibe. At the same time, the Banyan Cay Resort and RiverWalk subdivisions boast luxury amenities and a tranquil atmosphere. Southend is the most upscale of the bunch, with stately homes and a neighborhood-centric atmosphere, while CityPlace is ideal for those who want a walkable nightlife scene. The above neighborhoods provide a unique living experience in South Florida and demonstrate why West Palm Beach is a great place to call home.