5 Outdoor Activities in Fort Lauderdale: Fun In the Florida Sun
Posted by Laurie Reader on Monday, April 4, 2022 at 1:33 PM
By Laurie Reader / April 4, 2022
Comment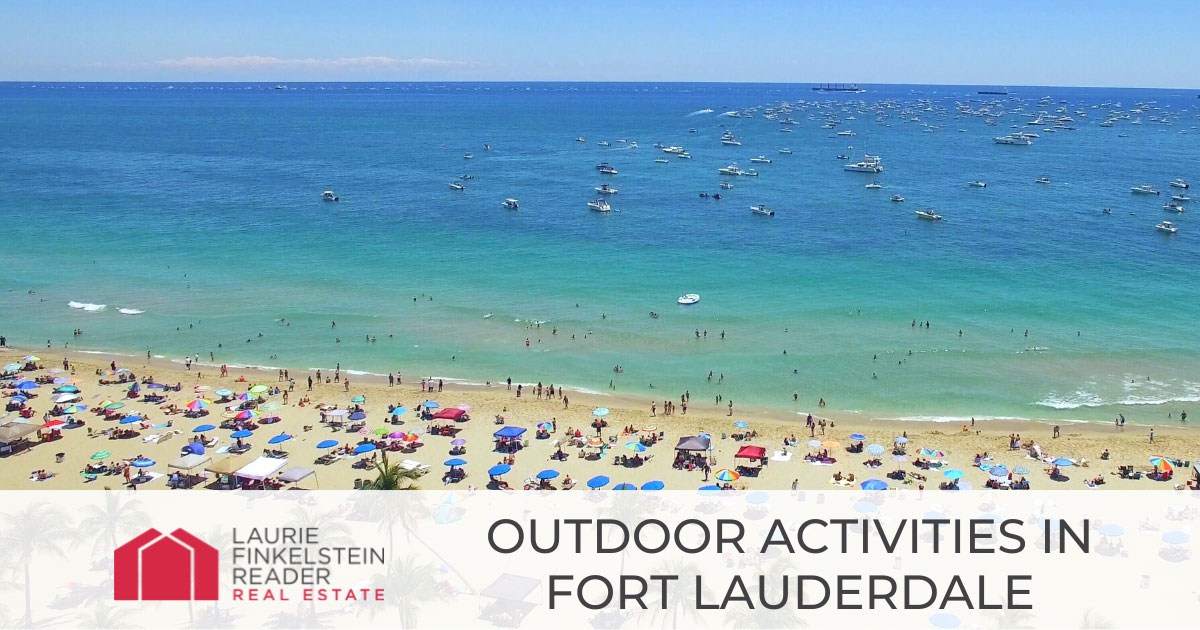 While best known for sunny skies and sandy beaches, the city of Fort Lauderdale, Florida, is more than a vacation destination where rental condos abound for visitors. Plenty of people reside here full-time to take advantage of the activities available all year long. Want to get moving and stay active in the great outdoors? Read on to learn some of the best outdoor activities in Fort Lauderdale.
Water Recreation in Fort Lauderdale
Home to 24 miles of coastline filled with sand fronted with warm waters year-round, Fort Lauderdale is laden with activities for water sport enthusiasts. These beaches offer everything from surfing lessons and scuba diving excursions to deep-sea charters and yachting excursions.
Get up close to the Atlantic's spectacular underwater sea life, such as tropical fish, turtles, coral reefs, and other forms of sea life with a scuba diving or snorkeling adventure. Those who want to see the glories at greater depths can achieve their dream with underwater gear and SEABOB rentals from Beach Ventures. These underwater jet skis bring sea life to the forefront of visibility.
Interested in trying flyboarding? Numerous outfitters offer lessons and gear rentals to get high-flyers going as they glide into the water and then into the sky. Prefer something on the water? Check out stand-up paddling at Sunrise Paddleboards, where lessons, rentals, and SUP yoga are offered year-round.
Charter a yacht or navigate a sportfishing boat to cast a line for sporting fish, including wahoo, sailfish, kingfish, and sharks. Even kayakers can reel in bass, mackerel, and snook. If something more relaxing and romantic on the water is in order, check out Tropical Sailing Catamaran Charters for an evening under the stars with a champagne sunset cruise.
Fort Lauderdale Hiking & Biking Trails
Those who love to walk, hike, bike, and inline skate will revel in the remarkable paved, groomed, and mixed-surface trails throughout Fort Lauderdale. From quiet gardens, lively dog parks, and ideal places for picnics, most trails lead to a place of respite in this urban beachside community.
Easterlin Park Loop
Easterlin Park Loop is just under a mile and is considered an easy hike along groomed natural pathways. Situated in a designated Urban Wilderness Area, Easterlin Park is one of the oldest regional parks in the county, so the scenery along the trail is simply stunning. Trekkers will enjoy immense shade beneath mangrove "tunnels," mature royal palms, and towering cypress trees—some of which are over 250 years old. This is a marshy area, so wearing good hiking boots is recommended even though the trail is short.
Easterlin Park Loop Additional Information
Address: 1000 NW 38th St, Oakland Park, FL
Phone: 954-357-5190
Hours: 8 a.m.–7:30 p.m.
Park Fees: $1.50 per person on weekends and holidays
Tree Top Park Nature Trail Loop
One of the best trails in Fort Lauderdale is Tree Top Park's 1.7-mile Nature Trail Loop. It offers mixed-surface pathways that wind through diverse scenery, including wetlands, tropical foliage zones, and huge live oaks over two centuries old. Surfaces gradually transition from sand and dirt to gravel and concrete, but they are well-groomed and suitable for all ages.
This route takes around 45 minutes to complete, and leashed dogs are welcome on the trails. Those looking for more challenging trails can check out the equestrian pathways and canoe trails at the conjoined Pine Island Ridge Natural Area.
Tree Top Park Nature Trail Loop Additional Information
Address: 3900 SW 100th Ave, Davie, FL
Phone: 954-357-5130
Hours: Daily, 8 a.m.–7:30 p.m.
Park Fees: $1.50 per person on weekends and holidays, under 5 free
Fort Lauderdale Top Parks
The beach isn't the center of everyone's daily life here, and those who want to skip the crowded beach and get closer to the native wildlife and recreation in Fort Lauderdale often head to local parks. While there are dozens of choices throughout the area, Snyder Park, Colee Park, and Fort Lauderdale Park stand out.
Snyder Park
Snyder Park is tops for pets and people. In addition to sporting courts, trails, butterfly gardens and a disc golf course, Snyder Park has a stellar dog park with a "dog-only" lake that lets pups swim and play the day away. Visitors can relax in the sandy coves or grassy meadows that have picnic areas and grills.
Snyder Park Additional Information
Address: 3299 SW 4th Avenue, Fort Lauderdale, FL 33315
Phone: 954-828-4585
Colee Hammock Park
Colee Hammock Park is one of the best parks in Fort Lauderdale, and this impressive slice of paradise has gorgeous palms and drives of yachts sailing by as beachgoers enjoy the peaceful views and relaxing vibe of the ambiance here. Bring a hammock and a book and swing the day away!
Colee Hammock Park Additional Information
Address: 500 Brickell Dr., Fort Lauderdale, FL 33301
Phone: 954-828-7275
Fort Lauderdale Beach Park
Fort Lauderdale Beach Park offers the picturesque beach landscape that people expect from South Florida. Visitors enjoy lounging on the sand, playing volleyball, basketball, and cooking out. Located right in the heart of town, all amenities are just a block or two away, so don't miss this one—beach bliss awaits.
Fort Lauderdale Beach Park Additional Information
Address: 1100 Seabreeze Blvd., Fort Lauderdale, FL 33316
Phone: 954-828-7275
Golf Courses in Fort Lauderdale
Golfers in the greater Fort Lauderdale area take pride in knowing they are golfing where the legends and greatest of all time have played. Several of the golf courses in the city regularly host PGA, USGA, and FSGA events and are still open to the public for enjoyment. Here are some top golf courses.
Heron Bay Golf Club and Eagle Trace Golf Club are favored by locals, and both have hosted the PGA's Honda Classic tournament. However, the characteristics of these two treasures couldn't be more different. While Heron Bay is more forgiving in the water hazard department, Eagle Trace has island greens, and every par-3 poses a risk of losing a ball in the water.
Designed by Donald Ross in 1924, Hollywood Beach Golf Club is a golfing destination beloved by many. Situated on 110 acres, this remotely located course boasts a unique par-70 layout amid rich beauty and tranquility.
Palm-Aire Country Club has an impressive three championship courses and is home to an academy touted as a leader in golf instruction. Visitors can play the Oaks or Cypress courses (designed by George and Tom Fazio) or try their skills on the Palms course (designed by William Mitchell).
More Outdoor Fun in Fort Lauderdale!
Plenty of other goodies await in Fort Lauderdale to check out beyond the typical tourist activities. Take on absurd challenges and solve ridiculous riddles in search of the final goal on a Jaxon Scavenger Hunt along the Riverwalk and Las Olas Boulevard in the downtown area. Teams get a list of tasks and scenarios they must recreate to compete with strangers. They take videos and selfies to prove their achievements, and the winning team gets bragging rights!
Birch State Park Tours
Take a 60- or 90-minute Segway journey into the famous Birch State Park with guides at Fun Center Outfitters. Learn all about the park's history while cruising through wooded trails, paved roads, and grassy areas.
Birch State Park Tours Additional Information
Address: 1771 East Sunrise Blvd., Fort Lauderdale, FL 33304
Pricing: 1-Hour Park Tour $60 / 90-minute Park & Beach Tour $75
Requirements: Minimum of 12 years and 80 pounds
Bonnet House Museum & Gardens
Tour the historic Bonnet House Museum & Gardens to see a representation of Florida during the early 20th century. Registered on the National Register of Historic Places, this is a rare exhibition of one of the few remaining complete studios and homes of an American artist. The property is surrounded by a beach and a native barrier island ecosystem that is also open for tours.
Bonnet House Museum & Gardens Additional Information
Address: 900 North Birch Road, Fort Lauderdale, FL 33304
Phone: 954-563-5393
Tours: Tuesday–Friday, 11 a.m.–3.p.m., Saturday & Sunday, 11 a.m.–4 p.m.
Looking for Outdoor Fun? Check Out the Fort Lauderdale Lifestyle!
Those who love the outdoors and the conveniences of the city flock to Fort Lauderdale, Florida. There are countless beaches, secluded coves, the sensational vibe of the nearby Miami community, and the calmness of the Keys down south. Residents and visitors alike, don't miss a chance for fun in the sun, hiking, biking, fishing, and seeing the abundant sights. Come and find out what the fuss is all about in this remarkable city!