5 Best Fort Lauderdale Parks: Find a Park Near Your Neighborhood
Posted by Laurie Reader on Tuesday, March 22, 2022 at 3:10 PM
By Laurie Reader / March 22, 2022
Comment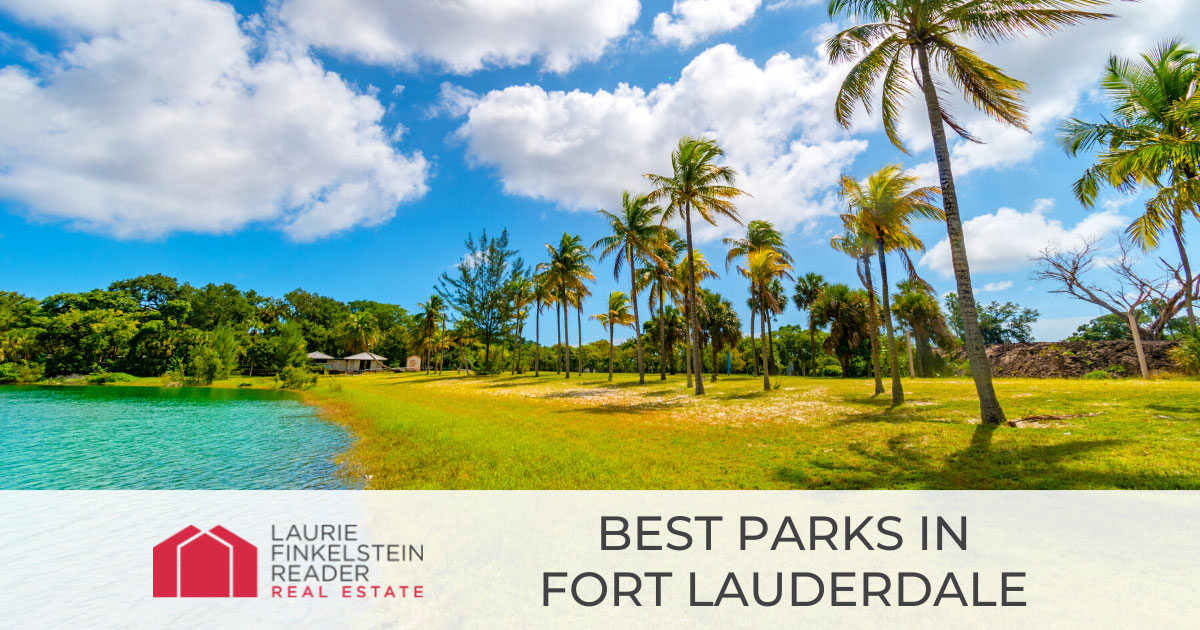 Fort Lauderdale's nickname is the "Venice of America" because of its many inland waterways. With all that water, it's no surprise that Fort Lauderdale maintains many parks and outdoor recreational activities for residents.
The city of Fort Lauderdale has more than 60 distinct and officially recognized neighborhoods, filled with properties ranging from waterfront homes to condos—and every one of them has multiple accessible parks nearby. Keep reading to learn more about the five best parks in Fort Lauderdale, Florida.
Snyder Park
Snyder Park Amenities
Bike and nature trails
Butterly garden
Dog park with pond
Disc golf course
Basketball court
Volleyball court
Grills
Snyder Park offers more than 90 acres of green space off SW 4th Avenue in Fort Lauderdale. It's the home of the "Bark Park," a fenced-in area for dogs to run and play off-leash. There is also a designated swimming area for dogs in the lake at this park. For humans, the park offers a lot of activities as well. There are currently two lakes inside the park, and both are available for fishing. Public restrooms are also available.
Nature trails wind their way through the park for those who want to go for an easy hike. The park also has a butterfly garden where residents can view some of the native Florida species. Sand volleyball courts, a full-sized basketball court, a disc golf course, horseshoe pits, and a children's playground are also available.
Snyder Park is an excellent spot to fly a kite on breezy days. Picnic tables are free to use, and four pavilions are available that can be reserved for large gatherings for a fee. There is no charge to park a vehicle at Snyder Park on the weekdays. On weekends, parking is $2 an hour or $10 for a full day.
Fort Lauderdale Beach Park
Fort Lauderdale Beach Park Amenities
Basketball Court
Grills
Picnic tables
Volleyball court
Boat ramp
As the name suggests, Fort Lauderdale Beach Park is right on the ocean. Located at 1100 Seabreeze Boulevard, this park is less crowded than Fort Lauderdale Beach, although parking is first-come, first-serve. Visitors should expect to pay $6 to $8 for parking.
Fort Lauderdale Beach Park has plenty of space for sunbathing and outdoor showers to wash the sand off afterward. Lifeguards are on duty during the daylight hours.
Close to numerous shops, restaurants, and hotels, Fort Lauderdale Beach Park is open seven days a week from 5 a.m. to midnight.
Esplanade Park
Esplanade Park Amenities
Walking path
Pavilion
Picnic tables
Paddleboat rentals
Located on Southwest 2nd Street, Esplanade Park hosts many outdoor public events. The park is two acres, and most of it is paved with bricks or concrete, although there are some grassy areas. Visitors mainly come here for sightseeing and to enjoy the views of the New River as it winds its way through Fort Lauderdale.
The Fort Lauderdale Riverwalk path that takes off in both directions from the park offers the opportunity for a long walk, hike, or jog next to the river. Visitors can also rent a paddleboat to get out on the water.
Esplanade Park has a covered pavilion and some picnic tables available on a first-come, first-serve basis. This park sees a lot of foot traffic, so numerous food trucks are parked nearby every day. There are also a lot of restaurants just a short walk from the park.
Esplanade Park is open daily from 6 a.m. to 9 p.m. It's worth seeing Esplanade Park after dark when the area is lit up. The park is bordered by an IMAX theater and a public museum, so additional activities in and around the park exist.
Hugh Taylor Birch State Park
Hugh Taylor Birch State Park Amenities
Hiking and biking trails
Campsites
Boat and paddleboard rentals
Picnic tables
Tours
Beach
If there were a "Central Park" in Fort Lauderdale, it would have to be the Hugh Taylor Birch State Park. This ample green space is between the Intracoastal Waterway and the Atlantic Ocean. A pedestrian tunnel from the park leads underneath Florida State Road A1A and directly to the beach.
Inside the park, there are a ton of amenities for visitors to enjoy. Canoes, kayaks, stand-up paddleboards, and pedal boats are all rentable. The park has a mile-long freshwater coastal dune lake for water activities. There's also a 1.2-mile seawall where anglers can fish in-season.
A park concessionaire rents out jet skis, bicycles, and more to visitors. Hugh Taylor Birch State Park has an open-air restaurant that serves pub fare and craft beers. There is a 1.8-mile loop trail available for hiking, walking, skating, or rollerblading.
This state park is open 365 days from 8 a.m. to sundown. Pedestrians and cyclists must pay $2 to enter the park; it's $4 to park a motorcycle or single-occupant vehicle and $6 for a car with up to eight people. Individuals can purchase an annual pass to the park for $60 or a yearly family pass for up to eight people for $120.
Holiday Park
Holiday Park Amenities
Lighted athletic fields
Dog park
Pickleball court
Picnic tables
Playground
Walking paths and trails
Roller hockey rink
Holiday Park on G. Harold Martin Drive is one of the most well-kept parks in Fort Lauderdale. It almost has too many amenities to list here. This park is an athlete's paradise, from the lighted football, baseball, and soccer fields to the roller hockey rinks and basketball and racquetball courts. The youngest visitors to the park can enjoy shuffle boarding or a large playground area, and adults can head to the pickleball courts for a game. There's even an air-conditioned gymnasium.
Numerous pavilions and picnic areas provide shaded locations to enjoy the park. Youth and adult programs are available for a fee, including ballroom dancing, Zumba classes, and sports. Schedules and prices are available at the Social, Activity, and Recreation Center, open 10 a.m. to 5:30 p.m., Monday–Friday. The park is open daily from 5 a.m. to 11 p.m., with no entrance fees required.
Holiday Park recently opened a new fenced-in, off-leash dog park. It has two fenced areas: a 12,500-square-foot space for small dogs and a larger 48,000-square-foot area for large dogs to run and play. Benches are available for owners to sit on, plus dog water fountains and other amenities.
Get Outdoors & Enjoy Fort Lauderdale
Fort Lauderdale has dozens of parks within the city limits for residents to enjoy. This list represents the "best of the best" the city offers. From sandy beaches to city lakes to forested areas and off-leash dog parks, Fort Lauderdale has a little something for everyone for outdoor fun.