6 Best Trails in Fort Lauderdale: Discover Fort Lauderdale Running Trails, Walking Paths & Hikes
Posted by Laurie Reader on Wednesday, March 30, 2022 at 8:25 AM
By Laurie Reader / March 30, 2022
Comment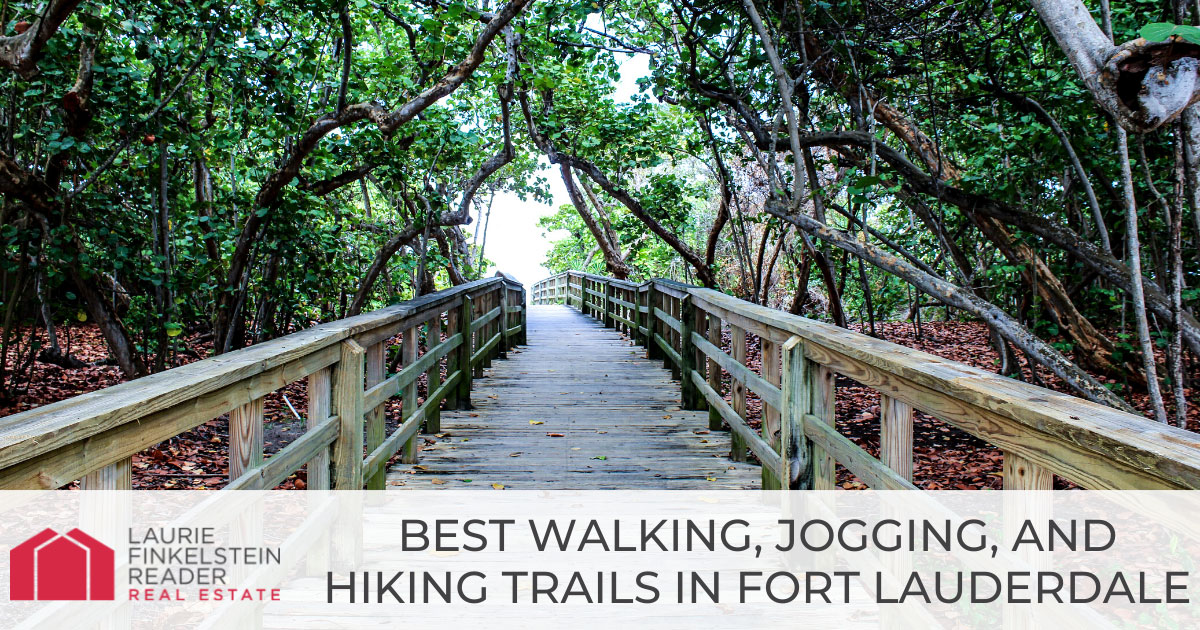 Situated along the most stunning shoreline on Florida's southeastern coast, the city of Fort Lauderdale is widely known for its pristine beaches and unique boating canals. Due to the remarkable beauty and abundance of sun here, this urban beach town sees droves of vacationers in condos and townhomes along the sea. However, those residing in Fort Lauderdale are fortunate to access the ocean and many remarkable outdoor adventures throughout the city. Read on to discover the best trails in Fort Lauderdale that land dwellers will appreciate.
Hugh Taylor Birch State Park Perimeter Loop
Those looking for a kid-friendly, easy hike that offers wheelchair accessibility and welcomes leashed pets will want to check out the two-mile perimeter loop trail at Hugh Taylor Birch State Park. The main loop is paved and flat, and there is a .25-mile rail trail for those looking for a more rugged short journey.
Surrounded by seawater on both sides, natural wildlife habitats are abundant here. Numerous giant banyan trees and small swamps laden with mangrove trees line the trail. There is a walk-through butterfly garden on the path and several open green spaces and park installations, including a playground, concessions, and restrooms.
Hugh Taylor Birch State Park Additional Information
Address: 3109 E Sunrise Blvd, Fort Lauderdale, FL 33304
Hours: 8 a.m. to sunset
Phone: 954-564-4521
Fees: $6 per vehicle
New River Greenway
The New River Greenway in the town of Davie is a newer addition to the impressive recreational trails near Fort Lauderdale. One can begin at the border of the Everglades and head east along the New River Canal and end with a 5.4-mile hike at University Drive. Those feeling more adventurous can treat this as an out-and-back trail with nearly 11 miles of asphalt surfaced pathways for walking, biking, jogging, and inline skating.
It's common to spot iguanas and birds wading along the canal or even small crocodiles. When it's time for a break or hunger strikes, getting off the trail to shops and restaurants is a breeze. There are several major intersections to cross, and the trail doesn't have much shade, so a hat and sunscreen are highly advised.
New River Greenway Additional Information
Address: 751 SW 121st Avenue, Davie, FL 33325
Hours: Dawn to dusk
Holiday Park Loop
A relatively easy walking and hiking trail expands for two miles around 93-acre Holiday Park. Many visitors bring their leashed pets to this paved, wheelchair-accessible trail in Fort Lauderdale. Additional amenities at Holiday Park Loop include lighted athletic fields, fitness stations, picnic areas, restrooms, and a gated dog park.
Holiday Park Additional Information
Address: 1150 G. Harold Martin Dr, Fort Lauderdale, FL 33304
Hours: 6 a.m. to 11 p.m.
Phone: 954-828-5383
Easterlin Park Loop
Easterlin Park Loop in the nearby city of Oakland Park is a short trail just under one mile. The scenery in this designated urban wilderness area is simply stunning. As one of the oldest regional parks in the country, there are mature royal palms and towering cypress trees over 200 years old across the 46-acre park.
The groomed trail has a large pathway naturally carved into the tropical forest with gentle curves and slopes. Dense thickets of vegetation edge the canal that was once a moderate river. The marshes are thick with fig trees and ferns that offer shade, but there may be some wet areas along the footpath. Boots are recommended for this hike.
Easterlin Park Additional Information
Address: 1000 NW 38th St, Oakland Park, FL 33309
Hours: 7 a.m. to 8:30 p.m.
Phone: 954-357-5190
Fees: $1.50 per person on weekends and holidays
Secret Woods Nature Center
Located in the Dania Beach community, a trail just over one mile traverses the Secret Woods Nature Center. This center is such a unique and fragile area that no bicycles or pets are allowed on the trails. However, human visitors will be treated to canopies of mangroves galore filled with native and migratory birds and wildlife.
The woods are so dense that even many locals aren't aware of their existence! Great for all ages, curious walkers will spot giant land crabs and cormorants along the southern fork of the New River. Guests can take their time knowing that restrooms are available upon returning to the nature center's headquarters.
Secret Woods Nature Center Additional Information
Address: 2701 W State Rd 84, Fort Lauderdale, FL 33312
Hours: 9 a.m. to 5 p.m.
Phone: 954-357-8884
Tree Top Nature Trail Loop
Tree Top Park's Nature Trail Loop is a 1.7-mile mixed-surface pathway that flows through an oasis of ancient live oaks, wetlands, and hammocks of tropical plants. Surfaces transition from concrete to asphalt and sand to dirt, and all are well maintained.
This easy route takes an average of 45 minutes to complete, and even pets on leashes are welcome. Frequented mainly by walkers and hikers, the pathway is quiet and filled with small native animals and colorful flowering plants. The trail descends to a wetland area, where frogs and crickets chirp and hop away.
After crossing the boardwalk across a shallow wetland marsh, visitors will encounter many indicators common to the Everglades. Swamp lilies, sawgrass, giant ferns, and purple pickerelweed give the final part of the trail a primitive feel.
Fishing is permitted in certain parts of Tree Top Park, so bring a pole and bait! The park is also home to canoe trails connecting Pine Island Ridge Natural Area and equestrian pathways.
Tree Tops Park Additional Information
Address: 3900 SW 100th Ave, Davie, FL 33328
Hours: 8 a.m. to 6 p.m.
Phone: 954-357-5130
Fees: $1.50 per person on weekends and holidays, kids under 5 are free
Hiking Trails in Fort Lauderdale Offer Respite in a Busy City
It's no secret that Fort Lauderdale, Florida, is alive with action almost 24 hours a day, but hidden treasures exist along the city's numerous hiking and biking trails. These gems won't disappoint, and most are rated from easy to moderate and make for great nature hikes or getting some daily exercise.