Top 5 Common Home Selling Mistakes—And How to Avoid Them
Posted by Laurie Reader on Thursday, July 21, 2022 at 7:08 AM
By Laurie Reader / July 21, 2022
Comment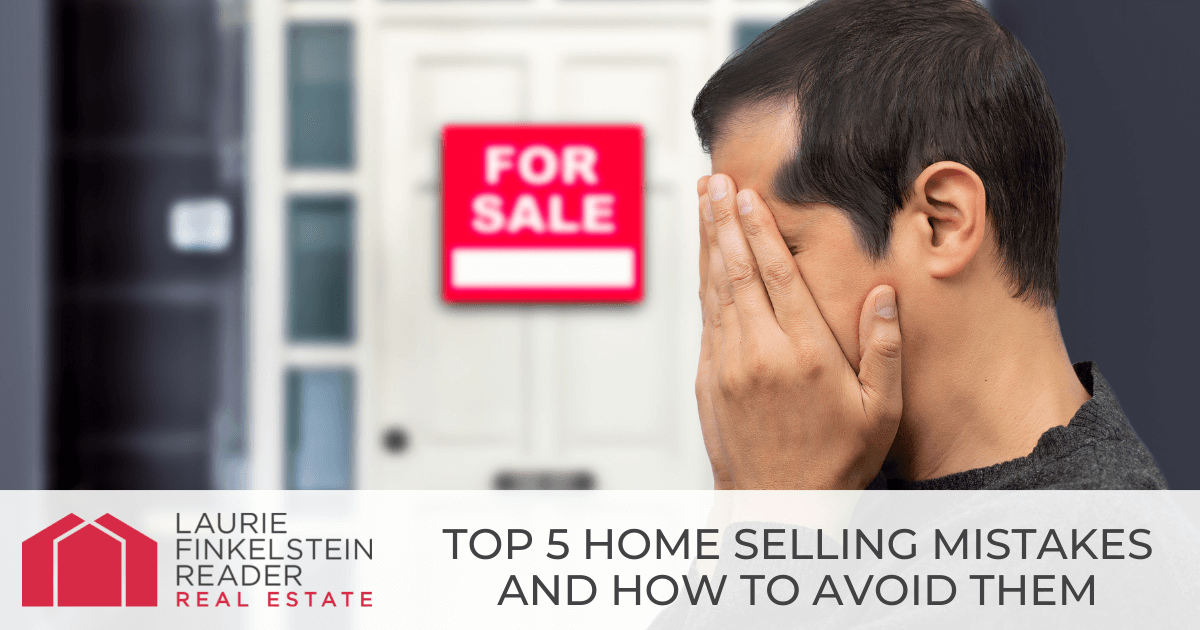 Successful home selling involves taking the time to understand the "how-to's" when listing a home on the market. Knowing what mistakes not to make helps sellers avoid huge complications or losses, costing substantial time and money.
Preparing for a home sale ahead of time and knowing what to expect—along with how to deal with issues as they arise—results in a higher probability for sellers to experience a smooth sale. Survive the home selling process by avoiding these fatal home selling mistakes!
Anxious about the home-selling process? Take advantage of our SELL NOW, MOVE LATER program to get into your next dream home without the stress!
Allowing Emotions to Get In the Way
The first mistake to sidestep is for sellers to remove emotion from the equation. People (understandably) get attached to their homes, but as a result, it can cloud their judgment. It's essential to keep in mind that buyers aren't going to hold the same sentiments for homes on the market. For them, it's a business transaction, and they'll likely think along those terms rather than about cherished memories. They certainly aren't attached to homes the way the sellers are and are therefore unlikely to overlook significant faults.
Incorrectly Pricing a Home
Correctly pricing a home is a crucial component of a successful listing. Incorrectly pricing a home can result in a languishing—or worse—stale real estate listing. Price too low, and buyers will wonder what's wrong with the home. Price too high, and buyers might leave for a better deal elsewhere. In addition, buyers who search online may miss the listing due to price filtering. If your home's price is higher than comparable homes, it may not be shown in the same filters.
Straying too far away from prices gleaned from a comparative market analysis will make selling a home difficult. Sellers should speak to their real estate agent, determine the current fair market prices, and choose a price in the same range.
Not Investing in the Home
Frequently, sellers focus on getting a fair market price but don't consider the investments they should make in their home before selling it. Investments all sellers should consider include:
Making repairs to ensure the home appears well-taken care of
Doing a deep cleaning so the home looks in tip-top shape
Renting storage to stow all items and reduce clutter in the home
Investing in landscaping and other exterior curb appeal features
Another option every seller should consider is investing in a home's professional staging. People have a difficult time envisioning someone else's house as theirs. Depersonalizing each room and staging your home to look amazing with neutral items can help a home sell faster. Sometimes it takes an objective eye.
Failing to Disclose Problems
It's never a good idea to try to hide problems from a real estate agent or buyers. If there are certain known repairs buyers don't want to make, these need to be disclosed. Specific issues are required by law to be disclosed, and required seller disclosures can vary by location or state. It's a wise idea to speak to an experienced agent who can help guide you in the right way to handle the problems.
Trying to Sell By Owner
Many people want to get as much cash as possible for their homes and, as a solution, decide to go it alone by listing their home as "for sale by owner" so they don't have to pay an agent's commission and can pocket all the profits. While it's certainly an option, it's usually not the best option. Homes sold by owners typically don't get as much traffic due to limited marketing options and not being listed on the MLS, and not having an agent's negotiating experience can result in the seller leaving money on the table.
Even if you do find a buyer, it doesn't mean the home seekers are qualified to buy. Buyers brought by agents to view homes are generally pre-qualified, unlike people seeing "house for sale" and knocking on the door.
A Seasoned Agent Can Help Sellers Avoid Problems
Working with an experienced real estate agent can help sellers avoid most problems. With a discerning eye, a knack for negotiation, and an understanding of the market, an agent can help a home seller avoid the worst mistakes and enjoy a successful sale.
Sell
Now,


Move

Later,
with
Laurie Finkelstein Reader
Selling your home? The SELL NOW, MOVE LATER program eliminates the stress of selling and buying, maximizes the chance of getting a great price for your home, and gives you more time to move.
Click to Sell Now!