How to Sell Your House: Your Complete Home Sellers Guide
Posted by Laurie Reader on Monday, August 29, 2022 at 11:02 AM
By Laurie Reader / August 29, 2022
Comment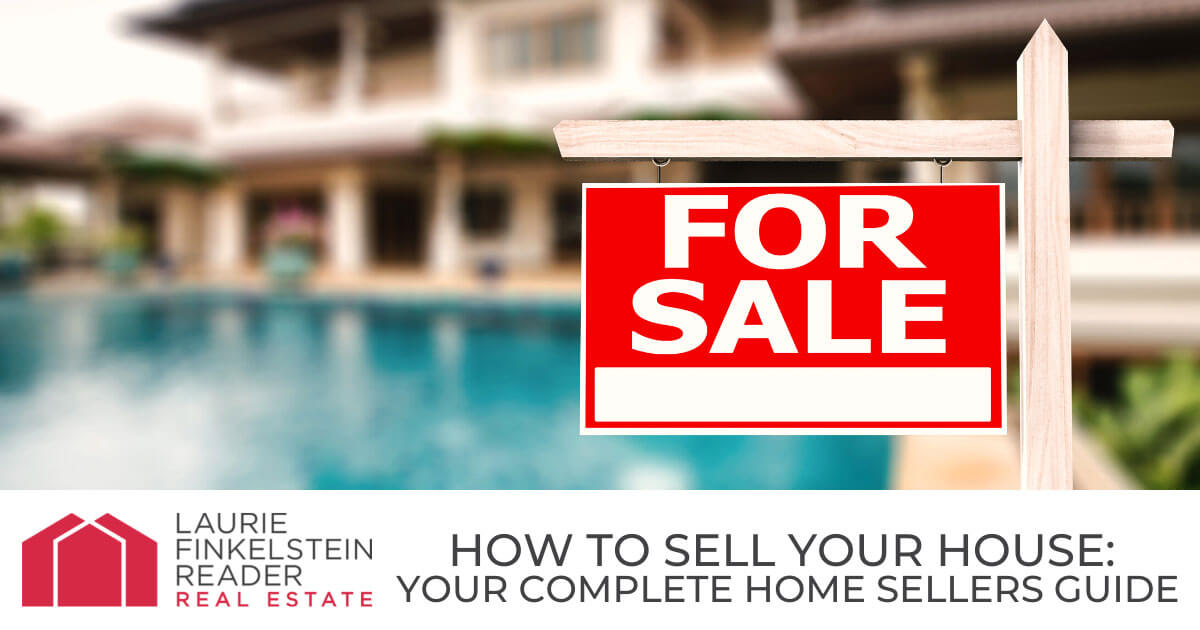 There are many reasons why an owner may find themselves ready to sell their home and make a move. Perhaps a new job has presented itself, it's time to downsize or upsize, or it could just be that a change is in order. Regardless of the reasons or timing for selling, there are a few essential steps that can help owners sell faster, make more profit, and have a smoother transition. So take a deep breath, keep reading, and follow these steps to sell your house with the ultimate home selling guide.
Anxious about the home-selling process? Take advantage of our SELL NOW, MOVE LATER program to get into your next dream home without the stress!
Consider Hiring a Local Real Estate Agent
Those who are serious about selling their home and getting top dollar for it can typically have a more successful experience with the assistance of a reputable local real estate professional. Numerous online platforms offer to match sellers with qualified agents for free, and there will likely be a few to choose from in the local area.
It is important to interview multiple candidates before signing a listing agreement. If the plan is to bypass hiring an agent, the steps sellers will want to follow are nearly identical to what real estate professionals do when selling a home. This can be time-consuming, so getting an agent on board is best for those with minimal time or little experience with the selling process.
Calculate Equity in the Home
Knowing how much equity is in your home is essential before setting an asking price and listing the property. Equity is the property's value minus what is owed to pay off the mortgage. This number represents the total principal and interest owed on a property.
For example, if a home is valued at $200,000 and the owner owes $150,000 on their mortgage loan, the seller has $50,000 in equity in the property. Equity can be increased in two ways: by paying down the mortgage or by an increase in the home's value.
Analytics from CoreLogic indicates that the average homeowner with a mortgage gained $33,400 in equity between the first quarter of 2020 and the first quarter of 2021. These statistics can excite sellers about selling in today's hot residential real estate market.
Set a Starting Price
When working with an agent, owners will be given a good idea of what their home is worth based on factors such as location, size, level of luxury, and the property's condition. A home inspection best documents the home's condition, and sellers can expect to pay an average cost of $330 for a home inspection.
The final valuation of the property is based on a home appraisal formula that considers all of these factors as a whole. Be prepared to negotiate prices with potential buyers, especially if the home needs a few essential repairs. Set the price point with these concessions in mind.
Prepare the Home For the Marketplace
With a price point set, it's time to prepare the property for the marketplace. Some essential things to address around the home before showing the home to potential buyers include:
Make recommended repairs, but avoid costly upgrades
Boost curb appeal with landscaping, cleaning siding and driveways
Declutter and depersonalize rooms
Deep clean the entire home
Stage the home to sell
Use high-quality photos for listings
Home staging is a remarkable way to boost a potential buyer's interest and the cost of home staging averages between $1,600 and $2,400 monthly. Actual costs vary depending on how many rooms need staging. However, according to the 2021 National Association of Realtors report, agents have seen offer amounts on staged homes increase by 15 percent.
Market and Show the Property
This is where the serious action begins, as the listing agent or seller needs to list the property online and offline. Sellers still living in the home must be ready for scheduled showings and open houses and prepared for home shoppers on short notice. Have a checklist for spot cleaning if you're showing your home while living in it.
Review Offers and Close the Sale
Review the offers and choose the best one to start the closing process. Depending on the arrangements outlined in the settlement statement, this could take a few weeks. Cash sales can happen relatively quickly, so be prepared to have a new home ready to move into after the deal is finalized. However, some home selling programs allow owners to capitalize on their existing equity to stay in the home longer while shopping for a new one.
Go Into the Home Selling Process with Open Eyes
It's no secret that selling a home can be challenging and even an emotional experience. While this guide explains the basic steps for home selling success, there's no better way to streamline selling a property than by investing in a real estate professional's services.
Sell
Now,


Move

Later,
with
Laurie Finkelstein Reader
Selling your home? The SELL NOW, MOVE LATER program eliminates the stress of selling and buying, maximizes the chance of getting a great price for your home, and gives you more time to move.
Click to Sell Now!