Space Saving Ideas For Condos: Design Ideas That Maximize Square Footage
Posted by Camila Rivera on Monday, March 7, 2022 at 8:50 AM
By Camila Rivera / March 7, 2022
Comment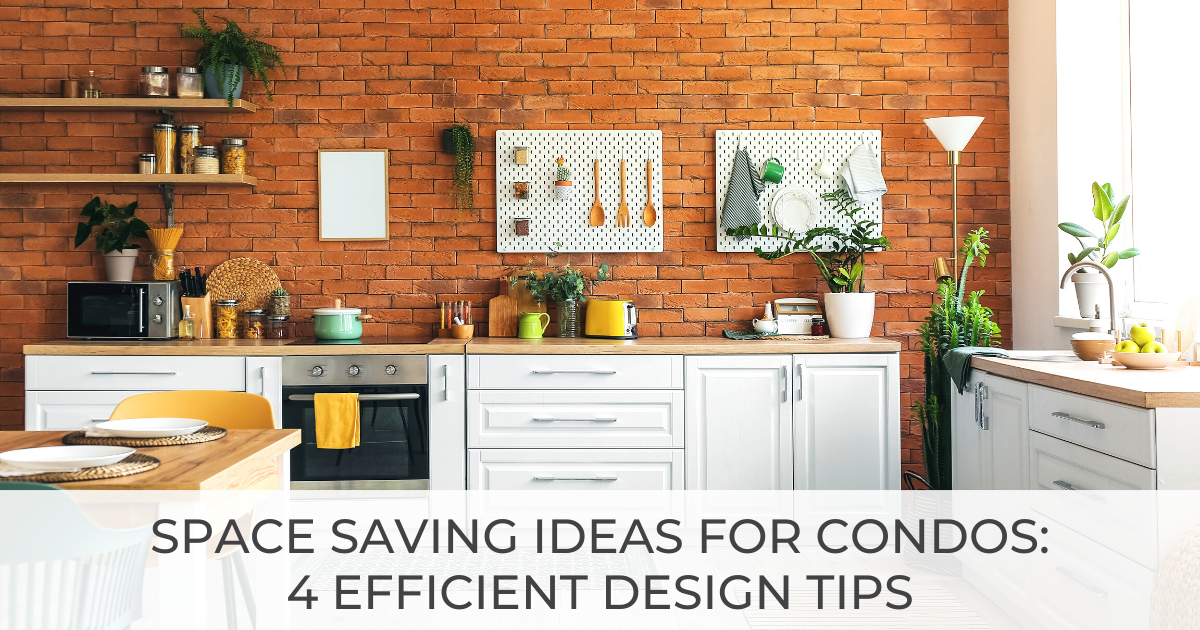 There is no denying the appeal of condo living, as there are many perks that accompany living in these types of communities. A primary benefit for people who buy condos for sale is that most exterior maintenance and landscaping is handled by a homeowners' association or a property management company. Another bonus comes from the extensive amenities such as pools, trails, sporting courts, fitness rooms, and other common-use areas for residents that are also tended to by management.
These are all aspects of homeownership that would typically fall entirely on owners to maintain while living in a traditional single-family home. Those who wisely invest in a condo may find that there's also less interior space to upkeep, but there are several design tips to make a condo feel larger. Keep reading to learn about four space-saving design tips that can make your condo feel bigger.
Mirrors and Color Can Be Used to Your Advantage
The use of strategic colors and mirrors in a condo can quickly and affordably make a space appear more open without defraying from its cozy feel. Choose lighter paint palettes on the main walls while employing different hues on smaller walls or trim that may offer a bit of pop with a brighter complementary color.
An oversized mirror can seamlessly resolve any feeling of cramped quarters in a condo, as these installations can expand the sense of visual space. However, it's best to stick with simple frames, as ornate ones can make the room feel bulkier by drawing from the reflective aesthetics.
Experts recommend hanging mirrors over a mantle or headboard and placing those on walls around eye level from the floor to the mirror's center. This rule of thumb is also advised for large pieces of artwork that tie rooms together. Both mirrors and art can further expand the sense of space when paired with a lamp or lighting source that can boost brightness and the atmosphere of a room.
Think Vertically to Find More Space
The use of tall and narrow storage pieces and furnishings will take up less floor space, and decorative wall items hanging vertically on walls can make a room appear taller. For the best effects, go floor-to-ceiling with shelving, keeping items used less frequently on higher shelves.
One reason to buy a condo instead of renting is the freedom to make permanent changes when hanging things on the walls and from the ceiling. Using hooks on the ceiling to hang plants, pots, or other goods also draws the eye up and gives rooms a larger feel. Owners can also use pegboards on walls in the home and the garage. These can even be painted to add a pop of color to complement the condo's decor.
Those wanting to save more floor space can also create makeshift dining tables and desks using small tables and chairs that fold down and out from the walls for use. The whole room can be opened up in the bedroom with an investment in a lovely Murphy bed that folds away. Many models also have features such as shelves and fold-down desks that allow the room to become an office, too.
Any room can quickly accumulate clutter, but vertical cabinets or built-in shelves can instantly free up floor space. After all, when thinking vertically, the ceiling above should also be considered to stay organized and allow extra room for vehicles.
There Are More Ways to Hide Storage Than You Think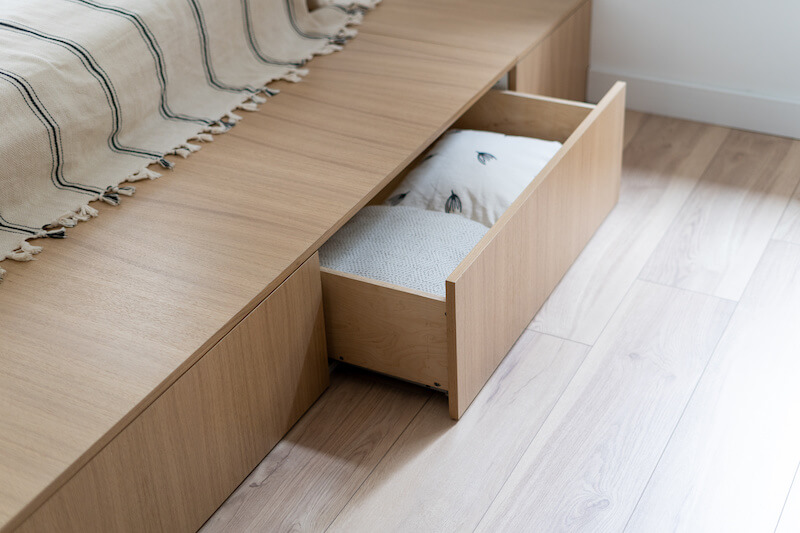 Creating storage in a condo might seem to be a far reach, but there are clever ways to keep decorative items and those lesser-used goods out of sight to prevent rooms from looking crowded or cluttered. Bathrooms in condos may have minimal cabinetry, making a behind-the-toilet-rack system helpful. These can hold extra hygiene products, toiletries, towels, and other essentials while allowing them to be easily accessible.
Benches or coffee tables with hidden compartments beneath the top are stylish additions with lift-up or slide-out lids. Depending on the style, several inches of depth usually permit an array of items to be stored beneath the top surface. These are excellent in bedrooms, hallways, and living rooms, as cushioned or upholstered options can allow extra seating and serve as a footrest.
Another affordable way to increase hidden storage space in a condo is to invest in a bedroom headboard and footboard with a hollow base with pull-out drawers. Put sheets, blankets, clothing, or shoes in these hidden areas to minimize the need for oversized dressers or extra cabinets. Condos typically have a stairway, and transitioning steps into drawers can help tuck away excess clutter.
Go Bigger When Choosing Furniture
While it might seem to be going against the goal of making the room feel more spacious, the use of a few large pieces of furniture and decorations can present a more sophisticated and less cluttered look than several smaller pieces. Decorators often advise condo owners to employ these ideas:
Oversized Furnishings
Work a Big Rug
Supersize Storage
Oversized Art & Mirrors
Sky-High Shelving
One sizeable sectional sofa can make the living area a cozy environment while having several chairs and a traditional couch will typically take up more floor space. Consider opting for a sectional sofa with a fold-away bed for overnight guests or for kicking back with the family on marathon movie nights.
One oversized rug can bring a room together more cohesively than several smaller ones. However, small rugs and runners can be great ways to divide and separate areas without the need for doors or dividing walls. Large art placed on primary walls also gives rooms a sense of space, while numerous smaller frames can quickly make a room feel cramped.
Make the Most of the Space in Your Condo
These clever ideas can quickly help condo buyers get the most out of the space they are working with. While it's true that many condos are smaller than the average single-family home, thinking vertically and employing a few designer pro tips can give the residence a more spatial feel while simultaneously reducing clutter.