Luxury Waterfront House Plans: Design the Best Views
Posted by Laurie Reader on Thursday, June 16, 2022 at 11:33 AM
By Laurie Reader / June 16, 2022
Comment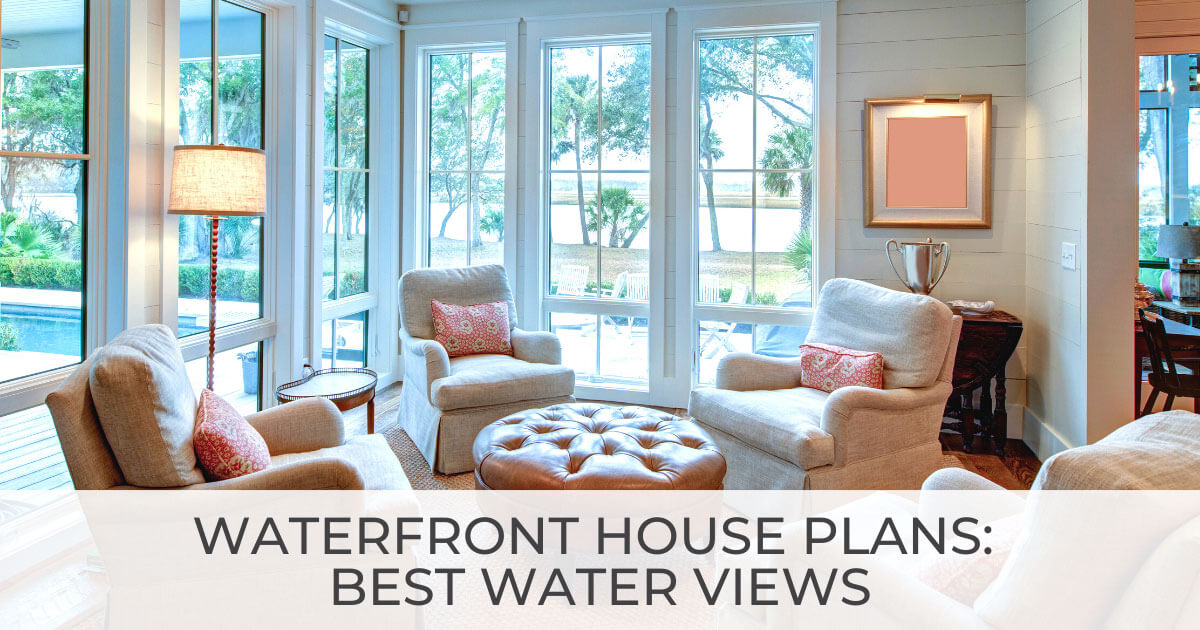 Owning a home with waterfront views can bring about opportunities for recreation and relaxation, making it highly appealing for many luxury home buyers. Whether the property is located along the coastlines of an ocean, bay, river, or lake, waterfront homes often sell for a premium and increase in value over time. While buyers can renovate previously owned homes to some extent to maximize views, the best way to achieve the goal is often with new construction projects. Regardless of the approach, read on for four top tips to ensure that the home showcases one of its greatest assets: those waterfront views!
Have Windows That Face the Water
The easiest way to keep an eye on the water while indoors is by installing floor-to-ceiling glass "walls" or oversized sliding doors facing the waterfront. This approach ensures excellent views while allowing plenty of natural light, connecting the indoors with the outdoors.
Consider installing panoramic or bay windows to showcase the best views in areas where floor-to-ceiling windows aren't feasible or desirable. Some of the most innovative and creative windows are custom cut, and owners can add modern corner windows for a two-fold view from a room. In the case of new construction homes, ensure that the house is oriented towards making such windows possible.
Don't be worried about having too many windows; there are plenty of options to minimize light during the day and energy-efficient glass that can lower energy expenses. High-visibility screens allow for clear views from indoors while effectively blocking out excessive sunlight. Invest in solar shades that retract to control how much light penetrates specific rooms.
Owners with large waterfront windows can invest in smart glass installations that can become tinted or clear with the touch of a button. Smart glass windows also have environmental sensors that automatically detect the level of light and internal temperatures, so occupants can have preset functions in place to suit their daily lifestyle.
Prioritize Frequently Used Rooms
Determine how much time is spent in each room and decide how to approach highlighting water views. One might also want to work with Mother Nature by observing how the sun moves across the sky to take advantage of glorious sunrises and sunsets.
In the case of a custom build, plan a new home with these concepts in mind, so occupants and guests are likely to spend more time in the rooms with the best views. Designers and architects know all the tricks of the trade to situate homes to optimize natural light and stunning vistas with ideal window placement, so don't be hesitant to work closely with these pros.
Another clever option is to change the function of certain rooms to ensure that views are front and center in areas such as great rooms, bedrooms, or a home office. If one room offers better views, it's often possible to switch rooms or remove a few walls to achieve these goals.
Use an Open Floor Plan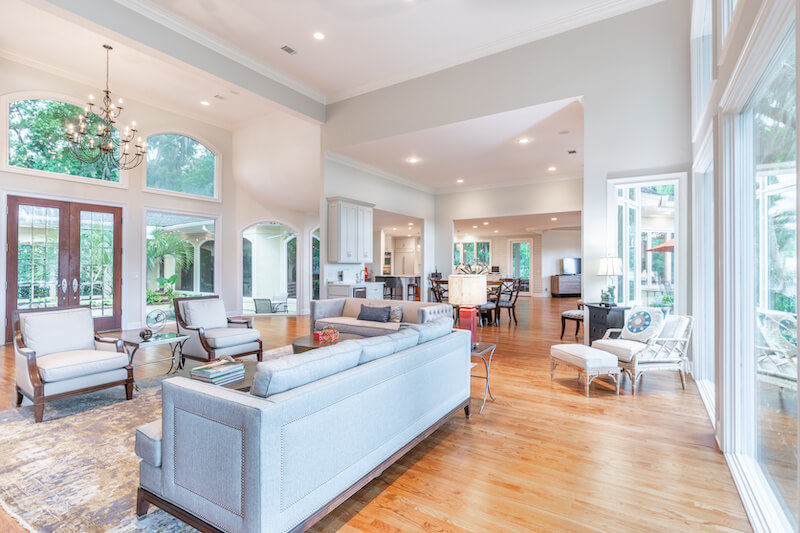 Fewer indoor walls mean more unobstructed views of the sights outdoors, and the open floor plan concept establishes a greater sense of space. Merging commonly shared rooms like kitchens, dining rooms, and dens helps bring people together and is an excellent layout for those who entertain regularly.
However, this floor plan also provides optimal views of the surrounding landscape from multiple areas of the home. Waterfront homes that don't currently have an open concept floor plan can often remove non-load-bearing walls and doors to transform the interiors into grand open spaces with a renovation project.
Create Captivating Outdoor Spaces
One of the best ways to take advantage of the views amid the property is from carefully crafted outdoor spaces. Many types of installations establish comfortable places of respite for owners and guests to settle in. Some of the best options for waterfront homeowners include:
Balconies & patios
Gazebos & pergolas
Multi-level decks
Wrap-around porches
Waterside docks
With careful placement, these can become some of the most popular places to hang out with guests. Therefore, it's essential to remember what features will actually be used versus merely eye candy for the property.
Once homeowners determine which outdoor lounge areas will be put in place, they can take time to make them more inviting with comfortable outdoor furniture and additions. Some of the wisest investments beyond chairs and tables include outdoor kitchens, wet bars, fire pits, and lush landscaping.
Review community bylaws and guidelines before adding a waterside dock or boat house. It's prevalent for waterfront neighborhoods to have rules for these installations, and some cities may require building permits and approval before construction can start.
Settle Into a New Luxury Waterfront Home
Whether homebuyers want to soak in water views or get wet and wild from time to time, waterfront homes are the perfect starting point to a whole new lifestyle. While many pre-built homes already showcase incredible vistas, it may be necessary to do a bit of remodeling. For custom construction projects, builders and designers can easily create the perfect waterfront abode.