Increasing Your Home's Value by Adding a Pool: Everything to Know About Pool ROI
Posted by Laurie Reader on Tuesday, December 6, 2022 at 1:45 PM
By Laurie Reader / December 6, 2022
Comment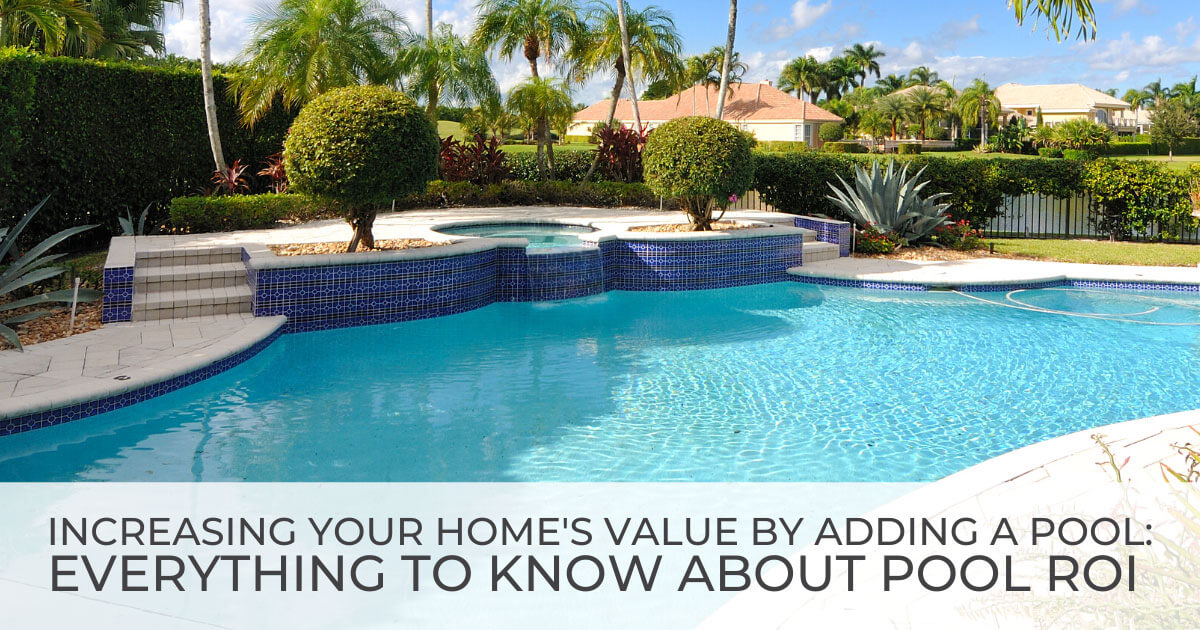 Swimming in a backyard pool is not only good exercise, but a pool can provide a welcoming backyard space perfect for entertaining and relaxing. Research also suggests that having a pool can add between 5 and 8 percent to the value of a home. While there are various factors to think about before building a pool or buying a home with a pool, there is a certain appeal to having a pool at home, especially in warm-weather climates. Before diving headfirst into a project like adding a pool, read on to discover factors that influence how much value a pool can add to a house.
Warm-Weather Real Estate Markets Can See Great Returns
Yes, it can be expensive to add a pool to a house or maintain a preexisting pool. Pool costs can vary widely depending on the type of pool, the features of the pool, and the part of the country in which the pool is located. Believe it or not, the rate of return on such a significant investment may also depend on the weather.
In many warm-weather markets like Florida, California, and Arizona, homes with pools are a very desirable amenity. If summer seems to drone on for days, with each day feeling hotter than the next, there may be nothing better than swimming in the backyard pool. In these parts of the country that experience warm weather many months of the year, the pool can be used for a more extended period, lowering the cost-per-use of the pool.
In other parts of the country, like Michigan, Wyoming, and Maine, where winter reigns, pools may not provide as great a return on investment. In colder climates, the pool lifestyle cannot be enjoyed as many days of the year, making a pool less desirable to future buyers.
Of course, regardless of the home's location, there will always be some buyers who see a pool as something desirable and others who see a pool as a liability.
Other Factors That Increase the Value of a Pool
In addition to the weather in the area, there are various other factors that increase the value of a pool. Some of these factors will seem obvious, others less so. Let's take a look at some of the items that increase the value of a pool:
Neighborhood norms: Are there a lot of pools in the neighborhood? If so, this may increase the value of a pool. An area with few pools may not see as great a return on investment.
Pool maintenance: If the pool is well-maintained, a home may be more attractive to potential buyers.
Type of pool: Here, there is a wide variety — There's a difference between in-ground and above-ground pools. Additionally, pools can be fiberglass, plaster, or liner. The type of pool may depend on whether the home is a luxury home.
Design amenities: Pools with unique design features are generally desirable. Things like tanning ledges, water features, and natural designs can create a picture-perfect outdoor oasis.
Usable yard space: Most homeowners want usable yard space in addition to a pool. If the backyard at a home contains both, the pool can increase the home's value.
Pool safety: Homebuyers and owners with small children will be particularly concerned with pool safety. In addition, each area of the country may have specific laws regarding fencing and pool access to promote pool safety.
This list of factors that may increase the value of a pool is undoubtedly non-exclusive. Before taking the plunge and buying a home with a pool or building a pool, consider each of these factors to determine which ones weigh in favor of a pool increasing the home value.
What Type of Pool Provides the Highest ROI?
As briefly touched upon earlier, the type of pool you have is going to have a large influence in the value it adds to your home. The greatest difference is going to be seen between in-ground and above-ground pools: in-ground pools will almost always add more value to a home than an above-ground pool. Most often, above-ground pools will only be an incentive to buyers if they don't want a home with a pool, as it can be drained and removed much more easily than a pool that's built into the ground.
Other factors to consider when choosing a pool with high ROI are the material, size, and extras. Concrete and fiberglass pools have a higher ROI, but they also require regular maintenance keep everything up and running. Choosing a saltwater pool over a traditional chlorine pool can also affect ROI positively. When deciding what type of pool to install, these are all factors you should consider carefully.
Costs to Consider Before Installing a Pool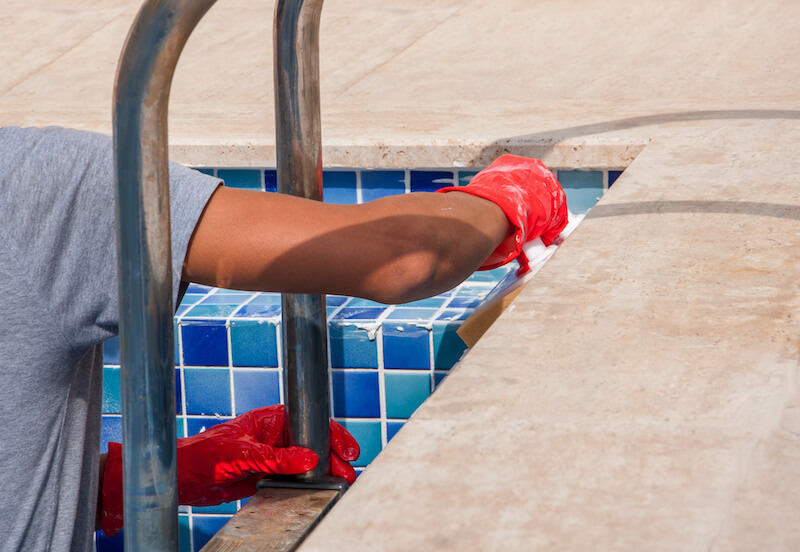 The cost of putting in a pool can vary depending on the region of the country, the type of pool, and several other factors like maintenance and insurance. The costs generally range from $1,500 for an above-ground pool to over $100,000 for a pool made from gunite or concrete.
Basic pool maintenance is an added expense to installing or maintaining an existing pool. Expect to spend a few thousand dollars a year on maintenance, repairs, and utility costs. These costs can be mitigated if the homeowner chooses to do some maintenance themselves. A saltwater pool is a little less costly than a chlorine pool. In addition to these costs, the increase in the costs of homeowner's insurance should also be considered.
Most Importantly, Pools Add Enjoyment Value
Some homeowners are not concerned with the rate of return on a pool. Why? Their primary reason to add a pool is for enjoyment value. Creating a backyard oasis can provide years of entertainment and a convenient location to get physical activity that is easy on the joints. A pool is an investment that can carry through for decades.
Pools can offer an escape from reality without ever having to leave home. Imagine getting home from work during the dog days of summer just to change clothes and take a dip in the pool. Some people may consider this a luxury. In other parts of the country, like the desert southwest, people may consider a pool a necessity. No matter what area of the country, a pool can add significant enjoyment value to a home.
Swimming Pools Are a Welcome Addition to Homes
With nearly 10.6 million pools in the United States alone, swimming pools are considered a popular home addition. A pool can provide years of entertainment and physical activity and potentially add value to a home, meaning both the current owner and future residents will have a backyard they love.