What to Expect When Driving in Fort Lauderdale, FL
Posted by Laurie Reader on Thursday, December 1, 2022 at 11:49 AM
By Laurie Reader / December 1, 2022
Comment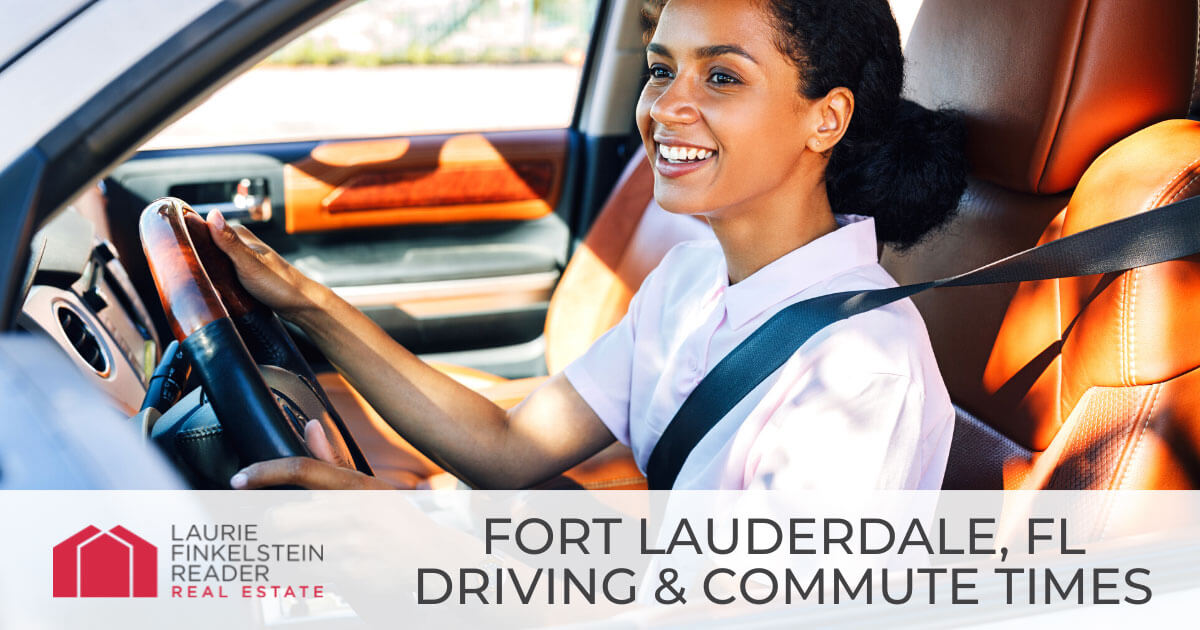 From the blissful beaches to the exciting downtown attractions, the city of Fort Lauderdale has so much to see and do. Before traveling from one exciting activity to the next, people moving to Fort Lauderdale should take time to learn more about the area and the best ways to get around. These tips can make it easier to drive in Fort Lauderdale and enjoy the most scenic roads while avoiding some of the worst traffic. Learning how to navigate lets people get where they need to go quickly and easily every day. Read on to become an expert at driving in Fort Lauderdale.
Get to Know Your Major Roads
The main highway running in and out of Fort Lauderdale is I-95. This road runs all the way up the eastern U.S., and it is used by many tourists coming in for vacation and locals on their way to work.
US-1 and the A1A are both scenic options for either sightseeing or day-to-day travel. The A1A is famous for its dazzling ocean vistas. The Strip, which runs alongside oceanside Highway A1A, is lined with oceanside Fort Lauderdale condos, restaurants, and outdoor bars.
Las Olas Boulevard is the largest of the east-to-west roads in Fort Lauderdale. This road goes from SW 1st Avenue in the city's Central Business District to the A1A out on Fort Lauderdale Beach. Along the way, this road passes through a number of residential neighborhoods that include Seven Isles, the Venice neighborhood, and Hendricks. It also passes over the intracoastal waterway and concludes with The Shops at Las Olas when it reaches the Atlantic Ocean. This area of the road offers many boutiques, art galleries, restaurants, nightclubs, and bars.
Other major roads within Fort Lauderdale are set up in an approximate grid pattern. However, it is still best to use GPS when exploring the city. Many roads abruptly end because they are interrupted by inland canals.
What to Expect During Rush Hour
Although Broward County Transit serves Fort Lauderdale, most people commute by car. Rush hour traffic gets pretty heavy between 6:00 a.m. and 10:00 a.m. and 4:00 p.m. and 7:00 p.m. on weekdays.
Commute times can vary greatly, and commutes are a major factor when buying a home. In a recent survey, there were roughly as many people with commutes between 10 and 15 minutes as there were people commuting for 30 to 35 minutes.
If at all possible during rush hour, avoid I-95, I-595 in the Broward area, and the Florida Turnpike. These tend to get the most congested. Some travelers will have better luck using some of the larger surface streets. For instance, US-1 and the A1A are both roads that run north and south and maybe better options than I-95 during rush hour.
Parking
When planning a day in Fort Lauderdale, leaving space in the budget for parking is important. While there is some free street parking in the city, most is metered and requires paying by the hour.
Parking in city lots and in metered spots along the street is paid for with Pay-by-Phone. Users can download an app to their phone that will allow them to pay for parking, see how much time they have left, and extend time if needed.
Payment to the app is by Google Pay, Apple Pay, credit card, or debit card. Costs are generally $4.00/hr to park or $1.50/hr for residents who have applied online for resident status. Most city parking rates are enforced 24 hours a day. However, there are a few spaces downtown where meters are only enforced from 7 a.m. to 2 a.m. each day.
Many stores and restaurants have their own private parking lots with ample spaces. These can allow visitors to downtown or the beach park for free while enjoying shopping or a meal. Just be sure to look up requirements for private parking; parking in private lots longer than allowed can result in towing.
Other Helpful Things to Know
Fort Lauderdale's grid set-up makes it pretty easy for newcomers and residents alike to get around. Observing whether a particular road is a street, boulevard, or avenue can help with navigation. Generally, streets and boulevards run from east to west, whereas avenues are north to south in Fort Lauderdale.
Many city blocks are numbered. In between major roads, visitors may also find smaller roads where areas have been subdivided. So, between 16th and 17th Street, there may also be a 16th Terrace, 16th Way, or 16th Place. Keep track of the municipal times to avoid getting lost.
Streets will typically also have an ordinal direction as part of the name. Paying close attention can prevent you from landing on NE 3rd Street when you intended to visit NW 3rd instead. The center of the city for purposes of ordinal direction are Andrews Avenue and Broward Boulevard.
Traffic patterns are typically seasonal. There are more visitors in the winter than in the middle of summer because many people from colder states like to spend December through February in Fort Lauderdale. Spring break also brings larger crowds and typically runs from early March to late April.
Florida has a state gas tax, which means driving may factor into the cost of living in Fort Lauderdale more than new residents might be used to.
Drive With Ease in Fort Lauderdale
Canals and waterways can make it tricky to get around some areas of Fort Lauderdale. However, most people figure out the major roads quickly and easily. A car remains the most popular way to get around the city. When drivers plan their trips around major events and rush hour traffic, they can find that driving in the area is a scenic and relaxing experience.
The roads in Fort Lauderdale connect residents and travelers alike to a thriving downtown with a wealth of restaurants, shopping, art galleries, and more. From downtown, it takes only a few minutes before the road arches over the causeway and onto one of the world's most beautiful white-sand beaches. Take in the Atlantic Ocean view, the peaceful crash of the waves, and the festive energy of the beach crowd, and see why Fort Lauderdale is one of the best places in the country to live and visit.