Miami Driving: What to Know About Miami Traffic & Public Transit
Posted by Laurie Reader on Thursday, August 25, 2022 at 1:37 PM
By Laurie Reader / August 25, 2022
Comment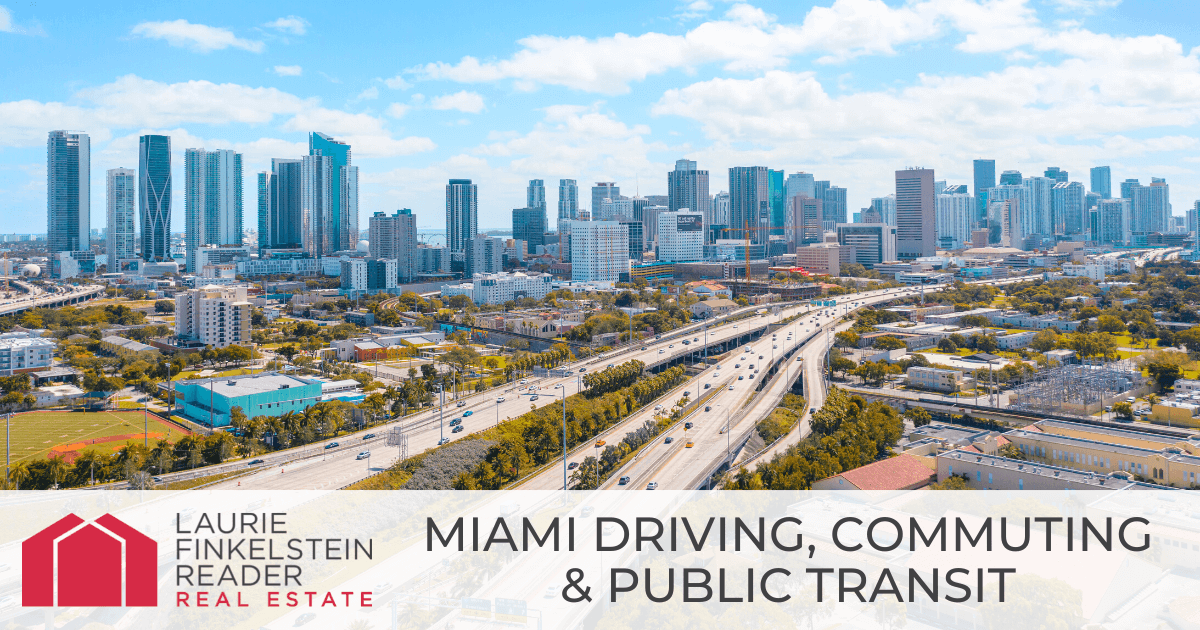 There are a lot of great reasons to move to Miami. There are no state income taxes, the food is fantastic, and it has great entertainment and nightlife year-round—not to mention the iconic skyline provided by Miami condos and highrises. The city of Miami even has a public transportation system that's robust enough that residents who live downtown don't need to own a car. Wherever one lives in the city, it's essential to know all about Miami driving, public transportation, and commuting.
Get to Know Your Roads
If a street runs from east to west in Miami, it has "Street" in its name; if it runs north to south, it will end with "Court," "Road," "Avenue," or "Place." Miami is composed of four quadrants—Northeast, Northwest, Southeast, and Southwest—and this division makes navigating the city streets much more manageable. Flagler Street divides the north quadrant from the south, and Miami Avenue divides east from west.
Some of the main roads that drivers will want to familiarize themselves with are as follows:
I-95 Express: Interstate 95 runs from Maine in the northeast US to just south of Miami, terminating at US 1. Express lanes are available for a toll.
SR 112: Also known as the Airport Expressway, this toll road runs between I-95 and Miami International Airport. Tolls on I-95 are cheaper with a SunPass.
SR 826: The Palmetto Expressway, typically bustling thanks to its convenience and being free to drive, stretches from Miami Beach to the Kendall area.
SR 836: The Dolphin Expressway is a north-south route from downtown Miami to Sweetwater, bypassing the airport.
SR 821: Florida's Turnpike stretches through most of the county and runs through Miramar, Hialeah, Kendall, Homestead, and the Florida City area.
Plan for Miami Traffic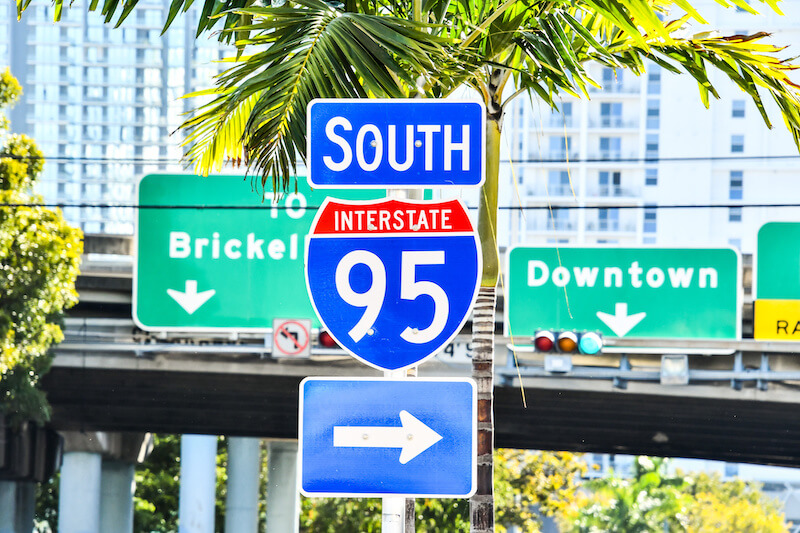 As people commute to and from work, Miami has a morning and evening traffic rush just like any other major city. One way to shorten commutes is by purchasing a prepaid Florida SunPass. Once a driver purchases the SunPass sticker/transponder and affixes it to their windshield, they can deposit money to pay tolls automatically without coming to a stop. It also provides a discount on the amount of toll paid.
Rush hour times can vary depending on whether it's a north-south or east-west route. It also depends on which direction drivers are headed. Generally, the Miami morning rush happens between 7–9 a.m. as people commute to work and from 3–7:30 p.m. as they head home.
Parking in Miami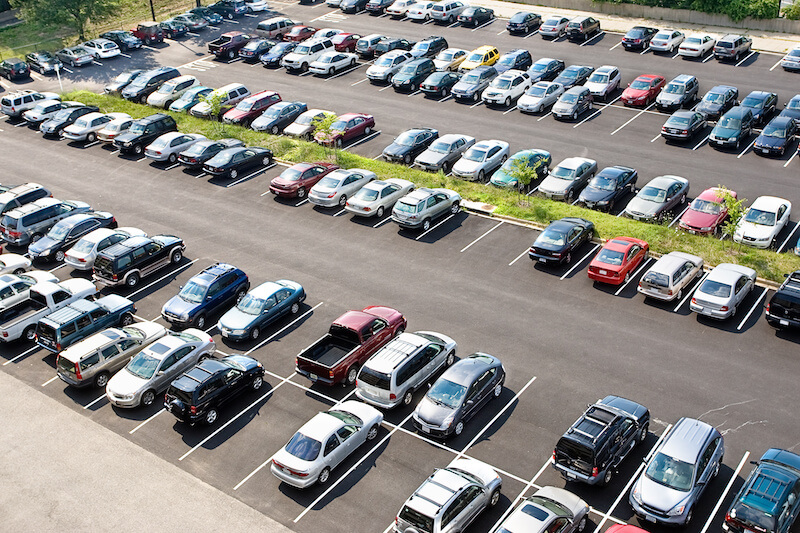 Miami has special residential parking zones reserved only for residents living in those neighborhoods. Try not to park in these residential zones!
Metered street parking is in effect in many places in Miami from 7 a.m. to 2 a.m seven days a week. Metered parking rates range from $2–$4 an hour in most parts of town. Watch the signage for cleaning schedules, as they may require vehicles to be moved.
Parking garages are another option. Public garages can charge as little as $2 per hour or $20–$30 for 24-hour parking. Private garages, which tend to be closer to the beach side of Miami, can run as high as $20 per hour.
Miami's Public Transportation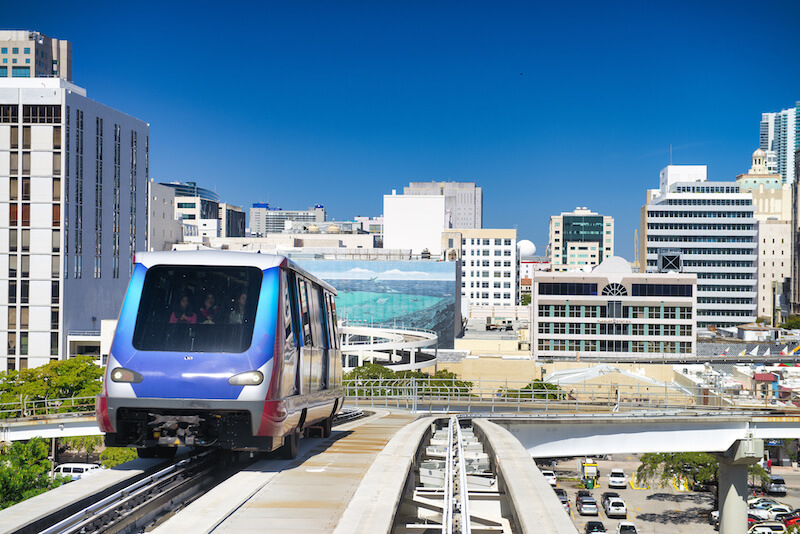 Miami public transportation has a lot to offer residents. The system works so well in the downtown Miami area that people living in condos can get by without owning a car in many cases. Here's a closer look at public transportation in the Miami Metro area.
Getting Around Miami without a Car: Miami's Trolleys and Metromover
The Metromover is an electric, aboveground train that runs on a 4.4-mile loop around downtown Miami and Brickell. The system connects to the city bus system and the Miami Metrorail, so residents can get from downtown to anywhere in the area. These driverless, electric trains run every 1.5–3 minutes, depending on the time of day. They're in operation from 5 a.m. to midnight every day. FTX Arena, the Bayside Market Place, and the Brickell City Centre are three major areas where the trains make frequent stops.
Miami's trolley system is another excellent way to get around without using a car. The trolleys are air-conditioned and free to ride, and they operate not only in Miami but also in several surrounding cities:
City of Miami: 13 trolley routes
Miami Beach: 1 trolley loop
City of Doral: 4 trolley loops
Miami Gardens: 3 trolley loops
Coral Gables: 1 trolley loop
Miami Metrobus
With a fleet of around 1,000 buses completing nearly 100 routes daily, the Miami Metrobus system connects to the Metrorail and Metromover trains. Buses make stops at every shopping, entertainment, and cultural location in Miami and all major hospitals and schools.
The Metrobus enables residents to access places as far away as the Florida Keys and Fort Lauderdale and closer cities like Miami Beach, Homestead, and Key Biscayne. Purchasing an EASY card is one of the best ways to use the bus system. It allows for contactless payment of bus fares and caps the total amount spent on daily bus rides at a reasonably low rate, no matter how many rides a passenger takes.
A single bus line runs from the Miami Beach area to Miami International Airport every 30 minutes. It's one of the quickest ways to get to the airport and stops at 41st Street, Alton Road, Collins Avenue, Lincoln Road, and Washington Avenue. It costs the same as a standard bus fare.
Miami Metrorail and Brightline (Virgin Train)
The Miami Metrorail costs the same as a bus fare to ride, but it's much quicker if it connects directly to a commuter's stop. This 25-mile-long elevated train runs from 5 a.m. to midnight every day. Passengers can use the same EASY card system used to access the Metrobus. The Metrorail connects to Broward and Palm Beach counties via other rail lines, including Brightline. It stops in numerous Miami neighborhoods and suburbs, including the city of South Miami, the Coral Gables community, downtown Miami, Brownsville, Liberty City, and more.
The Brightline is a privately owned train system that is a bit more expensive than Metrorail but much faster. It runs from downtown Miami directly to the city of Fort Lauderdale and the West Palm Beach area, with the trains running at a brisk 79 miles per hour. One-way fares can cost between $10–$30.
Passengers can also upgrade their ticket and travel status, like flying First Class versus Business Class on a commercial airliner. A base Brightline ticket purchases a seat; Smart Plus Service includes a drink and a snack; Select Service provides free parking, bigger seats, and all-you-can-eat food and beverage options.
Miami Taxis and Rideshares
There are three taxicab services operating in Miami. They run at fixed rates for trips, with trips divided up by one-sixth of a mile. Passengers are also responsible for paying all tolls through which a taxicab transports them. The customary tip for cab drivers in Miami is 15–20 percent.
Cabs that travel from Miami International Airport into the city or nearby suburbs run at fixed rates for every trip. Here are a few examples of the fixed rates for taxi rides from the airport to points around Miami:
Downtown Miami: $22
Coconut Grove: $22
Port of Miami: $27
South Beach: $40
Bal Harbour: $46
Sunny Isles Beach: $55
Fort Lauderdale Airport: $72
Water Taxi Miami is a great way to tour the city from the water or to commute from the Bayside Marketplace to the Miami Beach/South Beach Marina. A route also leads to the Bentley Marina in South Beach. This is more of a tourist option, but it could work for some commuters' trips.
All standard Uber and Lyft rideshare services are available throughout the Miami area using their corresponding mobile apps.
Miami Commute Times
No guide to getting around Miami and the surrounding communities would be complete without an overview of driving times. With so many job opportunities in Miami, information on commute times and available routes is paramount. Here are some of the drive times to and from nearby cities, and the most common routes locals take.
Miami to Fort Lauderdale
Fort Lauderdale is about 30 miles up the coast from Miami. Two main north-south routes are commonly used for this commute: I-95 and Florida's Turnpike. The I-95 route from downtown Fort Lauderdale to downtown Miami can take 35 minutes in non-peak times and up to 90 minutes during rush hour. For public transportation, Tri-Rail Transport can convey passengers from Fort Lauderdale to the Tri-Rail/Metrorail Transfer Station in Miami in less than two hours. Metrobus routes take off from the Transfer Station to many other locations in the city.
Miami to Orlando
The distance from Orlando to downtown Miami is about 235 miles. It takes about 3.5 hours to make the drive during non-peak times on Florida's Turnpike (tolls apply). If a driver hits the morning rush hour traffic in Miami, the trip can take more than 4 hours to complete. A Greyhound bus from Orlando to Miami can make the trip in about 4.5 hours. Taking the Sunrail and connecting via Metrobus in Miami for the rest of the journey can take up to 6 hours.
Miami to Hollywood
The city of Hollywood is about 20 miles directly north of Miami. The city is halfway between Miami and Fort Lauderdale, right on the coast. The I-95 Express is the quickest way to make the drive between the two cities. It's about a 25-minute commute during non-peak times and about one hour during rush hour traffic. A combination Tri-Rail/Metrobus trip can take between 1–1.5 hours.
Miami to Hialeah
The city of Hialeah is located 11 miles northwest of downtown Miami. The quickest commute from Miami to Hialeah is to take the I-95 Express north to the Airport Expressway (toll road), continue to East Okeechobee Road, and then head north on 4th Avenue. 4th Avenue leads directly into downtown Hialeah. This is an easy 20-minute drive during non-rush hour traffic. During the morning rush, it's about a 55-minute commute. A Tri-Rail and Metrobus combination trip from Miami to Hialeah takes approximately one hour, nearly as fast as dealing with rush hour traffic.
Miami to Coral Gables
Coral Gables is a master-planned community directly west of downtown Miami. The community has a nice mix of mid-rise condos, single-family homes, and stately golf course homes surrounding the Granada Golf Course. If commuting from downtown Miami, take Southwest 13th Street and stay on that road for about 15 minutes to arrive in Coral Gables during non-peak driving times.
The same route during rush hour can take up to 30 minutes, so it's one of the better commutes in and out of Miami, even at slower times. A Metrobus route can make the trip in about 25 minutes during rush hour, but the route passes south of Coral Gables.
Miami to Miami Beach
Miami Beach is very close to Miami—and the location of many Miami luxury homes—but the commute can take some time during peak traffic hours. The two bridges closest to downtown Miami are Venetian Way and the MacArthur Causeway; both are toll roads. Venetian Way is almost always the fastest route and takes 15–17 minutes during non-rush hours. The drive can take up to 45 minutes during rush hour traffic.
The Miami to Miami Beach trolley can make the trip in about 53 minutes, while the Metrobus 120 route from Miami to Miami Beach takes about 40 minutes during rush hour.
Miami to Pinecrest
The village of Pinecrest is a suburb located about 11 miles south and west of Miami down the coast. To drive from Miami to Pinecrest, take Miami Avenue south, which turns into US Highway 1. Get off the highway at SW 67th Avenue, and follow this street directly to downtown Pinecrest. It's a 23-minute commute during non-rush hour traffic and can take up to an hour at peak times. The Metrobus 73 line makes this trip in about 55 minutes during rush hour traffic.
Things to Keep in Mind about Miami Driving
The Florida 511 system is the best way to get up-to-the-minute data about traffic conditions in the Miami area and the rest of the state. It has a free mobile app that will send motorists immediate text alerts about traffic conditions, and it lists construction and other issues that could snarl a driver's commute.
The I-95 Express Lanes are a faster way to make a north-south commute, but they cost more and have fewer entrances and exits. The cost of using the Express Lanes increases during peak traffic times.
If anyone drives through a toll location and does not have a SunPass, Florida's Toll-by-Plate system kicks in. A picture of the driver's license plate is taken, and they will receive a fine in the mail, which can cost considerably more than simply paying the toll.
Getting Around Miami: Knowledge is Power
It takes time to learn the ins and outs of driving in Miami. Driving a car is faster than using the public transit system, but for some people, the reduced stress of taking the Metrobus or Metrorail makes the added commute time worth it. The cost of public transportation here also makes it worth considering since most of the city-owned options are very affordable. The best advice is to take the time to get to know the local routes, and use the one that works best for each commuter's situation. Most importantly, Miami residents and commuters always have transportation options, driving or otherwise!