Getting Around West Palm Beach: Driving Tips & PalmTran Guide [2023]
Posted by Laurie Reader on Monday, December 5, 2022 at 10:46:33 AM
By Laurie Reader / December 5, 2022
Comment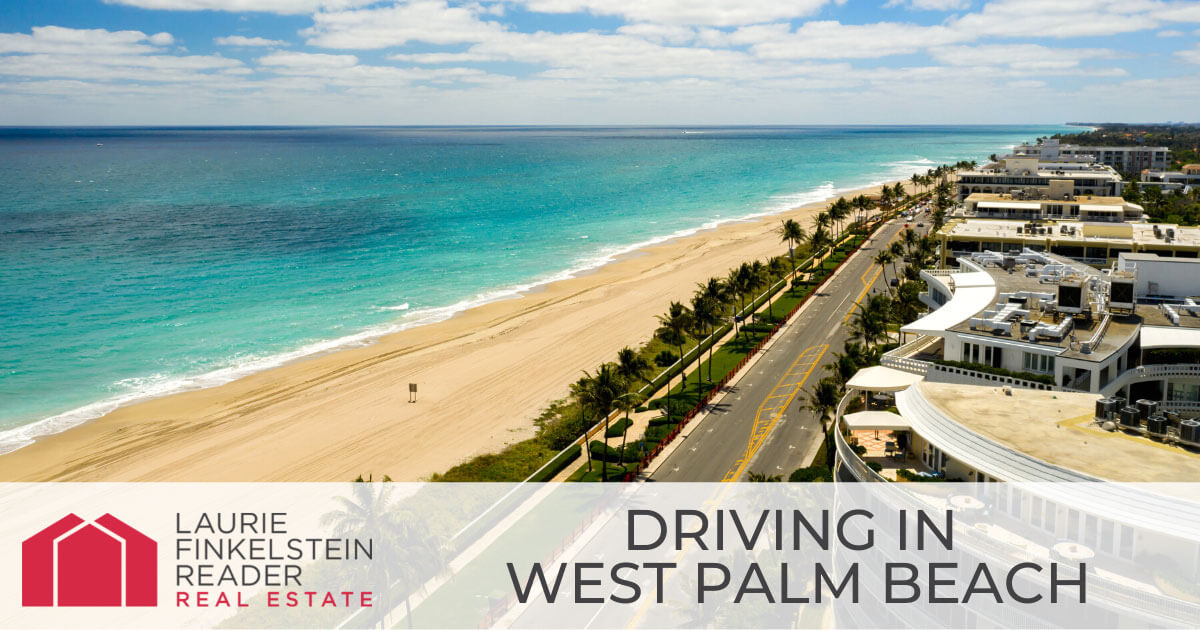 America has a lot of lovely cities to live in. Still, few are as alluring as the city of West Palm Beach, a favored destination in South Florida thanks to its stunning oceanfront location, sandy beaches, and thriving real estate market. In addition to its scenic beauty, the strong local economy draws thousands of people annually to the area. As such, many people moving to West Palm Beach wonder what their daily commutes will be like. Fortunately, the local roadways and public transportation options are easy to master when you have the right information. Here's everything you need to know about getting around in West Palm Beach.
Get to Know Your Major Roads in West Palm Beach
Interstate 95: I-95 is a north-south interstate that passes through West Palm Beach and terminates at the south end of the city of Miami. Exit 69 leads directly to the terminal at Palm Beach International Airport. I-95 provides access to the downtown areas of every city in the Miami Metro area.
A1A: Scenic Highway A1A is probably the second-most famous stretch of road in America, after Route 66. In fact, many popular musicians have written songs about it. This 47-mile road follows the beaches from West Palm Beach down to Fort Lauderdale, and passes hundreds of oceanfront condos and waterfront homes along the way.
Florida's Turnpike: This toll road runs from Orlando down to North Miami, and has ten exits between the city of Jupiter and Boca Raton. To avoid many of the tolls while driving southbound, get off the Turnpike at Jupiter and switch to I-95.
US Highway 1: This historic highway was the first major roadway running north-to-south down toward Miami and continues to the Florida Keys. The roadway changes names along the route these days, but plenty of road signs still designate it as US Highway 1.
US Highway 98: This road runs along the eastern edge of Lake Okeechobee and then turns east. It terminates at the A1A next to the ocean in the south part of West Palm Beach.
When Is West Palm Beach Rush Hour? What to Expect Driving at Different Times of Day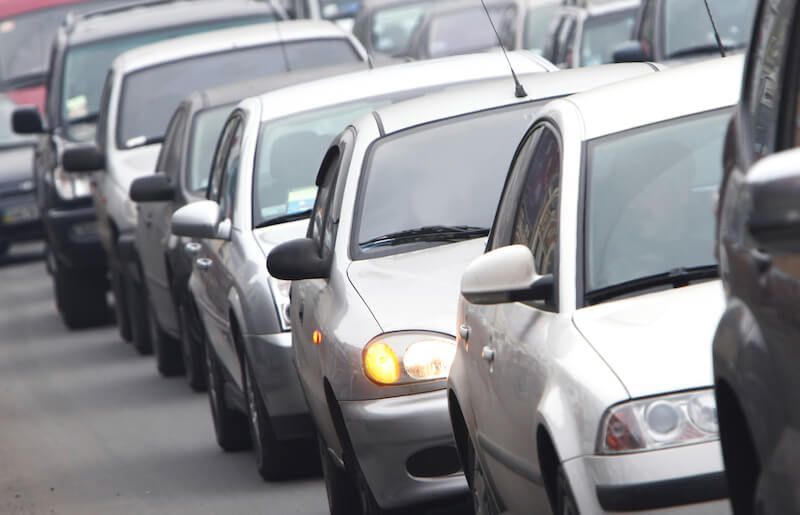 Most of the congestion in the Miami Metro area happens along Interstate 95. That said, West Palm Beach's traffic is much better than it is down in Miami. All coastal highways become congested at certain times of day, so it's best to plan driving routes to avoid those, especially during the summer tourist season. West Palm Beach doesn't get much of an afternoon rush. The morning rush hour from 7:00 to 8:30 is when traffic tends to be the slowest.
Locals tend to avoid Florida's Turnpike because the tolls push more traffic onto I-95 daily. Congestion is most likely to happen at entrances and exits to I-95, especially near Okeechobee Boulevard and the Airport. West Palm Beach commuters usually don't spend much time in traffic, but if they commute down to Miami, the number of hours they spend in traffic can be much higher. Using a traffic app on a smartphone is one of the best ways to avoid congestion in West Palm Beach, other than staying off I-95 during the morning rush.
Tips For Parking in West Palm Beach
West Palm Beach charges 24/7 for metered parking spaces. There are about 3,600 metered spaces in the city, including 1,500 in the Downtown area. Meters accept coins, or drivers can use the ParkMobile smartphone app. Metered parking rates are as follows:
Standard daytime rates: $1.00 to $2.50 per hour, depending on the location
Overnight rates (midnight to 6 a.m.): $5 to $10, depending on the location
West Palm Beach operates three parking garages on Banyan Boulevard, Clematis Street, and Evernia Street. There are also several off-street lots. Rates for parking garages are as follows:
First 2 hours: $1.00
Each Additional 30 minutes: $2.00
Maximum Daily Rate: $20.00
Weekends & Holidays, All-Day: $5.00
Special Events Rate: $40.00
Resident Monthly Parking Rate: $100.00 plus tax
West Palm Beach Public Transportation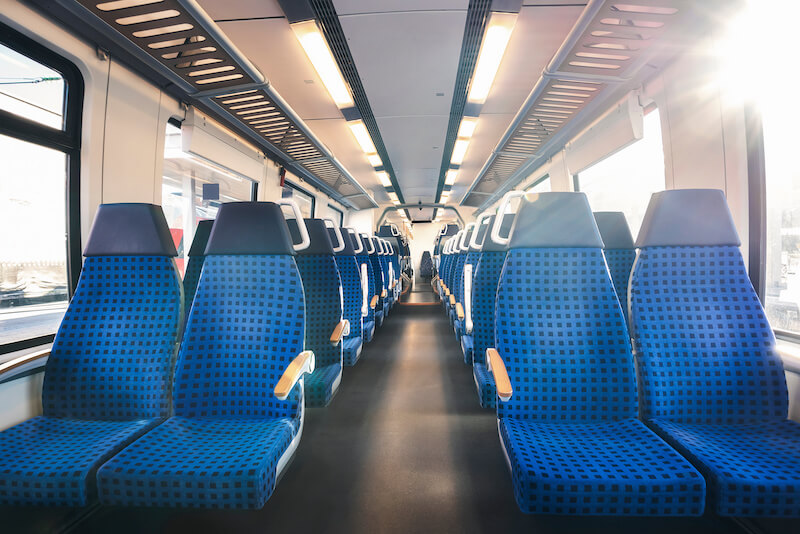 Public transportation in the West Palm Beach area allows one to travel anywhere in the Miami Metro area, even if the commuter doesn't own a car. Public transportation consists of a bus system (Palm Tran), a train system (Tri-Rail), and high-speed rail (Brightline).
Palm Tran
Palm Tran buses run from about 6 a.m. to around 11 p.m., depending on the route, and are frequently used by commuters. Multiple resources are available on the Palm Tran website, including all route maps and schedules and the Trip Planner. The bus system runs 31 routes in the West Palm Beach area, serving roughly 35,000 commuters daily at nearly 3,000 stops.
An easy way to plan commutes is to download the Palm Tran app for Android or iPhone. It makes trip planning via the bus system much more straightforward. A Paradise Pass makes commuting a bit easier as well. The contactless card allows bus riders to pay their fair by tapping their Paradise Pass on the fare box.
Bus fares for Palm Tran are as follows:
1-Trip Ticket: $2.00
Unlimited 1-Day Pass: $5.00
Unlimited 1-Day Reduced Pass (students, seniors): $3.50
Unlimited 31-Day Pass: $70.00
Unlimited 31-Day Reduced Pass: $55.00
Tri-Rail
Tri-Rail is a north-south train system that runs seven days a week, with trains running every hour from approximately 4:00 a.m. until about 10:00 p.m. The route begins north at Mangonia Park, a neighborhood just north of West Palm Beach, and terminates at the Miami Airport in the south. There are a total of 18 stops along the way. With these stops, the Tri-Rail is slightly slower than commuting by car during non-rush hour traffic. For example, Tri-Rail takes about 1 hour to get from West Palm Beach to Fort Lauderdale, while driving takes about 45 minutes.
Every train set on the Tri-Rail has at least one bicycle car. This makes it easy for commuters to ride their bike to the train station, haul their bike with them, and ride it to their eventual destination, making it a truly "green" experience. Only traditional two-wheeled bicycles are allowed on the trains (no motorized bikes, scooters, unicycles, etc.). Tri-Rail also rents bus lockers for a $20 refundable fee to commuters.
Tri-Rail uses an EASY Pass system for commuters. Commuters can load these pre-paid fare cards to pay for tickets in advance. The trains pass through six zones, and fares are determined based on the number of zones a commuter travels through.
Fares for Tri-Rail are as follows. The prices are for the maximum fare price, assuming a commuter travels through six zones:
One-Way: $8.75
Round Trip: $17.50
12-Trip: $105.00
Unlimited Monthly: $110.00
Unlimited Discount Monthly: $55.00
Weekends/Holidays: $5.00
Students, Children, Seniors, Disabled Weekends/Holidays: $2.50
Brightline
Brightline is south Florida's high-speed rail system. From south to north, it has stations in Miami, Aventura, Fort Lauderdale, Boca Raton, West Palm Beach, and Orlando. Each station has a parking garage; patrons can add parking to their fares when using Brightline. Each station is located in the Downtown area of its respective city, providing easy access to all the other public transit options.
Dining and beverages are available on all trains, along with free Wi-Fi and state-of-the-art restrooms. Brightline cars also provide storage for bicycles and carry-ons, and the trains are pet-friendly. There are two types of fares on Brightline: SMART, which is business class, and PREMIUM, which is first class. Train passes can be purchased online or through Brightline's smartphone app.
Fares for Brightline between Miami and West Palm Beach are as follows:
Mornings 7 to 9 a.m.: $15 one-way
Midday 10 a.m. to 5 p.m.: $22 one-way
5 p.m. & 6 p.m.: $27 one-way
Evening 7 to 10 p.m.: $22 one-way
10 One-Way Rides: $187
Monthly Pass: $339
Monthly Parking Pass: $75
Drive Times to and from West Palm Beach
Hitting the road and exploring this scenic region of Florida is one of the many perks of living in West Palm Beach. Thanks to its convenient location north of Miami, residents can enjoy pleasant drives to many cities in Florida.
Miami
Downtown Miami is about 71 miles south of West Palm Beach. The fastest routes during non-rush hour traffic are Interstate 95 (1 hour and 7 minutes) and Florida's Turnpike (1 hour and 12 minutes). During the morning rush hour, both routes can take up to 2 hours. The heaviest I-95 traffic tends to be between Boca Raton and Pompano Beach. Riding the bus between Miami and West Palm Beach takes around 2 hours, with or without rush-hour traffic.
Fort Lauderdale
The city of Fort Lauderdale is 46 miles down the coast from Downtown West Palm Beach. During non-rush hour traffic, I-95 takes about 45 minutes between the two cities. Because Florida's Turnpike is a few miles west of both cities, it adds about 15 minutes to the commute to take this route during light traffic. During rush hour traffic, the I-95 route can take up to 90 minutes, while the Turnpike route can take up to 1 hour and 40 minutes. On average, taking the Tri-Rail train between Fort Lauderdale and West Palm Beach takes about 58 minutes.
Plantation
The city of Plantation is a suburb west of Fort Lauderdale, located about 48 miles from Downtown West Palm Beach. Taking Sunrise Boulevard or Broward Boulevard east and then driving the rest of the way on Interstate 95 takes about 49 minutes during light traffic. Florida's Turnpike takes about the same amount of time. Since the Turnpike runs through the center of Plantation, it is the fastest route during rush hour traffic: 1 hour and 25 minutes. I-95 can take up to 1 hour and 40 minutes during the morning rush. The bus routes, with connections, take anywhere from 90 minutes to 1 hour and 40 minutes from Plantation to West Palm Beach.
Orlando
Downtown Orlando is 170 miles northwest of West Palm Beach. Florida's Turnpike is the fastest route during non-rush hour traffic. The drive takes about two and a half hours. Interstate 95 is another option, but it adds about 10 minutes to the drive during light traffic. During rush hour, the Turnpike route can take up to three hours, and the I-95 route takes about three hours and 10 minutes. A Flix Bus route travels from Orlando to West Palm Beach in two hours and 50 minutes, with no stops.
Fort Myers
Fort Myers is about 126 miles directly west of West Palm Beach, on the opposite coast of Florida. The best option for commuting between the two cities is to take Florida Highway 80 East. The drive takes about 2 hours and 15 minutes during non-rush hour traffic. The only other option would be to take Interstate 75 south from Fort Myers, follow it across the state to Fort Lauderdale, and then head north to West Palm Beach. This adds 60 miles to the trip and about 30 minutes to the commute. Florida Highway 80 East can take up to 3 hours and 30 minutes to drive during rush hour.
There's also a three-hour Greyhound line between Fort Myers and West Palm Beach.
Port St. Lucie
The town of Port St. Lucie is about 48 miles north of West Palm Beach on the coast. The drive takes about 46 minutes on I-95 during non-rush hour traffic. Note that I-95 does have tolls on this stretch of road. The same drive can take up to 1 hour and 10 minutes during rush hour. Taking the bus requires two transfers and stretches the morning commute to about two hours and 40 minutes.
Getting Around Is Easy in West Palm Beach
Traffic in West Palm Beach itself is not bad compared to some comparable cities. There's a morning rush, but afternoon traffic keeps moving reasonably well. While there are plenty of jobs in West Palm Beach, many residents commute with ease to nearby cities. Using a traffic app, learning alternate routes, and using public transportation can help make your daily commute easier in West Palm Beach.