A Look At Florida's Local Real Estate Markets
Posted by Laurie Reader on Tuesday, September 7, 2021 at 1:52 PM
By Laurie Reader / September 7, 2021
Comment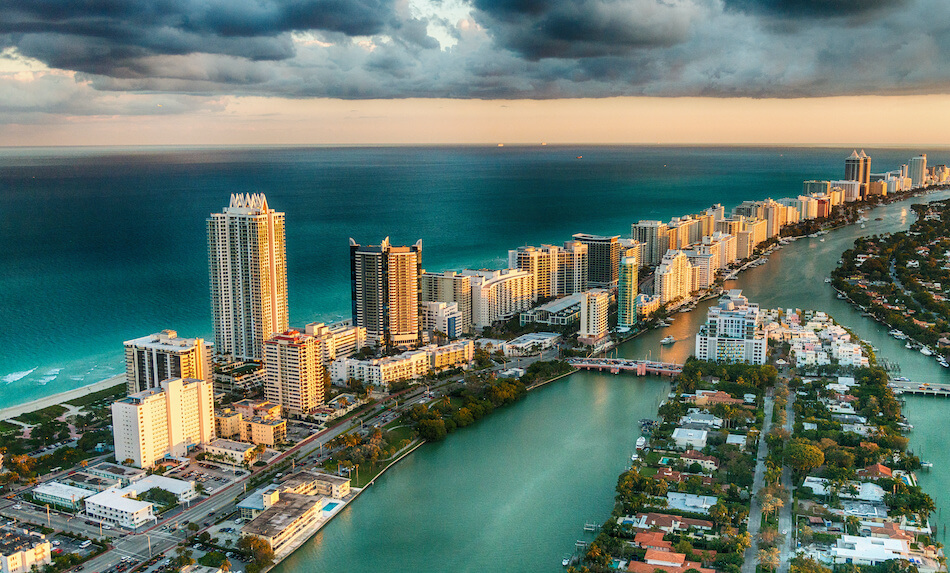 The trend to move away from densely populated, high-tax metro areas towards the lifestyle haven of Florida is showing no signs of slowing down. While some local Florida markets have cooled, they are still experiencing some growth, while others are red hot. Read on for a full analysis of real estate market trends in Florida.
For informational purposes only. Always consult with a licensed real estate professional before proceeding with any real estate transaction.
Miami's Popularity Holds Firm
The Miami real estate market continues to experience record-breaking figures thanks to consistently high demand and historically low mortgage interest rates. According to the Miami Association of Realtors, Miami-Dade County recorded its highest ever quarterly sales figures for Q2 this year, with sales soaring 142.4% over Q2 2020, taking the total from 4,766 to 11,553. Single-family homes in Miami rose by almost 67%, while the rate of Miami condo sales surged by a staggering 240.1%, from 2,078 in Q2 2020 to 7,067 in Q2 of 2021.
July's median listed price across all property types in Miami was $450,000 - a 15.4% year-on-year increase, while the sale-to-list price ratio sat at a little over 98%.
Low inventory levels for particular price points have been affecting sales, especially in the single-family property sector. However, an increase in listings and housing starts is beginning to rectify this.
A Snapshot of Other Popular Florida Markets
Pembroke Pines
The Pembroke Pines property market is currently holding its own, with no significant trends in either direction representing balanced market conditions.
Average sales prices in Pembroke Pines are sitting at $340,000, just 0.87% lower than year-on-year values.
Properties in Pembroke Pines are selling at a rate of $226 per square foot on average, which is a 14.1% year-on-year increase.
Currently, Pembroke Pines homes, on average, are selling for close to their list price and are on the market for approximately 39 days, while high demand properties are achieving around 3% over their list price and going pending within 12 days.
Fort Lauderdale
As of July 2021, Fort Lauderdale is a sellers' market, although the squeezed market conditions pushing the prices up are deterring buyers, leading to a far less competitive market.
The average price of homes in Fort Lauderdale is sitting at $413,000, almost 12% higher than last year.
The value-for-money when it comes to price per square foot has increased by 13.5% year-on-year to $294.
Multiple offers on Fort Lauderdale properties are currently rare, with the average properties selling for approximately 3% below the listed price and spending an average of 54 days on the market.
Miramar
The Miramar housing market is reasonably competitive, with some homes receiving multiple offers.
Having increased by 13.5% year-on-year, the median price of Miramar homes was $399,000 in July 2021.
Square-footage value-for-money has gone up by almost 18% since last year, bringing the price per square foot to $226.
Hot homes in Miramar are currently achieving approximately 4% over their listed price and only staying on the market for nine days.
Port St. Lucie
The property market in Port St. Lucie is hot. The conditions are competitive and, with its relative affordability still apparent, the area is experiencing some significant growth.
The average sales price of Port St. Lucie homes is currently sitting at $315,000 - an increase of 26% year-on-year.
The price per square foot of Port St, Lucie property has climbed by 25.4% since last year and is currently $178.
Many Port St. Lucie homes are receiving multiple offers, and hot properties are pending within nine days and achieving sales prices of around 3% over the asking price.
Coral Springs
Coral Springs homes are continuing to grow in value as the market remains competitive.
With some homes getting multiple offers, the average Coral Springs homes are selling within 34 days, with high-demand properties pending within 11 days.
With relatively low inventory, some homes receive multiple offers and sell for around 3% over the asking price.
The average price of a property in Coral Springs is currently $490,000 - a significant 22.5% increase year-on-year.
Hollywood
Although property values have bounced back in the last year, the Hollywood, Florida, property market is currently not very competitive.
Multiple offers are rare, and on average, Hollywood homes sell for around 2% below the asking price listed, although hot properties are increasing approximately 1%.
Averagely, properties in Hollywood are currently on the market for around 53 days, with high-demand homes going pending after an average of 23.
The average property price is currently $375,000, up 13.6% year-on-year. Price per square foot is also up 22.4% and sitting at $275.
Final Thoughts on Florida's Real Estate Markets
Overall, Florida property remains popular, and the local markets are either remaining stable or experiencing continued growth. The longer the remote-working trend continues, the more the state will witness an overall influx of people planning to move to Florida, prioritizing lifestyle over dense metro areas.
For informational purposes only. Always consult with a licensed real estate professional before proceeding with any real estate transaction.