Fort Lauderdale Cost of Living Guide
Posted by Laurie Reader on Friday, December 16, 2022 at 11:46 AM
By Laurie Reader / December 16, 2022
Comment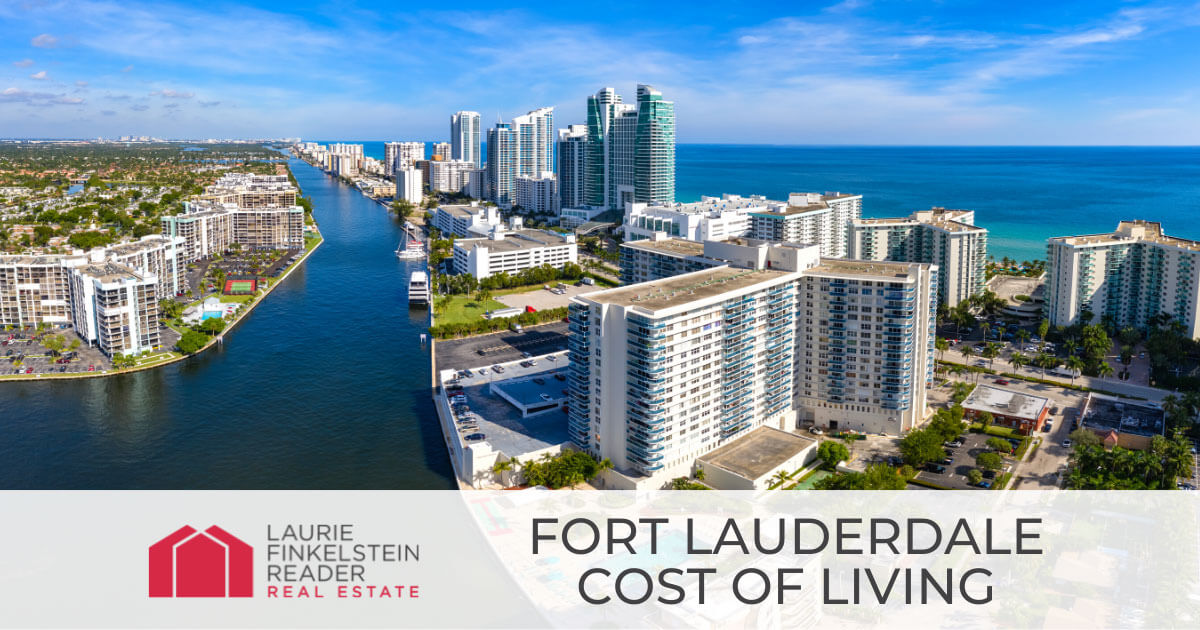 Fort Lauderdale, 25 miles north of Miami, is the county seat of Broward County. Every year, new people are moving to Fort Lauderdale in pursuit of sun-kissed beach days and year-round good weather. As a large city, its cost of living is about 15 percent higher overall than the rest of the country and about 16 percent higher than the Florida average. In fact, it's the seventh most expensive city in Florida. Still, the Fort Lauderdale community remains less expensive than many other large cities. Washington DC, for example, is 56 percent higher than the national average compared with Fort Lauderdale's 15 percent. San Francisco is 80 percent higher than the national average. Read on to learn all about the cost of living in Fort Lauderdale.
Fort Lauderdale Housing Costs
Fort Lauderdale housing costs are about 39 percent higher than the national average and 45 percent higher than the state average. They have risen substantially over the past several years, and an upward trend is expected to continue as the area's population grows.
Median Home Price
Although housing costs are slightly higher than the national averages, residents can still find a perfect home to fit any budget, especially if they're knowledgeable about the most affordable neighborhoods in Fort Lauderdale. Additionally, home prices can vary drastically depending on the property type that is chosen. For example, the price for a single-family Fort Lauderdale can range from is about $200,000 to more than $10 million for a luxury home. Condos in Fort Lauderdale typically cost anywhere between $100,000 and $1 million.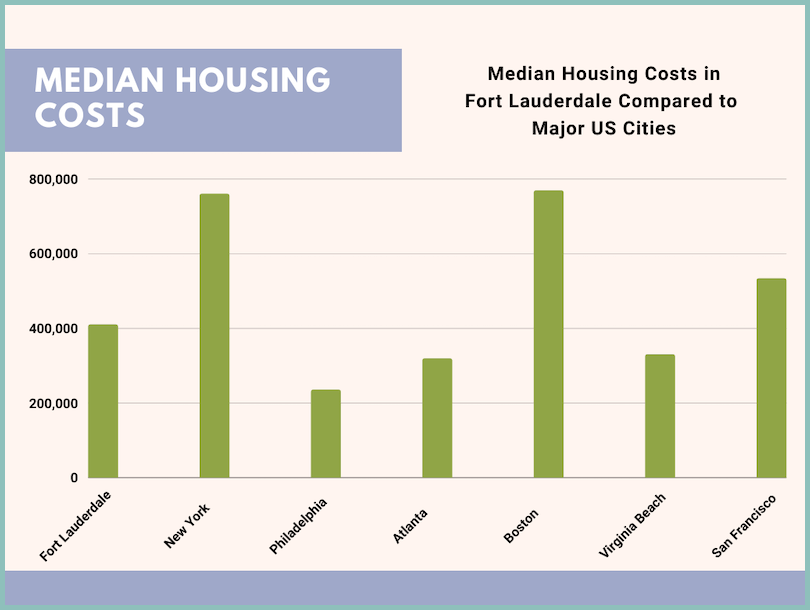 Houses in the most expensive neighborhoods in Fort Lauderdale may cost significantly more. For example, housing in Seven Isles is about five times the national average, and many homes sell for $2 million or more. Housing in the least expensive neighborhoods, such as Sunset or Lauderdale West, will be significantly less.
Median Rent
Often residents want to rent before buying or to rent because they feel it is less expensive than coming up with a down payment. The average rent in Fort Lauderdale is about $2,150 a month, and the average unit size is about 950 square feet. Rents have risen less sharply than home prices.
Rental prices also vary by neighborhood and size. Studios are the most affordable and start at about $879 a month. The monthly rent for a four-bedroom unit would start at about $2,000. For example, rent in Seven Isles is about $2,700 per month, while rent in Lauderdale Manors is about $1,200 a month.
Utilities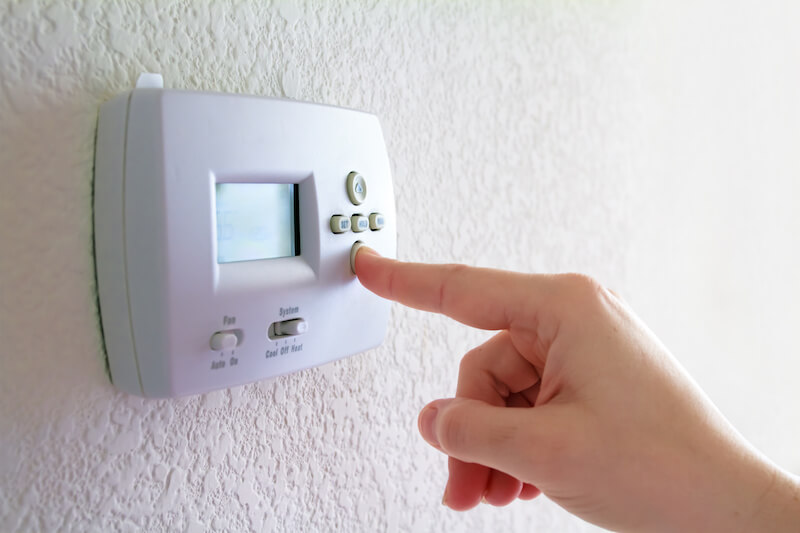 Utilities are also a major factor in determining how much an individual will pay for housing. Utilities in Fort Lauderdale are about 4 percent less than the national average and about 5 percent less than in Florida as a whole.
Two people living in a 900 square foot apartment would spend an average of $164 a month for heating, electricity, and gas. Internet at 8mbps would be about $40. Those living in larger homes or apartments will tend to pay more; those living in smaller spaces will pay less. Of course, energy costs also depend upon the energy efficiency of the building.
The monthly cost of water is based on usage. Someone who uses less than 3,000 gallons of water a month and lives in a single-family home will pay about $2.50; someone who uses more than 20,000 gallons will pay $14. Sewer charges are also based on consumption. Those using less than 3,000 gallons a month pay about $4.50. Those using more than 3,000 gallons will pay about $10.
Homeowner's insurance in Florida tends to be higher than the national average. The average cost to insure a $150,000 house is about $4,700 a year; the cost to insure a $300,000 home averages about $10,000—the cost increases as the value of the home rises.
Other factors that affect the cost of homeowners insurance are the amount of the deductible (the amount the homeowner must pay for each incident), the home's age, how it is constructed, the location, the coverage amounts, the property's claim history, and the owner's insurance score. Residents also can shop around to obtain the best value.
Fort Lauderdale Food Costs
Food costs are another key component of a monthly budget. Food costs in Fort Lauderdale are higher than the national average and are rising. However, residents can find ways to economize when shopping in grocery stores or eating in restaurants.
Groceries
Groceries in Fort Lauderdale are about 17 percent higher than they are in the country as a whole and about 19 percent higher than in the state. Average prices for common items are:
1-pound chicken breast, about $4.20
A quart of whole fat milk, about $1
A dozen eggs, about $2.60
2 pounds of tomatoes, about $3.50
A pound of local cheese, about $5.20
2 pounds of potatoes, about $1.80
2 pounds of apples, about $2.90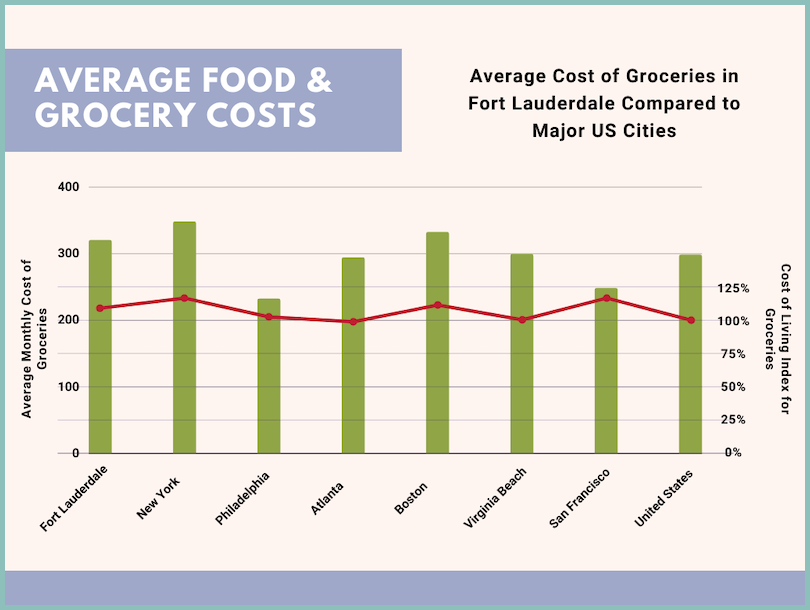 Some grocery stores and markets offer lower prices, so residents can often save money on basic items by shopping around. Flamingo Road Nurseries, for example, offers a year-round air-conditioned farmers market with fresh produce and other food offerings. Aldi is a discount grocery store chain with a location on Sunrise Boulevard. SuperSaver on Davie Boulevard is another discount option.
Restaurants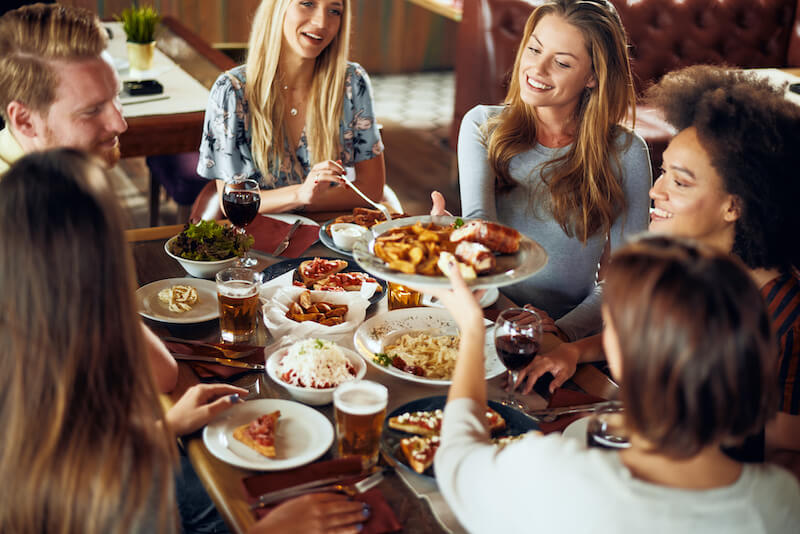 The price for a meal out in Fort Lauderdale depends on the type of restaurant. For example, for lunch, a combo meal in a fast-food restaurant in Fort Lauderdale will cost about $10. A basic lunch in a restaurant in the business district will be about $15.
One example of a moderate-priced restaurant is Premier Café and Bar, which serves Argentine and American food and craft beers. Sandwiches are about $10, and entrées are about $14.
A more expensive option is Lona, a Mexican restaurant on the waterfront. Lunch with an entrée and drink would run between $20 and $35. Dinner with an appetizer, entrée, and dessert would run about $40 to $75. Another example of a fine dining option is Wild Sea Las Olas. Weekend brunch entrées are around $10. Dinner entrées range from about $15 to more than $30. Another example is Canyon Southwest Restaurant, which has dinner entrées from $28 to $32.
Fort Lauderdale Transportation Costs
Transportation costs in Fort Lauderdale are about 30 percent more than the national average and about 18 percent more than the state average.
On weekdays, residents who opt for public transportation will find several routes to choose from, with some operating on 30-minute schedules. A one-way cash fare on a regular bus for adults ages 19 to 64 is $2, but these adults can buy a three-day unlimited pass for $12 or a 31-day unlimited pass for $70. Senior citizens and people younger than 19 years old receive a discount. Express bus fares for adults 19 to 64 are about $2.65 for a one-way cash fare and $95 for a 31-day unlimited pass.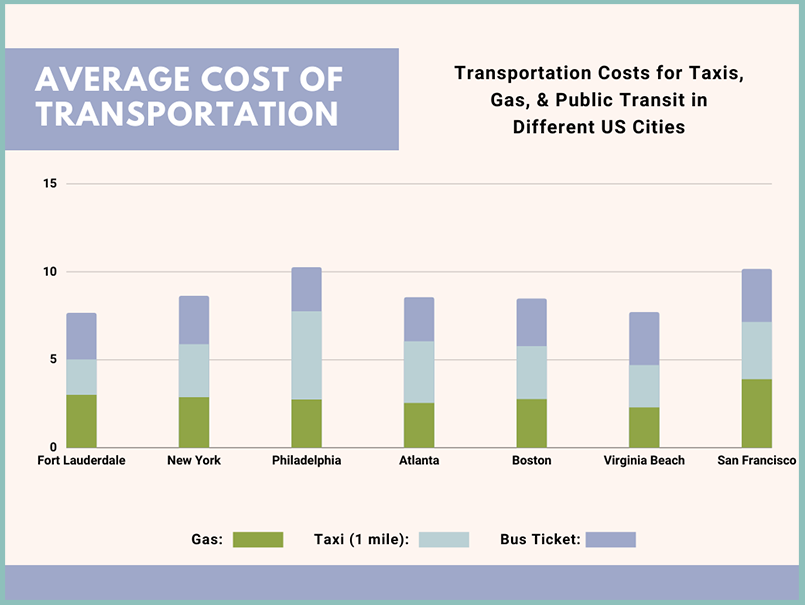 Driving in Fort Lauderdale is the most popular way to get around. To travel by car, residents need insurance and gas, in addition to the vehicle. The average monthly cost for auto insurance in Fort Lauderdale is about $150, about $25 more than the state average. Auto insurance prices vary based upon the type of coverage, the type of vehicle, and personal details about the primary driver. For example, someone who has had an accident will pay an average of about $225 per month. People between the ages of 18 to 24 will pay an average of $200, while those 65 and older will pay an average of about $115. Rates also vary by insurers, so residents who shop around can often obtain a better rate.
Florida gas prices often tend to be higher than those in other states because of the gas tax. In addition to the federal tax rate, the state charges a tax of more than 26 cents a gallon. Gas prices do vary. The stations with the lowest prices often are BJ's Wholesale Club, Northeast Food Mart on Northeast 4th Ave., and Wawa.
Health Care in Fort Lauderdale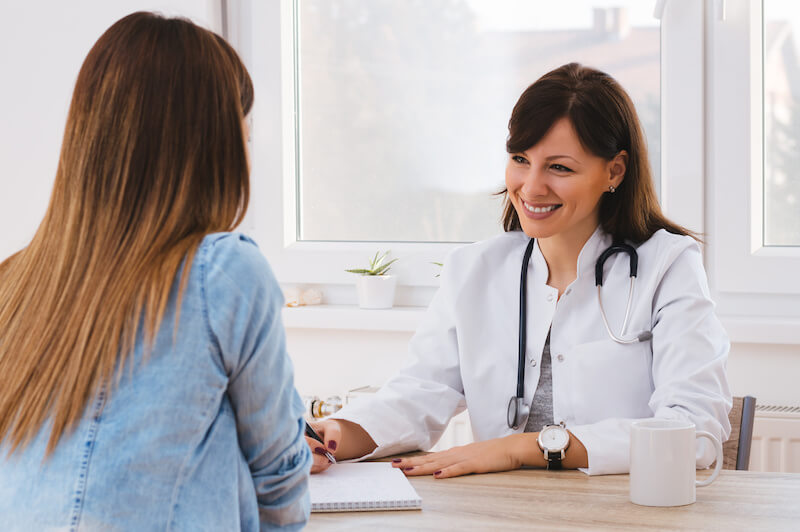 Health care costs in Fort Lauderdale are 4 percent less expensive than the national average. The average cost of a primary well exam is $96. However, costs can vary widely for the same procedures. For example, some dental offices charge $35 for an office visit without x-rays and $79 for one with full x-rays, while others advertise new patient specials for $25.
Health insurance also varies depending upon age, type of coverage, deductible, and insurer. The average monthly premium cost for a 40-year-old individual is about $500. $500 will pay for insurance with a moderate deductible and relatively low maximum out-of-pocket annual cost. However, a 40-year-old could buy a catastrophic policy with an $8,500 deductible for only $200 a month.
Child Care in Fort Lauderdale
According to a study by USA Today, Broward County has the most expensive child care costs in Florida. The average household pays about $8,500 a year for child care, the study says. However, child care costs depend upon the age and number of children and whether the parents choose a daycare center or nanny care.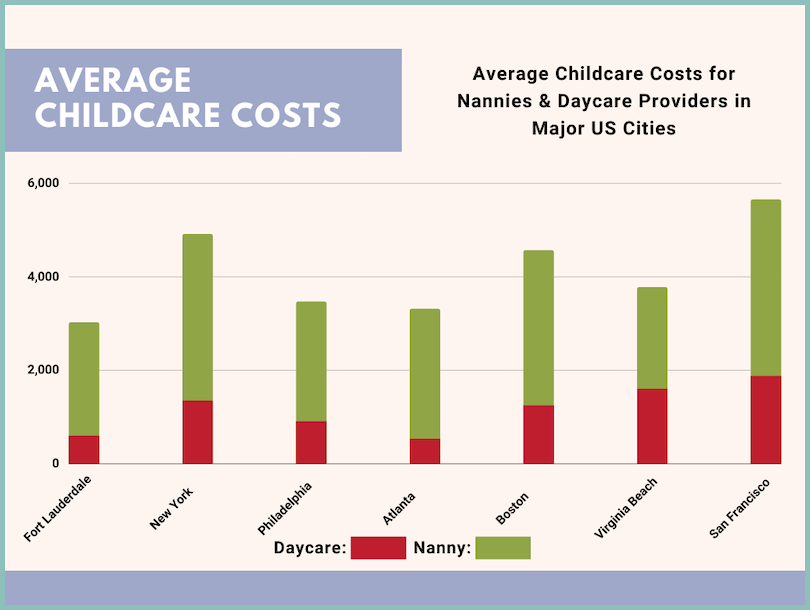 The average cost of child care in a center is about $600 a month. Caring for infants is more expensive, and only about 4 percent of daycare centers provide infant care. Care for older children is the least expensive.
The average hourly rate for a nanny is about $15 an hour, but this can vary between $9 and $25 depending on location, responsibilities, qualifications, and the type of care needed. Nannies who are required to use their own car to transport children will charge more per hour than those who don't, for example. Families can reduce the cost of nanny care by sharing a nanny among two or three families.
Entertainment in Fort Lauderdale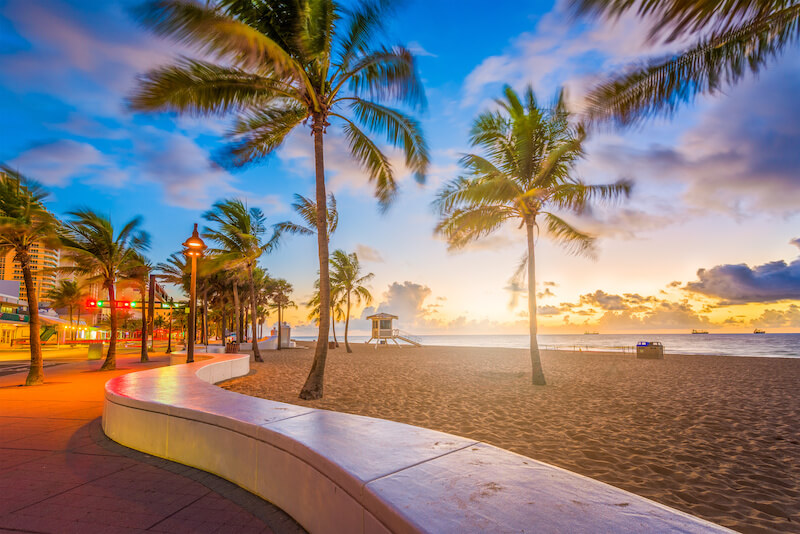 Some of the most fun things to do in Fort Lauderdale are free. For example, walking on the beachfront promenade, strolling on sandy public beaches, or window shopping along Los Olas Boulevard doesn't cost anything. To add some excitement,30-minute bike rentals are available for five dollars in some places.
The city has several moderate-priced activities. Touring the historic Bonnet House Museum and Gardens is $20 for adults and consists of two 90-minute tours. Taking a boat tour of the Intracoastal Waterway is about $24 for adults, and $14 for children, although sometimes family packages are available. The Museum of Discovery and Science is $17 for adults and $14 for children. Two tickets to the movies will run for about $24.
More expensive entertainment is also available. Two theater tickets might run about $250 for excellent seats. Two tickets to watch the NHL team, the Florida Panthers, might run about $200. A trip to a local club might cost $11 per drink and a $20 per person cover charge.
Salaries in Fort Lauderdale
The average annual salary in Fort Lauderdale is about $67,000, which is a little higher than the average in the United States. The unemployment rate is about the same as the national rate, and the number of jobs is expected to grow about 38 percent over the next few years, which is higher than the national growth prediction.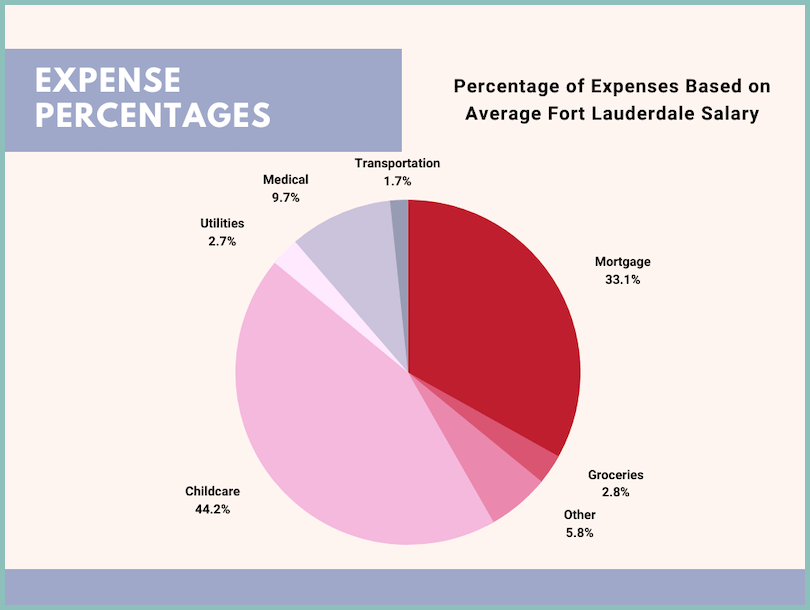 Salaries for some of the most common jobs are:
Registered nurse, about $80,000
Photographer, about $54,000
Accountant, about $70,000
Web developer, about $90,000
Electrician, about $57,000
Administrative assistant, about $52,000
Schoolteacher, about $60,000
Retail salespersons, about $25,000
Cashiers, about $23,000
Laborers, about $30,000
The minimum wage in Florida is $10 an hour, and a referendum has passed that will gradually increase it to $15 over time. The federal minimum wage is $7.25 an hour.
No Income Tax in Florida Reduces Statewide Cost of Living
Another important factor in the cost of living is taxes. Florida has no state income tax, while the average state income tax rate is 10 percent. Residents of Fort Lauderdale also typically do not need winter clothes, which would reduce clothing costs considerably compared with states that have four distinct seasons.
Living and Work in Fort Lauderdale
Fort Lauderdale can be a pleasant place to live for those who enjoy beaches and warm weather year-round. While some costs, especially housing costs, are higher than the national average, residents save by paying no state income taxes and needing only warm-weather clothes. Prices also vary considerably in all categories, including housing. Those with tight budgets can find suitable places to live and save money on groceries, gas, insurance, and entertainment by carefully shopping around.