4 High-Rise Condos With Amazing Fort Lauderdale Skyline Views
Posted by Laurie Reader on Tuesday, January 25, 2022 at 12:57 PM
By Laurie Reader / January 25, 2022
Comment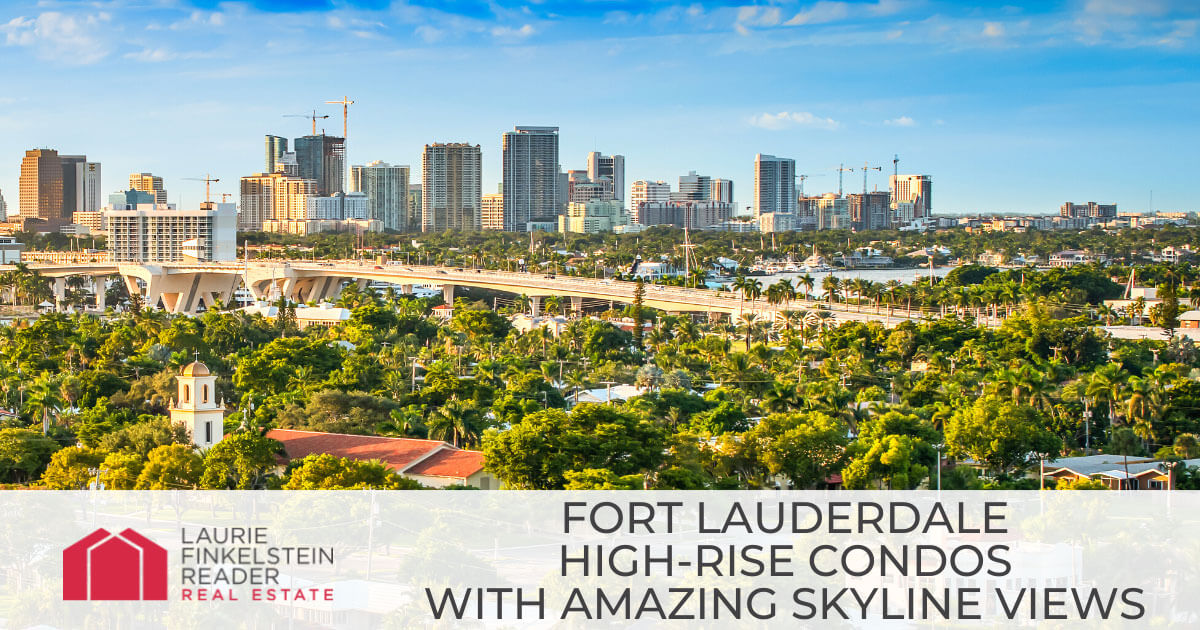 Located on the state's southeastern coast, Fort Lauderdale is one of the most desirable places to buy a home in Florida. Trying to decide between a high-rise condo and a low-rise condo? One advantage of high-rise condos for sale in Fort Lauderdale is the stunning views of the Atlantic Ocean and local cityscapes. For those thinking about buying one of the condos in this area, getting one with a view is a must. Keep reading to learn about four Fort Lauderdale high-rise condos with stunning skyline views.
100 Las Olas
Towering over the city's premier boulevard for upscale dining and shopping, 100 Las Olas is the tallest high-rise condo building in Fort Lauderdale. The condo building is 499-feet tall, providing some of the best all-around views of the city and the water from all 46 floors. This community features 113 luxury residences. The lowest floors begin at 160 feet, ensuring nearly all condos in the building have spectacular views out of just about every window.
The 100 Las Olas condos for sale offer a wide range of amenities for residents. An impressive resort-style pool on the rooftop makes this building one of the top Fort Lauderdale high-rise condos with a rooftop pool. The views on the rooftop are fantastic, often allowing for miles of spectacular blue water and skies in every direction. The property also offers day cabanas for ample privacy and shade, a fitness center with high-tech equipment, and the club room, an expansive outdoor plaza that features a full catering kitchen, club bar, and ample seating. There are several entertainment areas throughout the building, including an outdoor fire pit and cooking area.
Bob Martin of The Decorators Unlimited designed these condos to be modern, luxurious living spaces with gourmet kitchens, great open rooms, and a large terrace with glass railings, which allow for an unobstructed view of the city's skyline from every balcony.
AquaBlu
Another impressive view comes from AquaBlu, a modern waterfront community. It offers 35 residences. Its location right on the Intracoastal Waterway allows residents to enjoy a beautiful view every day of the ocean. There are also onsite boat slips that help residents take to the water when they would like to, without leaving their property to do so. The boat slips provide direct access to the Intracoastal Waterway, allowing access to the ocean. For those that own private vessels, this location offers deep water ocean access without any fixed bridges to navigate along the way.
AquaBlu offers several floor plan options ranging from 2,500 to over 7,000 square feet of living space. The location has several entertainment terraces which allow residents and their guests to enjoy waterfront living at its best. There's a large fitness center on the property, along with a heated pool for residents to use.
A few other things help this location stand out. It's within walking distance to Fort Lauderdale Beach, the garage has electric car-ready spaces, and there's 24/7 security provided. It's also a pet-friendly and smoke-free community.
350 Las Olas Place
Yet another location for impressive views is 350 Las Olas Place. Having been called the hottest location in Downtown Fort Lauderdale, this community offers a sophisticated and sleek design with a cosmopolitan feel. This 30-story building has 163 total units. Seven different floor plans range from 1 bedroom to 3 bedrooms, all with two bathrooms. Additionally, there are two penthouse suites (though the availability of these may be limited). The ground floor of 350 Las Olas Place has retail shops and a secure parking lot. The views from each of the residences differ, but many offer incredible views of the open ocean as well as the cityscape.
Luxury living at 350 Las Olas Place is easy to do with the numerous amenities available in the building. That includes a spacious rooftop pool (for even better views) along with a rooftop jacuzzi. There is a state-of-the-art fitness center on the roof as well. The property offers residents valet parking and 24-hour security. There's also a theatre room for group movie watching and an owner's lounge with a full kitchen for events.
Commodore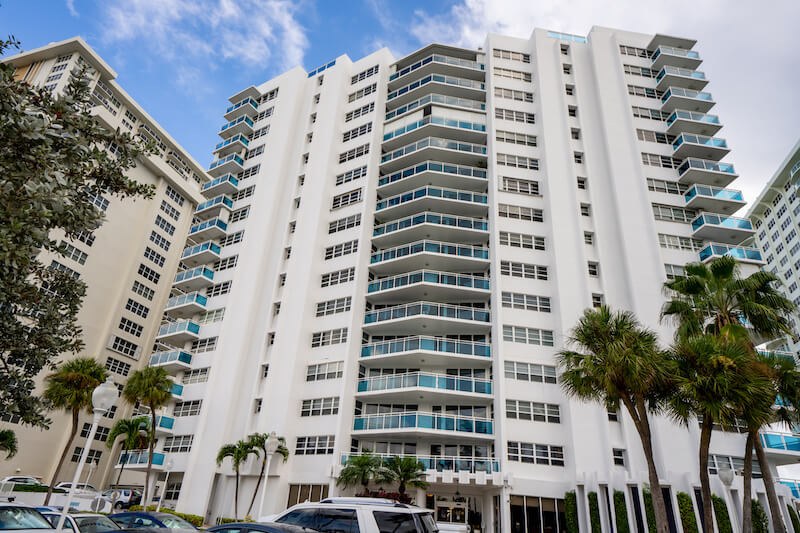 Commodore is a grouping of condos located in Fort Lauderdale. There are numerous sizes and styles present in these residences. Galt Ocean Mile is one of the buildings here. It has 17 floors with 191 units and rises 205 feet. This location is ideal because it offers direct access to the beach itself with private cabanas for residents. That creates a stunning view from the ground level. On the upper floors, the views of the ocean are impressive themselves, with cityscape views out of some residences.
The amenities here include a full concierge service, a fitness center, and an outdoor pool. There's also a party room and clubroom for entertaining. A friendly clerk greets residents throughout the day. Another benefit of this condo building is that it allows rentals. If this is a second home for the owner, they can rent out direct beachfront access in one of the most desirable communities in the area.
The condos themselves are spacious with 1- or 2-bedroom floorplans. Many of them have large terraces that allow for relaxation under the sun. Most also feature modern amenities and open floor plans.
Enjoy the View From Fort Lauderdale High-Rise Condos
There's something so relaxing and welcoming when it comes to waking up to the sounds of the ocean right outside the balcony. In these condos in Fort Lauderdale, that may be an option. The views are outstanding, and the amenities onsite and nearby are phenomenal. Fort Lauderdale condos for sale are a popular option, especially for those looking for a second home or a location with rental possibilities. Even for full-time residents, the area offers enough condo options to ensure there is something to fit most buyers' needs.