Fort Lauderdale Public Transportation: How to Use Broward County Transit & Sun Trolley
Posted by Laurie Reader on Tuesday, October 12, 2021 at 12:05 PM
By Laurie Reader / October 12, 2021
Comment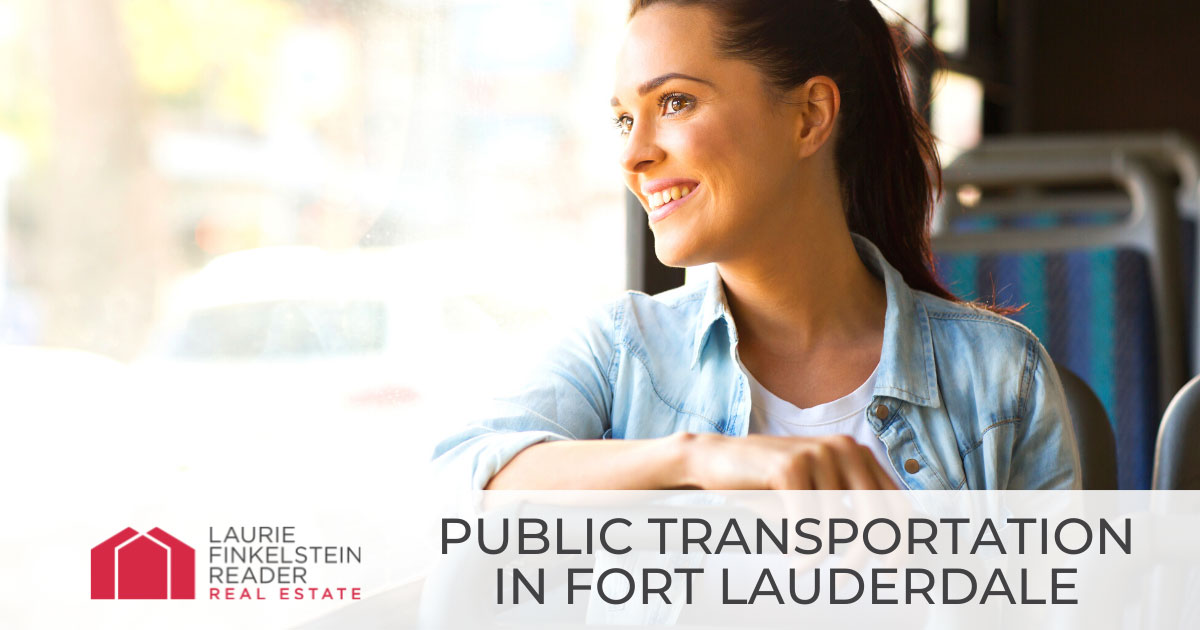 There are many factors people should consider before moving to Fort Lauderdale. Fort Lauderdale's cost of living and economic background can help potential new residents evaluate their opportunities. Climate, nightlife, and entertainment options can help them envision their day-to-day. Getting around the city is one of the factors up for consideration. What's it like to drive in Fort Lauderdale? What are the options for getting around without driving or owning a car?
For residents and visitors of the Fort Lauderdale area, there are plenty of options for getting around the community without a car. Reading on and getting to know the following public transportation options in Fort Lauderdale can go a long way toward truly loving the experience.
Broward County Transit (BCT)
Broward County Transit is the most widely used public transportation system in the area. It covers more than 400 square miles and provides 44 bus and paratransit routes. The vehicle fleet of 378 provides more than 5,000 stops and carries around 123,800 people each day. This is the only public bus system in Broward County, but it also provides connections to parts of Miami-Dade and Palm Beach counties.
Service starts most mornings around 5:00 a.m. and ends around midnight.
Broward County Transit Ticket Costs
$2 per ride
1-day pass: $5
3-day pass: $12
7-day pass: $20
31-day pass: $70
Reduced fares: $1 per ride
Sun Trolley
The Sun Trolley is a community shuttle providing access to hotspots around the city. Five separate routes are provided, with each covering different areas and hours of the day. The Beach Link operates every day from 10:30 a.m. to 5:00 p.m. and circulates around the area's beaches. The Las Olas Link runs afternoons through locations along Las Olas Blvd.
As the name indicates, the Downtown Link runs from 9:00 a.m. to 5:00 p.m. and connects several locations to the central business district. Two additional routes, the NW Community Link and the Neighborhood Link, provide service through various points in the community.
All rides on the Sun Trolley are free!
AMTRAK
Riders requiring long-distance travel may be able to take advantage of Amtrak services. While there is only one station within Fort Lauderdale, the service runs along the coast for much of Florida. Southern service terminates in Hialeah, which is close to Miami Beach. The northern route travels through West Palm Beach before curving inward to create a crossroads serving Tampa and Orlando.
The Fort Lauderdale station is open from 8:20 a.m. to 6:00 p.m. every day. However, riders should book early as these trains are often full due to visitors. As an example, a ticket from Fort Lauderdale to Orlando might cost about $45 for coach and $211 for a room.
Brightline
Brightline is an alternative rail company planning to provide long-distance travel between several popular destinations. Beginning in 2022, the organization will offer service through Miami, Boca Raton, Port Miami, and Orlando. Another route will connect Fort Lauderdale to points out west, such as Southern California and Las Vegas.
Tri-Rail
Commuters and visitors searching for light rail travel through the southern Florida area can use Tri-Rail. The service is provided by the South Florida Regional Transportation Authority. Riders can find 18 stations throughout the region, including stops in the Boca Raton community, the Pompano Beach community, Fort Lauderdale Airport, Miami Airport, and downtown Miami. The organization helps more than 15,000 people each day, or nearly 5 million each year.
Service for several rides starts as early as 4:00 a.m. and ends as late as midnight. Most trains run every half hour, providing multiple opportunities to reach each destination. One-way fares are calculated based on the number of zones traveled. Daily passes for weekends or holidays are $5. Monthly passes offer unlimited travel through the region for $155.
Tri-Rail Ticket Costs
1 zone: $2.50
2 zones: $3.75
3 zones: $5.00
4 zones: $6.25
5 zones: $7.50
6 zones: $8.75
B-Cycle/AvMed Rides
Enjoy the beautiful Fort Lauderdale weather by renting a bicycle for local trips. As part of an effort to reduce traffic congestion, Broward County, the Florida Department of Transportation, and B-Cycle came together to offer AvMed Rides. Through a variety of bike kiosks located around the region, users can rent a two-wheel vehicle and enjoy a low-cost method of travel. In concert with other types of transportation such as walking or ride-sharing, bike rentals can offer a great way to see the sights or get daily exercise.
There are 16 stations within the community, and each allows you to return the bike to any other facility 24 hours a day.
AvMed Rides Ticket Costs
$5 per 30 minutes
Maximum of $50 per day
7-Day pass: $35
Annual pass: $88
Carpool
For commuters, carpooling is another great way to minimize the costs and aggravation of daily travel. Of course, the easiest way to join a carpool is to find coworkers living in close communities. However, there are other options for new residents or those without workmates residing next door.
The 95 Express Bus provides direct connections to destinations in Miami-Dade County. Several routes stop at Park and Ride lots in the Fort Lauderdale area. In fact, most Park and Ride lots are close to some form of mass transit or easily accessible for private carpools.
Using the Guaranteed Ride Home Program, regular non-driving commuters may be eligible to receive a free ride home using a taxi, Uber, or Lyft in the case of an emergency. The service is provided to those who usually carpool, ride transit, walk, or ride a bike to work or school at least three times a week.
Riverwalk Water Trolley
The Riverwalk Water Trolley is the best way to travel to and from some of the most scenic locations in the area. The service is free and managed by several organizations, including the Fort Lauderdale Downtown Development Authority. Between the hours of 10:00 a.m. and 10:00 p.m., passengers can board the trolley at eight stops in the community. Locations include Riverfront Plaza, Tarpon River, New River Yacht Club, and the Downtowner Saloon.
The estimated wait at any of these stops is less than 30 minutes.
Water Taxi
The Water Taxi is another great option for traveling the interior coast of the Venice of America. Riders can see the sights and explore the community with one-way or round-trip tickets. Several routes include narrated tours for visitors who want historical facts and interesting information about South Florida. Boats leave every 35–45 minutes between the hours of 10:00 a.m. and 8:00 p.m. on Monday through Wednesday. Thursday through Sunday, the boats are open an extra two hours until 10:00 p.m.
Water Taxi Ticket Costs
Adult tickets: $28
Senior and military discount tickets: $23
Children 5–11 years old: $14
Kids under 5: free
Happy Hour rides after 4:00 p.m. are $18
Explore Fort Lauderdale
Traveling around Fort Lauderdale doesn't have to mean getting behind the wheel. The community is dedicated to alleviating traffic and providing alternative means of transportation for the public. Best of all, most forms of transit in Fort Lauderdale are low-cost or even free.