4 High-Rise Condos With a Fort Lauderdale Rooftop Pool
Posted by Laurie Reader on Monday, January 31, 2022 at 9:25 AM
By Laurie Reader / January 31, 2022
Comment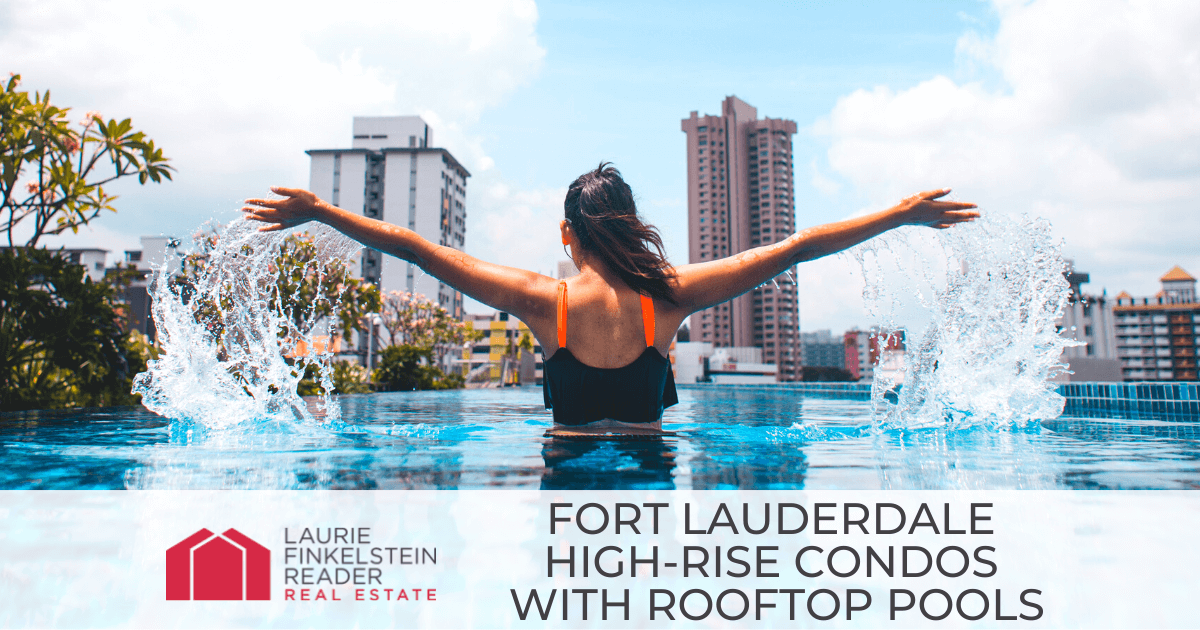 Known as the Venice of America, Fort Lauderdale features an extensive canal system and gorgeous white sand beaches. When locals aren't sunbathing or boating, many of them can be found enjoying the rooftop pools at their Fort Lauderdale high-rise condos. Offering luxury living in Fort Lauderdale, the condo communities on this list feature unforgettable views, excellent amenities, and quick routes to some of the city's attractions, and, of course, skyrise pools. Keep reading to find condo buildings with the best rooftop swimming pools in Fort Lauderdale.
Adagio
Set on the Intracoastal Waterway, the Adagio development is an 11-story waterfront condo boasting impressive panoramic views, luxurious on-site amenities, including rooftop and sunset pools, and quick access to restaurants, shops, and beaches.
Each Adagio three-bedroom home features two outdoor terraces, large walk-in closets, and designer bathrooms. With high ceilings and floor-to-ceiling high-impact windows and glass doors, every home offers incredible panoramic views of Fort Lauderdale and the Intracoastal Waterway.
Living in Adagio comes with numerous perks, including access to the condo's two pools, fitness center, and private marina. While the rooftop pool and sun lounge offer a great vantage point for looking out over the city and waterfront, the ground-level pool next to the marina provides unforgettable views of the Intracoastal, especially at sunset. Meanwhile, Adagio's fitness lounge offers a cardio and yoga studio.
Adagio provides easy access to not just the Intracoastal but also plenty of Fort Lauderdale's fun hotspots. While the beaches are just steps away, there are also numerous restaurants and shops within a quick walk or drive of the condo. The eclectic Botanic at The Goodland lies just across the street, while the fast-casual SoBe Vegan is just down the road. As for shopping, nearby boutiques include Village Shoppe and Q Shop, located inside the Hilton.
Vantage View
Located on A1A, Vantage View condos feature breathtaking views of the Intracoastal Waterway and the Atlantic Ocean, impressive amenities such as a heated rooftop pool, and easy access to Fort Lauderdale's beaches restaurants, and entertainment.
Each two-bedroom home in Vantage View features floor-to-ceiling windows for impressive views of Fort Lauderdale. Homes on the eastern side of the building catch beautiful sights of the Atlantic Ocean, while those on the western side overlook the Intracoastal Waterway. Meanwhile, the heated pool on the 19th floor features incredible views of both waterfronts.
Vantage View offers far more than just a heated rooftop pool. The luxurious condo also provides concierge service, a fitness center, and a social room for hosting events. Additionally, residents can warm up and relax in the Vantage View's on-site sauna.
Four waterfront restaurants lie across the street from Vantage View along the Intracoastal, including Shooters Waterfront. The dockside seafood restaurant is a stop along the Water Taxi route connecting it to the rest of the city. Downtown Fort Lauderdale, Las Olas Boulevard, and the city's entertainment district are just a quick boat ride away due to the city's extensive canal system. As such, this community is one of the best Fort Lauderdale condos for skyline views.
Nu River Landing
Nestled along the New River, Nu River Landing offers luxury Mediterranean-style homes featuring waterfront views of downtown Fort Lauderdale, numerous on-site amenities, including a rooftop pool on the 25th floor, and a short walking distance to trendy Las Olas Boulevard.
Nu River Landing offers one-, two-, and three-bedroom homes featuring ceramic stone and plush carpet flooring, Italian cabinetry in the kitchen and bathrooms, and sleek granite countertops and backsplashes. High ceilings and floor-to-ceiling high-impact windows provide gorgeous views of Fort Lauderdale. Homes on the building's northern side experience waterfront views of the New River, while those on its southern side look out over the beautiful city.
The amenities included with Nu River Landing condos for sale are impressively extensive, including a heated rooftop pool, a tranquil meditation garden, and a two-story fitness center. The rooftop pool and deck feature incredible views of Fort Lauderdale, a relaxing water fountain, and quick access to the condo's clubhouse. Meanwhile, Nu River Landing's fitness center offers a yoga studio and indoor basketball and racquetball courts.
Across the river lies Las Olas Boulevard, Fort Lauderdale's premier hotspot for shopping, dining, and entertainment. Additionally, the City of Fort Lauderdale offers deep water boat slips right outside the building, allowing easy access to the city's canal system. The Water Taxi service also has several nearby stops.
Ocean Club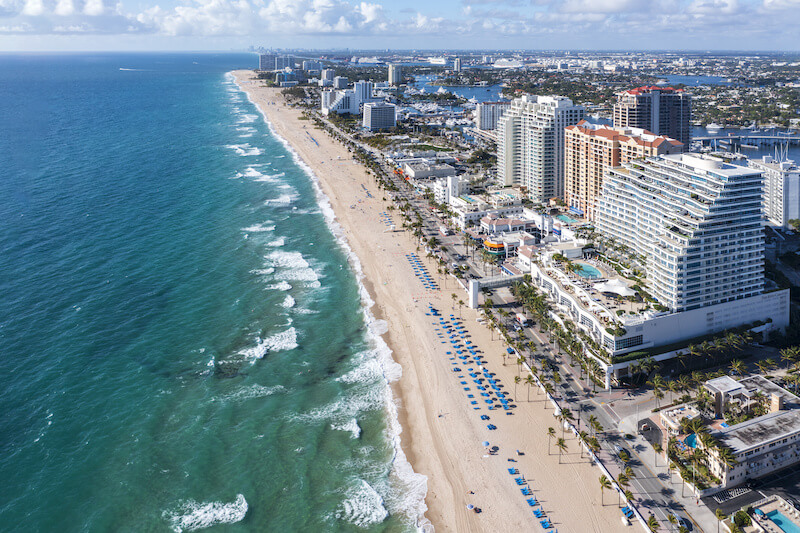 The beachside Ocean Club condos, located directly on the sand, feature impressive waterfront views, first-class amenities, including a heated rooftop pool, and quick and easy access to numerous options for shopping, entertainment, and recreation.
The 19-story Ocean Club offers 207 one- and two-bedroom units, each with its terrace. Many homes offer waterfront views of the Atlantic Ocean, while others highlight the beauty of Fort Lauderdale's Galt Mile. Meanwhile, the rooftop pool and 18th-story outdoor walking track provide panoramic views of Fort Lauderdale.
Ocean Club's other amenities include various recreational facilities, an on-site garage, and 24/7 security. The fitness center features a tennis court, a sauna, and steam rooms. Meanwhile, the Club Level offers rooms for parties, arts and crafts, and games like cards, billiards, and ping pong.
While Ocean Club has plenty to do on-site, the surrounding Galt Mile neighborhood also has endless activities to offer. Right next door, Casa Calabria claims to serve the best Italian food in the country. Meanwhile, Bamboo Beach Club & Tiki Bar has the honor of being Fort Lauderdale's only beachside tiki bar. Additionally, the nearby Galt Ocean Marketplace features everything from restaurants and grocery stores to banks and pharmacies.
Find Rooftop Pools in Fort Lauderdale
One of the differences between low-rise and high-rise condos is the amenities associated with skyscraper living. With gorgeous views of the water and city, lavish on-site amenities, and quick access to Fort Lauderdale's recreation, entertainment, and nightlife, these high-rise condos offer a luxurious living experience in one of Florida's most beautiful cities. With so many top-tier amenities, each building's rooftop pool is the cherry on top.