3 Red Flags to Watch Out For When Selling Your Home
Posted by Laurie Reader on Saturday, June 18, 2022 at 11:36 AM
By Laurie Reader / June 18, 2022
Comment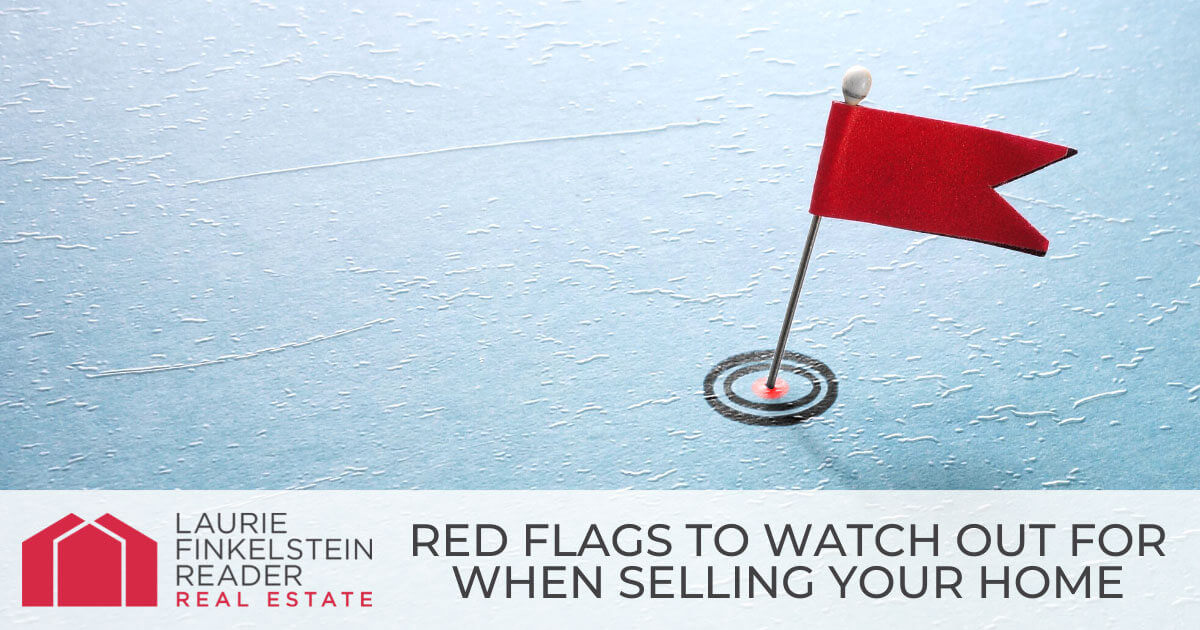 Feeling uneasy about selling your home is normal and the stress can usually be managed, but if the unease is coming from potential buyers, contributing factors may be considered red flags. How do these red flags get raised? The truth is that buyers can send out these "smoke signals" at any time during the transaction. Read on for the red flags to look for in home buyers and you'll be able to spot potential flames that could smoke the deal.
Anxious about the home-selling process? Take advantage of our SELL NOW, MOVE LATER program to get into your next dream home without the stress!
Low or High Balling the Asking Price
Investors, cash buyers, and eager homeowners might make a cash offer to bypass a few steps in the home buying process. However, lowballing is common in this situation and may be an attempt to take advantage of a desperate situation or a planned-out strategy on their behalf. That being said, there are also instances of highballing buyers.
While over-the-asking-price offers initially seems like an ideal position for the seller, offers that are too good to be true might be just that. This is where an experienced real estate agent comes in, as they can dive deeper into the local market statistics and weed out highball offers that are unlikely to be delivered.
Lacking Solid Financial Backing
Serious home shoppers will most likely have gone through the mortgage pre-approval process to show that they have the financial resources to afford properties within a specific price range. Buyers who come prepared with proof of their purchasing power are often given preferential consideration before those who have skipped this essential step.
Being pre-approved for a loan gives sellers additional assurance that the buyer will follow through with the sale to the very end. Sellers should be cautious with would-be buyers who haven't looked into pre-approval, and they will want to make sure that the buyer has gone beyond the basic steps of pre-qualification, which doesn't confirm income or creditworthiness. The steps involved in loan pre-approval are more in-depth and involve:
Showing proof of income
Employment verification
Checking and verifying credit history
Showing proper identification documentation
Debt-to-income ratio
With many buyers in the marketplace today, sellers don't have to take chances with home shoppers who haven't spoken with a lender about getting a mortgage.
Asking for Unusual Contingencies in the Contract
Home buying contingencies are clauses in a home buying contract that allow buyers to cancel the deal without losing their earnest money. There are three reasonably common contingencies that home buyers typically include:
Financing Contingency: This allows buyers to cancel the contract if funding for the loan falls through.
Appraisal Contingency: This allows buyers to cancel the deal if the home fails to appraise properly.
Home Inspection Contingency: Buyers can utilize this contingency to cancel the contract if the home inspection uncovers major problems.
According to the National Association of Realtors, nearly 80 percent of buyers include a home inspection contingency in the proposed purchase agreement. However, appraisal and financing contingencies are also good protection for both parties. That being said, if the contract includes too many contingencies that are not considered relatively routine, sellers could view that as a red flag that could foreshadow a complicated experience during the transaction.
Be On the Lookout for Red Flags in Real Estate Transactions
While there are likely to be minor bumps and negotiations during the home selling process, being aware of red flags can help avoid huge potholes on the journey. Should buyers give the seller a bad vibe during negotiations or the contract's preparation, it could be a colossal mistake to merely shrug the feeling off. Any questions about red flags to be on the lookout for should be directed to the real estate agents and brokers handling the negotiations.
Sell
Now,


Move

Later,
with
Laurie Finkelstein Reader
Selling your home? The SELL NOW, MOVE LATER program eliminates the stress of selling and buying, maximizes the chance of getting a great price for your home, and gives you more time to move.
Click to Sell Now!