How to Pick the Right Agent to Sell Your Home
Posted by Laurie Reader on Monday, July 25, 2022 at 9:58 AM
By Laurie Reader / July 25, 2022
Comment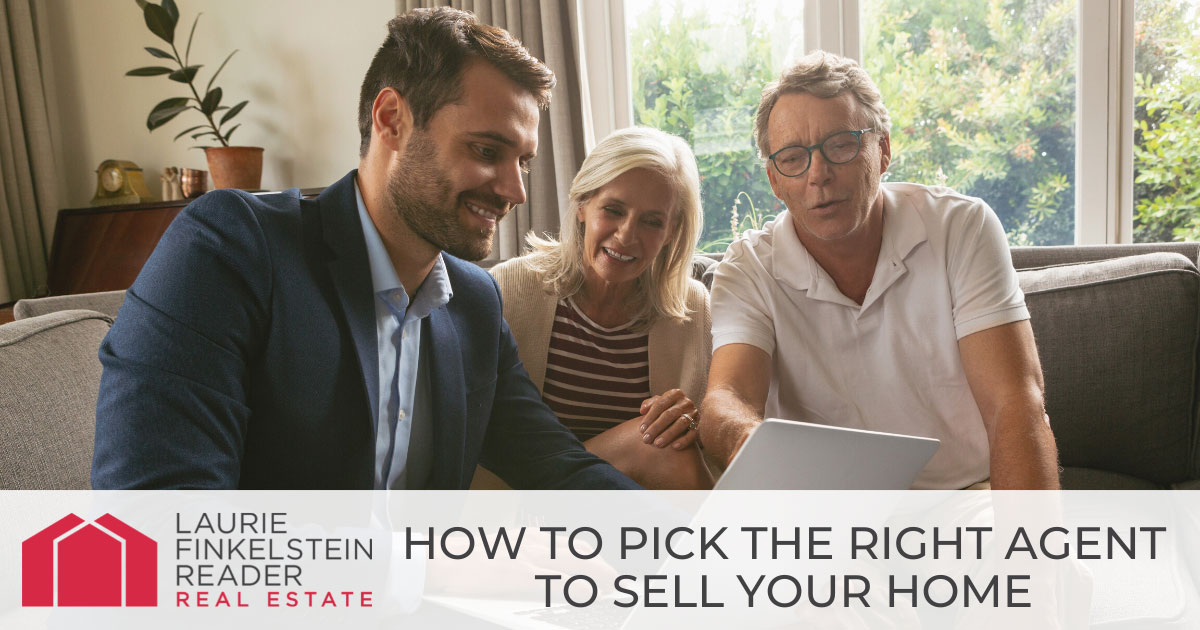 Selling a home is a significant event in a homeowner's life. You want your experience to go as seamlessly as possible, whether juggling the need to buy and sell a home at the same time or taking advantage of a Sell Now, Move Later program. Your chosen real estate agent can make or break a sale. Homeowners will want to choose their agent wisely.
Selecting the wrong agent can mean losing thousands of dollars in potential profit or having a listing languish on the market. Plus, as in any other professional relationship, it's crucial to find someone who is a good fit. If you're ready to set yourself up for success by picking the right listing agent to sell your home, consider the following five tips to aid in this monumental decision:
Anxious about the home-selling process? Take advantage of our SELL NOW, MOVE LATER program to get into your next dream home without the stress!
1. Ask for Referrals
Word-of-mouth referrals are often the best kind. If trusted family, friends, or colleagues have had a good experience with an agent, sellers can give any recommended agents a call to see if the person aligns with their values and goals. Ideally, referrals should be for local agents intimately familiar with the community and other homes in the area.
2. Search Online
Online reviews are helpful, but they aren't foolproof. Look for agents who are highly rated when searching online but don't necessarily cross an agent off the list because they had a few bad reviews. Instead, look to see what the dissatisfaction was about (in any given industry, individual customers weigh priorities differently—a previous client may have dinged the agent for behaving in a way they deemed too casual or not casual enough, for example, so if that's not a problem for you, you can safely leave that review out of consideration), along with how the agent responded to the complaint.
3. Interview Agents and Ask Questions
The best way for sellers to choose an agent is to conduct interviews: in-depth conversations that can cover what to expect, their communication style/responsiveness, and more about their experience. Be sure to ask:
How long have you been licensed to sell homes?
What is your real estate specialty? (e.g., types of homes)
What criteria do you use to determine a home's suggested listing price?
How many homes have you sold in my neighborhood and nearby locations?
What marketing techniques will you use to sell my home?
Do you have any references with whom I can speak?
Ultimately, sellers want to identify an agent who is well-versed in working with similar home types and understands local property values. Sellers can use these and other questions to help them evaluate which agent would best advocate for them and get the best results.
4. Look at Agent Sell Rates
When looking at individual agents, explore their websites, social media, the number of listings they're currently managing, and other online resources to get a feel of who they are. Then, look to see how their recent selling numbers look. For instance, the following may signal potential issues:
Few or no sales in a year when the market is booming
Licensed for many years but few sales completed
Excessive number of recent negative reviews
If an agent with these issues comes highly recommended by someone trusted, schedule an interview to get a sense of who they are to be able to make a personal determination of whether they're the right agent.
5. Follow-Up and Contact References
One of the best ways to gauge the right person to sell one's home is to talk to people who have recently worked with a given listing agent. Did their agent do a good job marketing their property? Were they supportive and able to provide sound guidance? Were the sellers happy with the result of their sale?
Hearing what recent clients have to say can help sellers come to a decision when hiring the right agent for them. Plus, agents who do not hesitate to offer names of recent clients easily demonstrate that they have nothing to hide.
Choosing a Seller's Agent is a Big Decision
Choosing a real estate agent to sell a home is one of the most significant financial decisions a homeowner can make. Ideally, sellers should speak with a minimum of two to four agents before making a final decision. Finding a professional agent who understands the needs and goals of the sellers they represent is essential in maintaining peace of mind through the selling process.
Sell
Now,


Move

Later,
with
Laurie Finkelstein Reader
Selling your home? The SELL NOW, MOVE LATER program eliminates the stress of selling and buying, maximizes the chance of getting a great price for your home, and gives you more time to move.
Click to Sell Now!