Above-Ground Pools Vs In-Ground Pools: What's the Right Choice For Your Backyard?
Posted by Laurie Reader on Thursday, October 6, 2022 at 9:00 AM
By Laurie Reader / October 6, 2022
Comment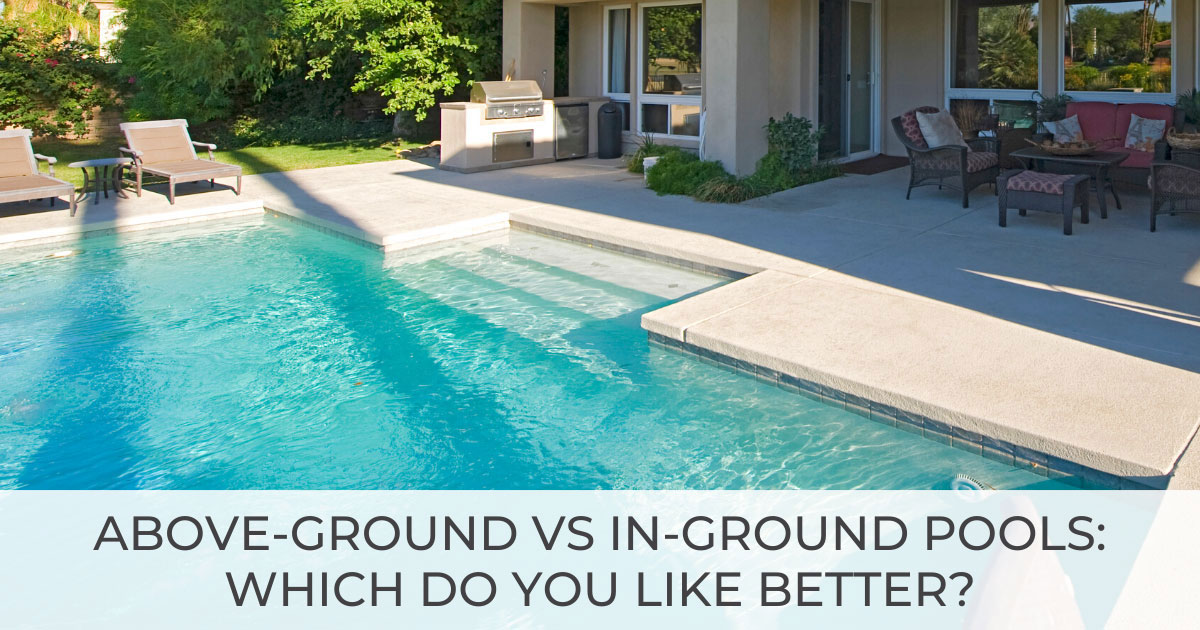 Having a home with a swimming pool is a luxury that not every homeowner is willing to invest in. However, pools are highly desirable assets, bringing about opportunities for fun in the sun and serving as a gathering hub. Of course, they also allow one to cool off on a hot day or get some exercise with a refreshing swim.
Cost is usually the most significant reason many owners shy away from investing in a backyard pool, with maintenance requirements being a close second. Fortunately, both above-ground and in-ground pools come with different price ranges and various levels of required upkeep. Take a look at the differences between above-ground and in-ground pools below.
Comparing the Cost of In-Ground vs. Above-Ground Pools
While there are certain variables in costs for both styles of pools, in-ground pools are almost always more expensive than an above-ground model. An in-ground pool is likely to be far more costly than even a top-of-the-line version of its counterpart. Homeowners can likely get one of the best quality above-ground pools on the market at a fraction of the cost of a small in-ground swimming pool.
Beyond initial costs, buyers will need to factor in any installation prices. While many above-ground pools can be self-assembled, some that are large and feature hard-shell enclosures may require professional assistance. Professional in-ground swimming pool installation is much more complex and will significantly increase the overall cost.
There are some fees for in-ground installation that an above-ground swimming pool won't typically require, such as:
Excavation
Safety fencing
Add-ons like water features and slides
Connected hot tubs
More expensive materials
How Does Each Type of Pool Compare Concerning Installation?
Generally, one can install an above-ground swimming pool on their own (with a little help from some friends) using a kit that typically comes with the pool's parts and accessories. It could take a day or two to get the job done, but owners with a few essential tools and handyman skills can get a basic model completed in about a day.
If the pool is purchased from a local pool shop, the retailer will often include installation and set up as an inclusion with the pool's cost. On the plus side, self-installation or services from a local provider will almost always be less time-consuming than the time it takes for an in-ground swimming pool installation.
Some basic in-ground pools can be installed using kits, but the need for ground excavation makes the process more complex. Heavy equipment to dig soil where the pool will be placed is time-consuming and could take weeks or even months while leaving backyards looking like a construction zone. There are also permits to obtain and regulations for complying with safety laws. All of this considered, most opt for professional pool installation.
How Much Value Do Pools Add?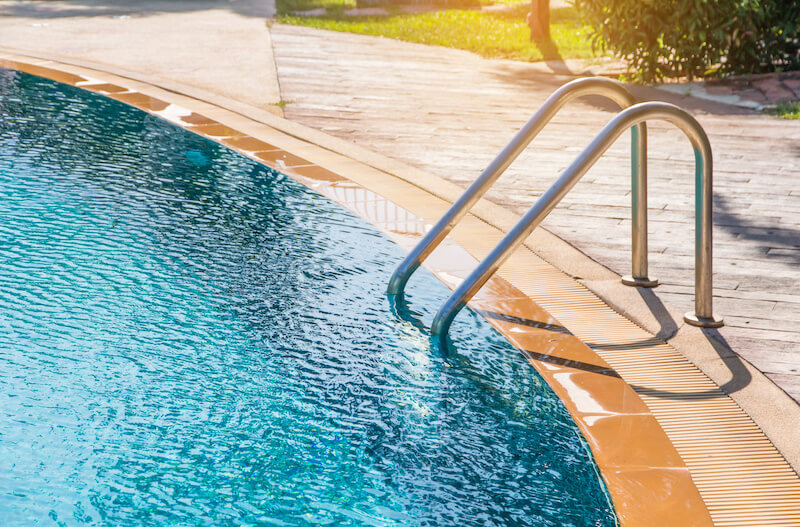 Adding a swimming pool might only increase a home's value by seven percent, but it depends on many factors. Homes located in desirable neighborhoods or homes in warmer climates are most likely to attract homebuyers and also see a higher return on investment.
However, a pool encompassing the entire backyard might be a turnoff for buyers who want more foot space outdoors. Additionally, some consider a pool less of a luxury and more of a liability that could make the home harder to sell.
How to Maintain a Pool
Above-ground and in-ground pools require similar maintenance tasks, including cleaning, filtering, and chemical balancing. They may require maintenance of the outer housing shell should cracks or breaks in the material occur. Fiberglass inserts are more resilient than inflatable, rubber-lined pools that can easily get punctured and require patching or a total replacement.
While in-ground pools made of fiberglass or concrete are more resilient, owners can be faced with expensive repair bills when damage occurs or a system breaks down. This could be an issue if the pool has customized features that could also suffer from damage over time.
How Much Pool Customization is Available?
In-ground swimming pools can take on any shape the buyer wishes, given that it is constructed of concrete rather than a prefabricated fiberglass shell. Due to their ground-level surrounding platforms, they are more customizable than above-ground pools. Common additions include:
Attached spas
Diving boards
Waterslides
Tanning ledges
Waterfalls
Spray features
Above-ground swimming pools can also be enhanced with an attached deck that can reach the rim and give the illusion of the pool being in the ground. Detailed landscaping and dividing trellises are popular customized options for these types of pools.
How Long Do Pools Last?
Above-ground pools typically have a lifespan between 10 and 15 years, but this can be extended with meticulous maintenance and care. In-ground pools are highly durable and can give owners enjoyment anywhere from 20 to 50 years. This is because the surface materials of in-ground pools can be refinished as needed, while most above-ground pool materials cannot. Ultimately, how long a pool lasts depends on the materials used and the level of care owners take in routine maintenance and upkeep.
Is there a Difference in Safety?
Swimming pools can provide hours of enjoyment for people of all ages, but they also come with safety concerns, and this can be one of the deciding factors for why you may want one over the other.
Above-ground pools are generally considered safer than in-ground pools because you need to physically climb up and over a ladder to get into one, whereas in-ground pools typically don't have any added protection. For households with young children who don't know proper pool safety, this type of above-ground pool may be the way to go. However, if you have a pool deck surrounding the pool, there is no longer that extra layer of protection.
If you prefer in-ground pools or above-ground pools with a pool deck, you may want to install a fence surrounding it with a self-closing, locking gate. This will help keep people from accessing the pool without permission, which is especially helpful in households with children or pets who don't always look where they're going.
Reap the Benefits of a Backyard Swimming Pool
Depending on where one lives, a private pool can be a place for pleasure, relaxation, and fun. Ultimately, the style, size, and whether it sits above or in the ground is up to the homeowner. Once a budget is set, space limitations are considered, and the timeframe for installation is determined, homeowners can feel more confident about moving forward with a style that suits their lifestyle.