5 Outdoor Design Tips For Luxury Waterfront Homes
Posted by Laurie Reader on Friday, June 17, 2022 at 9:21 AM
By Laurie Reader / June 17, 2022
Comment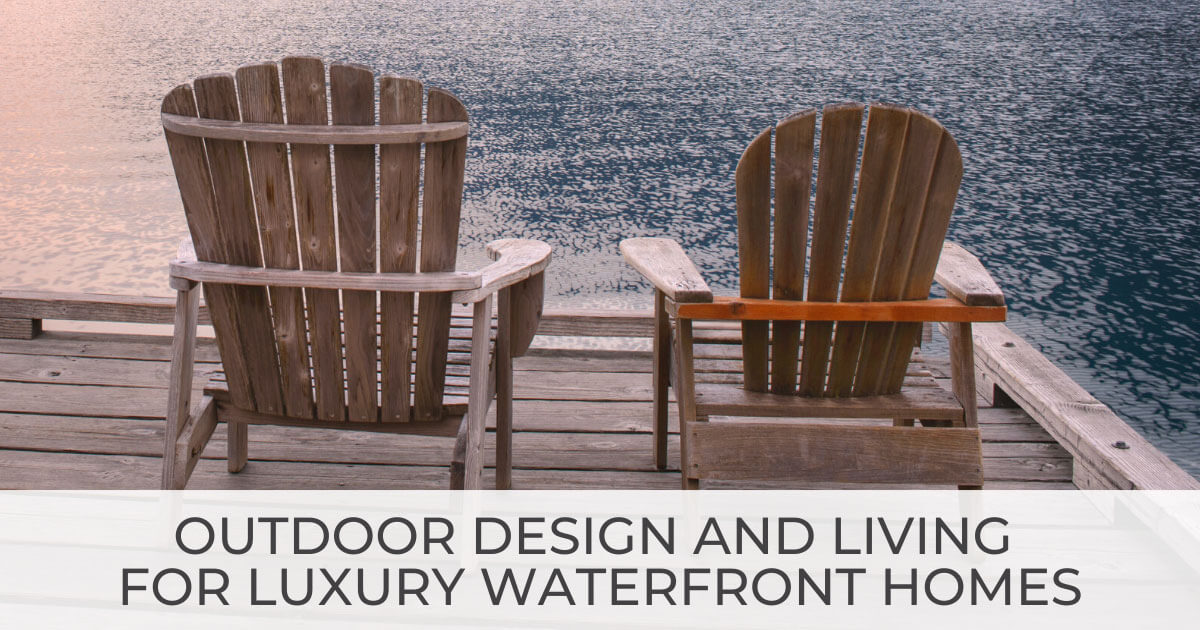 Waterfront living is like coming home to a personal sanctuary at the end of every day; the peace and calm of having a body of water just steps away is like no other home-owning experience. Many waterfront homeowners dream of turning their backyard into an oasis to make it even better. But how should one design their outdoor space to maximize its enjoyment? Installing some beautiful landscaping is only the beginning! Read on to learn five outdoor design tips for luxury waterfront homes.
Beautiful Landscaping is Just the Start
The approach to landscaping depends on how much time and effort the homeowner wants to spend gardening. There are low-maintenance and high-maintenance ways to go about this. Types of plants and different design features can make landscaping more or less intensive.
Using annual flowering plants means that the owner will be doing some intensive gardening work and planting each year. Perennial flowers that come back year after year are a lower maintenance choice. There's no right or wrong answer here; it comes down to the owner's preference.
Ground cover plants surrounding stone pathways or a patio can reduce the amount of square footage in the lawn that needs to be mowed during summer. These plants are low maintenance, require less water than a lawn, and provide some exciting splashes of color in the backyard.
Grouping plants together with similar needs is another way to reduce landscaping maintenance. Plants that require more shade, more sunlight, or more water group together well and create dazzling color combinations in the overall landscaping.
Make it Easy to Appreciate the View
Having easy access to a body of water is part of the appeal of owning a luxury waterfront home. But most owners also want to enjoy the views of the water from anywhere inside or outside the home. Landscaping should not block the view!
Landscaping features like a water-side gazebo or an elevated deck overlooking the water can be inviting spaces that make owners want to spend more time outside. Think of ways to provide shade that won't block the views. Adding patio furniture or chairs on a private dock can make the outdoor space more inviting.
One thing to avoid is building a backyard shed or other small structure that can impede the views of the water. The same goes for trees—planting them near the water means that they will eventually block the view, even if it happens years from now.
Entertain with an Outdoor Kitchen or Bar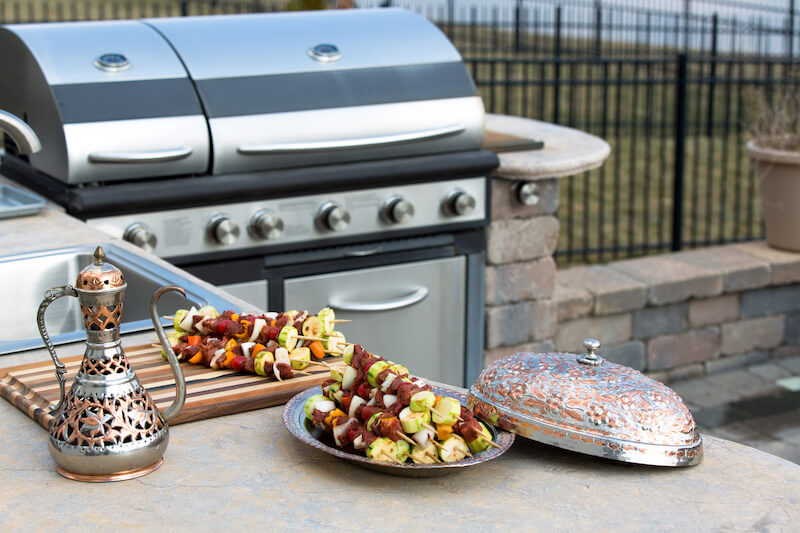 Sharing a luxury waterfront home with family, friends, co-workers, and acquaintances is much easier with an outdoor kitchen or bar. If the owner needs more space for entertaining guests, it makes sense to expand an outdoor area for cooking and dining.
There are some surprising benefits to an outdoor kitchen as well. Lower energy bills, for one thing, because grilling outdoors can be more energy-efficient than using a full kitchen. Another benefit? If the owner catches a fresh fish in the river, cooking it outdoors keeps it from smelling up the kitchen. Plus, an outdoor kitchen might add to the home's resale value if the owner ever plans to leave.
Being outdoors in the fresh air is a proven method of relieving stress and improving one's mood, and what better way to be outdoors than to enjoy the luxury lifestyle that an outdoor waterfront space affords?
A High-End Fire Pit is a Great Gathering Spot
The same rule applies to a high-end fire pit or fireplace: if the owner builds it, people will come. An attractive way to make a fire outside provides a way to extend evening parties by several hours. Imagine hearing a lake lapping nearby while enjoying drinks near an outdoor fire—pure luxury!
Examples of fireplaces and firepit options that can spruce up the outdoor space include brick fireplaces, stacked stone fireplaces, a linear fire bar, or a low-profile fireplace (to keep it from blocking water views). No matter how the outdoor fire pit or fireplace is arranged, don't forget the views of the water as part of the design scheme.
Additional popular options include a gas-powered stone fireplace, which provides a smoke-free experience, and a double-sided fireplace with dual open faces.
Strategic Lighting Highlights the Area
Keeping with the nighttime enjoyment theme, strategic lighting can make the outdoor space around a luxury home more inviting. Owners should think about whether they want to use soft lighting for a quieter feel or bold and bright lights for a more active feeling in the evenings.
Since outdoor lights will probably be in use less frequently than indoor ones, consider ways to light things up in a more energy-efficient manner. Solar lights that turn on every night and recharge during the day are one low-maintenance option. LED lighting that uses less electricity is another option, so long as there's a nearby power source.
Figuring out where to place lighting is another fun challenge. Pathways are a natural choice for soft ground-level lighting. Other choices are strings of lights above an outdoor kitchen or elegant post lighting to surround an outdoor patio or deck. The idea, as always, is to enhance the outdoor enjoyment of a luxury home life. Owners should think of the goals they want to accomplish with outdoor lighting and proceed from there.
Outdoor Design Enhances Luxury Waterfront Home Living
It's all about the views when it comes to designing an outdoor space for a luxury waterfront home—enhance the views and create an inviting space that people will want to enjoy day and night! These ideas should be enough to get any waterfront homeowner started in creating the backyard oasis they have always wanted.