6 Tips for Managing Stress When Selling Your Home
Posted by Laurie Reader on Monday, July 18, 2022 at 8:08 AM
By Laurie Reader / July 18, 2022
Comment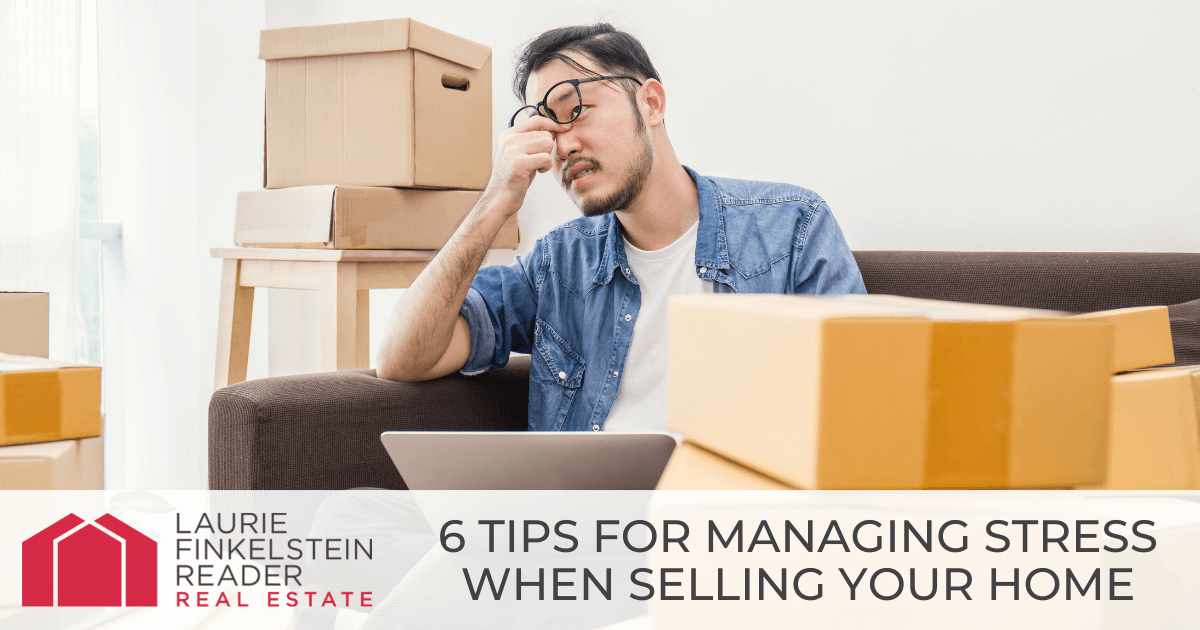 While selling a home with the promise of moving into a new space is an exciting time, getting from point A to point B can be rather stressful. While it's unrealistic to eliminate tension entirely from the selling process, here are six tips to help sellers manage the stress of selling their homes.
Anxious about the home-selling process? Take advantage of our SELL NOW, MOVE LATER program to get into your next dream home without the stress!
Sell Now, Move Later: You Don't Have to Do Both at Once
Part of the reason selling a home is so stressful is that sellers often find themselves trying to sell their current home, buy a new home, and pack their belongings for the move from A to B. With a sell now, move later program, you don't have to spread yourself so thin. You can get the best price for your current home first, then focus on securing your next home.
Secure a Top-Rated Real Estate Agent
Start the home selling experience backed by a reputable real estate agent. Having their knowledge and support from the get-go is one of the best ways to ease stress throughout the process. To find a good real estate agent, ask for recommendations from friends and family, search online for reputable agents in your area, and conduct interviews with multiple potential agents to find the right fit. Doing so will pay off by helping to encourage a stress-free transaction.
Consider Accepting Cash Offers
Cash offers can be game-changers in a home selling situation, and accepting them is one way to avoid the stress associated with a potentially lengthy selling process. Many steps are skipped in a cash sale, whereas more safeguards are used when a mortgage lender is involved, which can slow the process down. These may include:
Making repairs and upgrades
Showing the home to strangers
Waiting for buyers' loans to go through
Avoiding contractual delays to finalize the sale
Sellers who can land a solid cash offer will be well-positioned to avoid a lot of pressure common in home transactions.
Declutter Your Home Before Listing
No one likes to think of their items as junk, but the truth is that a lot of that "stuff" could arguably disappear tomorrow and hardly—if ever—be missed. Go through rooms individually and put aside items to be donated, trashed, or sold. Be sure to hit the garage, attic, and basement, and take time to go through already packed storage boxes, too.
Believe it or not, there is evidence that stress relief is one of the many benefits of cleaning and organizing, not to mention the impact of lessening the load when the time comes to pack and move after selling the home.
Should sellers want to get rid of the majority of the belongings in the home before moving, an estate sale is an easy way to accomplish the task with minimal hassle. This could be a great solution for those moving overseas or downsizing for personal reasons.
Refresh, Don't Renovate
Think of refreshing rather than renovating. Refreshing the home is much easier and far more affordable than taking on pre-sale renovations. Beyond the added time, money, and stress involved in renovations and upgrades, they may not make financial sense.
Before taking on a significant project, look at current trends in home renovation to see what improvements offer high ROI when selling. Consider a fresh coat of paint inside and out, sprucing up the landscaping, and making minor repairs. Taking major projects off the to-do list can alleviate stress, while small curb appeal projects can help ensure faster sales success.
Set Guidelines and Boundaries for Showing Schedules
There's no denying that strangers walking through your home and looking around at every detail can be unnerving. Home sellers can occasionally avoid this stressor, but realistically, this is part of the routine process. One of the best ways to reduce these jitters is to set a schedule for showings with the listing real estate agent. This allows sellers to tidy up before the showing begins and possibly go elsewhere during that time to avoid coming face-to-face with would-be buyers.
Yes, It's Possible to Move with Less Stress
These six easy tips can help you make a smooth transaction without pulling hair or biting nails. Find a groove, stick with the schedule, don't be afraid to get rid of items, and never hesitate to reach out to your real estate agent for guidance should the process feel overwhelming.
Sell
Now,


Move

Later,
with
Laurie Finkelstein Reader
Selling your home? The SELL NOW, MOVE LATER program eliminates the stress of selling and buying, maximizes the chance of getting a great price for your home, and gives you more time to move.
Click to Sell Now!