8 Gated Communities in Miami: Best Luxury Gated Communities
Posted by Laurie Reader on Wednesday, November 16, 2022 at 9:00 AM
By Laurie Reader / November 16, 2022
Comment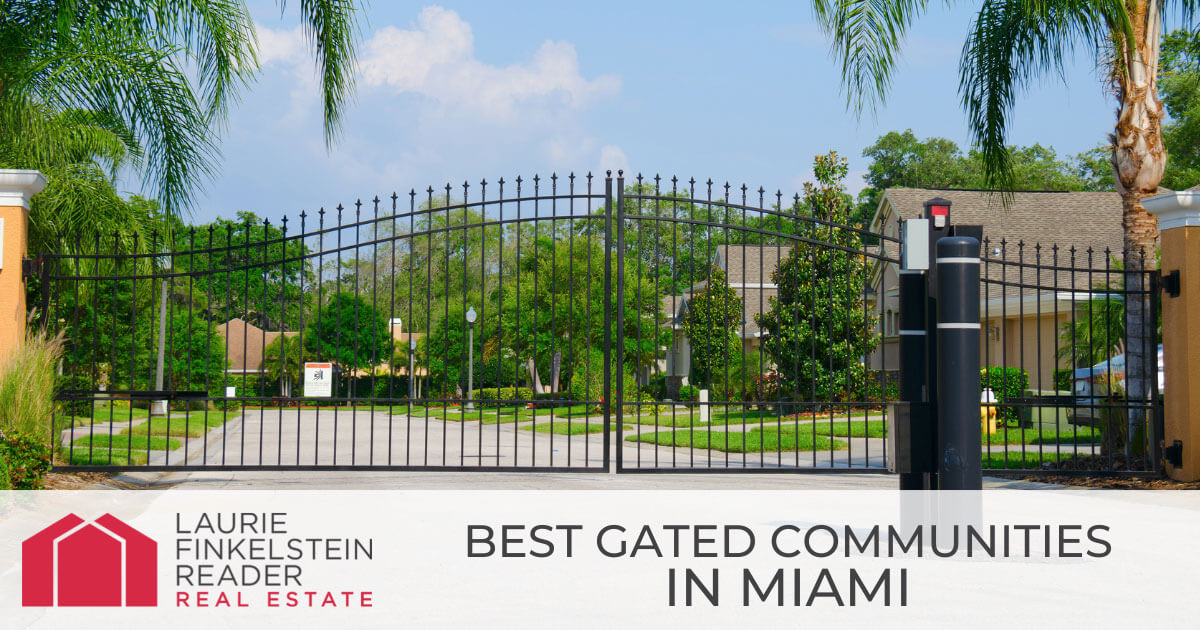 From the world-famous beaches to the incredible dining, nightlife, and shopping scene, there's never a dull moment in the city of Miami, Florida. But despite all the fun, many people still want a quiet community to call home. Luckily, Miami's gated communities are among the best in the region, combining spacious homes, world-class amenities, and excellent, often bayfront locations close to everything.
Bay Point (Bay Point Estates)
One of Miami's top gated communities is the waterfront neighborhood of Bay Point, also known as Bay Point Estates. Made up of a small network of private streets between Biscayne Boulevard and Biscayne Bay, this community enjoys a central location close to downtown Miami, employment centers, and major highways. Residents also have easy access to the oceanfront beaches, dining, and nightlife of Miami Beach, with the Julia Tuttle Causeway just outside the neighborhood's southern edge.
Some of the world's best shopping is across Biscayne Boulevard in the Design District, with high-end brands including Dior, Tiffany, and Prada. Additionally, grocery stores, pharmacies, and other everyday services are just outside Bay Point's gates.
Most of the community's roughly 250 original homes have been extensively renovated and updated, if not demolished and rebuilt entirely. More than a third have direct, private water access to Biscayne Bay, Sabal Lake, or connecting waterways.
At the lower end, homes for sale in Bay Point start around $2.5 million. However, they'll more commonly sell between $5 million and $20 million, with the grandest bayfront homes listing for as much as $50 million or more.
Bay Point Amenities
Private security patrols
Waterfront properties available
Convenient to I-195, 95
Close to the Design District
Morningside
Morningside is a 100-acre bayfront community representing some of Miami's finest preserved historic homes within a gated district. It's located east of Biscayne Boulevard, between NE 50th Terrace and NE 60th Street.
Initially built in the 1920s, Morningside has seen a dramatic revival in recent decades as the inner-city waterfront redeveloped and is now protected by a historic district designed to preserve its unique character. While owners are just a few minutes from major highways and some of the best neighborhoods in Miami, the leafy, tree-lined streets are perfect for a relaxing stroll close to home. Morningside is also the site of the popular Morningside Park, which offers green space, sports facilities, a boat ramp, and picnic areas on the shore of Biscayne Bay.
The more than 200 homes in Morningside generally exhibit the Mediterranean Revival, Art Deco, and other popular styles at its initial development. They typically include three or four bedrooms spread over 1,800 to 3,000 square feet of living space and high-end features like swimming pools. While most properties sell from $1.5 million to more than $3.5 million, Morningside's top homes can list for as high as $10 million.
Morningside Amenities
Historic, preserved homes
Morningside Park
Close to interstates, major local roads
Belle Meade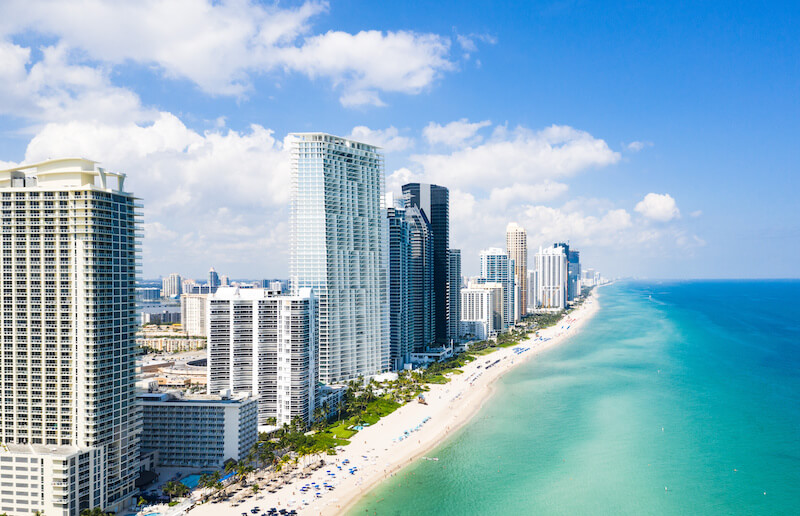 Those looking for a delightful, secluded community on Miami's Upper East Side may find the home they're looking for in Belle Meade. Between the Little River, Biscayne Bay, and Biscayne Boulevard, Belle Meade contains nearly 400 single-family detached homes. Like many other Miami communities, it was first developed roughly a century ago, with most properties originally built in the five to 10 years following World War II.
Residents are just a short drive from downtown and Miami Beach but enjoy numerous restaurants within walking distance of their community, including the "gourmet grilled cheese" spot Ms. Cheezious and old-school favorite Jimmy's Eastside Diner. Inside Belle Meade, residents enjoy gorgeous mature tropical landscaping and sidewalks ideal for strolling around the block.
Older homes for sale in Belle Meade typically list between $1 million and $2.5 million. The community's waterfront lots are generally more spacious, with newer and larger homes sometimes topping 5,000 square feet of living space and listing around $5 million to the $15 million range. Notably, HOA fees for the neighborhood are not mandatory, though they're encouraged to help support community events and services.
Belle Meade Amenities
Waterfront homes
Mature tropical landscaping
No mandatory HOA fees
Belle Meade Mini Park
Key Biscayne
Set on a barrier island in Biscayne Bay, Key Biscayne offers several distinct gated neighborhoods in this gorgeous, amenity-rich community. One of the first areas of Florida discovered by explorers, residential development only began in earnest in the mid-20th century. While the island isn't gated, it offers license plate scanning of all vehicles entering the area.
Some of Key Biscayne's top communities include Grand Bay Estates and Oceana Key Biscayne, offering amenities like private beach access, a fitness room, a full-service restaurant, tennis courts, and much more. Residents can enjoy everything they need without leaving the island, from acres of beautiful beaches to multiple marinas, with everyday grocery stores and popular restaurants like Randazzo's. The residential portion of Key Biscayne is also set between two beautiful parks, Bill Baggs Cape Florida State Park and Crandon Park.
Homes include a mix of condo and townhouse communities alongside large, luxury homes. Condos begin in the mid-$300,000s, while single-family homes start at around $1 million. However, the newest or most spacious homes in Key Biscayne can list as high as the $8 million range or more.
Key Biscayne Amenities
Numerous waterfront homes
Key Biscayne Beach
Village Green Park
Crandon Golf at Key Biscayne
Bill Baggs Cape Florida State Park
The Moorings
Fewer than 50 homes make up the intimate community of The Moorings, set in the historic Coconut Grove neighborhood. The luxury is apparent when would-be residents arrive at the gate, marked by a beautiful fountain and lush landscaping.
Set on the shores of Biscayne Bay east of Main Highway, The Moorings lives up to its name with a private dock for community members. It's just down the road from the Central Grove district, with numerous restaurants and nightlife options like the famous Greenstreet Cafe and serene waterfront green spaces like Peacock Park. It's also not far from the city of Coral Gables, home to various shopping and dining spots and the University of Miami. The Moorings is also next to one of Miami's most unique attractions, The Kampong National Tropical Botanical Garden.
The stunning, spacious homes in The Moorings are among Miami's best. Typically with four to seven bathrooms, homes can reach 5,000 square feet or more of living space. They include high-end finishes and features inside and out, from mahogany cabinets to swimming pools and private courtyards. Properties sell from the mid-single-digit millions to as high as $20 million.
The Moorings Amenities
Private community dock
Convenient to Central Grove
Convenient to Coral Gables/University of Miami
Close to numerous parks
Hughes Cove
Just down the street from The Moorings, Hughes Cove is another top gated community in Coconut Grove. Just a dozen homes are here, making it one of the most private of our top neighborhoods. It's set along Devon Court, just off Main Highway on the shores of Biscayne Bay.
Due to the small number of properties, homes in Hughes Cove come on the market more rarely than many other Miami gated communities. Most properties include swimming pools, massive garages, one-of-a-kind interior finishes, and up to 10,000 square feet of living space or more. They commonly sell in the $8 million to $10 million range, though the community's waterfront homes have topped $30 million.
Those lucky enough to live in Hughes Cove will enjoy various amenities, including a private park and tennis court. There's even a community dock and boat basin for owners who want to sail right up to their front doors. Dinner Key Marina is also just down the road, along with the other perks of Central Grove. Even the Brickell and downtown neighborhoods are only a short trip away, making Hughes Cove another ideal location.
Hughes Cove Amenities
Private community park
Tennis court
Community dock and boat basin
Close to Coconut Grove shopping, dining
Camp Biscayne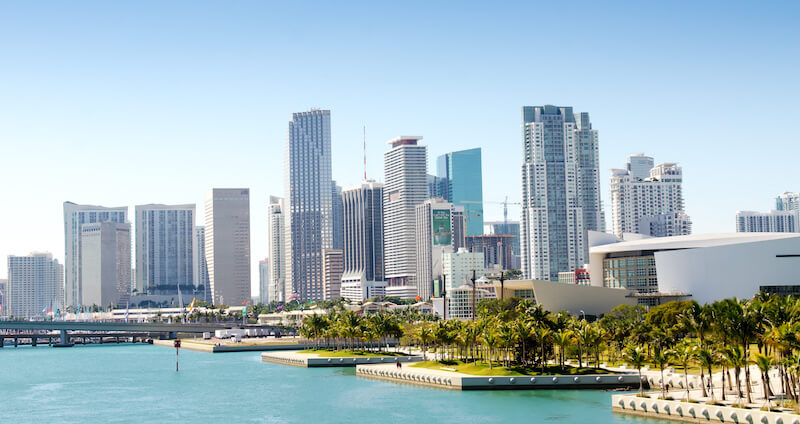 Once a top winter resort, Camp Biscayne has transformed in recent decades into one of Miami's top gated communities. Just over 20 homes make up the development, adjacent to The Barnacle Historic State Park along Main Highway. The best shopping, dining, and local businesses of Coconut Grove are right outside the community's gate, including New American restaurant Ariete or rustic nautical spot Barracuda Taphouse and Grill. These are just a few of the many walkable attractions and daily services, one of the biggest highlights of life in Camp Biscayne.
Camp Biscayne's single-family homes can vary widely in style, price, and condition. Many include a full suite of luxury features, from sizable swimming pools to private tennis courts and outdoor kitchens. The neighborhood's oldest homes are typically seen as candidates for redevelopment or renovation and sell in the high single-digit millions. However, the community's waterfront properties on Biscayne Bay can reach well into the $60 million range.
Camp Biscayne Amenities
Extensive private luxury features
The Barnacle Historic State Park
Center Grove shopping/dining
Myers Bayside Park
Bayshore Villas
Along the northern end of Coconut Grove lies the small gated community of Bayshore Villas. Just over two dozen homes are tucked on a private street between David T. Kennedy Park and HCA Florida Mercy Hospital. The former is one of the area's best benefits, offering exercise space, beach volleyball courts, and a dog park, among other amenities.
Residents looking to get out and about will find themselves close to some of the most walkable neighborhoods in Miami, from Coconut Grove to downtown and Miami Beach. However, there's plenty to do within Bayshore Villas, like using the community pool, exercising on the tennis courts, or sailing right up to the neighborhood dock.
Homes in Bayshore Villas typically include three stories and 4,000-8,000 square feet of living space or more, along with two-car garages and even elevators! With relatively few homes with many custom features, it can be challenging to estimate their value. However, most will generally sell in the mid-to-high single-digit millions, with the neighborhood's few directly bayfront properties commanding a premium.
Bayshore Villas Amenities
Tennis courts
Community dock
David T. Kennedy Park
Close to Coconut Grove/Center Grove
HCA Florida Mercy Hospital
Discover Miami's Top Gated Communities
As buyers can see, there are many incredible options for top gated communities in Miami. With various locations, amenities, home styles, and budgets, there's something for everyone. Best of all, residents are close to all of Miami's fantastic attractions.