Cost of Living in Miami: Is It Expensive to Live in Miami?
Posted by Laurie Reader on Thursday, July 14, 2022 at 7:45 AM
By Laurie Reader / July 14, 2022
Comment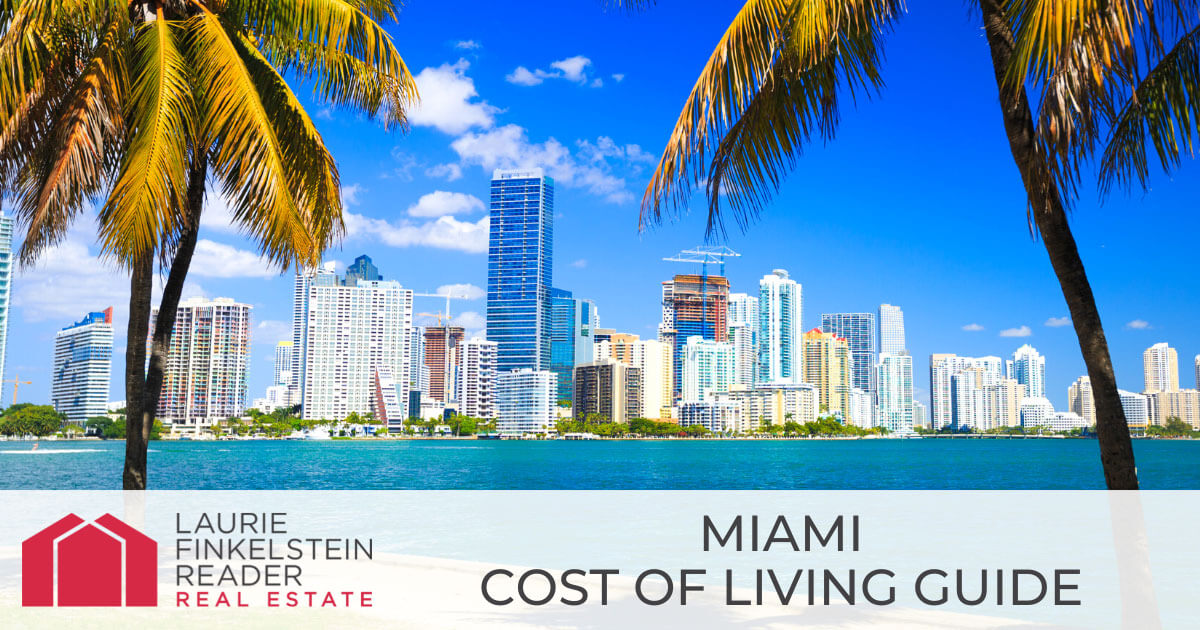 How Much Does it Cost to Live in Miami?
Boasting world-famous beaches, near-endless things to do, and a robust economy, it's no surprise that people are moving to Miami in droves. Before shopping for Miami homes for sale, it's essential to know the cost of living and budget accordingly.
Miami is an enigmatic city along South Florida's east coast, with some of the best beaches and nightclubs in the world. From its glitzy high-rises to its classic Art Deco architecture, Miami is considered one of America's most iconic cities, holding its own with heavy-weights such as New York, Los Angeles, and Las Vegas.
Its world-famous status increases certain living expenses. Learning about each factor of the local cost of living will help you establish your financial plan before you arrive. From housing to entertainment, every dollar counts. Keep reading to learn how much it costs to live in Miami.
Miami Housing Costs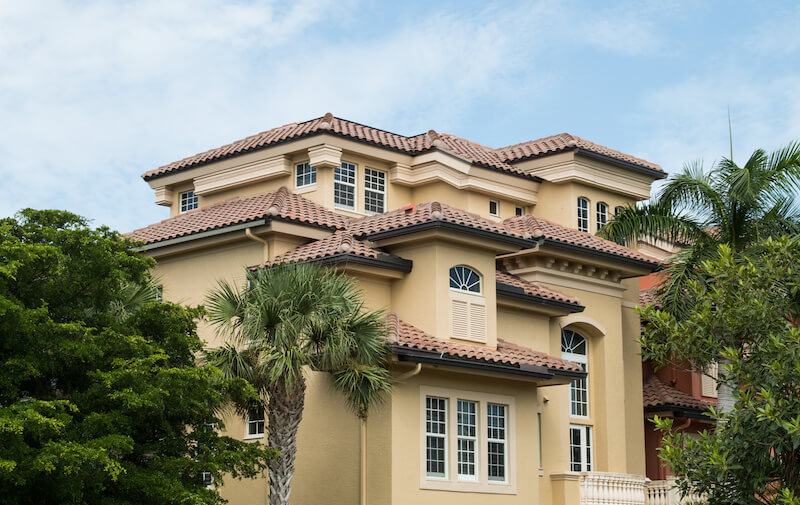 With an eclectic blend of contemporary high-rises, classic Art Deco homes, and luxurious beachfront estates, Miami has one of Florida's most varied housing markets. Miami also has some of the most coveted real estate in the country. As a result of Miami's desirability and unrivaled real estate options, housing comes at a premium in this area. The cost of housing in Miami is 42.7% more expensive than the national average. Fortunately, Miami has plenty of options for both real estate and rentals, giving prospective residents plenty of options at nearly every price point.
Median Home Price
As one of Florida's most iconic beach cities, Miami's housing market statistics reflect its competitive real estate market. Boasting over 300 high-rises, Miami condos contribute to the city's status as the third-largest skyline in the United States. As a result, many prospective buyers vie for the best ocean views from some of the city's most luxurious condominiums.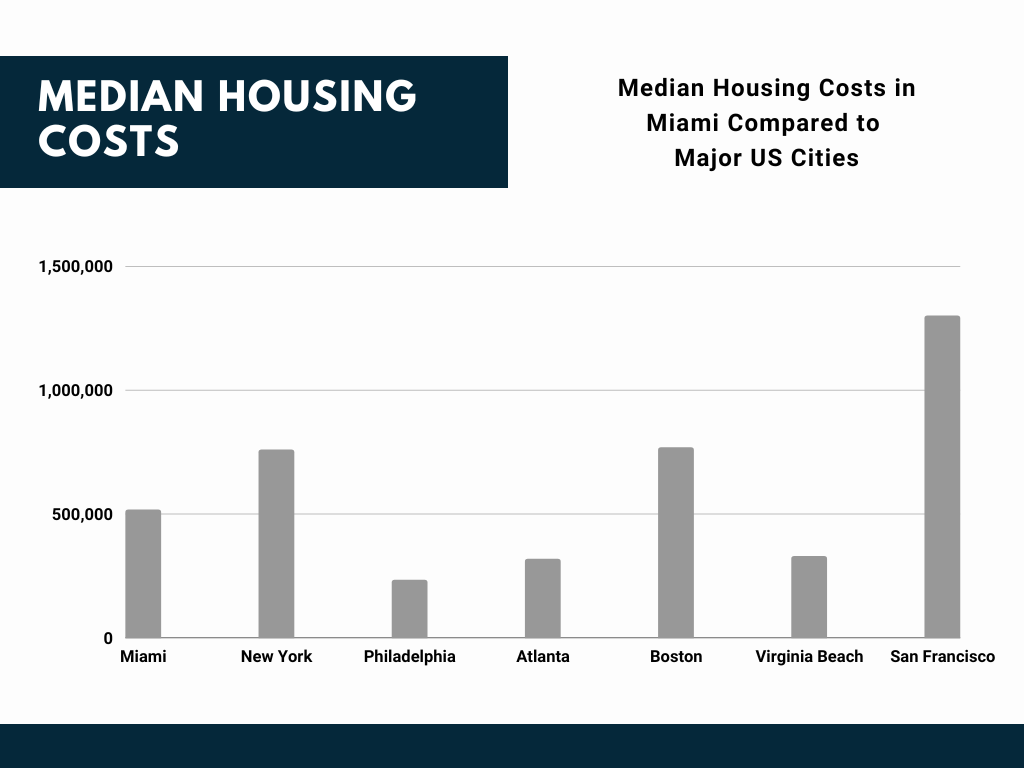 And while contemporary high-rises are highly sought after, Miami has some of the most varied real estate options in the state, with single-family homes, historic Art Deco homes, traditional Florida homes, and luxury real estate. Considering the area's competitive real estate market, the median sales price for a home in Miami is just under $518,000.
While prices vary based on the neighborhood, home size, and style, real estate prices range from $50,000 to over $150,000,000. The most expensive neighborhood might feature sprawling multi-million dollar mansions, while more affordable neighborhoods might have a mix of single-family homes and apartments.
Median Rent
Compared to many large cities in the United States, the breakdown of rentals vs. homeownership is equal, with 45% of homes being rental properties. And while more homes than average are rentals, Miami has one of the most competitive rental markets in the country, comparable to markets like New York or Washington, D.C. Some of the most coveted rentals are beachfront properties or luxury apartments with panoramic ocean views. The median price to rent a one-bedroom apartment in Miami is $2,130 per month. The average monthly housing expenses range from $700 to over $5,000 per month, depending on the location, the type of rental property, and the number of bedrooms.
Renters should also be aware that some rentals can be secured with a word-of-mouth deal. While most Miami apartments require a written lease agreement between you and your landlord, an oral contract is just as legally valid if your lease is under a year. Beyond that, communication between you and your landlord about anything potentially litigating must be in writing.
Utilities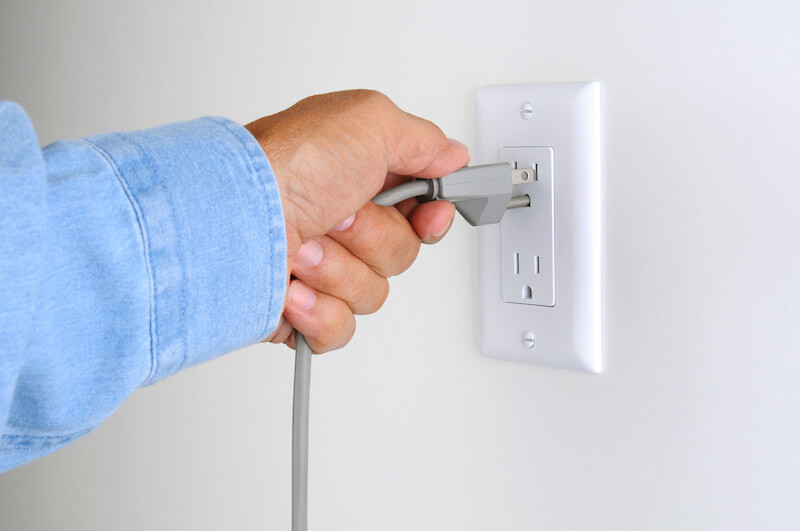 Miami residents see savings on their utility bills compared to other areas of the country. Contrasting Miami's higher-than-average real estate prices, the average monthly expenses for utilities are 4.5% cheaper than the national average. On average, U.S. residents spend upwards of $240 per month on their main utilities. Miami residents typically spend around $128.00 per month on their utilities. Most households budget for three main utilities: water, electricity, and natural gas.
When living in Florida, the most expensive utility is typically electricity, but electricity prices tend to fluctuate depending on the usage and the time of year. Because of the heat, summer tends to be the most expensive time of year due to the cost of running AC to combat the extreme summer heat.
Along with these three main utilities, other services many residents budget for garbage removal and TV/Internet. The average cost of garbage removal is around $484, while TV/Internet starts at $50 per month.
Miami Food Prices
Learning local food costs makes it easier to adjust your budget as needed. Whether it's grocery shopping or eating out at Miami's world-class restaurants, Miami residents have delicious options at every price point. Learn more about the area's array of food options.
Groceries
Compared to other areas of the country, Miami's grocery bills are around 7.3% higher than the national average. Fortunately, Miami has many affordable grocery options, from national chains to locally-owned bodegas. Some of Miami's most popular big-name grocery stores are Walmart, Whole Foods, Sam's Club, Publix, Milam's Market, Trader Joe's, Winn-Dixie, and Top Value Supermarket, only to name a few. According to the Bureau of Economics, the average annual cost of groceries is $3,693, around $308 per month per person.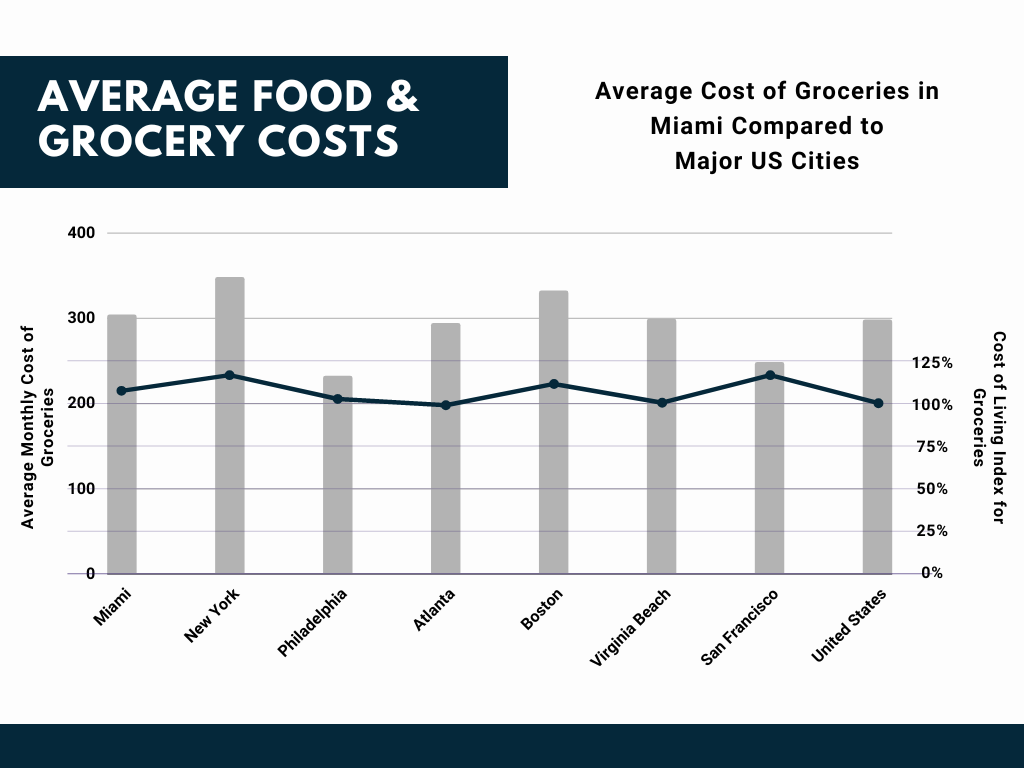 Restaurants
Miami has one of the most dynamic foodie scenes in the country. Many residents like to eat out at the area's many restaurants. From food trucks and casual cafes to upscale dining establishments, residents and visitors can find restaurants on nearly every budget. Typically, meals in Miami cost around $13 to $33 per plate, but at many fine dining establishments, it can cost up to $280 per person to dine out.
Transportation Costs in Miami
As with many areas of Florida, driving is the most popular way to get around in Miami. Traffic is often congested, especially during rush hour and peak tourist season, from spring to early fall. With this in mind, the monthly transportation expenses in Miami are 44.5% higher than the national average, which translates to higher gas prices, insurance, etc. On average, the most affordable car insurance in Miami costs around $1,390 per year.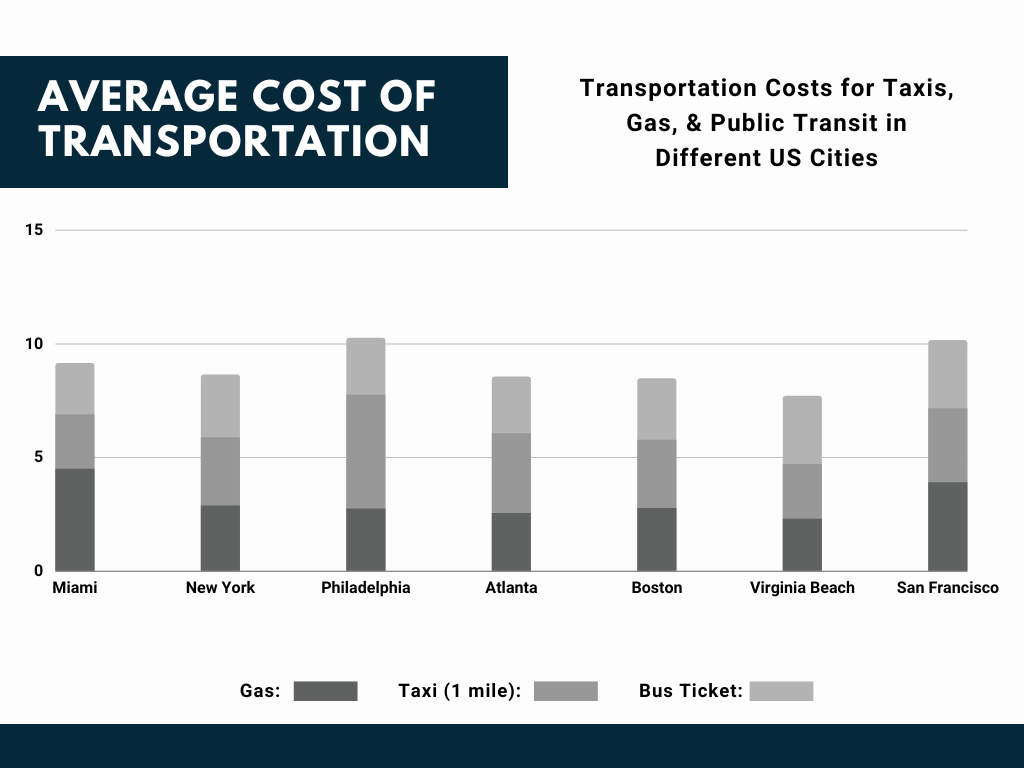 Fortunately, there are alternatives to driving in the area. Some popular options include buses, trolleys, and rideshares. Miami's bus system runs through GO Miami-Dade, which services most of the Miami Metropolitan Area, including Miami and Dade Counties. The most popular ride shares in the area are Uber, Lyft, and locally-managed taxi companies. For those who wish to take the trolley, trolleys run from 8:00 a.m. to 11:00 p.m. daily and typically service the city's most touristy areas, including Miami and Miami Beach. The area also has many bike trails, especially near the beaches and the nature trails.
Miami Healthcare Prices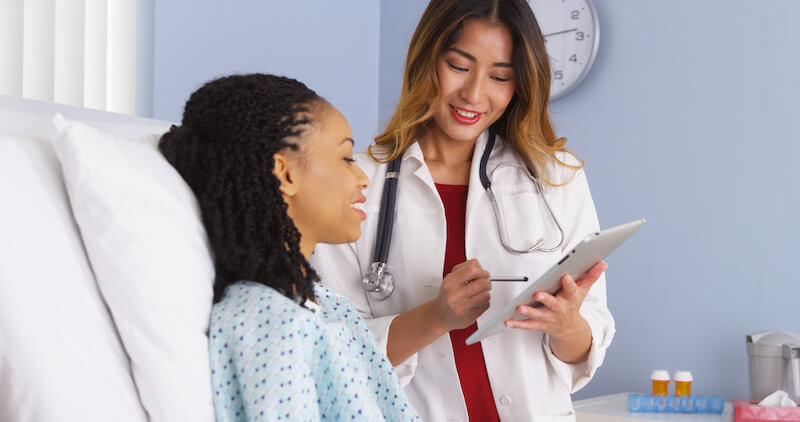 Miami is one of the more affordable major cities for healthcare needs. While so many aspects of living in Miami are more expensive, healthcare in Miami is an exception to this rule. Residents, on average, pay around 2.2% less for healthcare than the national average. As an added bonus, Miami residents have access to some of the best healthcare options in Florida, with some of the best medical facilities on the East Coast.
Residents can access family care clinics, dentists, specialists, and nearby hospitals in neighboring cities. For a single adult living in the area, average health insurance costs range from $200 to over $600 per month, depending on medical history and healthcare needs. Depending on the level of insurance coverage purchased, insurance can cover annual medical exams, emergency room visits, the cost of chronic healthcare, medications, and more.
Child Care Costs in Miami
Similar to healthcare, childcare is essential for many Miami households. It is also one of the most significant expenses for homes with small children. While childcare in Miami can be a significant expense, it's lower than other daycare costs in Florida. On average, Miami daycare costs can range between $95 and $220 or more a week per child. As such, many parents need to budget for childcare costs. Fortunately, there are plenty of child care options for parents to choose from, including daycare and hiring a nanny/babysitter.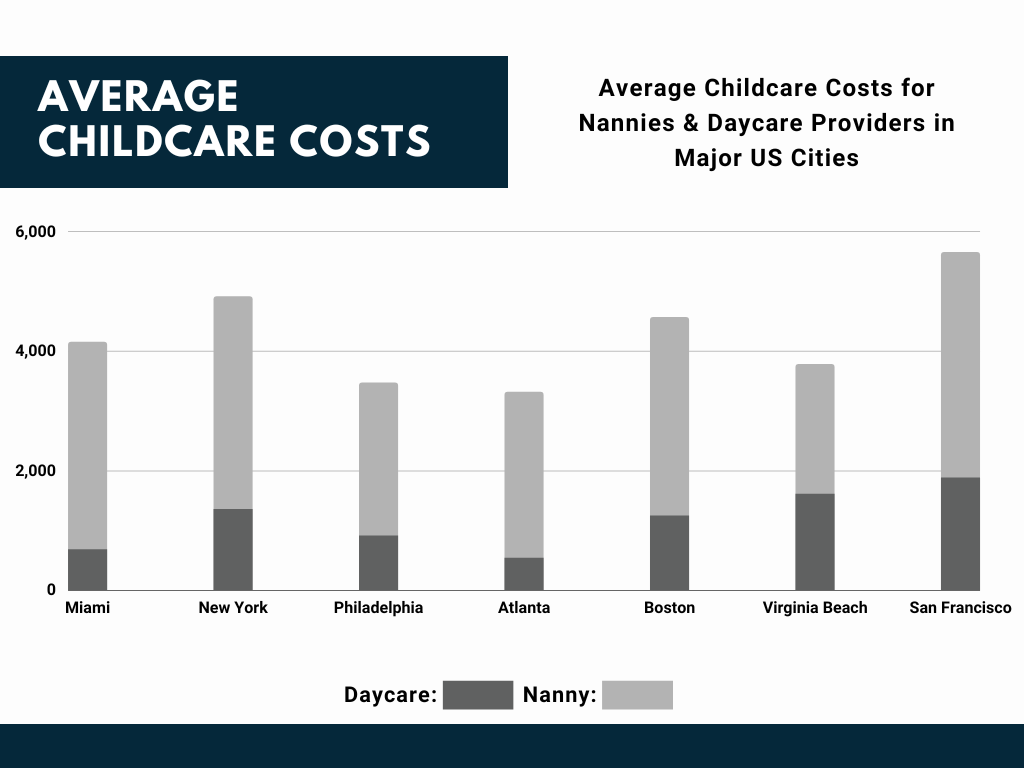 For parents who wish to enroll their children in daycare, the average cost is higher than the national average. The average annual cost for an infant in Miami is $8,376 in a child care center, while for a four-year-old, it's around $6,647 annually. For parents who wish to hire a nanny or a babysitter, the average hourly cost is $15.20 per hour but can be as high as $25.00 or more per hour. While this can be an excellent alternative to daycare, especially for infants or other children who need more individualized attention, it's an additional cost to be considered.
Miami Entertainment Costs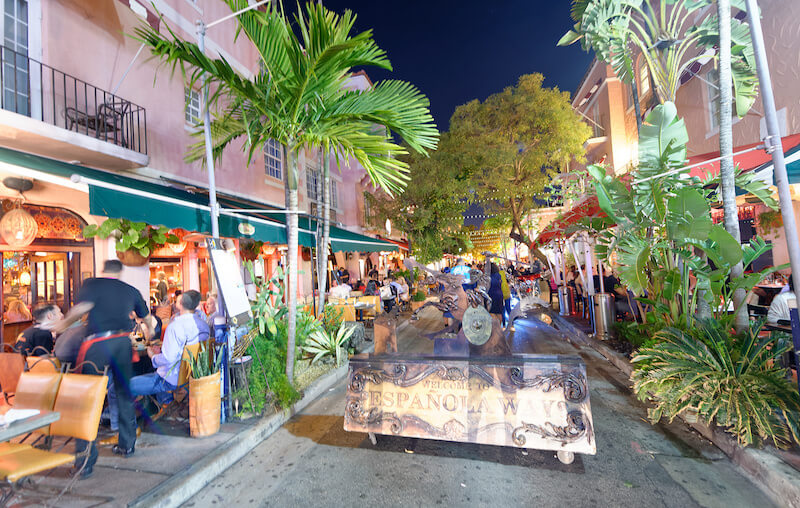 When it comes to entertainment options, Miami is unmatched. With some of the world's most exclusive nightclubs, best beaches, and non-stop nightlife, entertainment is one of the biggest draws to the Miami area. Over the years, Miami has had a reputation as a costly destination to visit. In some instances, it can be, but Miami is also very affordable compared to many tourist destinations.
One of the most significant aspects of working and playing in Miami is its versatility. It can be as expensive or as affordable as you make it. For those who want access to the hottest clubs, dine out at expensive restaurants, or to rent out luxury yachts, the price of entertainment skyrockets to hundreds of dollars per day. But Miami also has many affordable or even free options so residents can hold on to more of their disposable income.
Miami is home to many shops, museums, nature trails, and beaches, which are incredibly affordable. Visits to one area's museums, such as the Goldcoast Railroad Museum or the Bass Museum of Art, can range anywhere from $6 to $15 per person. Even better, South Beach (a 4-mile famous stretch of beach) is free to enjoy, as are most of the area's nature trails. Other affordable entertainment options include live music events, water activities, and city trolley tours.
Miami Salary Information
For many, one of the most important factors prospective residents need to consider before moving to the area is determining employment opportunities. In some instances, residents work remotely, whether their employer is based in Miami or other areas of the country. Determining employment opportunities is crucial for those in fields where remote work is not an option.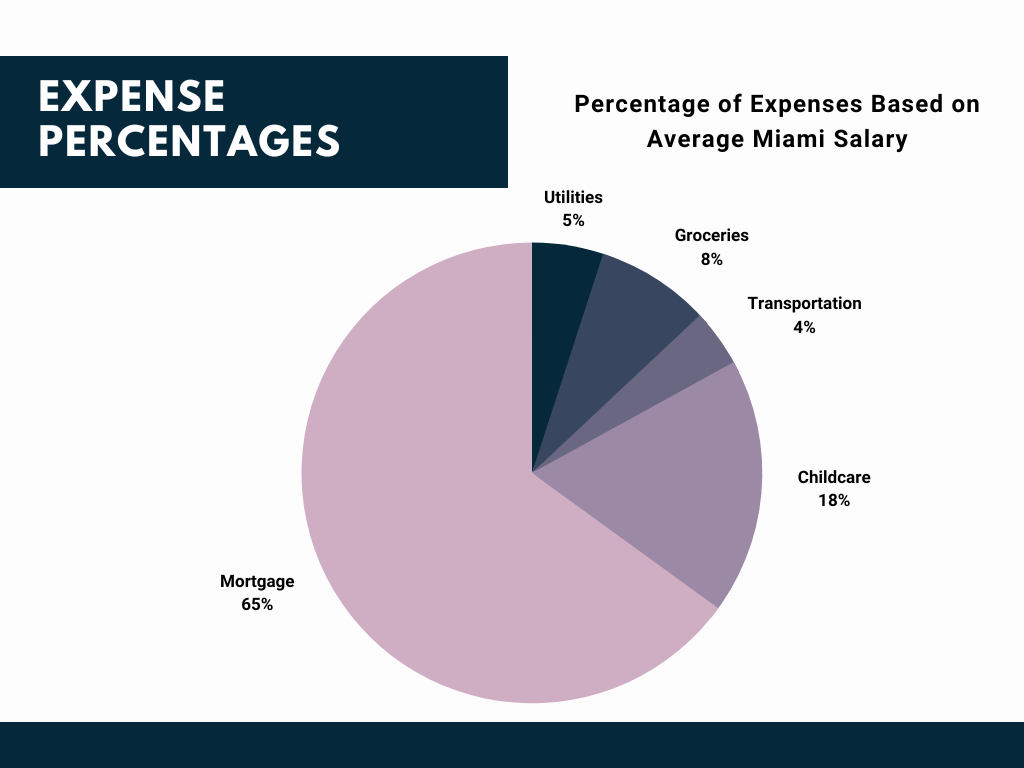 Fortunately, Miami has a robust local economy and a higher median household income than most of the country. It is a large city with excellent tourist infrastructure and one of the country's largest financial centers, along with New York City, Chicago, and other major cities in the United States.
Miami has an unemployment rate of 8.3%, which is lower than other major cities, such as New York City. Plus, Miami has an amazing infrastructure for telecommuting, with easily accessible internet and affordable providers. Tourism, healthcare, technology, and food service also offer many employment opportunities. Miami's average salary is higher than the state and national average. Residents earn around $67,000 per year, and salaries can go well over $100,000 per year, depending on the industry. Additionally, Florida has no state income tax, allowing for a little more disposable income.
Know the Cost of Living and Plan Your Miami Budget
With its sandy beaches, exceptional nightlife, and strong local economy, it's easy to see why more people are drawn to Miami. The advent of remote work and the increase in employment opportunities are allowing prospective residents to move to the area in a way that would not have been as readily available to them in the past.
Miami is so much more than a vacation destination—it's a dynamic city with some of the country's best employment and entertainment options. It's is an ideal place to call home with its healthy local economy, stunningly beautiful beaches, and fantastic real estate options.