6 Miami-Dade Neighborhoods With the Lowest HOA Fees
Posted by Laurie Reader on Tuesday, December 20, 2022 at 2:02:59 PM
By Laurie Reader / December 20, 2022
Comment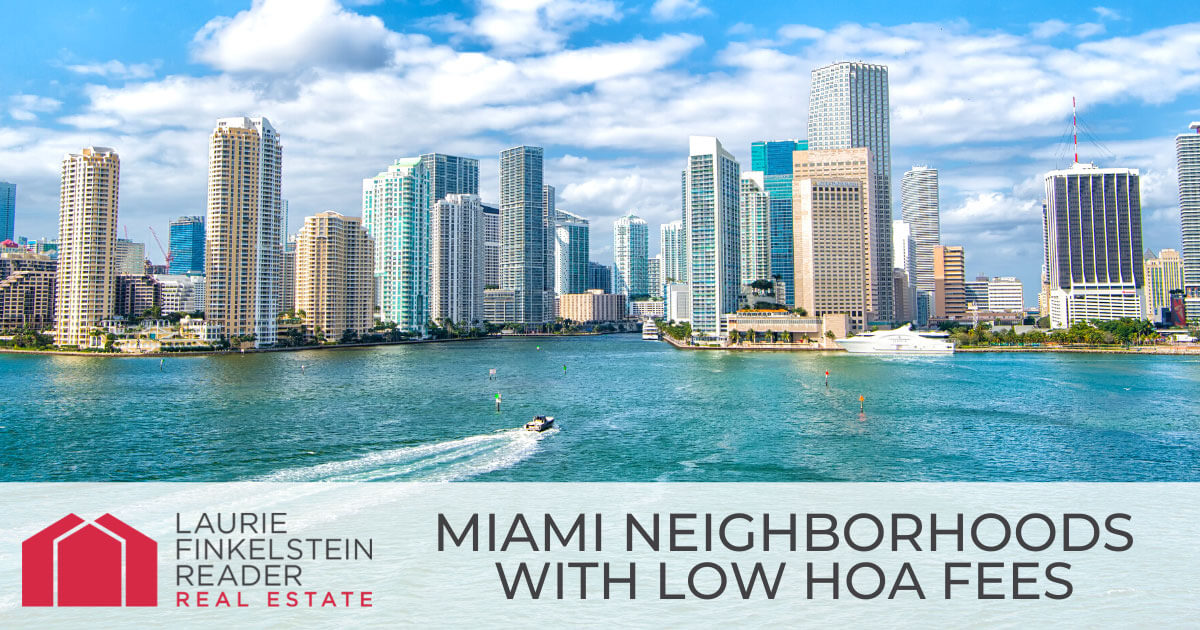 South Florida's Miami-Dade County is home to many communities that, through a homeowner's association (HOA), meet the shared needs of residents. However, one of the biggest challenges to this arrangement is its cost, as Miami-Dade's average HOA fees are generally higher than the national average. In Coral Gables, for example, which is one of the city's most desirable waterfront locations, HOA fees can range between $500 and $1,000 per month, depending on the size of the residence.
Fortunately for those moving to Miami, there are communities where homeowners can find lower HOA fees and still benefit from top-notch services and amenities. Let's take a closer look at what the above Miami-Dade HOAs with the lowest fees offer their residents and why they provide excellent value for homeowners.
Coconut Grove
Established in 1873, Coconut Grove is the oldest neighborhood in the city of Miami, famous for its lush greenery, waterfront views, and proximity to Miami's downtown area. Home to the beautiful Vizcaya Museum & Gardens and the waterfront David T. Kennedy Park, Coconut Grove offers a unique Miami experience right by the ocean. Homes for sale in Coconut Grove list from $1 million, though listings eclipse $5 million on a somewhat regular basis.
The Coconut Grove HOA has been fostering a strong sense of community for over three decades, which is a testament to its long success as a valuable resource for residents. Furthermore, a low fee of only $30 per year provides homeowners with neighborhood events, safety measures, and a member forum for sharing ideas.
The community also benefits from a Business Improvement District (BID) that has significantly upgraded the area, from beautification projects and special events to improved lighting and security. Local businesses have prospered under the community's dedication to building a vibrant Miami neighborhood, with trendy restaurants like Greenstreet Cafe and Glass & Vine, plus gems like Peacock Park and the Barnacle Historic State Park.
Coconut Grove Amenities
Dinner Key Marina is home to Monty's, a popular restaurant
Peacock Park has baseball fields, tennis courts, and playgrounds
Coconut Grove Farmers Market offers high-quality organic produce
CocoWalk has restaurants, retail stores, and a candlelit concert series
Galloway Glen Estates
Galloway Glen Estates' HOA has been around since 1977. Located in Miami's Kendall neighborhood, south of Miami International Airport, homes in this quiet subdivision sit on large lots with mature trees and landscaping. Some properties feature pools and access to canals, while others offer plenty of room to expand. Homes for sale in Galloway Glen Estates are luxurious, with layouts ranging in size from 4,000–7,000 square feet and prices ranging from $1 million–$5 million.
One of the biggest draws in Galloway Glen Estates is the low HOA fee of roughly $1,700 annually, which breaks down to $142 per month. For that fee, homeowners have access to an "Architectural Control Committee"—which ensures the continuation of the community's overall character—and a "Security Committee," which promotes the safety and well-being of residents.
Galloway Glen Estates Amenities
Home to Killian Country Club
Green spaces include Ron Ehmann Park and Continental Park
Zoned for Air Base Center for International Education, serving grades K-8
Whole Foods Market, Milam's Market, and Trader Joe's are nearby
Top-notch medical facilities at Baptist Hospital
South Miami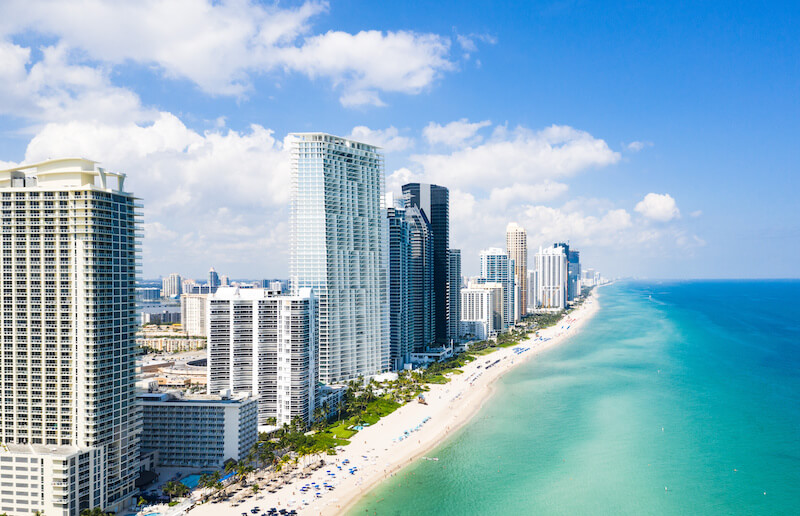 Located along Biscayne Bay and south of Downtown Miami, South Miami is a vibrant waterfront neighborhood within easy reach of Miami International Airport, Hobie Island Beach Park, and several stations along Miami's Metrorail system. Anchored by Simpson Park and flanked by I-95 and Brickell Avenue, residents are conveniently located near Miami's central business district, Miami Beach, and historic Virginia Key. Homes for sale in South Miami are a mix of luxury condos and townhomes with high-end finishes and ample square footage, plus stately single-family properties ranging in price from $1 million to more than $6 million.
The South Miami Avenue HOA is committed to improving the quality of life for its residents at a low cost, focusing on the areas surrounding South Miami Avenue between 15th Road and 26th Road. The HOA has completed many projects since its founding in 2000, from community events and traffic calming measures to sidewalk repairs and beautification projects.
South Miami Amenities
Local restaurants include Cure Cafe and PM Fish & Steakhouse
Alice Wainwright Park offers views of Biscayne Bay
Metrorail links Miami International Airport and the University of Miami
Near Brickell City Centre, Miami Design District, and Mary Brickell Village
Kendall
Kendall is a suburban oasis in southern Miami-Dade, teeming with affordable condos, townhouses, and single-family homes. Situated along Miami's 874 and Ronald Reagan Turnpike, this neighborhood is known for its eclectic shopping and dining scene. Home to The Falls and Dadeland Mall, two major shopping centers along the amenities-packed US-1 corridor, Kendall has no shortage of places to eat, shop, and relax.
What's more, the Kendall Federation of Homeowner Associations (KFHA) offers individual memberships starting as low as $25 per year. Members are treated to various services, from newsletters and online resources to educational programs and community events. The association has also successfully lobbied for new schools, libraries, fire stations, and roads to be built in the area.
Nature lovers may appreciate the outdoorsy atmosphere in Kendall, with nearby Larry and Penny Thompson Memorial Park offering 270 acres of space for camping, biking, hiking, or relaxing at one of the lakeside beaches. Homes in Kendall are near Miami Executive Airport, South Miami Hospital, and Miami's historic Zoo Miami.
Kendall Amenities
Malls include the Palms at Town & Country, Kendall Place, and the Greenery
Kendall Indian Hammocks Park has a 32-acre nature preserve
Home to Palmetto, Briar Bay, and Killian Greens golf clubs
Popular restaurants include Pubbelly Sushi and Tacos & Tattoos
Bent Tree West
Bent Tree West is a residential community in western Miami-Dade County, known for its winding, tree-lined streets and pleasant lake views. The neighborhood borders Lindgren Road to the east, 142nd Avenue to the west, 47th Street to the north, and 56th Street to the south. South Lake and Bent Tree Park are the area's main recreational spots, and nearby Miccosukee Golf Club offers a public 18-hole golf course.
The Bent Tree West HOA is among Miami's most affordable, with quarterly fees of only $153. This low rate covers common area maintenance and landscaping costs, so residents can focus on enjoying their homes and the surrounding amenities. Home prices are also quite reasonable, listing from the $300,000s for a 1,200-square-foot, three-bedroom home. It's worth noting that most single-family homes in the Bent Tree West subdivision are semi-detached, meaning they share a wall with another property. However, this can benefit residents who enjoy their privacy and appreciate neighbors nearby.
Bent Tree West Amenities
Bent Tree Park has a lighted tennis court and playground
Public schools include Bent Tree West Elementary and Howard D. McMillan Middle School
Southwest 42nd Street has many Latin-American restaurants and shops
Marakas Pizza, El Chaman Peruvian Restaurant, and Milly's Empanada Factory
Miami Shores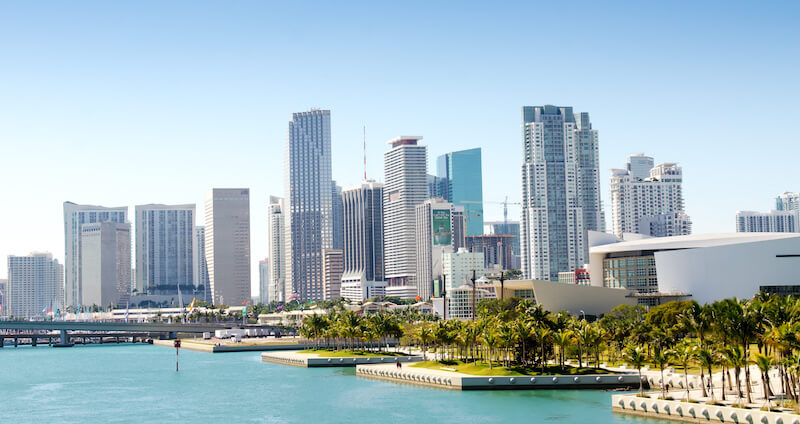 Miami Shores is a charming residential area situated along Biscayne Bay. Its central location and well-maintained Miami Shores Country Club make it a desirable neighborhood for Miamians who seek an active lifestyle. The area also enjoys access to the Biscayne Canal C-8, which runs through Miami Shores and connects to other Miami-Dade County waterways. As a result, Miami Shores offers more than its fair share of opportunities for fishing, boating, kayaking, and other water-based activities.
The Miami Shores Property Owners Association is dedicated to enhancing community relations and promoting effective maintenance, code enforcement, education, and recreation services. Annual dues are just $20 per year, and members enjoy access to the Miami Shores Village online portal, where they can stay up-to-date on the latest community events and announcements. Miami Shores also offers an eclectic mix of 1940s bungalows and Mediterranean-style homes, with sleek new construction properties entering the market. Homes for sale in Miami Shores list from the $700s, but Miami Shores waterfront homes can list for $5 million or more.
Miami Shores Amenities
Miami Shores Aquatic Center and Village Bayfront Park
Nightlife options along Northeast 2nd Avenue
Popular bars include Flight Lounge and Sins Gastrobar
Pinch Kitchen + Bar, Ferraro's, Battubelin, and Osteria restaurants
Enjoy Miami-Dade with Low HOA Fees
Regarding Miami HOAs with the lowest fees, Coconut Grove, Galloway Glen Estates, South Miami, Kendall, Bent Tree West, and Miami Shores stand out from the pack. Thanks to their low-cost dues structure, these communities offer residents the opportunity to enjoy quality amenities and neighborhood improvements without breaking the bank, all in some of Miami's best neighborhoods!
Miami-Dade's low-fee HOAs offer more than just affordable rates, though. Homeowners also enjoy access to great recreational amenities, nearby schools and healthcare facilities, and various architectural styles. Miami-Dade County is a wonderful place to call home, and these low-fee communities help make it even better.