8 Most Affordable Fort Lauderdale Neighborhoods: Best Value For The Price
Posted by Laurie Reader on Wednesday, February 23, 2022 at 3:13 PM
By Laurie Reader / February 23, 2022
Comment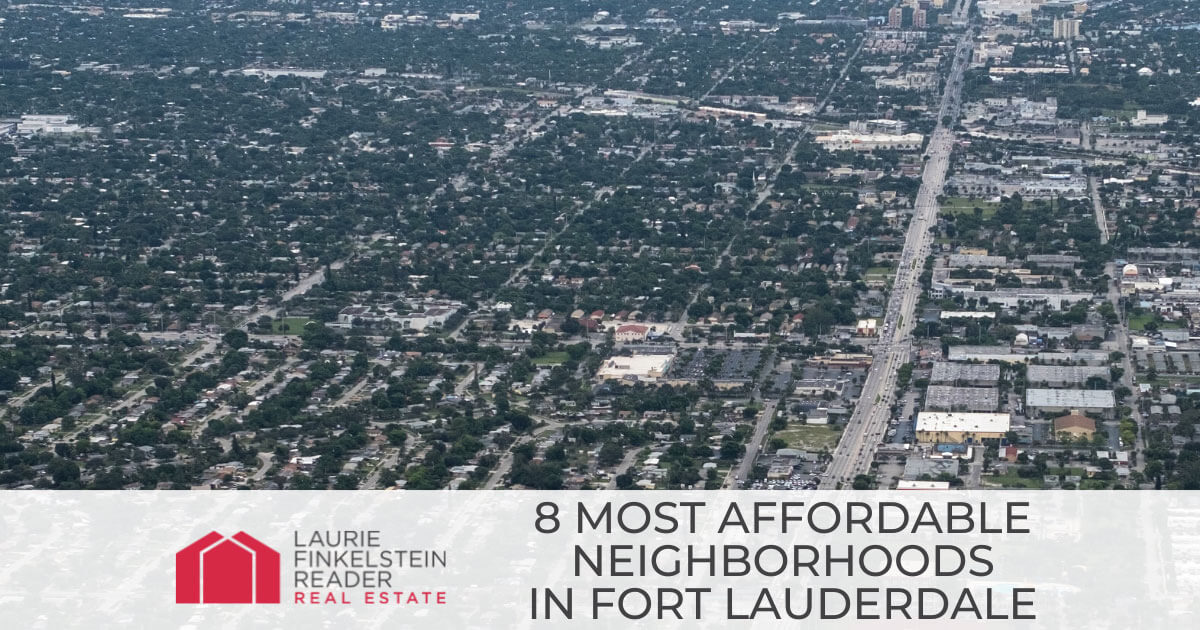 Spending a day at the beach is fun and relaxing. The sun, sand, and water make a great combination, and beaches are a big attraction for people who move to Florida. In addition to visiting beaches, living in a Florida beach city also provides easy access to some of the best food and entertainment in the U.S. The city of Fort Lauderdale, FL, in particular, is known for its beaches, culture, and art. Known as the Venice of America, Fort Lauderdale also has world-class shopping and a historic riverfront that includes gondola rides on the city's 165 miles of canals.
With this high desirability comes high real estate prices—but there are plenty of popular neighborhoods in Fort Lauderdale where homebuyers can find more affordable price tags. Keep reading to explore some of the most affordable neighborhoods in Fort Lauderdale, Florida.
River Oaks
River Oaks Amenities
Harbor Shops
Chima Steakhouse
Bonnet House Museum & Gardens
Milk Money Bar & Kitchen
One of the potentially most affordable neighborhoods in Fort Lauderdale is River Oaks. Known for its friendly neighbors, River Oaks has plenty of open sidewalks for walks through its many single-family home neighborhoods, as well as condos and townhomes. Many of the homes in the community have large backyards and upgraded features, such as premium kitchen appliances.
Homes in the River Oaks neighborhood usually cost between $145,000 for a one-bedroom home and up to $2.9 million for a five-bedroom luxury home. There are also some waterfront homes available with easy access to the nearby ocean. Plus, the neighborhoods showcase numerous trees, flowers, and shrubs, creating beautiful surroundings.
Restaurants near the River Oaks community include Rendezvous Bar & Grill, which has waterfront dining; the Boatyard, offering a nautical-chic vibe in a laidback atmosphere; and Café Vico Restaurant & Piano Bar, a family-owned restaurant with a lively atmosphere that serves a variety of Italian dishes.
Area shopping includes many stores at the local Galleria, with over 100 fashion retailers; the River Market, offering specialty shops and a blend of local, regional, and national retailers; and The Gallery at Beach Place, a multi-level complex with a variety of shopping, food, and other stores.
Lake Estates
Lake Estates Amenities
Cucina di Milano
Digs N Gifts
Delacaseas Cafe
Backflip Beach Bar & Kitchen
While Lake Estates is a premier gated community in Fort Lauderdale, FL, there are quite a few affordable homes as well. Consisting primarily of single-family homes, Lake Estates also has a selection of condominiums to choose from when purchasing a home in the community. This quiet community sits close to the water, providing beautiful views of the sunset or sunrise.
Homes in Lake Estates generally range in price from $340,000 to $1.9 million for homes with one to four bedrooms. Homes in the community are in a variety of different styles, including custom-built homes, waterfront houses, and traditional ranch-style homes. Potential homebuyers should keep in mind that there is a large price difference between homes on the waterfront and those that are not, so the homes on the more affordable end of the scale will likely be away from the water.
The Lake Estates neighborhood is also close to area hotspots. Many restaurants lie along the Federal Highway and Commercial Boulevard, including Master Ba's Hot Pot & BBQ, offering an all-you-can-eat option; Edelweiss European Baker, Deli, & Café, with traditional German bread right from the oven; and Pollo Tropical, serving Caribbean grilled chicken, pork, and sandwiches.
Local shopping venues include Coast Boutique, a small boutique located close to the Anglins Fishing Pier; Dolly's Designer Outlet, which has designer jewelry, clothes, and bags at discounted prices; and The Blithe Co., a metaphysical shop that has a wide range of books, stones, and jewelry.
Croissant Park
Croissant Park Amenities
Bar Rita
Coontie Hatchee Park
Huizenga Plaza
Craft Beer Cartel
The many attractive yards of the Croissant Park community in Fort Lauderdale is a big draw for potential homebuyers. The private backyards of many of the homes in the Croissant Park neighborhood are perfect for barbecues and parties. In addition, the community is located near the Fort Lauderdale-Hollywood International Airport.
Homes for sale in Croissant Park typically cost anywhere between the low $300s and $1.8 million. These prices include standard single-family homes, as well as condos and townhomes. Home sizes usually range from around 1,000 to 3,000 square feet and include houses with anywhere from one to seven bedrooms.
Local amenities close to Croissant Park include a variety of retailers, such as the Boat Owners Warehouse, where boat owners can find just about anything to fit their needs; the Harbor Shops, an all-in-one destination for shopping; and Bealls Outlet, selling home goods, apparel, and accessory store.
Area restaurants include the Mini Pita Mediterranean Café, with many delicious Kaitaf options on the menu; Kubo Asian Fusion Street Food and Sushi, serving sushi, street food, ramen, and more; and Riverside Market and Café, a specialty beer boutique with a laid back atmosphere.
Durrs
Durrs Amenities
Summit Edge Outerwear
Fresh Catch Fish & Chicken
Level Up Box Shop
Glitch Bar
Located at the junction of Sunrise Boulevard and Interstate 95 in Fort Lauderdale, the Durrs community is a cozy neighborhood made up of affordable homes, some of which date back to 1949. The Durrs neighborhood offers a variety of beautiful homes in an assortment of styles.
The price range for homes in the Durrs community typically runs from as little as around $190,000 for a small two-bedroom home to as much as around $450,000. In general, square footage for homes in the Durrs community is between 600 and 2,000 square feet, or more in some cases.
Amenities in the area include parks, such as Joseph C. Carter Park, which has a variety of facilities, including various sports areas, a pavilion, and a recreation center; Provident Park, a 1.4-acre open area that has a picnic area and a walking path; and Lincoln Park, 2.8 acres of open space with a pavilion, walking path, and playground.
Area restaurants include Mama Lucy's Pizzeria, which has a full menu of Italian and American classics; Smitty's Wings, with dine-in and takeout options and patio seating; and KNS Grill, a Haitian restaurant serving a variety of breakfast, lunch, and dinner items.
Dorsey-Riverbend
Dorsey-Riverbend Amenities
Anthony's Pronto Kitchen
Orchestrated Minds Brewing
Arti's New River Bistro
Stache Drinking Den & Coffee Bar
Located near the heart of the downtown Fort Lauderdale neighborhood, the Dorsey-Riverbend community is known for its large, spacious lots. Most of the homes within the Dorsey-Riverbend neighborhood have large, fenced-in backyards for the ultimate in privacy.
Homes for sale in Dorsey-Riverbend generally cost between $183,000 and $720,000. Located to the south of the Durrs community, Dorsey-Riverbend has homes available in a variety of sizes, including small, one-bedroom homes to much larger six-bedroom abodes. Square footage ranges from as little as 500 square feet to over 3,000 square feet.
Area hotspots include North Fork Riverfront Park, a two-acre park located on the south bank of the North Fork New River that includes a picnic area and plenty of open space; Bark Yard n' Brews, an off-leash dog park that also has beer and wine; and Laser Wolf, serving craft beer and cool vibes.
Some of the other restaurants in the area include Ivory's Take Out, a takeout restaurant that a variety of breakfast items and other food; The Chimney House, a Latin fusion restaurant found in the heart of Fort Lauderdale; and OB House, offering thoughtfully sourced food in a vibrant café atmosphere.
Melrose Manors
Melrose Manors Amenities
Floor & Decor
Eaglerider Motorcycles
Tap42
Klub Kutters Bar & Lounge
Situated between downtown Fort Lauderdale and the shopping malls to the west, the Melrose Manors community is filled with many unique homes in a variety of styles. The streets in Melrose Manors are often filled with residents on a morning walk, walking their dogs, or out for a nice stroll in the evening.
Anyone looking to buy a home in the Melrose Manors community can usually expect to pay somewhere between $125,000 and $465,000. Sizes for homes within the Melrose Manors neighborhood range between two and five bedrooms, with square footage for homes between 900 and 2,500 square feet.
Area restaurants include the numerous restaurants near Melrose Manors, such as the Sister Sara Crab House & Grill, a restaurant selling a variety of grilled seafood items; R&R World Famous BBQ, with tasty BBQ, soul food, and seafood; Las Carnitas Latin Food, a Latin-American restaurant featuring Mexican, Cuban, and Honduran food.
Melrose Manors also has some nearby parks, including Central Broward Park & Broward County Stadium, a large 109-acre-plus park offering a variety of sports facilities, walking trails, and a stadium; Reverend Samuel Delevoe Memorial Park, an over 33-acre park featuring a lake, fitness facility, and community center; Franklin Park, an almost three-acre park with a playground, basketball court, and other amenities.
Sunset
Sunset Amenities
Las Carnitas Latin Food
Sunview Park
Checkers
Rendezvous Bar & Grill
Situated between Broadview Park and the neighborhood of Riverland Village, the Sunset community is made up of single-family homes in a variety of styles. The Sunset community allows easy access to the surrounding Florida area via Interstate 595 to the south and Davie Boulevard to the north.
Homes in the Sunset area generally cost anywhere from $110,000 to $670,000 for two- to five-bedroom houses. Home sizes can vary as well, ranging from as small as 600 square feet to as big as 2,300 square feet. In addition to single-family homes, residences within the Sunset community also include condominiums.
Local shopping, grocery, and retail shops include Winn-Dixie, a supermarket chain found throughout the lower southern states; Lucky House Mystical Store, selling crystals, incense, and books; and Odds & Ends Thrift Store, a local thrift and consignment store selling a variety of secondhand items.
Some other area hotspots include the Secret Woods Nature Center, a small park that includes an amphitheater, nature trail, and butterfly garden; Flannigan's Seafood Bar & Grill, serving fresh seafood in a sports bar atmosphere; and Georgia Pig Pit Barbecue Restaurant, offering breakfast and barbecue dishes for over 60 years.
Lauderdale West
Lauderdale West Amenities
Botanica AbreCamino
Odds & Ends Thrift Store
Santa Barbara Coffee Shop
Georgia Pig Pit Barbecue Restaurant
A master-planned community for people age 55 and older, Lauderdale West hugs the north side of Davie Boulevard. The Lauderdale West community is nestled in between the Melrose Park neighborhood to the north and the Sunset and Riverland Village communities to the south.
Houses in the community may cost anywhere from the mid to high $100s to around $460,000. Home sizes range from two to four bedrooms and from 800 to 1,800 square feet. In addition to single-family homes, the neighborhood also has a selection of condos to choose from, as well as a variety of amenities, such as a pool, clubhouse, and fitness center.
Local restaurants and eateries include Guatemala Restaurant, serving all-day breakfast, and a selection of Guatemalan dishes; Pete's Place, a local pizza restaurant offering typical Italian fare; and El Fogon Restaurant, with a menu full of Latin cuisine favorites.
Other area hotspots include the Fort Lauderdale Country Club to the west, a private country club with a 36-hole golf course; Sunview Park, a small park that hosts baseball games, as well as offers a dog park, picnic area, and playground; and the West Broward Shopping Center, with 13 stores.
Fort Lauderdale Neighborhoods Offer a Lot to Area Residents
Fort Lauderdale is also known for its warm, year-round weather, great centralized location, and relatively low cost of living. In addition, living in a Fort Lauderdale neighborhood gives residents easy access to the rest of the world via the Fort Lauderdale-Hollywood International Airport to the south. Living in Fort Lauderdale, FL, means easy access to local beaches, high-quality food, and all types of entertainment. Moving to Fort Lauderdale not only gives residents access to some of the best that Florida has to offer, but is also an affordable place to live if homebuyers know where to look.