8 Most Expensive Fort Lauderdale Neighborhoods: Discover Ocean Views & Luxury Living
Posted by Laurie Reader on Tuesday, March 8, 2022 at 12:51 PM
By Laurie Reader / March 8, 2022
Comment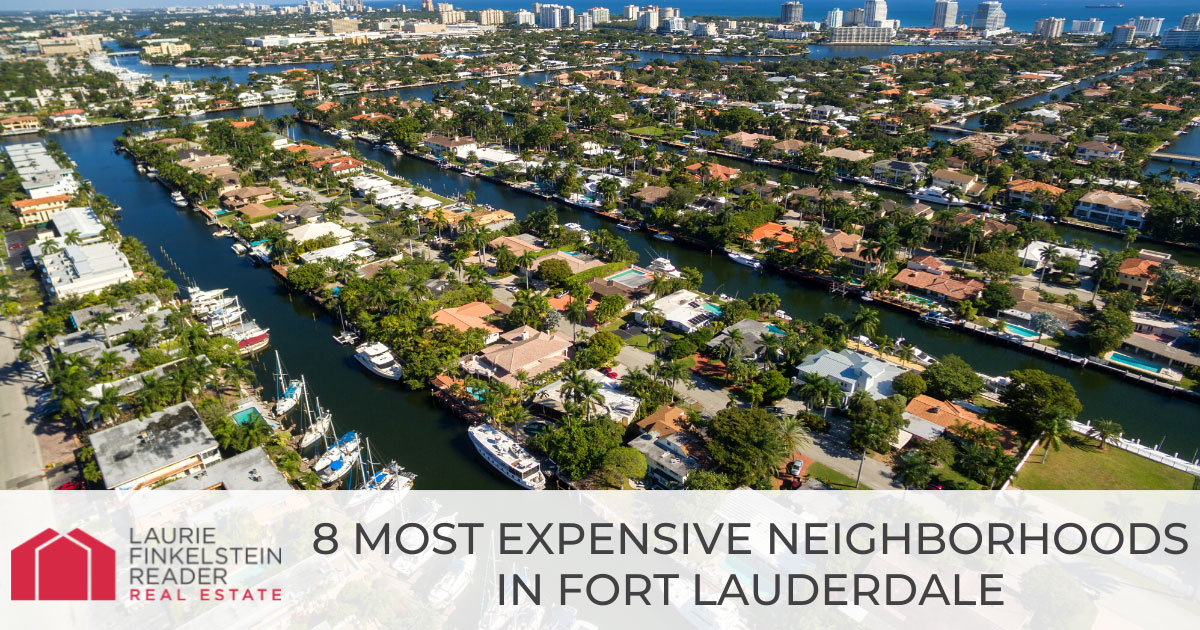 The city of Fort Lauderdale, Florida, is one of the most beautiful in the country. This midsize city is home to almost 200,000 residents and contains the famous Fort Lauderdale Beach, delicious cuisine, and world-class shopping opportunities. What sets Fort Lauderdale apart from other luxury beach communities is its unique canal system, offering over 300 miles of interconnected waterways and allowing easy navigation of the city by boat. Those looking for luxury homes can keep reading to discover the eight most expensive neighborhoods in Fort Lauderdale, Florida.
Table of Contents
Serene Seven Isles
Seven Isles Amenities
Port Everglades
Chima Steakhouse
Publix
The Dockage
Rio de Soto Canal
This neighborhood's name is a slight misnomer, containing just six isles: Aqua Vista, Barcelona, Castilla, Del Mar, De Sota, and Pelican Isle— and one island, Sea Island. Seven Isles boasts 80 acres with just over 300 properties. Roughly 1,200 residents call Seven Isles home.
With just nine streets in this neighborhood, real estate is at a premium. Homes typically cost at least $1 million, and listings in the Seven Isles neighborhood have sold for as much as $25 million or more.
Primarily located on the waterfront, Seven Isles properties are custom-built by world-renowned architects and some of Fort Lauderdale's most popular home builders. Most lots boast sought-after features like backyard deepwater docks, resort styling, and meticulous landscaping. Many interiors offer grand spiral staircases, soaring ceilings, marble flooring, and excellent use of square footage.
The Seven Isles are north of Las Olas Boulevard. Residents of the area need only travel a short distance to appreciate the fine dining, sunbathing, and entertainment the area offers. The closest beaches to the Seven Isles are Las Olas Beach and Sebastian Street Beach, which are gorgeous, white-sand beaches less than 10 minutes from Seven Isles.
Luxurious Harbor Beach
Harbor Beach Amenities
Harbor Beach Surf Club
Flying Fish Marina
Volleyball Beach Park
Burnham Park
Lake Sylvia
Harbor Beach has just over 400 homes and approximately 1,000 residents. This luxurious neighborhood is perfect for boaters, yachters, and beach lovers. Just south of Fort Lauderdale Beach, the community's ideal location is close to major amenities, including downtown Fort Lauderdale and the famous Las Olas Boulevard.
The Harbor Beach community also has some of the best seafood restaurants in Fort Lauderdale. 3030 Ocean Restaurant & Bar offers patrons unbeatable ocean views, while nearby The Ships Galley serves authentic and delicious French cuisine. 15th Street Fisheries, a favorite spot for fresh-caught seafood, is a short boat ride across the Stranahan River.
Single-family properties in Harbor Beach generally sell for anywhere between $1 million for a quaint, 1,500-square-foot property and $20 million or more for at least a 10,000-square-foot mega-mansion. Most single-family homes boast modern architecture, floor-to-ceiling windows, infinity pools, and backyard docks.
Condominiums and townhomes begin at a much lower price tag, usually ranging between $100,000 and $1 million. Properties typically boast between 1,500 and 2,000 square feet of living space and one or two bedrooms.
Carefree Lauderdale Beach
Lauderdale Beach Amenities
Hugh Taylor Birch State Park
Fort Lauderdale Beach
Ocean 2000
Mastro's Ocean Club
Earl Lifshey Ocean Club
Lauderdale Beach is mere steps from the ocean shoreline, with the neighborhood stretching across more than two miles of public beach. While most housing is resort-style condominiums, single-family homes do come on the market from time to time.
Most properties in the area start at $200,000 and can be as much as $15 million or more. Beachfront mansions are on the high end, all located on the neighborhood's North Atlantic Boulevard. Most of these properties are new construction homes with high-end finishes, luxury amenities, and up to 6,000 square feet of living space.
Condominiums in the area provide an opportunity for residents to enjoy all the luxury amenities Lauderdale Beach offers but for a fraction of the price. These units typically sell for between $200,000 and $1 million or more. Fort Lauderdale condos in the Lauderdale Beach community offer high-end amenities like impact windows, wraparound balconies, and breathtaking ocean views.
Some of the best oceanfront restaurants in Lauderdale Beach for drinks and quick bites while watching the surf include Sandbar Grill and Sun Dream Harbor. Both are casual establishments serving American-inspired eats.
Palm Tree-Lined Nurmi Isles
Nurmi Isles Amenities
Isle of Venice Residences & Marina
The Fresh Market
Rio Barcelona Canal
SUP PuP Paddleboard Ft. Lauderdale
The gorgeous neighborhood of Nurmi Isles consists of four scenic isles, all within easy walking distance of Fort Lauderdale Beach and downtown Fort Lauderdale. Like many other neighborhoods on this list, the Nurmi Isles contains many new construction homes. Older buildings have been replaced with condominiums and other desirable housing options.
The dining and shopping hotspots nearest Nurmi Isles include Casablanca Cafe, a Mediterranean restaurant with a live piano bar, and Rock Bar, offering a patio on the beach and delicious mixed drinks. These are both popular spots easily accessed by boat or car.
Each isle has a different atmosphere. Three isles (Fiesta Way Isle, Nurmi Isle, and Royal Palm Drive) consist of single-family homes that sell between $3.5 million and $15 million. These properties are typically large Mediterranean-style homes, almost entirely waterfront, with backyard docks and swimming pools.
Townhomes, condominiums, and co-ops are on the Isle of Venice and typically sell between $200,000 and $2 million. Luxury amenities include oversized balconies, marble flooring, and gourmet kitchens. Some of the new buildings in the area include Palms on Venice, AquaLuna, and AquaVue.
World-Class Las Olas Isles
Las Olas Isles Amenities
Go-N-Hot Charters
Swift Marine
International Swimming Hall of Fame Museum
East Las Olas Boulevard
The walkable Fort Lauderdale neighborhood of Las Olas Isles contains approximately 800 residents. Close to Las Olas Boulevard, the most popular stops along this stretch include Las Olas Oceanside Park, Coconuts, and Bubba Gump Shrimp.
Single-family properties in Las Olas Isles make up most of the neighborhood's real estate. Homes come in a wide range of prices, typically between $1 million and an incredible $40 million or more. Most of these massive estates boast breathtaking 360-degree views of the ocean, professionally manicured lawns, and interiors upwards of 10,000 square feet.
There are two co-op buildings in the neighborhood—Mayfair Arms and Seventeen Fifty Las Olas—with units selling for between $150,000 and $2 million. Unit amenities include 360-degree ocean views, quartz countertops, spa-like bathrooms, and custom-built kitchens. There are also many condominium buildings, including Las Olas Villas, Maison Blanc, and 1800 Las Olas. For an idea of how sought-after real estate is here, the eight units in 1800 Las Olas were sold before the building even finished construction.
Private Riviera Isles
Riviera Isles Amenities
Merle Fogg Park
Las Olas Marina
Fort Lauderdale Yacht Club
The Port Marina
Just south of Las Olas Boulevard, Riviera Isles can only be accessed via nearby Idlewyld. Riviera Isles comprises three small isles, and less than 300 residents call the area home.
The neighborhood's size means there is only so much space for properties. Inventory in the area is notoriously low, with less than 10 listings on the market at any given time, making properties a sought-after asset for prospective homebuyers.
For the rare properties that go on the market, most usually sell for between $1 million and $10 million. Architectural styles in the neighborhood come in all types, including traditional, Mediterranean, and modern. All Riviera Isles homes for sale are single-family, waterfront properties with easy access to the Atlantic Ocean via backyard boat docks.
Riviera Isles is subject to the rules and bylaws distributed by the Riviera Isles Master Association. In addition to collectively working alongside residents towards improving the community, the association offers a gym, pool, and tennis courts.
Charming Idlewyld
Idlewyld Amenities
Mana Poke Beach Place
Jungle Queen Riverboat
Burlock Coast
Hall of Fame Marina
Plenty of neighborhoods on this list are perfect for those searching for lavish lifestyles. However, Idlewyld has a close-knit, small-town atmosphere that is exceedingly rare in Fort Lauderdale. Roughly 200 residents make up this quaint and beautiful neighborhood, giving it a warm and welcoming environment.
Single-family homes in Idlewyld are all within the neighborhood's luxurious, gated community. Homes range from quaint two bedrooms with 1,500 square feet of living space to massive six-bedroom estates with 5,000 square feet or more. Single-family properties mostly range between $1 million and $8 million.
The attached neighborhood properties are on Las Olas Boulevard and Sunset Drive. These properties usually sell between $200,000 and $4 million. Some condominium buildings include Essex Tower and 353 Sunset, offering soaring ceilings, custom built-ins, and deeded dockage.
Despite the neighborhood's small-town feel, Idlewyld is within walking distance of Lauderdale Beach, Las Olas Boulevard, and downtown Fort Lauderdale. Some hotspots within a 20-minute walk of Idlewyld include Bo's Beach and The Drunken Taco.
Hendricks & Venice Isles
Hendricks & Venice Isles Amenities
Luigi's Coal Oven Pizza
Colee Hammock Park
Friendship Cafe & Grill
Casa Sensei
The neighborhood of Hendricks and Venice Isles contains two isles. Surprisingly, Venice Isles is not one of them. Hendricks Isle and North Gordon Road are the two that make up this neighborhood.
While most Fort Lauderdale isles are accessible via Las Olas Boulevard, North Gordon Road is not. Victoria Park is the only point of access to this small suburban neighborhood, lined with palm trees and surrounded by sparkling waters. The area is pedestrian-friendly, and residents can walk to nearby cafes Sip Java Co. and Cafe Collective for their morning coffee.
All properties on North Gordon Road are waterfront homes. Each boasts a meticulously maintained lot, at least one swimming pool, luxury amenities, and backyard boat docks. Interior features include marble flooring, gourmet kitchens, and high-end appliances. These grand estates are perfect for boaters and yachters and generally sell between $1.5 million and $4 million.
The other half of this neighborhood, Hendricks Isle, contains waterfront condominium buildings offering deepwater dockage, waterside balconies, and spacious floor plans. Most units have at least two bedrooms and 2,000 square feet of living space. Prices generally range between $200,000 and $2.5 million.
Live Luxuriously in One of Fort Lauderdale's Most Expensive Neighborhoods
In Fort Lauderdale, there is no shortage of gorgeous neighborhoods offering lavish and luxury waterfront living. Each community has a unique atmosphere and a wide range of property types available.
Prospective residents looking for world-class cuisine, unbeatable shopping opportunities, and the chance to navigate their neighborhood by boat have a high probability of finding their perfect lifestyle in Fort Lauderdale.