8 Most Expensive Miami Neighborhoods: Luxurious Homes in Miami
Posted by Laurie Reader on Tuesday, September 27, 2022 at 8:44 AM
By Laurie Reader / September 27, 2022
Comment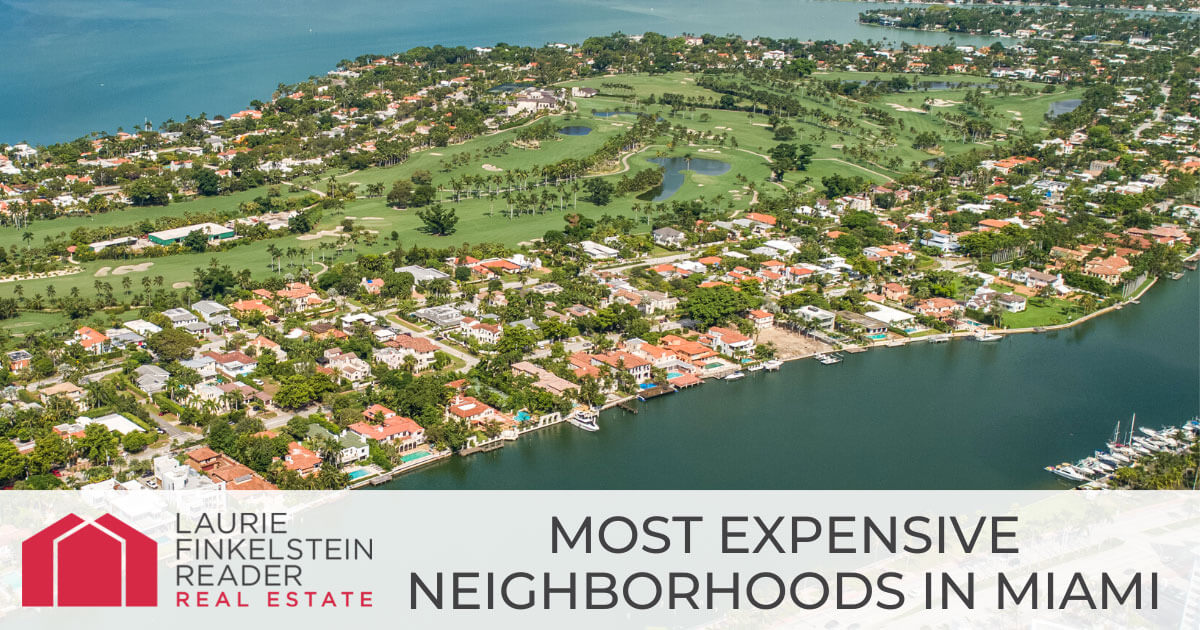 Miami, Florida, is one of the most exciting and diverse cities in the entire country. From the gorgeous beaches to the fantastic food and culture, there's simply no place like it. But those familiar with the area know it also offers another incredible benefit: some of the most impressive homes would-be owners could ever dream of. But these high-end properties don't come cheap, and current or would-be residents must consider the cost of living in Miami along with real estate prices. So let's explore a few of the most expensive communities in the city of Miami and see what big-budget buyers can get for their money.
Star Island, Palm Island & Hibiscus Island
This collection of small islands between mainland Miami and homes for sale in Miami Beach offers some of the most luxurious homes in town—not to mention some of the priciest. All three islands were created by developers in the early 20th century and have since been called home by numerous celebrities and even infamous gangster Al Capone. Their ideal location is just a short drive from the heart of Miami and the vibrant, exciting communities of Miami Beach. Residents can relax in several green spaces closer to home, like Palm Island Park, which includes sports courts, a playground, and waterfront views.
One look at the gorgeous, stately homes of Star, Palm, and Hibiscus Islands makes it easy to see why they come with such an appropriately high price tag. Just about all of these single-family detached homes offer waterfront views or access and are built in various styles, including Mediterranean, Colonial, Modern, and others. Few contain less than five bedrooms, and often nearly double that. Many homes include 6,000–15,000 square feet of living space, with even the smallest nearing 4,000. Those looking to buy a home in these communities should expect to pay a minimum of $7 million. However, most properties will set buyers back substantially more, with listings regularly above $15 million.
Star Island, Palm Island & Hibiscus Island Amenities
Waterfront access and views
Gated, secured communities
Close to downtown Miami and Miami Beach
Community social events
Indian Creek Island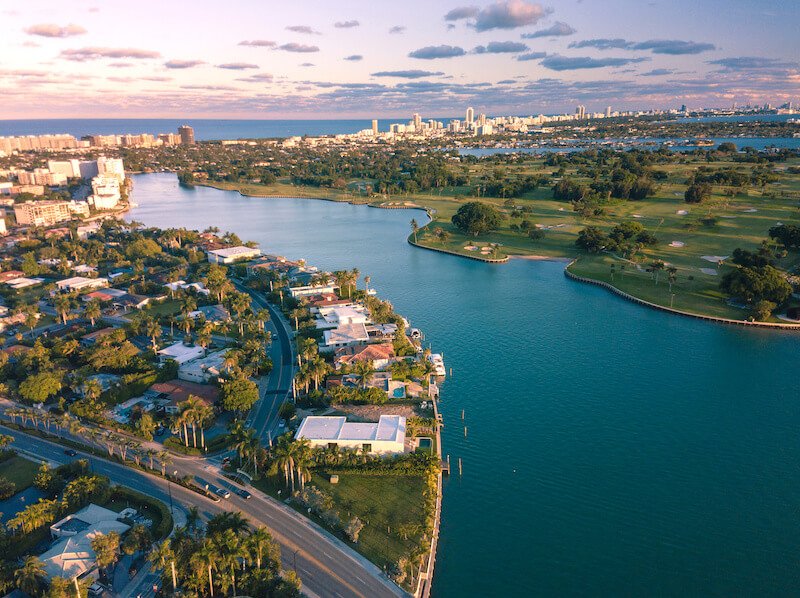 Indian Creek offers one of the most well-known high-end communities in the nation, with just over 40 homes and the Indian Creek Country Club occupying the 300-acre island. With residents that include NFL quarterbacks, billionaire business owners, pop musicians, and more, it's easy to see why this neighborhood is also known for its intense security and privacy. In addition to land-based security, boats regularly patrol the waters surrounding the island. The community's primary amenity is the Country Club, one of the city's best. It offers an 18-hole golf course, a luxury clubhouse, and dining facilities. Meanwhile, the many shopping and dining options of Miami Beach and Bal Harbour are just minutes away.
Unlike some top Miami communities, Indian Creek's small size means homes come available less frequently. Therefore, prices can be difficult to ballpark due to the rarity of sales and high demand. In some cases, homes in Indian Creek can sell for as low as $20 million. More commonly, they list from $30 million, and homes have been listed for more than $60 million. Homes frequently include eight-plus bedrooms in incredibly spacious layouts on large lots. All have incredible views of Downtown Miami and Biscayne Bay and often include private docks.
Indian Creek Island Amenities
On-site land and water security
One of Miami's most private neighborhoods
Waterfront/downtown views
Indian Creek Country Club
The Moorings
Set in the delightful community of Coconut Grove, The Moorings offers an intimate bayfront community with plenty of luxury. 43 homes make up the neighborhood, which is filled with the lush landscaping the area is known for. Residents have access to a community dock with direct bay and ocean access and the peace of mind of 24-hour security for this gated development. The community is just down the road from Center Grove, the heart of the Coconut Grove neighborhood's dining and entertainment district and home to favorites like the Greenstreet Cafe. Meanwhile, owners are just 15 minutes from waterfront homes for sale in Coral Gables and the exciting shopping and restaurants of Downtown Miami.
With only a few dozen single-family detached homes to choose from, often with extensive customization, properties for sale are rarer than in some other communities. They can vary widely, from as small as three to as big as seven bedrooms and seven thousand square feet. Most include custom swimming pools and outdoor spaces, high-end interior finishes, and many more luxury features. Prices typically range from the low to mid-single digit millions, with occasional properties selling for more than $10 million.
The Moorings Amenities
Biscayne Bay views
Gated security
Community dock
Multiple community parks/green spaces
Fisher Island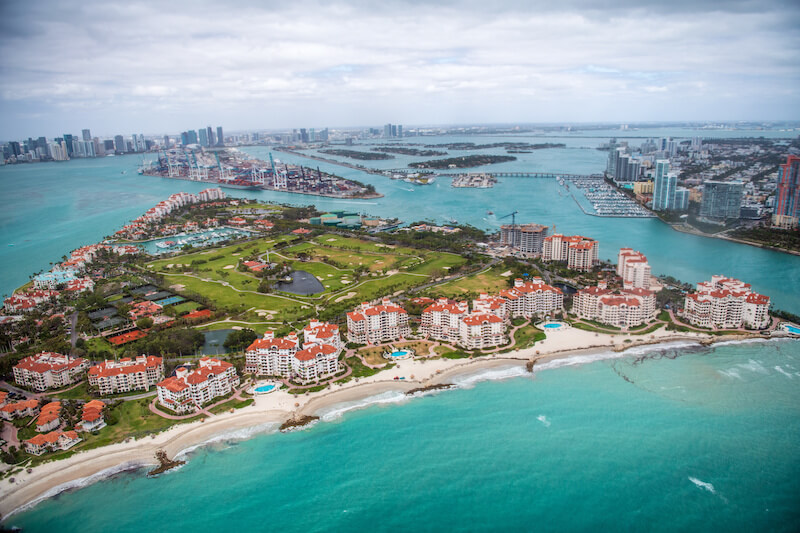 Would-be residents of Fisher Island better be comfortable spending some of their time avoiding driving in Miami: this luxury community is only accessible via a three-mile private boat, ferry, or helicopter ride. It truly represents Miami's upper crust, as the development was recently recognized as having the highest per-capita income in the nation. Residents and guests can take advantage of some incredible amenities, from the island's private beach and marina to the 18-hole golf course at the Fisher Island Club.
There are numerous restaurants, including an Italian restaurant, steakhouse, beach club dining area, and more. Even better, an incredible number of Miami's top attractions are at owners' fingertips once they hit the mainland, from Miami Beach to downtown to the Miami International Airport.
Once the home of the Vanderbilts, the island's current development began in the 1980s, primarily with ultra high-end multifamily properties. Starting in the low millions for two-bedroom condos, prices can reach well above $20 million for the largest and most luxurious units. This offers an excellent option for those looking for a high-end property without a house's maintenance and upkeep requirements. A limited number of single-family homes are also available along the higher end of that price range.
Fisher Island Amenities
Secluded yet accessible location
The Fisher Island Club
Private beach and marina
Edgewater
The compact neighborhood of Edgewater—widely considered one of Miami's best neighborhoods—occupies some of the most coveted real estate in the city. On the south, it's bordered by the city's bustling downtown and the major employment centers. To the west, residents will find the famous Wynwood Design District, home to many art galleries, breweries, and other unique attractions. On the other side, beautiful Biscayne Bay spreads out to offer incredible views, including from the waterfront Margaret Pace Park. Still, there's plenty to do right within the neighborhood, like checking out the numerous shops and restaurants, from the casual Salsa Fiesta to the posh Amara at Paraiso.
Compared to most of Miami's top expensive communities, Edgewater housing comprises multifamily condominiums and other mid- and high-rise buildings. Homes for sale in Edgewater list from the $400s, but the majority start in the high six figures, and plenty list for more than $1 million. While they may have less square footage than other neighborhoods, these properties make up for it with views that are difficult to match.
Edgewater Amenities
Close to downtown, Wynwood Arts District, other neighborhoods
Biscayne Bay views
Convenient to Interstate 95
Margaret Pace Park
South Beach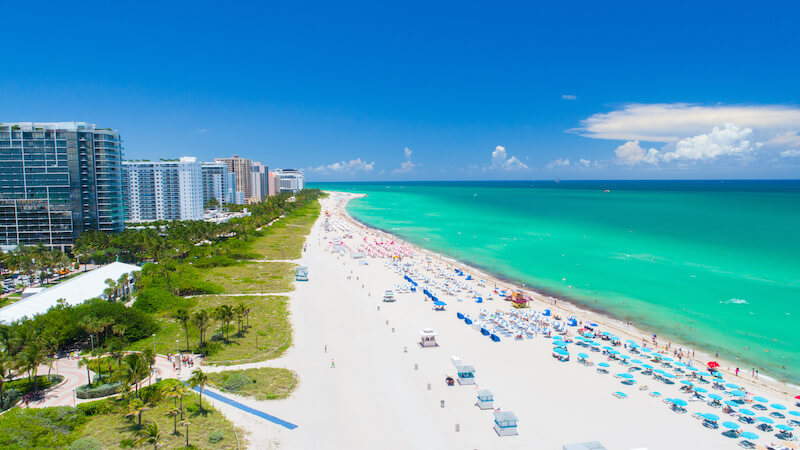 South Beach is popular not just with locals: the area is an attraction that draws millions of people from around the world. The neighborhood is located on a barrier island easily accessible by multiple bridges. It's the sometimes quirky, often glamorous heart of Miami's thriving nightlife scene. South Beach is also known for having one of the area's best beaches, with nearly two and a half miles of sand perfect for a quick swim, some sun, or to see and be seen. Meanwhile, shoppers will love the Lincoln Road Mall, one of the nation's best pedestrian shopping areas and an iconic part of the Miami shopping scene for decades.
A wide variety of condos and other multifamily properties make up the bulk of South Beach's housing, with listings from under $200,000 to more than $4 million. Detached single-family homes and townhouses are rarer but are responsible for the neighborhood's highest prices. These start in the high six figures but commonly sell for more than $5 million. Rare ultraluxury homes can sometimes reach $10 million.
South Beach Amenities
Extensive nightlife, dining, and shopping
2.5 miles of beachfront
Bay and ocean views
Close to downtown
Gables Estates
The southernmost of our top luxury Miami neighborhoods, Gables Estates, lies along the shores of Biscayne Bay, about seven miles away from the heart of the city. Even closer lie the vibrant communities of Coral Gables and Coconut Grove, both known for their shopping, dining, and other attractions. Two of the best places to see Florida's incredible plant life are the Fairchild Tropical Botanical Gardens and the Kampong National Tropical Botanical Garden. Within their community, owners can take advantage of this waterfront location since many homes come with their own private docks. Residents can also enjoy various amenities like basketball and volleyball courts, a playground, and a small park.
Made up entirely of luxury single-family detached houses, Gables Estates' properties come with an appropriately high price tag. While some homes can be found in the low single-digit millions, these are relatively rare. Most sell from the teens up to $40 million. Typically including five to seven bedrooms and 5,000-plus square feet of living space, these unique homes come in various styles, from Mediterranean to Modern.
Gables Estates Amenities
Gated security
Close to Coral Gables/Coconut Grove dining and shopping
Private docks
Sports courts
Playground
La Gorce Island Homes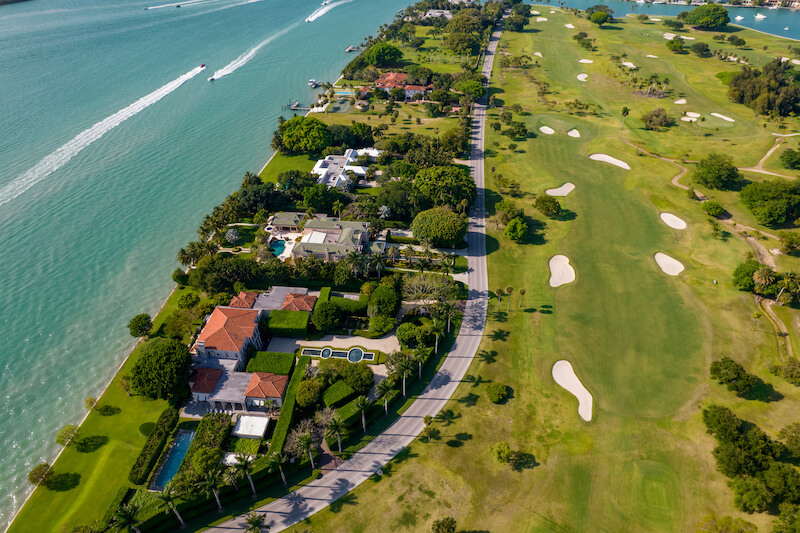 La Gorce Island traces its history back to the 1920s, when it was first developed in part by legendary Miami developer Carl Fisher. In the decades since, it's been home to some of Miami's most prestigious residents, including musicians like Billy Joel and Lil Wayne. Located on the bay side of Miami Beach, residents benefit from their excellent location, just a few minutes down the road from the high-end shopping of Bal Harbour or the exciting nightlife of South Beach. The primary feature of the neighborhood is the La Gorce Country Club, a private enclave for the community's residents. Members can golf, exercise at the fitness center or tennis courts, dip in the pool, or kick back and socialize with neighbors.
La Gorce Island Homes are essentially single-family detached properties like other top communities. Homes start around the $2 million mark for more modestly sized or older options. Newer or larger homes will start around $3 million, generally reaching the $10 million range or more. Waterfront or water view properties will also command a premium, though would-be owners will be happy to know many homes offer this gorgeous perk.
La Gorce Island Homes Amenities
Gated security
La Gorce Country Club with pool, tennis courts, fitness center, and dining options
Convenient to Bal Harbour, Miami Beach
Luxury Living in Miami, FL is Waiting
Few places offer better options for those with plenty of money to spend on their new home than Miami, Florida. Where else can would-be buyers find private islands, gorgeous beaches, and exciting art and culture, all within minutes of the area's top high-end communities? These pricey properties may not be for everyone, but for those moving to Miami who can afford them, southern Florida's finest homes are waiting in Miami's most expensive neighborhoods.