6 Most Expensive Neighborhoods in Plantation: Discover Plantation Mansions For Sale
Posted by Laurie Reader on Wednesday, November 30, 2022 at 2:49:40 PM
By Laurie Reader / November 30, 2022
Comment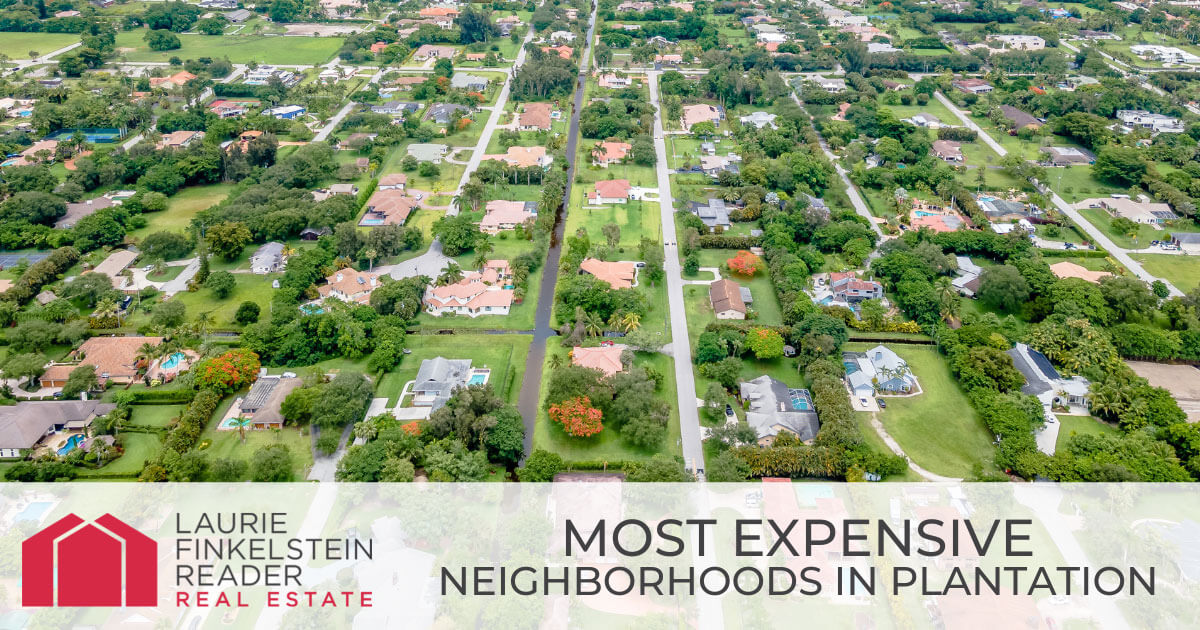 South Florida has so much to offer residents, from a thriving economy to a unique local culture to some of the country's finest beaches and natural landscapes. But not everyone wants to be right in the middle of the hustle and bustle of big cities like Miami all the time. Moving to Plantation—just west of Fort Lauderdale—could be the perfect solution. The luxurious and pricey homes in Plantation are just a part of the tight-knit community that combines a small-town feel with suburban convenience. Read on as we tour six of the most expensive neighborhoods in Plantation.
Hawks Landing
Resort-style amenities and gorgeous homes come together in Hawks Landing, one of Plantation's top high-end neighborhoods. This community of 540 homes lies between Hiatus and North Nob Hill Road, along the New River Canal and Port Everglades Parkway/Interstate 595. Residents can enjoy a luxurious community clubhouse with a pool, full spa, fitness center, and sports facilities. Plus, they'll rest easy with 24-hour gated access and sidewalks for pedestrians.
Just outside Hawks Landing, would-be buyers will find everyday shopping along with local favorite restaurants like CJ Blacks and coffee shops like Ella Cafe. Getting around is also easy, with Broward Boulevard and Port Everglades Parkway flanking each side of the neighborhood and the New River Greenway providing a way to get around on two wheels or by foot.
These custom and semi-custom homes have serious curb appeal, with distinctive paver stone driveways and tropical landscaping, often along with private pools. Most include direct water access to the neighborhood's network of lakes and ponds. Inside, these spacious four- and five-bedroom homes feature imported cabinetry, marble flooring, high-end appliances, and other luxury finishes spread across 2,800-plus square feet of living space. Homes for sale in Hawks Landing list from $1.8 million and can exceed $3 million depending on size and custom features.
Hawks Landing Amenities
24-hour gated security
Clubhouse
Community swimming pool and full-service spa
Fitness center
Tennis courts
Close to major roads/highways
Plantation Palms
Plantation Palms is a small but delightful gated community set along North Nob Hill Road and Cleary Boulevard. Only about 80 homes make up this subdivision that's great for water lovers, as many homes have a private pool or direct access to community lakes.
Residents will find two of Plantation's best parks on each side of them—Sunset Park and Plantation Central Park—and access to Plantation schools is excellent, with Central Park Elementary right next door. Both have extensive sports facilities, as well as walking trails, playgrounds, and picnicking pavilions. Just across Cleary Boulevard, residents can access multiple grocery stores, everyday errands, and restaurants ranging from national chains to local favorites like Broadway Bagels.
Homes in Plantation Palms include four or five bedrooms and a similar number of bathrooms, totaling up to 5,000 square feet. Interiors feature open floor plans and high ceilings, complemented by high-end flooring and gourmet kitchens. Outdoor fun is also easy, with spacious backyards, screened-in lanais, extensive patios, and other entertaining spaces. Homes for sale in Plantation Palms can be found listed from $1–2 million.
Plantation Palms Amenities
24-hour gated security
Waterfront homes
Sunset Park
Plantation Central Park
Nearby shopping/dining options
Central Park Elementary School
Jacaranda Lakes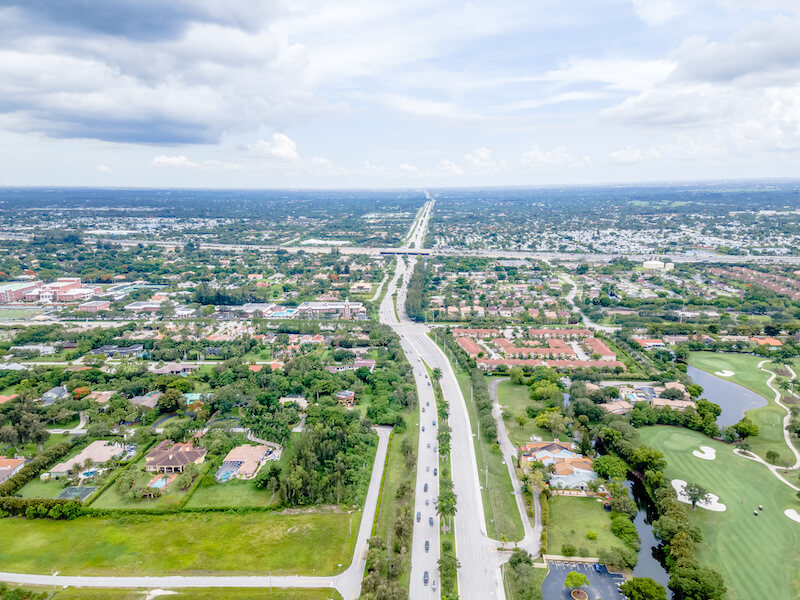 With nearly 20 different subdivisions within this sprawling development, there's something for everyone at Jacaranda Lakes. Set between Pine Island and Nob Hills Roads south of Sunrise Boulevard, it provides hundreds of homes for would-be Plantation residents.
One of the highlights of the community is Jacaranda Lakes Park, a canal-front green space with sports facilities, trails, and exercise stations. Golfers will also enjoy the popular Jacaranda Golf Club, home to two championship 18-hole courses. Numerous homes back directly onto the course, making it simple for residents to play a round. Restaurants are also conveniently located around the neighborhood's edges, including The Amazing Asian Bistro and Plantation Pita and Grill.
Homes in Jacaranda Lakes can vary widely in appearance and style, but most are single-story properties built directly on one of the community's many lakes and ponds. With four or five bedrooms and up to 3,000 square feet of living space, they provide plenty of rooms for households of all sizes. Houses typically include private swimming pools, as well. Most homes for sale in Jacaranda Lakes list in the $700,000s and $800,000s.
Jacaranda Lakes Amenities
Waterfront homes
Jacaranda Golf Club
Jacaranda Lakes Park
Plantation Central Park
Royal Palm Estates
Royal Palm Estates provides one of the best places to call home for luxury homebuyers who also love shopping. The moderately sized community is located northeast of the intersection of Southwest 12th Street and South University Drive.
Just across South University, residents will find The Fountains and the Market on University. Meanwhile, a few blocks to the south, even more retail options are available at Tower Shops. This location is also close to Interstate 595/Port Everglades Parkway, making travel around the region simple. Royal Palms is also convenient to some of Plantation's best cultural spots, like the Young At Art Museum, which offers classes, workshops, kids' day camps, and more.
Like other planned developments, homes in Royal Palm Estates are entirely single-family detached properties, mostly with one-story. Most homes include private swimming pools; some are waterfront along the community lake. Homes typically have four to six bedrooms spread over 2,000–3,000 square feet of living space, along with large garages and quarter-acre lots. While homes can reach close to the $1 million mark, they generally start in the mid-$600,000s, making them great options for homebuyers trying to lower their cost of living in Plantation. Residents aren't part of an HOA and aren't responsible for any monthly fees.
Royal Palm Estates Amenities
Numerous nearby shopping centers
Convenient to Interstate 595/Port Everglades Expressway
Seminole Park
Plantation Acres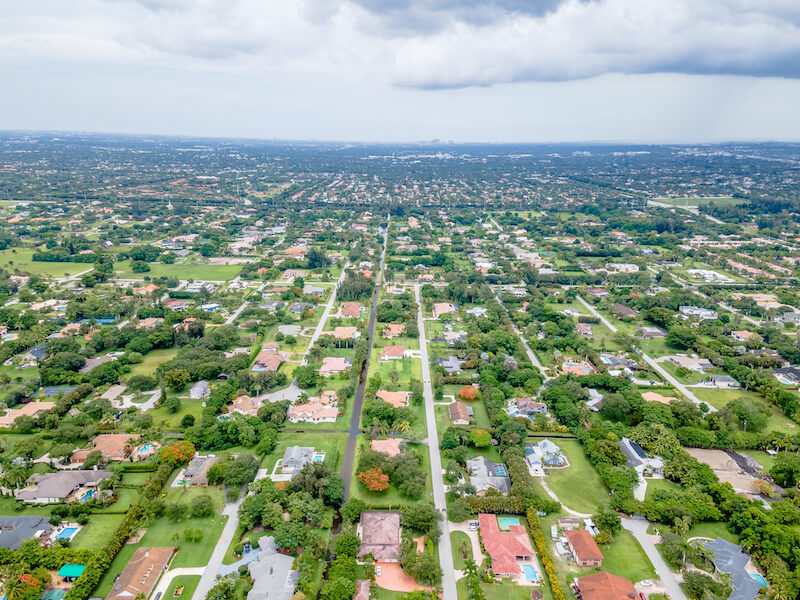 One of the city's largest communities, Plantation Acres occupies more than 2,000 acres between North Flamingo and Hiatus Roads, south of Northwest 28th Court. Development began in the 1960s, though properties have continually been built and renovated, providing homes of varying ages and conditions. Many have larger-than-average lots compared to other South Florida subdivisions.
At the edge of town, it's equally easy to escape into the wilds of the Everglades as it is to hop on the highway to the nightlife of Fort Lauderdale. Several public parks are located within Plantation Acres, most notably Volunteer Park. This site is home to a large community center, sports facilities, and walking trails through the park's preserved wetlands. This same central area of Plantation Acres is also convenient for local shopping and is just around the corner from the massive Sawgrass Mills shopping center, home to big box stores, restaurants, and more.
Homes in Plantation Acres vary widely, from modest ranch properties to estate or Southern-style two-story properties with seven bedrooms or more. Common features include high ceilings, outdoor kitchens, walk-in closets, and chef's kitchens. While they start for less than half a million, homes more commonly sell in the high six figures to around a million. The community's ultraluxury properties list from $2 million and can reach $5 million.
Plantation Acres Amenities
Gated community
Volunteer Park
Plantation Equestrian Center
Sawgrass Mills mall
Fox Run
Another of Plantation's top expensive communities, Fox Run is made up of just a few blocks of quiet streets north of Sunrise Boulevard near Hiatus Road. With its share of Plantation's waterfront homes and tree-lined streets, it's a peaceful escape for would-be buyers. At the same time, Sunset Boulevard and other nearby major roads provide quick access to Planation's many shops, restaurants, and local services. Green space is also close by at Deicke Park, with a jogging trail, sports facilities, and a playground for kids. Meantime, soccer players and fans are just around the corner from the Nob Hill Soccer Club, one of the area's best amateur venues.
Those looking for space and style will find plenty in Fox Run, both inside and out. Interior features include vaulted ceilings, gourmet kitchens, first-floor master suites, and more. Outdoor spaces include private pools for nearly all properties, as well as covered patios and lush landscaping that helps provide seclusion and privacy from neighbors. Fox Run homes generally sell from the high $600,000s to the mid-$800,000s.
Fox Run Amenities
Waterfront homes
Extensive outdoor space
Private swimming pools
Deicke Park
Pricey Plantation, FL, Offers Some Top Area Communities
There's a lot to love about this South Florida community, from its convenient location to Fort Lauderdale to its extensive shopping scene and the array of jobs in Plantation. Would-be buyers have their choice across the housing spectrum, from amenity-rich planned neighborhoods to quieter, HOA-free communities of luxury homes. There's something for everyone in Plantation's most expensive neighborhoods as long as they bring a large budget!