Walkable Fort Lauderdale Suburbs: 6 Suburban Neighborhoods for Walkers
Posted by Laurie Reader on Thursday, March 10, 2022 at 11:18 AM
By Laurie Reader / March 10, 2022
Comment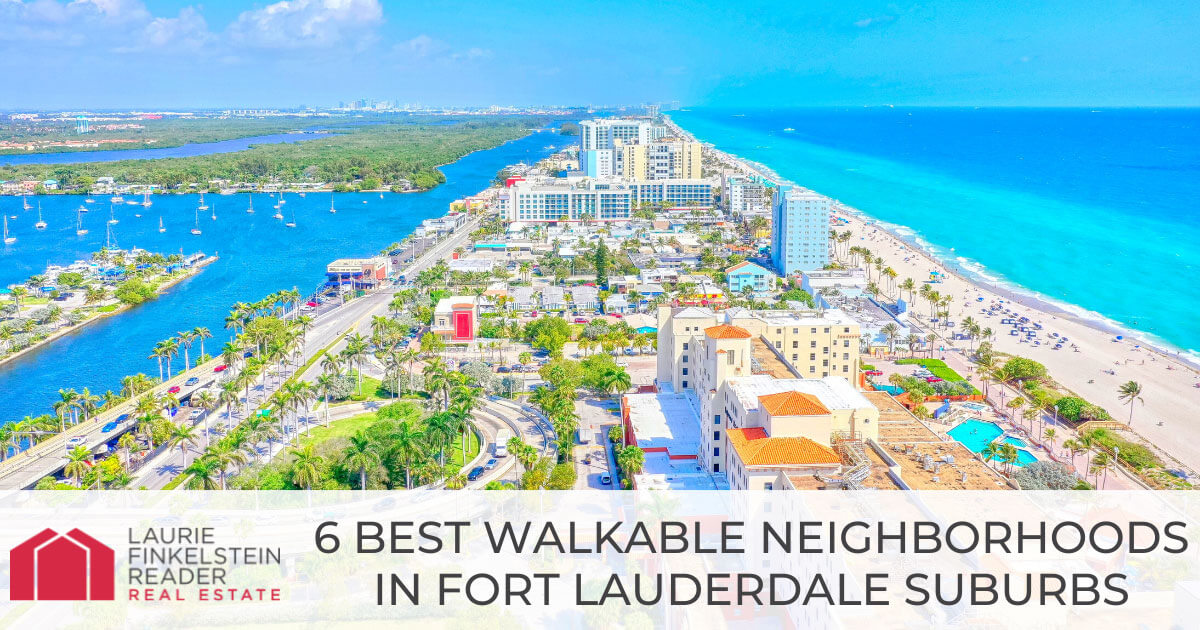 The city of Fort Lauderdale, Florida, is a midsize city with approximately 200,000 residents. Between its famous beaches, lively entertainment, and world-class shopping options, this busy city has plenty to offer prospective homebuyers. However, Fort Lauderdale's surrounding suburbs are just as appealing. Several are highly walkable, making it easy for residents to get around without a vehicle.
The benefits of living in a walkable suburb are numerous — saving gas money, avoiding traffic, and higher neighborhood engagement are just a few. Keep reading to discover the six most walkable neighborhoods in Fort Lauderdale, Florida, suburbs.
Table of Contents
Hollywood: Idyllic Parkside
Parkside Amenities
Europa Gourmet
President Supermarket #4
Wave Restaurant, Bar, and Lounge
The Tipsy Boar
Go Bistro
Tekila Bar Club
The city of Hollywood is lush and peaceful, with a population of over 150,000. Within Hollywood is Parkside, one of the city's oldest communities. Parkside is an excellent destination for prospective homebuyers looking for a walkable suburb outside Fort Lauderdale.
Parkside's convenience is hard to beat. The Dixie Highway runs north-south through the neighborhood and includes restaurants like Fusions Restaurant & Lounge, Triple B Bar & Grill, and Newt's Crab Trap. These restaurants are around a 15-minute walk from most Parkside restaurants.
Arts Park at Young Circle is right up the road, a 10-acre green space regularly hosting events and performances. It's easy for Parkside residents to pack a picnic lunch or dinner and enjoy an evening at Arts Park before strolling home.
There are just a handful of single-family homes in Parkside. Prices typically range from $300,000 to $1 million for homes with two to four bedrooms, usually with up to 2,000 square feet of living space. Condominiums and townhomes are the most prevalent properties in Parkside and typically boast between one and three bedrooms. These homes sell for approximately $150,000 up to $500,000.
Hollywood: Energetic Royal Poinciana
Royal Poinciana Amenities
Cuscatleco Cafe
Charleys Cheesesteaks
Pet Supermarket
Ferrara Auto Spa
Hollywood Beach Golf Club
John B. Kooser Memorial Park
Not far from Parkside is the community of Royal Poinciana. This neighborhood boasts luxury homes with prices that cater to a wide range of budgets. In addition to accessible home prices, there is no shortage of cafes, restaurants, and shopping destinations mere steps away.
Boston Johnny's, Three Palms Cuban Cafe Hollywood, and Twin Peaks Hollywood are high-energy eateries within the community. Residents can also reach shopping destinations on foot, with Goodwill, Publix, and Circle K within walking distance.
Single-family homes in the area sell between approximately $400,000 and $700,000 and have plenty to offer potential buyers. Most properties contain three or four bedrooms and multiple bathrooms. Yards are prime for relaxing and entertaining, boasting fruit trees, barbecue pits, and backyard decks.
Condos and townhomes are also available at a lower price tag, typically selling between $200,000 and $400,000. Units generally contain one or two bedrooms and less than 1,000 square feet.
Coral Springs: Bustling City Center
City Center Amenities
Sicilian Oven
Checkers
Red Ginger Asian Bistro
El Cubano Sandwich Shop
Bravo Peruvian Kitchen
Wing's Plus
The city of Coral Springs is one of the best suburbs in Fort Lauderdale and has over 130,000 residents. Within Coral Springs is City Center, essentially a smaller version of the hustle and bustle that nearby Fort Lauderdale offers.
Spread across roughly three blocks, Coral Spring's City Center is easily walkable. Sample Road is the city's main thoroughfare, running west to east through the neighborhood. This road has several bus stops for Broward County Transit's 34 bus route, one of Fort Lauderdale's public transportation options, offering service to the Pompano Beach community.
Sample Road also contains several restaurants and amenities, most of which are a short walk for City Center residents. Runyon's, The Melting Pot, and Tavolino Della Notte are all fine dining establishments in City Center. The area also has a CVS and is not far from Coral Square Mall.
City Center condos usually range in price between $150,000 and $300,000. Units are well-maintained, and many have recently been updated, with spacious floor plans and balconies overlooking the canal.
Single-family homes come on the market from time to time. These properties are typically on the edge of the community, boasting spacious yards and up to four bedrooms. A single-family home in Coral Spring's City Center is generally between $300,000 and $500,000.
Pompano Beach: Oceanside Harbor Village
Harbor Village Amenities
Pompano Beach Park
Houston's
Umberto's Restaurant & Pizza
Publix Super Market at Pompano Beach
Harbor Village is perfect for avid boaters and lovers of the outdoors. The community boasts an enviable network of canals, making it easily navigable by boat. The canals are a short distance from the Hillsboro Inlet, which offers Harbor Village residents direct ocean access within mere minutes of leaving the house.
This area isn't just paradise for boaters — pedestrians also fare well here. The Pompano Beach Fishing Pier is just a short walk from the neighborhood, and there is a wide variety of dining and shopping options. Plenty of restaurants near the pier have breathtaking ocean views, with Beach House and Briny Irish Pub being two of the most scenic options.
Single-family homes in Harbor Village sell for approximately $600,000 up to $6 million, with property exteriors boasting deepwater docks, boat lifts, and waterfront living. Homes have anywhere from two to five bedrooms and up to six bathrooms. Interior features include impact windows, gourmet kitchens, and quartz countertops.
Condominiums and townhomes typically sell between $100,000 and $2.5 million. Units have up to four bedrooms and floor plans of 2,500 square feet or less. Building amenities include granite countertops, spacious master suites, and on-site, heated swimming pools.
Pompano Beach: Sought-After Santa Barbara Estates
Santa Barbara Estates Amenities
McNab Park
Lake Santa Barbara Park
bella monte italian deli
La Perla di Pompano
Starbucks
Papa John's Pizza
Homes in Santa Barbara Estates are some of the most sought-after properties in the area. Santa Barbara Estates is a gated, luxury community with plenty of conveniences and amenities, so residents never need to travel far from home.
Stores, markets, shops, restaurants, and entertainment opportunities are just down the street. 26° Brewing Co. and Big O's Island Vybz are both fun spots to grab a drink or bite to eat in the community. The Pompano Circuit, an electric public transportation service that takes residents to nearby eating, shopping, beaches, and entertainment options, has several bus stops within Santa Barbara Estates.
The community is on a deepwater canal, and most townhomes have boat slips and available dock space. Avid boaters will be pleased to learn that access to the Atlantic Ocean is a mere 10-minute boat ride via the Hillsboro Inlet.
Santa Barbara Estates is a sought-after area, and listings don't come on the market often. Most homes generally sell between $350,000 and $3+ million, and each comes with a two-car garage, private elevator, and rooftop terrace. Units have two to four bedrooms, multiple bathrooms, and features like custom kitchens, private entrances, and hardwood floors.
Miramar: Quaint Welwyn Manor
Welwyn Manor Amenities
Brooklyn New York Deli Pizza
Dairy Queen Store
C C Chinese Cooking
El Pikete Sport Bar
Vegetarian Delight
Tropix Lounge
S & A Caribbean Market
Welwyn Manor in the city of Miramar is a quaint community just shy of 2,500 residents. While small, this community packs a punch for cafes, bars, eateries, and conveniences. With so much packed into this tiny neighborhood, it's easy for residents to take a quick walk for their next dinner out or a shopping trip.
Two of the most popular drink spots in Welwyn Manor are Mike's Lounge and Package and Miami Grill. These are both casual destinations, easy to walk to and from for most Welwyn Manor residents. Shopping destinations within walking distance include Dollar Tree, Home Depot, and Walgreens.
Homes in Welwyn Manor are quaint and cozy, with modest square footage between 700 and 1,500 square feet. Most properties cater to a wide range of budgets and sell between $200,000 and $450,000.
These homes offer two to four bedrooms, up to three bathrooms, and sought-after features like hardwood flooring, open floor plans, and an updated kitchen with stainless steel appliances.
Discover Walkable Neighborhoods in Fort Lauderdale's Surrounding Suburbs
There are plenty of walkable suburbs surrounding Fort Lauderdale, Florida, for those looking to purchase property in a walkable community. With so many boasting unique atmospheres, there is bound to be a pedestrian-friendly neighborhood well-suited to every prospective resident.