8 Walkable Fort Lauderdale Neighborhoods: Stroll to the Beach, Las Olas & More!
Posted by Laurie Reader on Thursday, March 3, 2022 at 7:55 AM
By Laurie Reader / March 3, 2022
Comment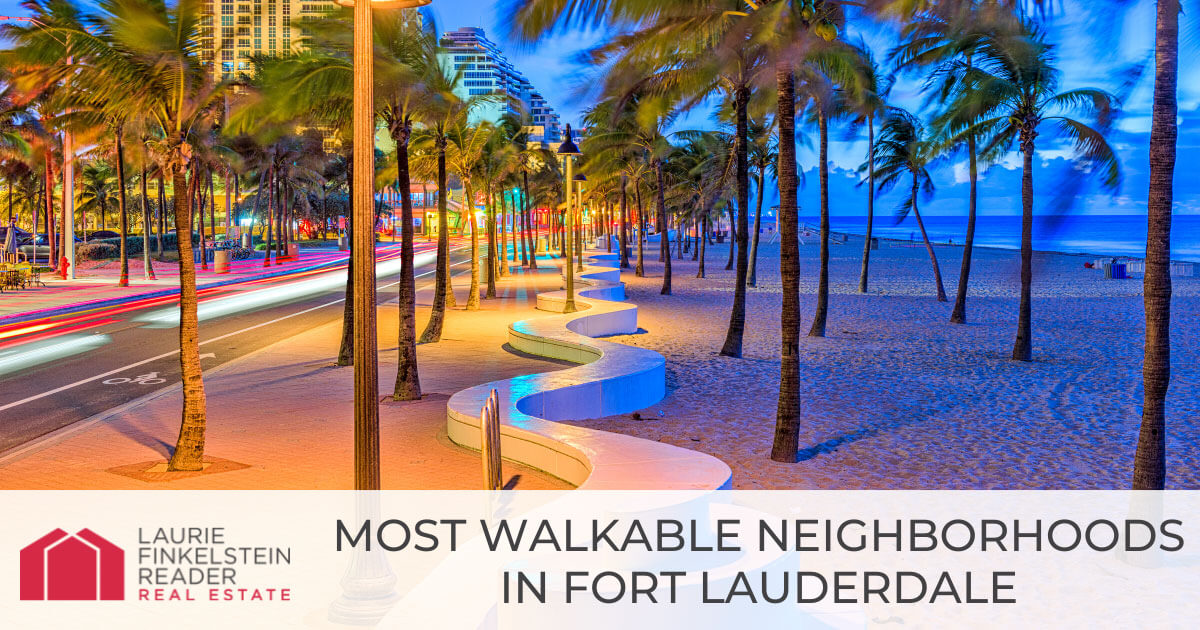 In recent years, more and more people are looking to spend less time driving and more time walking, making walkable neighborhoods highly desirable. Fortunately, Fort Lauderdale real estate developments are ahead of the trend. From luxury shopping areas to pristine beaches, some of the best neighborhoods in Fort Lauderdale feature excellent amenities in walkable areas. Prepare for some fresh air and a relaxing stroll; let's step to the most walkable neighborhoods in Fort Lauderdale.
Table of Contents
Las Olas
Las Olas Amenities
Homes for all budgets
Close to Fort Lauderdale Beach/Las Olas Beach
Dozens of walkable shops, restaurants, and other local spots
Fort Lauderdale Riverwalk
The Las Olas community is centered around the thriving, vibrant street from which it takes its name. Located in the heart of Fort Lauderdale, Las Olas Boulevard is lined with incredible shopping, dining, and more along its roughly two-and-a-half-mile length, stretching from Fort Lauderdale Beach Boulevard to Andrews Avenue. This provides plenty of excellent opportunities for residents to enjoy the area on foot, with nearly 60 restaurants (from high-end to diner fare) and more than 100 shops and boutiques. Homeowners and visitors alike can also be found strolling the gorgeous Fort Lauderdale Riverwalk along the New River, as well.
Due to the dense nature of the Las Olas area, the majority of homes are Fort Lauderdale high-rise condos. These units usually start in the $200s, typically including one bedroom and 600–1,000 square feet of living space. Larger or more amenity-rich buildings can sell from the $300s up to $1 million. Las Olas Grand condos are some of the most desirable real estate options in the neighborhood.
Those with a higher budget will be able to find larger multifamily units of two to three bedrooms, typically starting in the $600s, as well as a smaller number of luxury single-family homes and condos that can quickly sell for $1 million or more. Convenient walking access to Fort Lauderdale public transportation makes this neighborhood great for commuters.
Colee Hammock
Colee Hammock Amenities
Stylish low-rise condo communities
Numerous walkable shops and restaurants
Easy access to the beach
Colee Hammock Park
Kindred Hospital Fort Lauderdale
Along the famous Las Olas corridor, would-be Fort Lauderdale homeowners will find another extremely walkable neighborhood that takes advantage of many of the same benefits discussed above. This small, relatively low-rising community occupies the land south of East Broward Boulevard, bound by the Himmershee Canal, New River, and Las Olas Isles. It's an excellent location for people who prefer low-rise condos compared to high-rise condos. As with other parts of Las Olas Boulevard, Colee Hammock's portion is lined with shops and restaurants like local favorite Rocco's Tacos. Residents can also walk to several nearby parks, including the waterfront Colee Hammock Park.
Colee Hammock homes for sale are a relatively even mix of multifamily and condominium properties, townhouses, and high-end single-family homes. One to two-bedroom condos can typically be found starting in the $200s up to around $500,000. Larger condos, as well as single-family homes (including some on the waterfront), often start around $600,000 but more commonly sell for $1 million to $5 million.
Flagler Village
Flagler Village Amenities
A mix of hip, new spots, and authentic local favorites
Easy access to major local roads
Close to Holiday Park
Brightline Fort Lauderdale Station
Flagler Village is a truly walkable paradise. What was once primarily a warehouse district along Sunrise Boulevard and US Route 1 is now filled with restaurants, bars, art galleries, boutiques, and more. Residents can enjoy hip and exciting options like Glitch Bar, which combines old-school arcade games and nightlife, or chow down on authentic Cuban food at longtime local favorite 925 Nuevo's Cubano's.
Everyday shopping and other errands can also be taken care of within a short walk. Despite the location in the heart of urban Fort Lauderdale, Flagler Village is still walking distance from one of the city's top green spaces, at Holiday Park. This large park includes sports fields, a dog park, a rec center, picnic areas, and walking trails, among other amenities.
Real estate in Flagler Village is almost universally condominium-style multi-family buildings. Properties typically start as low as the $200,000 range for one-bedroom, one-bathroom units with less than 1,000 square feet. Available options are reasonably evenly spread across the price can range up to the $800,000 range, including three-bedroom units with nearly 2,000 square feet of living space.
Lake Ridge
Lake Ridge Amenities
Central downtown location with a quiet residential feel
Close to beaches/parks
Numerous local bars and restaurants
This neighborhood may look small, but it packs a ton of fun in for residents - especially those who like to get out on foot. Another downtown neighborhood that has seen recent development, Lake Ridge lies between Sunrise Boulevard and NE 13th Street, reaching the edge of the south fork of the Middle River. Much of the community itself is entirely residential, with shopping, dining, and other businesses primarily located along the major roads on the edges. This allows residents to walk to local favorites like Cafe Vico for some Italian food or grab a drink at Fort Lauderdale's oldest distillery, South Florida Distillers.
Everyday errands are also quick and easy with a neighborhood Publix supermarket and local banks and pharmacies. Multiple parks (including bayfront George English Park) and Fort Lauderdale Beach are also a mile or less away.
Lake Ridge real estate is a mix of condominium communities, townhouses, and single-family homes, ranging from modest to luxury. Condos usually start in the mid-$200s, with smaller units available up to the $400s. Older, smaller single-family homes tend to start in the mid-$400s, as do more prominent or more updated condos. However, those looking for luxury properties (some with waterfront views) will often find many options from the $800,000 range to close to $2 million.
Sailboat Bend
Sailboat Bend Amenities
Mix of classic homes and new multifamily communities
Fort Lauderdale's arts and culture center
Esplanade waterfront park
New River access
Sandwiched between the New River and West Broward Boulevard, Sailboat Bend is a dream neighborhood for lovers of arts and culture. It's home to the Broward Center for the Performing Arts, which hosts diverse musical acts and live theater, as well as the Revolution Live music venue. Museum fans will also enjoy the Museum of Discovery and Science and History Fort Lauderdale. These spots are centered around the neighborhood's eastern edge and Esplanade Park, a riverfront landscaped park and garden. Along with numerous restaurants, shops, and other local businesses, this area is less than a mile for even the westernmost Sailboat Bend residents.
Condominiums and other multifamily communities make up the majority of housing in Sailboat Bend. However, there are still a significant number of detached single-family homes for those shopping for a classic place. Most condos (and some smaller, older homes) often start around $300,000, with most in the $400,000–$700,000 range. On the high end, luxury condos or waterfront Sailboat Bend homes can sell for as much as $1-2 million.
Central Beach
Central Beach Amenities
Two miles of Atlantic Ocean beachfront
Numerous luxury hotels and resorts
Thriving nightlife and restaurant scene
Easy access to downtown
Those looking for all of the benefits of a walkable neighborhood with all of the beauty of oceanfront living may find their new dream home in Central Beach. With two miles of gorgeous Atlantic Ocean beaches, it's no wonder Central Beach is home to a significant number of large hotels and resorts, as well as all of the restaurant and nightlife amenities they provide.
Along with the beaches and water, residents can enjoy attractions like the historic 1920s-era property at the Bonnett House Museum and Gardens and the International Swimming Hall of Fame Museum. There's also a thriving dining scene along State Road A1A, including the local favorite Casablance Cafe, and there's always something going on in the exciting nightlife spots throughout the area.
Central Beach's dense development means housing is limited to multifamily buildings, often large high-rises. Prices can run the gamut from less than $200,000 for smaller, older units to as much as $3-8 million for high-end luxury options. This diversity in housing allows buyers of just about any budget to find a place in this desirable beachfront community.
Lauderdale-By-The-Sea
Lauderdale-By-The-Sea Amenities
2+ miles of Atlantic Ocean beaches
Popular near-shore reefs and diving
Thriving business and shopping district along Commercial Boulevard
Housing for all price ranges
Surrounded by the Atlantic Ocean and the Intracoastal Waterway, Lauderdale-by-the-Sea is a walkable waterfront community. It's a popular spot not only for its beautiful beaches but also its near-shore coral reefs, allowing residents and visitors alike to enjoy the underwater wonders. Those who like to fish can take advantage of South Florida's longest pier, Anglin's Fishing Pier. The area also boasts that residents can leave their cars at home, with dozens of shops, restaurants, and other businesses clustered along a bustling portion of Commercial Boulevard. These include waterfront seafood restaurant Blue Moon Fish Co. and a variety of other everyday necessities.
Homes in Lauderdale-By-The-Sea are split between mid-rise and high-rise condos and single-family homes, including some with direct access to canals or the Intracoastal Waterway. One-bedroom units can often be found for less than $200,000, while the bulk of sales typically ranges from $300,000 up to around a million dollars. As with many other waterfront communities, ultra-luxury homes and condos are also available in the low single-digit millions.
Lauderdale Beach
Lauderdale Beach Amenities
More than a half-mile of Atlantic Ocean beachfront
Multiple parks, including Loggerhead Park and Vista Park
Walkable shopping/restaurant district
Set between Lauderdale-By-The-Sea to the north and Central Beach to the south, Lauderdale Beach is a small but popular neighborhood with plenty of walkable amenities. Stretching over more than a half-mile of oceanfront, residents are just steps not only from the Atlantic but also from a thriving area of restaurants and shops bounded by Oakland Park Boulevard and Ocean Boulevard. These range from the casual, down-home Smoke BBQ to the cozy, refined Italian of La Dolce Vita. Additionally, beachfront relaxing is easy with numerous parks along the Atlantic, each with varying amenities for residents to enjoy.
Lauderdale Beach housing consists almost entirely of mid-and high-rise condos, though single-family homes can be found just outside the community proper. Like many similar Fort Lauderdale neighborhoods, prices vary widely depending on the size, age, and amenities provided, with the bulk most often between $300,000 and $1.2 million. However, for those looking for luxury, there's a smaller but significant number of high-end units that sell in the low to mid-single-digit millions.
Stroll Through Fort Lauderdale's Most Walkable Communities
Whether would-be homeowners are craving life on the beach, looking to take part in hip downtown areas, or are factoring in how commutes will affect their home purchase, Fort Lauderdale has no shortage of diverse, attractive, comfortable neighborhoods. These neighborhoods offer shorter commute times, nearby roads, and public transportation so residents can take a break from driving in Fort Lauderdale, allowing them to accomplish their daily life and weekend fun within a short stroll. Better break out those walking shoes - a new home in one of Fort Lauderdale's best walkable communities is waiting for you.