5 Most Walkable Miami Neighborhoods: Find Walkability in Wynwood, Brickell & More
Posted by Laurie Reader on Monday, October 17, 2022 at 11:34 AM
By Laurie Reader / October 17, 2022
Comment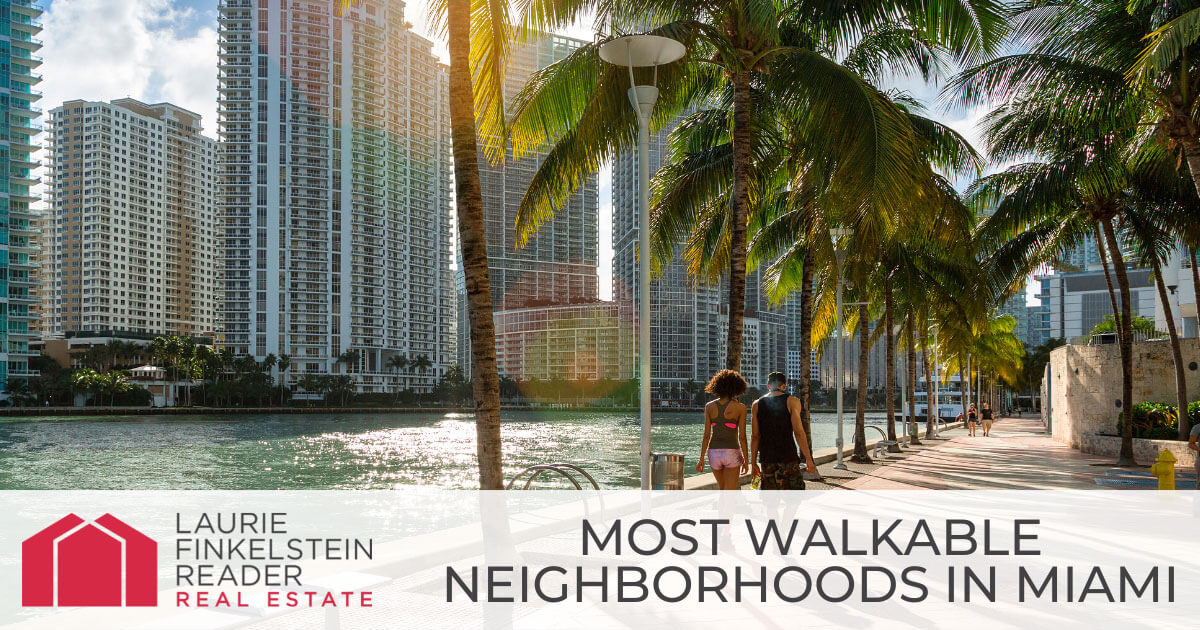 There are few cities in the world like Miami, Florida. Miami provides a unique combination of gorgeous tropical weather and scenery, a booming economy, and a culture all its own. But beyond all this, it offers some incredible communities to enjoy on foot.
The city of Miami is full of walkable neighborhoods that allow residents to leave their cars at home to get some exercise and interact with their community. From housing to employment to nights out on the town, Miami's walkable neighborhoods put so much at residents' fingertips. Let's take a stroll through some of these top communities.
Brickell
Just south of downtown Miami lies the Brickell neighborhood, another walkable paradise along the shores of the Miami South Channel. Once considered the financial district, Brickell has dramatically transformed in recent years, with countless new restaurants, bars, and shopping options and becoming one of the best neighborhoods in Miami.
Between soaring skyscrapers, residents can take care of everyday errands and enjoy dinner or a night out, all on foot. One of the most notable spots to do all of these is the Brickell City Centre, which offers more than 100,000 square feet of luxury. There's even a tiny slice of nature walkable from this community at Simpson Park. This nearly eight-acre spot preserves one of the city's final areas of old-growth tropical trees.
Like its neighbor to the north, Brickell housing comprises condos and other multifamily buildings. Some of the best include Le Parc at Brickell condos, which has one-bedrooms in the $400,000s and two-bedrooms near $600,000; the Emerald at Brickell condos, which has one- and two-bedrooms from the $400,000s and $700,000s, respectively; and Brickell Bay Club condos, which primarily offers two-bedrooms in the $600,000 to $900,000 range.
Brickell Amenities
Access to Metrorail/Metromover stations
Brickell City Centre
Simpson Park
Miami Circle National Historic Landmark
Downtown Miami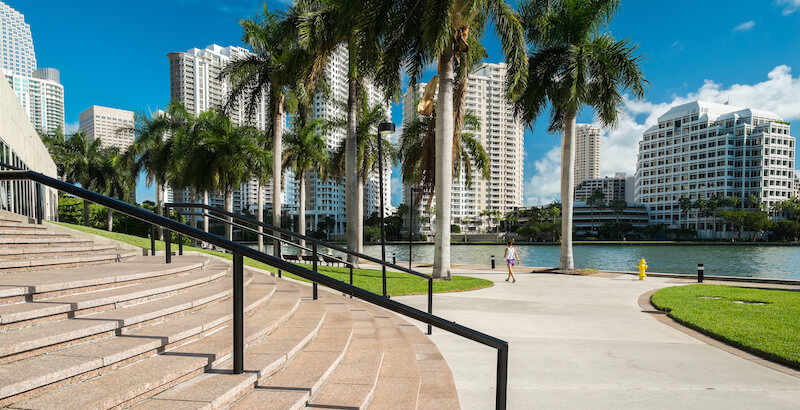 It should be no surprise that one of Miami's densest neighborhoods is also one of its most walkable. Downtown Miami is typically defined as the area north of the Miami River that lies along Biscayne Bay. It's notable for its skyscrapers and as one of the city's major employment centers, which often feature an international flair due to the regional connections to the Caribbean and South America.
But business is just one part of this bustling neighborhood, which also includes museums, hotels, and local and national retail, like Bayside Marketplace. Residents can relax with waterfront views and community events at Bayfront Park or catch a game or show at FTX Arena. Plus, downtown homeowners can easily access the rest of the city without a car from one of the numerous Metrorail and Metromover stations.
Downtown Miami's highly developed nature means the housing stock consists of multifamily buildings like condos. On the low end, these start in the mid-$200,000s for the smallest or oldest properties. However, most downtown Miami homes for sale list in the $400,000 to $1 million range, though luxury properties around $5 million are also commonly available.
Downtown Miami Amenities
Close to many major employers and top companies in Miami
Access to Metrorail/Metromover stations
FTX Arena
Bayfront Park
Ferré Park
Wynwood
Art lovers will find their walks through Wynwood more than just easy—they're also some of the most visually stimulating in all of Miami! Bordered by Interstate 95 to the west and 195 to the north, Wynwood offers would-be buyers a hip community that puts work, play, and everything in between just a short walk from home.
Wynwood's most famous attraction may be The Wynwood Walls, an outdoor installation of massive murals from artists from around the globe. This is just one of a half-dozen or more art galleries and installations within a short walk of one another, clustered near Wynwood's southern end. Wynwood is also home to numerous breweries and bars, including the popular Veza Sur Brewing Co.
Homes for sale in Wynwood consist of mid- and high-rise condominiums, though a small number of single-family detached homes remain. Condos typically start in the mid-$400,000s for studio or one-bedroom units, while the most luxurious upper-level units and penthouses with three to four bedrooms can reach $2 million or more. Single-family homes generally sell for close to $1.5 million.
Wynwood Amenities
Wynwood Walls and extensive other public art
Diverse brewery/bar scene
The Shops At Midtown Miami
Roberto Clemente Park
Coconut Grove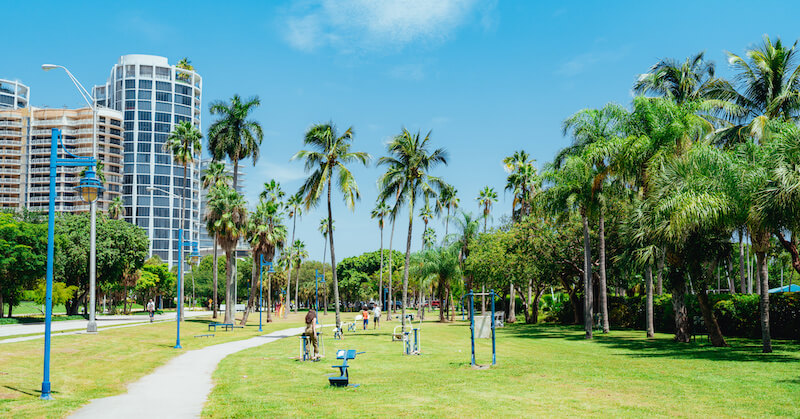 Coconut Grove is a highly walkable south Miami neighborhood that's as idyllic as its name sounds. Nestled along the shores of Biscayne Bay, it's bordered by US Route 1/Dixie Highway and Southwest 42nd Street.
Coconut Grove is one of the oldest continually active communities in Miami and one of the greenest, with lush natural and artificial landscapes. These are on full display at two notable Coconut Grove attractions, Vizcaya Museum and Gardens and The Kampong National Tropical Botanical Garden. Residents can also stroll through the charming shopping and dining district along Grand Avenue and Main Highway, checking out longtime local favorites like Greenstreet Cafe and Sandbar Sports Grill. Nearby, they can enjoy beautiful south Florida evenings in several waterfront parks, including the Dinner Key area.
Homes for sale in Coconut Grove are a relatively diverse mix of single-family detached houses, townhomes, and condos or other multifamily buildings. Condos are the most affordable, starting in the high $300s but available for as much as $2 million. Detached homes and townhouses start in the $600s but more commonly sell for $1–$3 million.
Coconut Grove Amenities
CocoWalk Mall
Dinner Key Marina
The Kampong National Tropical Botanical Garden
The Barnacle Historic State Park
Vizcaya Museum and Gardens
HCA Florida Mercy Hospital
Ransom Everglades High School
Miami Design District
Just north of Wynwood on the other side of Interstate 195 is the Miami Design District, a community with a name that conveys the flash and glamor of this high-end area. Most of the community's shopping, dining, and attractions are at its southeastern tip, near NE 2nd Avenue and NE 38th Street.
Residents can browse luxury shops like Chanel, Louis Vuitton, Fendi, Dior, and many more, among lesser-known but equally skilled and innovative local designers and clothing makers. It's the kind of shopping that draws visitors from around the world, all available in a few square blocks. The area is also home to several art galleries and cultural museums, from the Institute of Contemporary Art to the Haitian Heritage Museum.
While there are few properties within the immediate Design District, the area to the north and west offers numerous options, including condos and single-family homes. Most properties start north of a half million dollars, with the bulk selling from $700,000 and up. Homes at the top end of the market can reach $1.25 million or more.
Miami Design District Amenities
Extensive luxury shopping
Institute of Contemporary Art, Miami
Haitian Heritage Museum
Diverse culinary options
Walkable Miami Is Waiting For Homebuyers
There's no better way to explore Miami's gorgeous south Florida scenery and culture than on foot. Luckily for would-be homeowners, plenty of neighborhoods allow them to do just that. From the bustling streets of downtown to the beaches of Surfside to the leafy lanes of Coconut Grove, there's something for nearly every future resident moving to Miami, FL.