Jobs in Plantation Florida: 2023 Work Opportunities & Economic Guide
Posted by Laurie Reader on Friday, December 2, 2022 at 9:34 AM
By Laurie Reader / December 2, 2022
Comment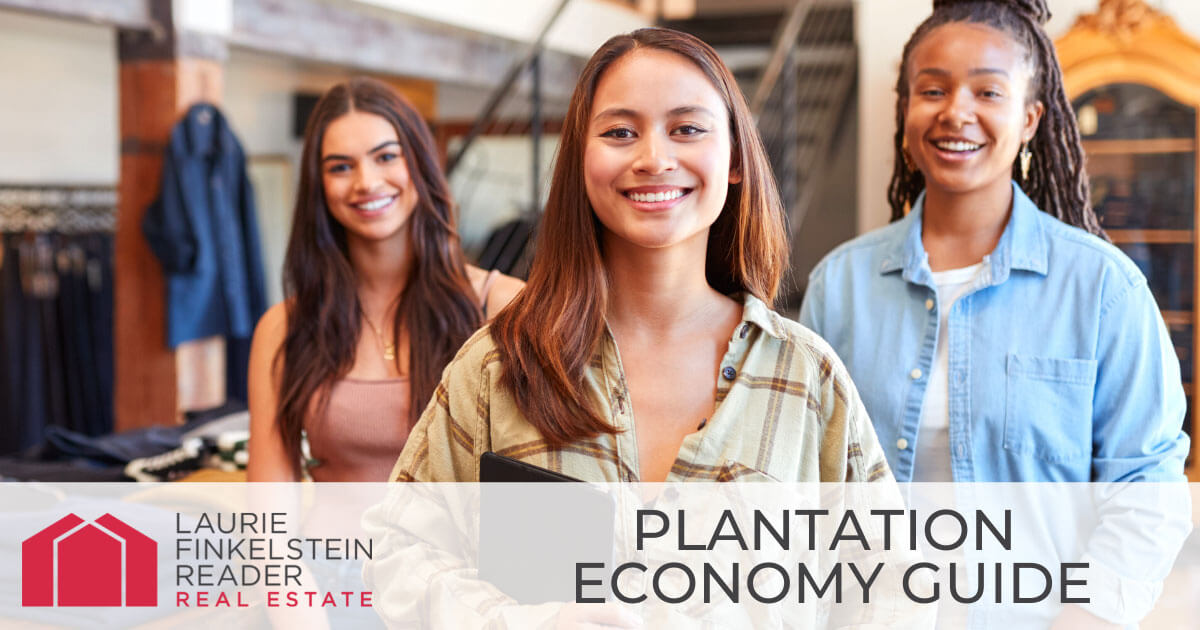 When driving around the city of Plantation, Florida, it's sometimes hard to believe that it's part of the South Florida Metro area. Despite being in an urban place just west of the Fort Lauderdale community, it's not unusual to see new construction homes with some horses or a milk cow on the property. Parts of Plantation feel rural, even though the medical, technology, and scientific research sectors are some of the city's biggest employers.
Overall, Plantation has a stable economy with excellent job growth projections over the next few years. Read on for a general overview of the economy in Plantation, Florida.
Plantation's Top Employers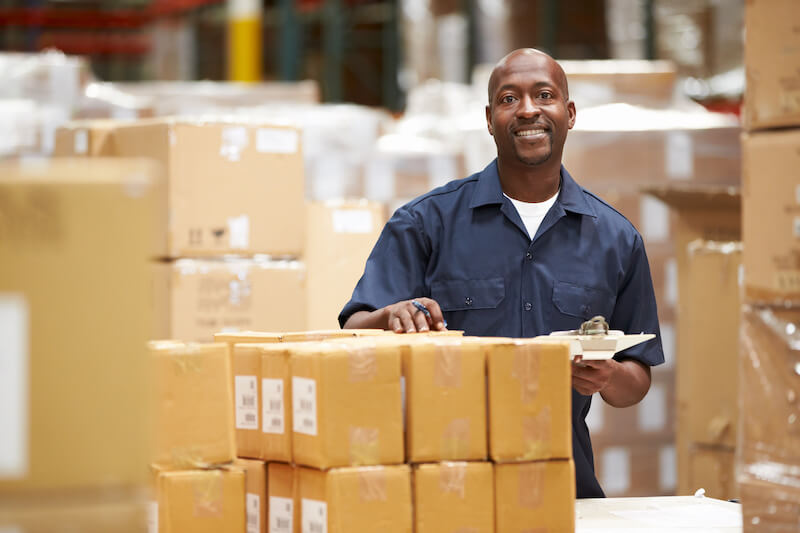 Plantation has approximately 5,400 businesses within its city limits. This number includes large companies with thousands of employees to smaller businesses like unique, locally owned retail shops and restaurants. The business and financial district in the city's center is known as "Midtown Plantation," and it encompasses about 850 planned community acres.
Some of the largest companies operating in Plantation include:
DPWN Holdings: Plantation and Fort Lauderdale's proximity to the Atlantic Ocean makes these cities prime locations for a shipping company. DPWN is actually the largest company in all of Florida, and it's headquartered in Plantation. It also offers mail and logistics services.
PRC: PRC is a technology company and the second-largest company headquartered in Plantation. It has approximately 5,000 employees and provides various teleservices and contact management software.
Westside Regional Medical Center: This hospital and healthcare complex employs 3,000 people in Plantation. The hospital has 224 beds, and Westside is considered one of the best companies in Plantation to work at.
Dreams Retail: This tech company was founded in San Francisco but is now headquartered in Plantation. It's a mid-sized company with 750 employees, providing virtual reality workspaces for those in remote locations.
Canyon Furniture Company: Canyon Furniture employs 700 people in Plantation and manufactures high-quality bedroom furniture.
Plantation offers its residents plenty of different career options, and there are even more available to those who don't mind commuting to other nearby communities like Davie, Sunrise, and Fort Lauderdale.
Additional Large Companies in Plantation
Aetna
Broward County
City of Plantation
Magic Leap
Plantation General Hospital
Quest Workspaces
Plantation Economy Facts & Figures
Florida's tax rates make it a desirable place to live, work, or do business. There is no state income tax, and the sales tax in Plantation is 6%.
Year-over-year job growth in the city was 1.9 percent. The job market in Plantation is projected to expand by 38.9 percent over the next 10 years (three points above the national average).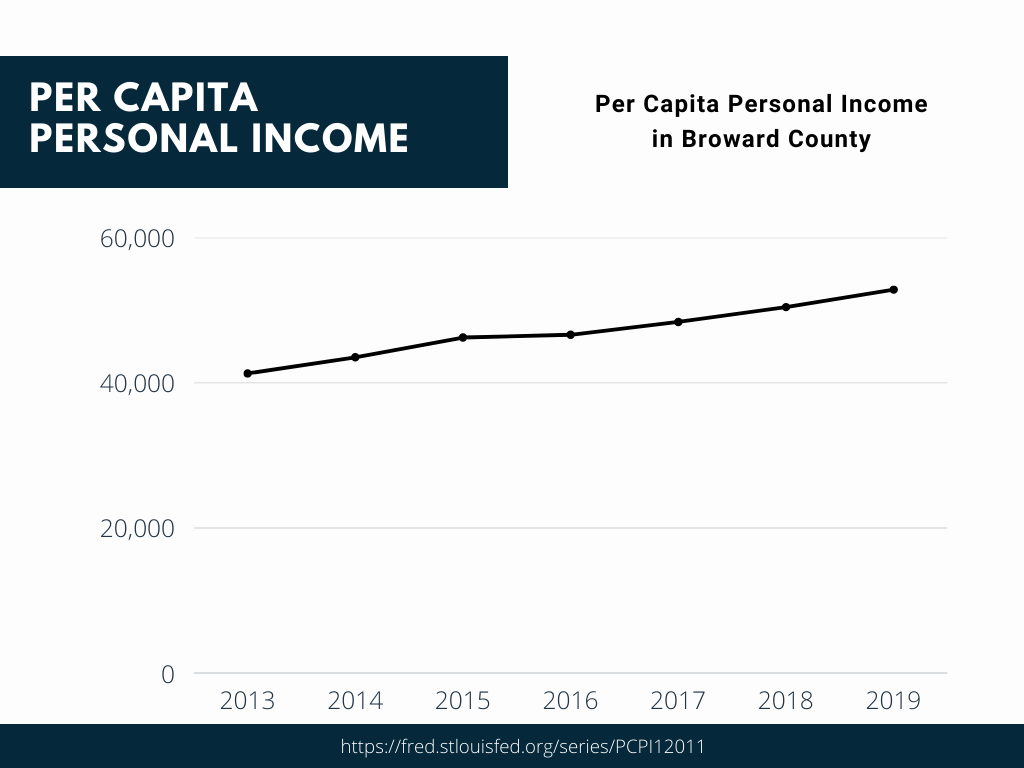 Median household income in Plantation grew by an impressive 4.4% between 2018 and 2019, to approximately $75,000. The current median household income is just under $79,000, about $8,000 above the national average.
Here are the top job types in Plantation, according to the US Census Bureau, and the median salary for each position:
Law enforcement, including supervisors: approximately $93,000
Architecture and engineering: about $82,500
Life science, physical science, and social science: estimated $79,000
Computer, engineering, and science: approximately $74,000
Health diagnosing and practitioners: around $71,500
The current median property value in Plantation is around $485,000. Data USA estimates that the average work commute time for people living here is about 24 minutes. About 64% of the city's population are homeowners, with the other 36% renting.
Property taxes in Plantation are a bit higher than the national average. Most households pay approximately $3,000 annually, primarily offset by the state charging no income tax.
The unemployment rate in Plantation is well below the national average at 4.3 percent.
Plantation Industries
Plantation has a workforce of approximately 50,000 people spread across all its industries. Sales and related occupations account for around 7,000 of those employees. Management occupations accounted for about 6,700 jobs in 2019, and another 6,400 worked in office and administrative support.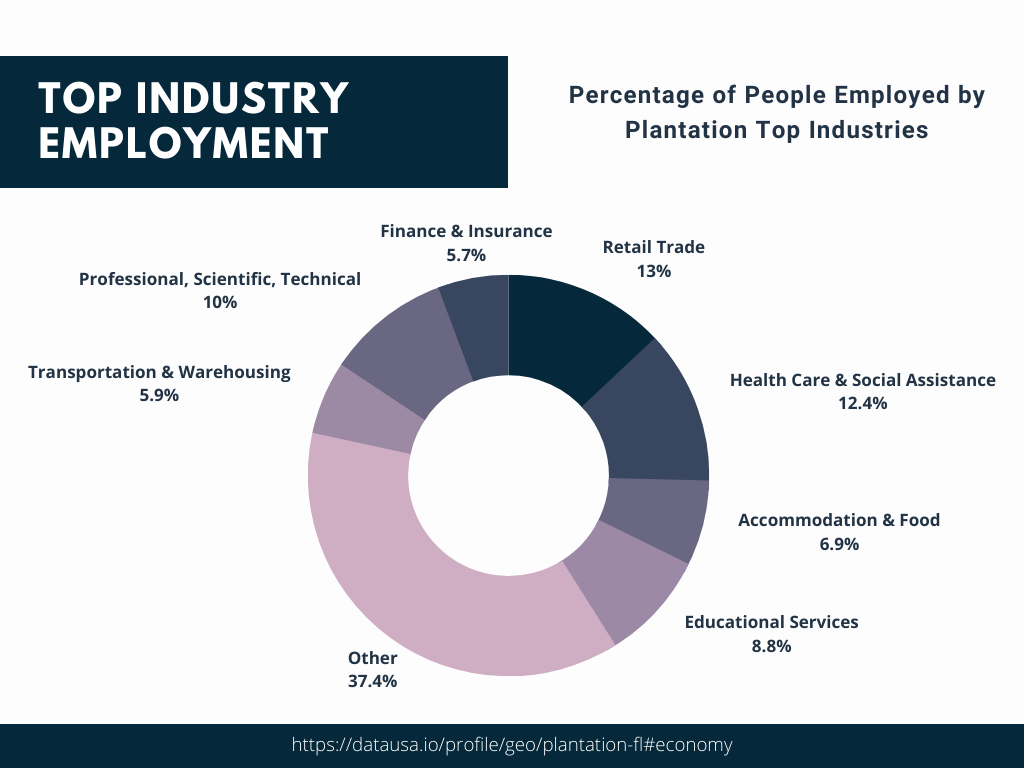 The city has a particularly thriving legal sector. While around 1,200 people in legal professions work in Plantation, that is a rate that is 2.1 times higher (more employees) than in comparably sized cities in the US.
Here is a breakdown of just a few of the job industries in Plantation, based on the percentage of the workforce employed in each sector:
Retail trade: 13%
Healthcare and social services: 12.4%
Professional, scientific, and tech services: 9.98%
Educational services: 8.78%
Finance and insurance: 5%
Tourism is one industry that hasn't been mentioned here yet. The cruise line Virgin Voyages is headquartered in Plantation and plans to add hundreds of new jobs in the coming years. The company currently operates two ships carrying up to 2,700 passengers each (and crew). Two additional ships of the same size will begin sailing in 2023.
Broward County enjoyed record-high tourist visits in the first quarter of 2022. The hotels and hospitality industry is near full employment, with additional jobs expected to be added in the coming years as the Plantation area grows in popularity with visitors.
Top Industries in Plantation
Retail Trade
Health Care and Social Assistance
Professional, Scientific, & Technical Services
Educational Services
Accommodation & Food Services
Transportation & Warehousing
Finance & Insurance
Live, Work, and Play in Plantation
Plantation is a wonderful city to live and work in, and the job outlook as Florida's economy grows is looking very bright. The insurance and healthcare sectors remain incredibly strong, with tourism and retail expected to grow over the next 10 years. Median incomes and property values should also see nice increases. These factors make the city a highly desirable place to move to in the coming years.