Pool Must Haves: Make Your Backyard More Fun With These Pool Accessories
Posted by Laurie Reader on Thursday, July 7, 2022 at 3:40 PM
By Laurie Reader / July 7, 2022
Comment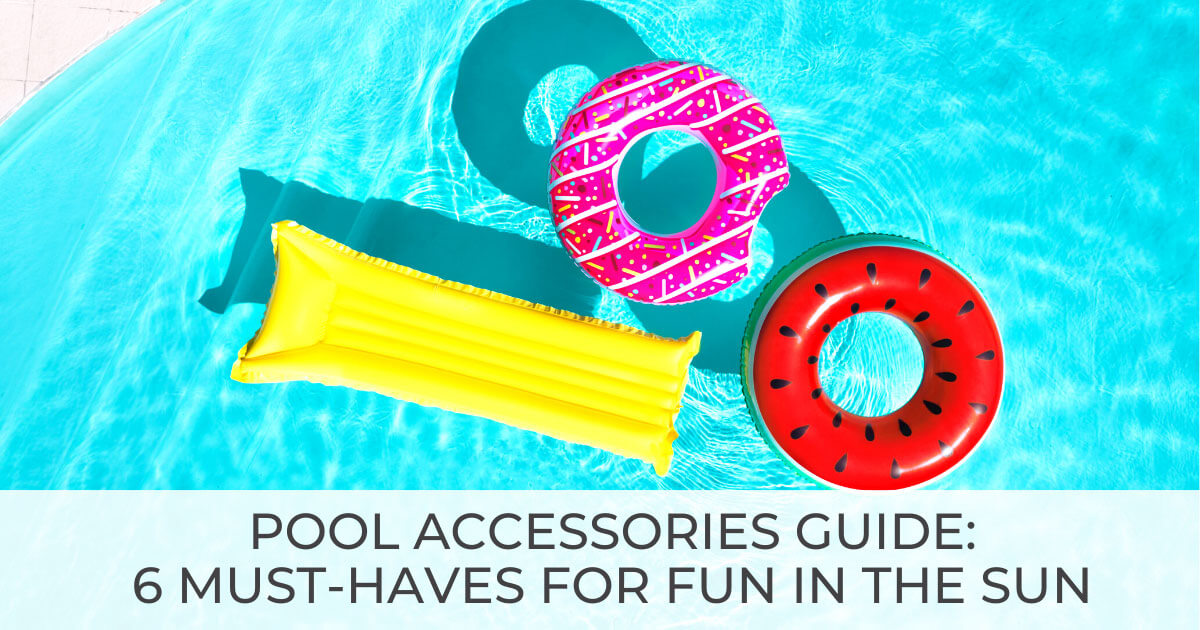 Buying a home with a pool offers homeowners years of fun, providing the ability to enjoy frequent moments of relaxation and healthy exercise, guests to entertain, and excellent staycation time, all right from the comfort and privacy of their homes.
For a pool to function well over the long term, it requires a commitment to maintenance. Buying specific tools and additions will increase the fun factor and can help to maximize the enjoyment of an outdoor oasis for years to come, perhaps even increasing the pool's value. If you own a pool, keep reading to learn about the five must-have swimming pool accessories.
Pool Vacuum
Owning a pool vacuum is a must for homeowners to help remove any muck and to clean the pool's bottom and sides—vacuums handle all the tough cleaning, along with spot cleaning. Even better is that homeowners have choices when it comes to the level of work involved, since modern technology offers options for both manual and robotic pool vacuums.
Manual vacuums are designed to reach all the tough places. Owners will need to purchase vacuum heads, hoses, and a pole. However, if they buy a skimmer, they'll find it typically serves a dual purpose since this tool also usually fits standard pool vacuums. Robotic pool vacuums aren't a necessity, but they are a cool feature that makes pool maintenance more manageable. These gadgets work independently at times of day when the pool isn't being used, offering homeowners the ability to enjoy a ready-to-swim pool at any given time.
Floating Entertainment
Owning a pool is enjoyable enough in itself, but most people like to boost the fun with floating entertainment and other pool accessories. Owners often invest in products like noodles and rafts to float on, inflatable pool chairs, floating drink holders, and inflatable ring toss games.
Today's manufacturers offer a variety of new, exciting, and even unusual options people can buy to heighten the pool experience. To add a more "beachy" atmosphere, purchasing a good portable floating Bluetooth speaker allows people to stream their favorite playlists when hanging out by the pool.
Volleyball or Basketball Accessories
A pool isn't complete without a volleyball net or a basketball hoop to keep the fun going year-round! A basketball hoop set is a pool must-have for any pool owner looking to add some fun and excitement to their routine. A volleyball net is also a great addition, providing hours of fun and entertainment for residents and guests.
When choosing the right basketball hoop set or volleyball net for your pool, remember a few things. First, consider the size of your pool. You'll want to ensure that the hoop set or net you choose is appropriate for the size of your pool. Second, think about the type of pool you have. In-ground pools will require a different hoop set or net than above-ground pools. Finally, consider your budget. There are a variety of basketball hoop sets and volleyball nets available at various price points, so sticking to your budget is possible.
A pool basketball or volleyball is different from one used on land. These must be made to withstand being constantly submerged in water and then taken out so they can dry off. There are many manufacturers of this type of equipment, so owners should research before purchasing.
Skimmer
A pool skimmer is an essential tool that allows pool owners to easily scoop up leaves, twigs, insects, and other undesirable items found floating around in the pool. Outfitted with a long pole and a flat net, skimmers make it much easier for people to easily clean out pool surface debris since they are designed to access all the hard-to-reach places.
Owners typically use their skimmers daily during pool season to pick up any debris that is regularly blown in, since this typically can't be prevented with outdoor pools. It's also a handy tool to reach pool toys and other accessories that accidentally float out of reach.
Pool Cover
An important essential all pool owners need is a good cover, and people often find they need a couple of different types to adequately protect their pools. Different pool covers serve different purposes, including to help keep the pool clean or to warm it up. Even enclosed pools commonly end up with floating debris, and a good cover can help prevent this from occurring.
Winter covers are utilized in the off-season to protect the pool and provide a safety mechanism to help keep accidents from occurring. Leaf covers are another style of cover that goes atop a winter pool cover. Once warmer weather arrives, it is removed along with all the debris, making it less of a mess to clear when it comes time to open the pool.
Alternate options include a solar blanket or a security cover, both of which are custom-fitted to cover a pool. Solar blankets raise a pool's temperature by leveraging the sun; most pools heat up by approximately 15 degrees, potentially lengthening the pool season. A security cover is a professionally installed cover that keeps debris out and is strong enough to safeguard people and animals from falling into the pool.
Outdoor Lighting
Lights are one of the most versatile and fun design aspects of a pool. Installing LED lighting around the pool area creates a safer swimming environment after the sun sets while simultaneously adding to the ambiance of the pool area. Homeowners will find plenty of options for outdoor lighting to suit personal tastes and specific environmental factors.
LED lights are easy to install, low-energy, long-lasting, and come in numerous varieties. Owners can invest in basic white or soft white, or opt for color-changing LED lights—the latter are highly popular and add a great festive feel to a pool. Another benefit is that these lights can be moved when needed if they're the magnetic variety designed for use with pools.
Homeowners who don't find LED lighting appealing can still choose to install traditional halogen-based lighting, which is a more permanent source of lighting. These can be mounted to walls of pools, but it does involve cutting into the pool's walls.
Owning a Pool Can Bring Years of Happiness
Many home seekers actively search for homes that have pools already installed or seek to add a pool to the property. For people who love the outdoors, the pool/beach environment, or simply love to swim, there is nothing like enjoying the use of one's own pool. Adding features, accessories, and items for play only enhances the experience, and can even make pool care and maintenance a lot easier, regardless of if it's an in-ground or above-ground pool.