How to Effectively Stage Your Home to Get Top Dollar on the Sale
Posted by Laurie Reader on Wednesday, July 13, 2022 at 7:06 AM
By Laurie Reader / July 13, 2022
Comment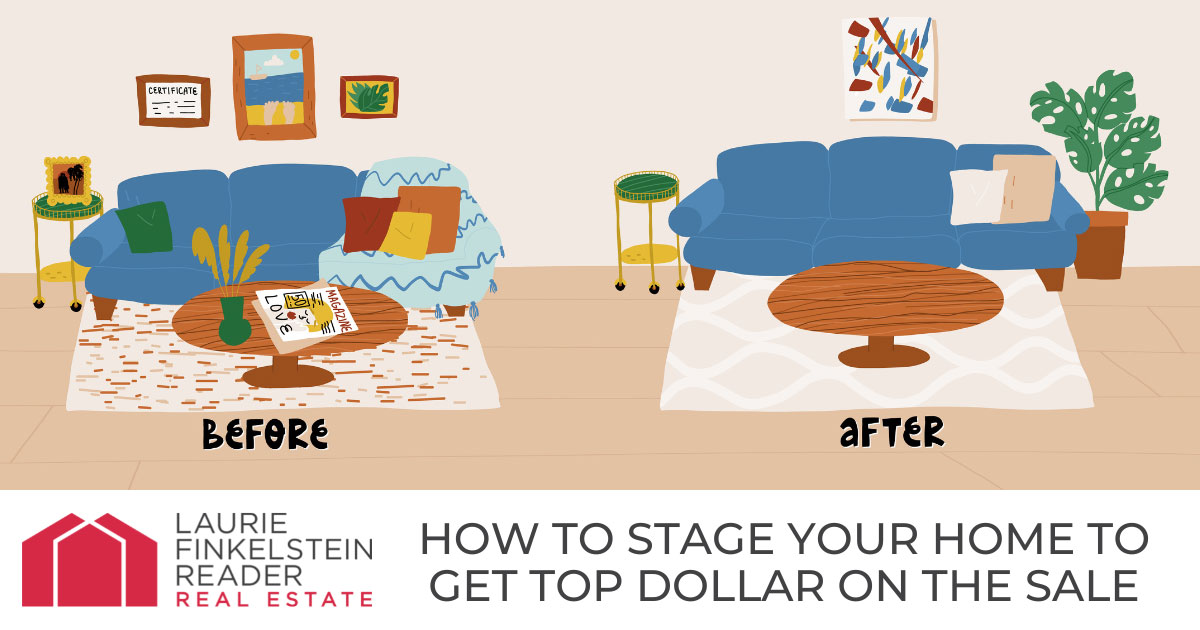 Selling a home can be time-consuming and stressful while simultaneously being an exciting transition. However, those who want to sell quickly and still get top dollar for the property will want to consider the benefits of home staging.
Why? Because according to data from the Real Estate Staging Association (RESA), 75% of sellers of staged homes saw an ROI of 5% to 15% over asking price. Want to take advantage of this opportunity? Make your home the star of the show and increase resale value with these home staging tips.
Anxious about the home-selling process? Take advantage of our SELL NOW, MOVE LATER program to get into your next dream home without the stress!
Use Polished Curb Appeal to Welcome Home Buyers
They say that first impressions are everything, and this sentiment rings true when persuading a home shopper to take a deeper look at a property. Do the home (and yourself) a favor by taking time to boost the home's curb appeal. Some simple ways to spruce up areas buyers will see first include:
Mowing and edging the grass
Trim overgrown hedges and trees
Add colored plants in beds or pots near the front door
Highlight pool features with lighting and staging
Wash the windows
Pressure wash siding and driveways
Polish door knobs
Install a new mailbox
Emphasize Staging in 'Big Ticket Rooms'
The kitchen and bathrooms are two primary areas that can make or break the deal with potential buyers. As frequently used and sometimes private spaces, these rooms tend to get cluttered and overly personalized. Allow buyers to see the baths and kitchen in their best light with clever staging, which starts with clearing away any unnecessary items and making a few key additions.
Bathroom Staging Tips
Those extra bottles of hair products and soap in the bathroom can distract buyers from seeing the key features in a room, so tuck those away. Add a few decorative soaps, scented candles, fresh linens, and a new shower curtain to give the bathroom a "like new" feel.
Kitchen Staging Tips
Remove any small appliances and cookware not in use. Add a flower arrangement and a few curated accent adornments. Kitchen additions that whet buyers' appetites include a bowl of fresh fruit or a platter of cookies. Freshly-baked cookies spread a gloriously inviting smell, and this tactic is a trick of the trade of real estate agents during showings.
Light Up the Interiors
According to the National Association of Realtors 2021 Profile of Home Staging, 82% of agents claimed that staging helped buyers "visualize" themselves living in the home. Why not light it up to help them see that vision more clearly?
Take advantage of natural light by allowing the sun to radiate through drawn-back curtains or blinds. Use artificial lighting to trick the eye by installing higher wattage bulbs that visually seem to expand square footage. Consider under-cabinet lighting to showcase attractive fixtures, countertops, and custom home features.
Use Neutral Colors in Your Home Decor
Those who have an eclectic or an abundantly colorful style in their home's decor and design scheme might want to tone things down before showing the home. Realistically, the odds are slim that potential buyers will have the same taste as the seller. Staging your home with these tips will help you effectively show your home while still living in it.
Therefore, going with a neutral concept in home staging gives home shoppers a "blank slate" to start with after moving in. Transition bold areas by using paint and fabrics of whites, tans, grays, or soft blues to establish a warm, neutral space in each room.
Do Less Selling Prep, Get More Money Back!
Home sellers pay an average of $1710 for home staging, but staged homes spend between 30% to 50% less time on the market. Use these tips to sell faster and get more return on investment.
Sell
Now,


Move

Later,
with
Laurie Finkelstein Reader
Selling your home? The SELL NOW, MOVE LATER program eliminates the stress of selling and buying, maximizes the chance of getting a great price for your home, and gives you more time to move.
Click to Sell Now!