Pool Checklist: 5 Things to Consider Before Building a Pool
Posted by Laurie Reader on Friday, July 8, 2022 at 7:29 AM
By Laurie Reader / July 8, 2022
Comment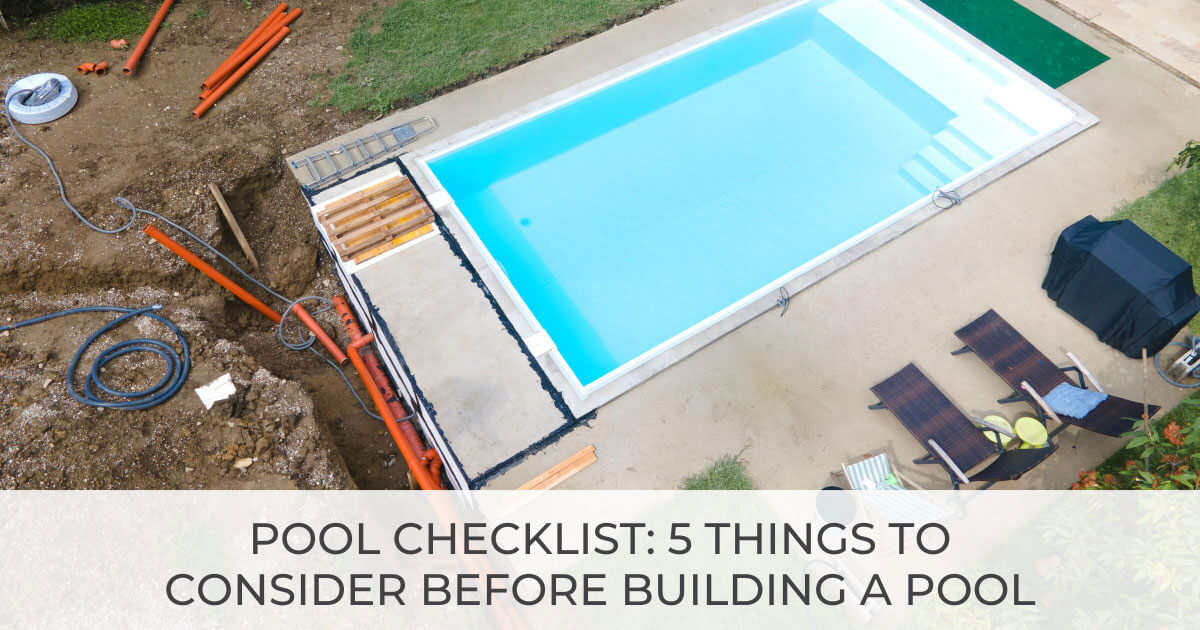 The thought of spending relaxing summer days lounging by the water and soaking up the sun with friends inspires people is one of the most appealing factors of homes with swimming pools. Before getting started people may be wondering how much value a pool brings to homes. Pools can add home value in the long term and offer abundant enjoyment in the short term. To ensure the best returns on a backyard pool, it's important to understand every step of the process. Dreamy days by the pool await; keep reading to learn everything you need to consider before building a pool.
Know Permit Requirements and Your Yard
Local communities often establish rules regarding the placement of pools. A property owner will almost always need a permit to install a pool in their backyard. This may require that only a licensed professional install it. Other cities require the use of an inspection of the property to determine placement.
There are setback requirements for pools, and these can vary depending on your municipality. A building line is a minimum distance that a structure can be built from the property line. In some cases, it may not be possible to build a pool within the setback requirements, and variance may need to be obtained. This is something that should be discussed with a professional pool builder or your municipality prior to starting the pool building process.
Many communities place limits on where the pool may be, such as how many feet it must be from the property line or away from the home. Others require a fence to be placed around the pool to help minimize the risk of a child in the neighborhood wandering into the pool area and falling in. For example, the Florida Residential Swimming Pool Safety Act requires all homeowners with a pool to surround it with a fence. Turn to the local city building department or city hall to learn more about these requirements.
Also, note that if the property is in a homeowner's association community, the HOA may also have rules about pool placement and even if one is allowable. Checking the bylaws for the HOA is one way to determine these rules.
Determine Your Budget
A quick look at all of the fabulous pool options is sure to create a lot of inspiration. Put a budget in place before getting carried away with the design or the layout of the pool or just how much of the backyard it will take up. It can be easy to overspend or not to plan for all of the expenses related to the project.
Consider that the budget must include the excavation and installation work, the purchase of all components, and any additional fixtures such as lighting, landscaping, and water features. It may also need to consider the purchase of pool components, chemicals, and filters, too.
For those unsure about what to expect, it is a good idea to set up an estimate with a local pool contractor or a few people. This can provide more insight into the expected costs and the overall number of options available.
Decide What Kind of Pool You Want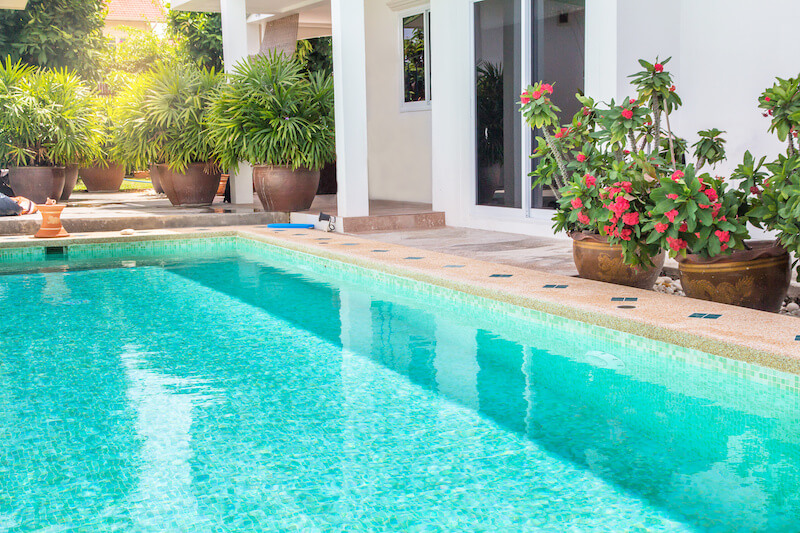 The next step is to think about the type of pool desired. Many people start by comparing above-ground pools vs in-ground pools. Either option can be beneficial, depending on goals and needs—above-ground cost less to install with lower overall costs associated with the installation. In-ground pools may last longer and are more likely to increase the home's property value. Consider any local codes about either type of pool as well.
Another key is to consider the shape and features of the pool. Some pools are simply ground or rectangular. However, gunite pools are slightly different as they can be created with rounded shapes and even custom designs, allowing for more flexibility. It can also be a good idea to consider added features like a waterfall or grotto. Some property owners may wish to think about things like built-in steps and seating or the addition of a spa or hot tub in a portion of the pool.
Consider the Maintenance Requirements
The choice of a pool must also take into account the overall maintenance requirements of it. All pools need proper maintenance, which includes balancing the water's pH, keeping filters clean, and ensuring there are no areas of damage. Some pools need more care than others. For example, a pool with many water features or a spa may need special cleaning methods to help reduce the buildup of bacteria and mold.
It is possible for property owners to do the work themselves after learning how. A secondary option is to hire a professional pool company to come to the home to handle the work instead. This may be beneficial for those who do not want or cannot invest the time in maintaining the pool. It can also help extend the pool's life as it ensures a professional is always keeping a close eye on it.
Research Pool-Building Contractors & Evaluate Carefully
Prior to hiring anyone to do the work, homeowners need to invest wisely in research of all contractors they consider. It is essential to know what these professionals can offer and the type of workmanship they provide. Most pools are long-term investments and impact the value of the home. Finding the right pool builder is a must.
There are numerous ways to gather research on a professional. That includes checking their portfolio of work completed. It may be possible to ask to see a pool contractor's finished work at a nearby home. If not, ask to see numerous photos of pools specific to the one planned.
It is also essential to ensure the company is fully insured, bonded, and licensed to do the work. Ask to see documentation of this. It's also possible to call the city to request a list of available contractors with licenses. Contractors may also provide some information about warranties for their workmanship that may help to minimize some risk involved in the process.
Follow These Steps to Build Your Dream Pool
Homeowners have a lot to think about when adding a pool to their home, but the enjoyment of having a private pool can make it all worth it. With careful consideration and a bit of planning, it is possible to have a beautiful pool installed that will provide years of enjoyment. Doing that extra research now and comparing numerous options may take a bit of time, but it pays off in a pool that is best suited for the homeowner's needs.