Best Jobs in West Palm Beach: 2023 Work Opportunities & Economic Guide
Posted by Laurie Reader on Thursday, December 29, 2022 at 12:05 PM
By Laurie Reader / December 29, 2022
Comment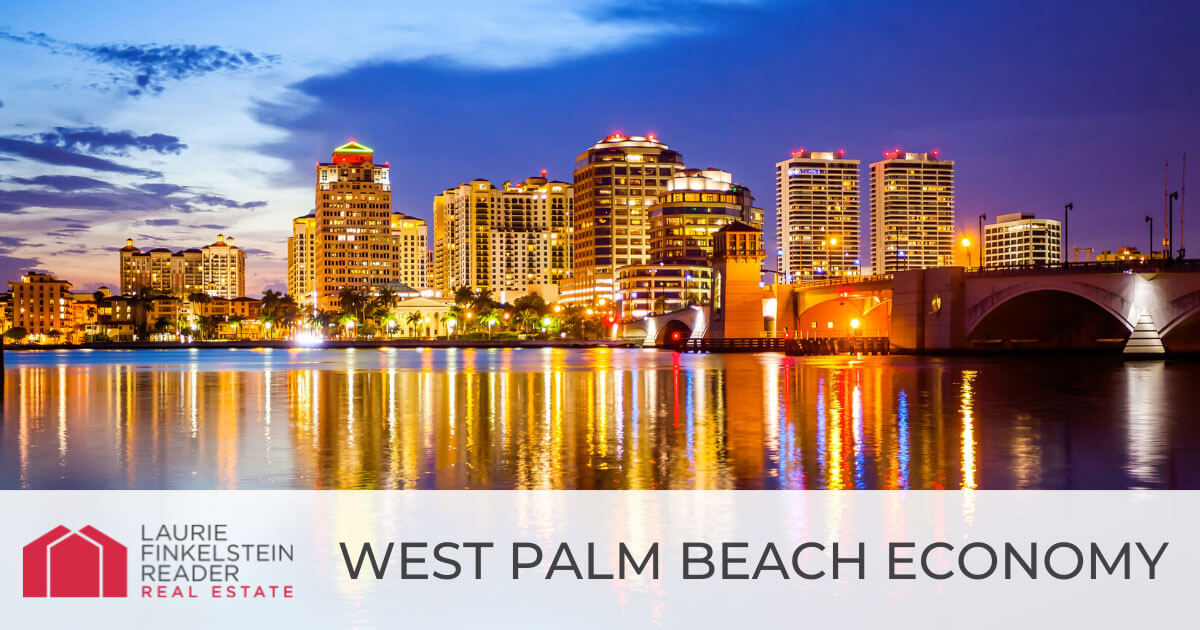 Florida is known for many things, including being a vacation paradise. The city of West Palm Beach is one of the hottest growing US communities, experiencing growth of 17.5% since 2010. The increase in residents is partly because of the weather, with the area averaging 238 days of sun each year. However, new residents will need to consider the economic climate before any relocation. Understanding more about the local jobs scene and entrepreneurial opportunities is a great way to predict future lifestyles and enjoyment. Read on to learn what you need to know about the West Palm Beach economy.
Top Employers in West Palm Beach
The top employers within a region can often set the tone for the community and economic landscape. Not only can they influence the local culture through corporate responsibility and lobbyist programs, but they also create opportunities for small businesses. As part of metro Miami, West Palm Beach has several major employers to consider.
One of the largest private employers, the Florida Crystals Corporation, is located in West Palm Beach. Its about 2,000 employees produce various sugar products. Pratt & Whitney, a Raytheon Technologies Company, has about 1,500 local staff that design, build, and service a variety of aircraft engines.
Sikorsky Aircraft Corporation and Aerojet Rocketdyne are two other aerospace companies in the region. As part of the defense company Lockheed-Martin, Sikorsky has local facilities in West Palm Beach and Riviera Beach. With a focus on military aircraft, just over 700 people in the area help to boost the US military. Aerojet Rocketdyne has a little under 500 staff in the metro. They focus on propulsion and influence everything from missiles to space exploration.
While aerospace may have a great buzz, most of the major employers in the area are public or nonprofit. Palm Beach County School District has more than 22,000 employees throughout the county, and the Palm Beach County Board of County Commissioners has about 5,600 staff working at the seat of government. Other groups include the Veterans Health Administration, a health care organization with around 3,000 employees, and the City of West Palm Beach, with roughly 1,600.
Additional Large Companies in Palm Beach County
Tenet Healthcare
NextEra Energy
Florida Atlantic University
Bethesda Health
The Breakers
Wells Fargo Bank
Veterans Health Administration
Boca Raton Regional Hospital
Is West Palm Beach a Good Place to Start a Business?
While securing paychecks is enough for some relocators, others seek entrepreneurial opportunities. After all, life can be about more than simply paying bills. Creating a business can be a fulfilling way to spend each day while leaving a potential legacy for inheritors. Fortunately, West Palm Beach is potentially a great place to open a business.
As mentioned above, the city itself has been experiencing steady population growth for decades. An influx of new residents can create opportunities even without having an innovative idea. And as long as Florida has beaches and warm weather, it will have tourism. That provides a stream of income for businesses that can bring in visitors.
Palm Beach County has a business-friendly climate. Compared to other relocating havens, the region has lower estate, personal income, and capital gains taxes. That can save businesses a lot of money and make it easier to survive and thrive. At the same time, several local schools and organizations provide resources to help entrepreneurs achieve their goals.
West Palm Beach Economy Facts & Figures
Another thing to consider before relocating to West Palm Beach is the overall labor market and cost of living. Comparing some of these background facts and figures can make it easier to estimate an expected lifestyle for particular individuals. For example, because the community does not have an income tax rate, new residents can save from the national average of 4.6%. Even the sales tax rate of 7.0% is slightly lower than the national average of 7.3%.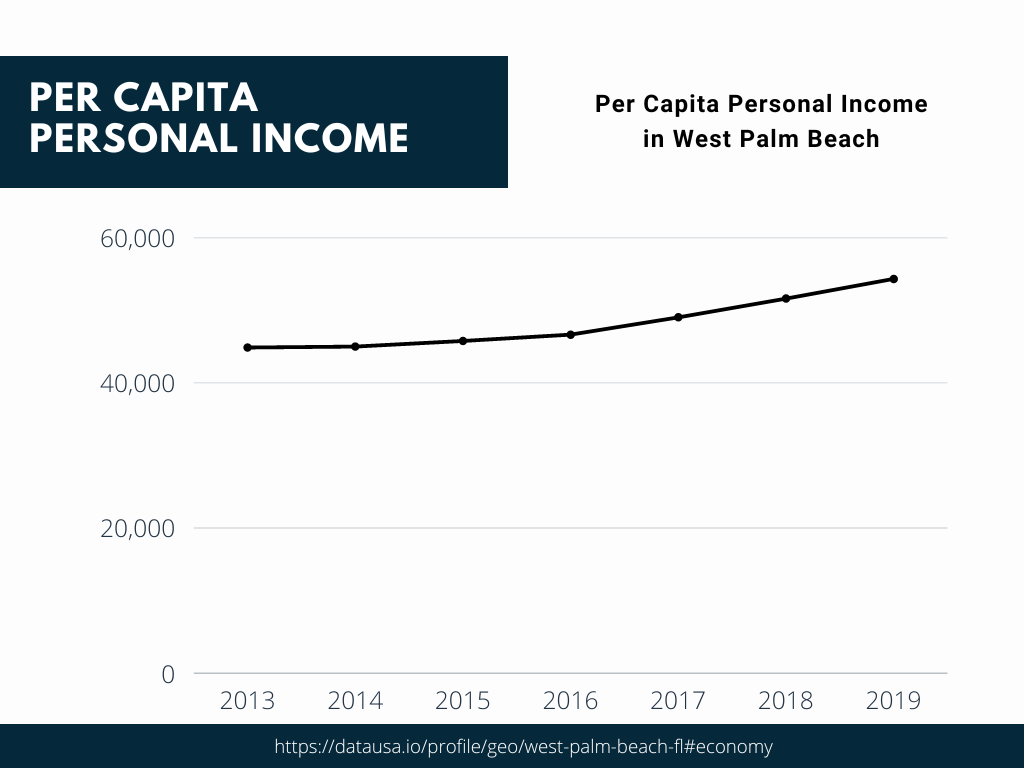 At the same time, the average income for West Palm Beach of $30,000 is slightly greater than the US average of about $29,000. New residents will also be happy to know that future job growth is expected to reach 39.4%, which is much greater than the national equivalent at 33.5%. Even the current unemployment rate of 5% is a percentage point lower than the overall average. Of those working, the highest salaries were in Legal ($89,000), Architecture/Engineering ($79,000), and Law Enforcement ($71,000), all of which were higher than the US averages.
One final category to consider is the relative cost of living in West Palm Beach. Overall, new residents can expect to pay 8.1% more than the US average, but it's lower than many other popular cities. Compared to other tourist communities, the cost of living in Denver, Colorado (28.7% higher) and Orange, California (63.9% higher) is much greater.
West Palm Beach Industries
Because it is part of the footprint of the Miami community and surrounding areas, West Palm Beach has several large industries. More than a third of its land is dedicated to agriculture. Annual county-level revenue from this industry reaches more than $400 million. Healthcare is another powerful driver for the local community, contributing more than 80,000 jobs to residents.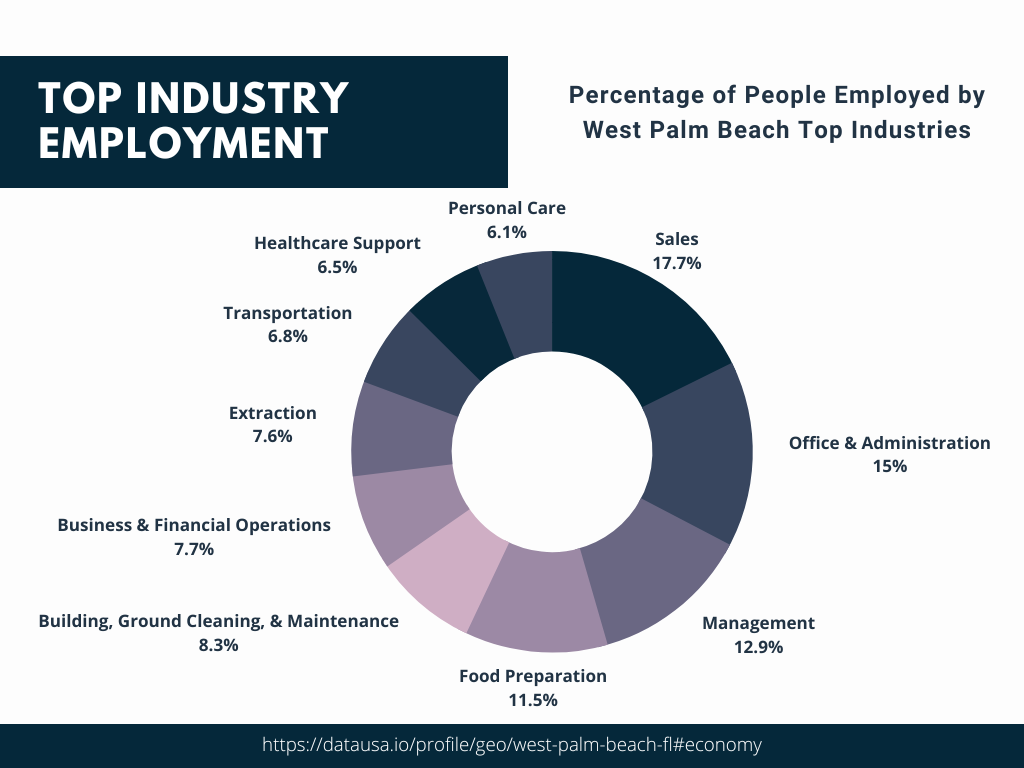 As mentioned above, the regional aerospace industry is also booming. By some estimates, more than 20,000 people earn a living through over 600 entities. Starting with WWII-era military facilities, including airstrips, the modern industry includes propulsion technologies, aircraft-based defense, and commercial vehicles.
Top Industries in Palm Beach County
Agribusiness
Healthcare
Equestrian
IT & Telecommunications
Business & Financial Services
Manufacturing
Aviation, Aerospace, and Engineering
The Bright West Palm Beach Economy
As much as new residents may love the temperatures and beaches of West Palm Beach, considering the economic data is also an essential piece of the relocation puzzle. The truth is that potential residents should evaluate various factors before committing to a move. However, with its strong economy and beautiful landscape, West Palm Beach is a great decision.